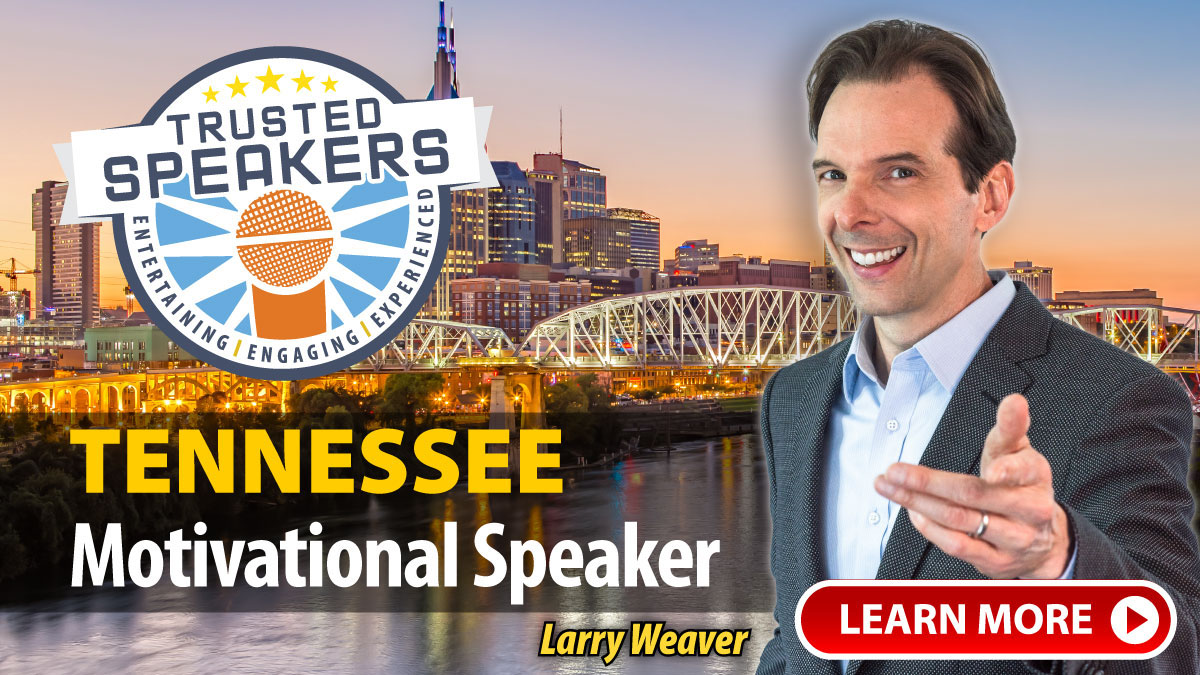 Nashville
Speakers and Comedians
Find motivational speakers, comedians and clean entertainers in Nashville, TN for your next meeting or event. Each of the keynote speakers listed below have recently performed their highly-engaging presentations in the Nashville, Tennessee area.
Recent Reviews from Nashville
Larry Weaver - Motivational Speaker in Nashville, TN

"Larry was a great leadership speaker and comedian. He was very thorough in tailoring his presentation to fit our audience as well as balance the leadership notes with the jokes. He was easy to work with and a true pleasure to meet."
Speaker in Murfreesboro, TN

"It was a pleasure having Joshua at our conference. He did a great job of keeping the attention of the audience, as he wove entertainment into a discussion on communication. His tricks were jaw-dropping and we loved that he involved members of the audience."
Larry Weaver - Motivational Speaker in Lafayette, TN

"Larry Weaver was great! He kept our teachers engaged and had them rolling in their seats. Getting the school year started with laughter and a great message is always a plus. Larry truly motivated our teachers!"
Speaker in Nashville, TN

"We had Rik Roberts come in to present Game Winning Drive to our annual agency off site meeting. Rik really honed in on issues such as team work, unity, accountability, and owning your mistakes. He did it in a judgment-free way that gave us take-aways and connecting points we can take back to our home offices and apply. It was extremely well done, very professional and with plenty of laughs. Rik hit the nail on the head, and managed to not ruffle any feathers. He is an expert at people and it shows. I highly recommend him if you have similar event where you need to tune up your leadership, accountability and communication skills."
Larry Weaver - Motivational Speaker in Centerville, TN

"We really enjoyed Larry Weaver's presentation at our all employee meeting. The jokes were a hit and, being from the south ourselves, were spot on! The motivational tips he threw in were just what we were looking for. I appreciate his promptness, professionalism, ease to work with and creativity. Larry's ability to tie in bits from our other training earlier in the day made it that much funnier! It was just what we needed after a long day of training!"
Comedienne in Pulaski, TN

"Wow! Our audience of women LOVED Leslie Norris Townsend! It always nice to laugh at the things we women go through in life. Leslie provided very uplifting material perfect for all ages. I would recommend her to anyone!"
Comedian in Chattanooga, TN

"David Ferrell was very entertaining at our company Christmas party! We were pleased with him."
Speaker in Lafayette, TN

"Rik Roberts was great. He arrived very promptly and his presentations was exactly what I had hoped it would be. He was entertaining, but with a message. Immediately after the session I had several faculty members come to me and let me know how much they enjoyed the day."
Speaker in Nashville, TN

"Lyndy was awesome!! He was very entertaining and connected well with our audience. He incorporated agriculture and county fairs with his material and that captivated the audience. He had such great energy and excitement that it was contagious! I honestly can't say enough about him."
Comedian in Winchester, TN

"John Felts was a pleasure to work with. I have to admit I was a bit nervous booking someone that we had no knowledge of. I would have to say John's personality, professionalism, performance exceeded ALL of our expectations. He was very pleasant and personable."
"Larry Weaver was fantastic! Booking was easy and the results of our fundraiser was very positive. Larry connected very well with the crowd and had them laughing all evening long! We are already considering next years event - and we'll go with Larry."
Comedian in Lynnville, TN

"John Felts provided entertainment for our valentine's Day Banquet. He did a great job and everyone appreciated his insight and humor - especially the younger couples."
Comedian in Nashville, TN

"David Ferrell was hilarious. He interacted with the crowd very well and was very professional. I had several comments about how good a job he did and how refreshing it was to have someone that is funny without having to be filthy."
A few of the towns our nationally-touring keynote speakers have performed in include: Centerville, Chattanooga, Cookeville, Dickson, Lafayette, Lynnville, Murfreesboro, Nashville, Paris, Pulaski, Sparta, Winchester, and others.