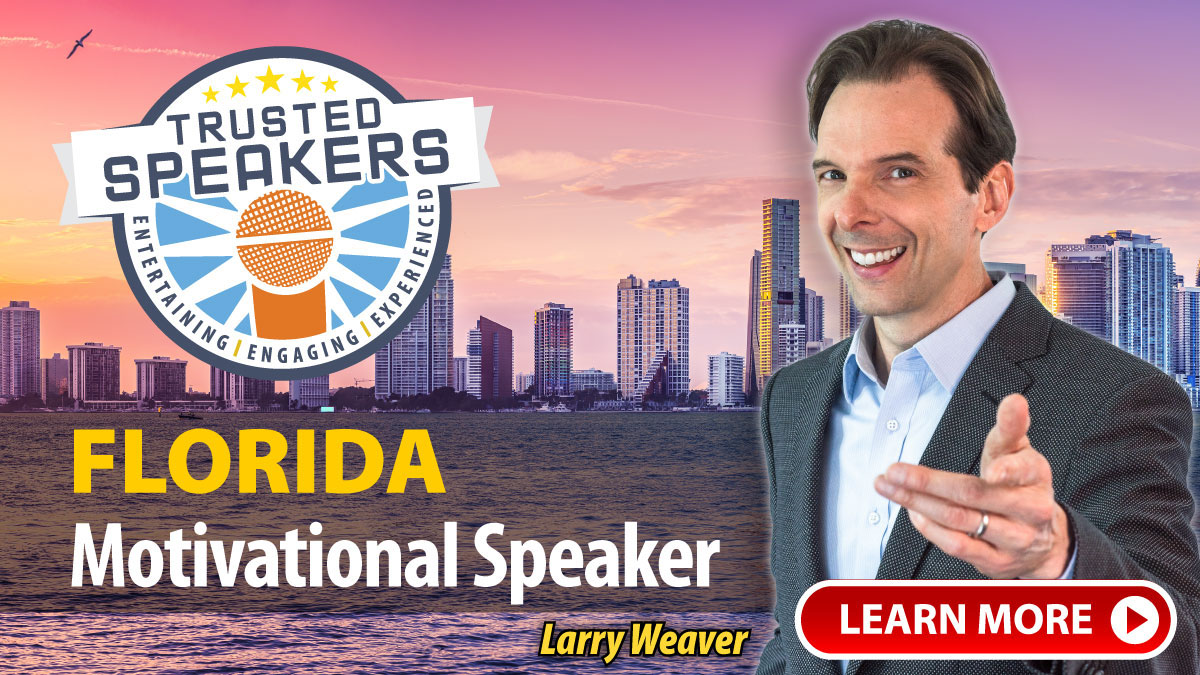 Orlando
Speakers and Comedians
Find motivational speakers, comedians and clean entertainers in Orlando, FL for your next meeting or event. Each of the keynote speakers listed below have recently performed their highly-engaging presentations in the Orlando, Florida - Daytona Beach, Melbourne, Kissimmee, FL area.
Recent Reviews from Orlando
Larry Weaver - Motivational Speaker in Orlando, FL

"Larry was a breath of fresh air for our highly technical, engineering event. He is responsive, professional, funny and made sure his material was audience appropriate."
Comedian in Melbourne, FL

"Andy made our church event a night full of laughs! Our entire church family enjoyed the relaxed attitude of fun he brought to the stage. 10 out of 10 would recommend 100%. Professional and humble."
Larry Weaver - Motivational Speaker in Orlando, FL

"Mr. Weaver was very professional!! He was easy to communicate with, showed up on time and was ready to perform. He was very aware of our time constraints we were working with and his performance was VERY well attended. He captured our audience from his first words and never let us go!! We appreciated his humor (nothing was off topic or random) and his flow of thought. He was very professional but also personal. His stories struck a chord with our attendees and his jokes very appropriate. I enjoyed his performance and would highly recommend him in the future."
Comedian in Melbourne, FL

"Rik Roberts was very personable, down to earth, and outright funny! Loved getting to know him in the short time we had him. You won't be sorry hiring Rik! Our folks loved him."
Comedian in Melbourne, FL

"At the last minute the speaker we had booked had a family emergency. Tim very graciously filled in for him and did a phenomenal job. He had less than 24 hours to prepare, but be came into our group and nailed it. Everyone enjoyed it."
Comedian in Melbourne, FL

"The audience really connected with John Felts at my client appreciation event. All of the feedback I heard was very positive. I would highly recommend John to anyone looking for entertainment that will leave a lasting impression. He is also clean, so you do not have to worry about offending anyone (unless they are a cat lover). I will recommend him to my colleagues looking to host similar events."
Mentalist in Orlando, FL

"My team really enjoyed having Joshua along our side at such a major event for us. The crowd was amazed and my clients love him. This isn't our first time working with Joshua and it will not be our last."
Comedian in Chuluota, FL

"John Felts was hilarious and spoke so well into family dynamics, interests our people have, life situations, and more. Our folks were laughing constantly, but the feedback we heard most was how much it meant to them that John took some of his own time to learn a little bit about the church and the area and be able to play off of that. To start out in a personal way and connect with our people on that level went over more than we can express. It was funny and light ribbing, but so meaningful in how it was tailored to our specific lives. We could not recommend John enough. Not only was he everything we just mentioned, he is an outstanding human as well. He was so gracious and helpful in working with our tech crew and the needs that he had for his show. He was humble as can be and helped make the day truly enjoyable all the way around. We still have people talking about it and will definitely be considering having him back in the future."
Larry Weaver - Comedian in Melbourne, FL

"Larry Weaver did a fantastic job at our 50's Themed Fundraising Banquet. Relatable, personable, and great, clean, down-to-earth Southern Humor! We loved how he interacted with the crowd and even threw in a couple of "inside jokes". He's always done a great job connecting us with other comedians and illusionists, and it was great to finally have him be our entertainment for the annual event. Thank you Larry!"
Comedian in Orlando, FL

"We were pleased to have Rik Roberts as one of the key note speakers at our annual meeting. He was the absolute best with his humorous presentation and his character of Barney Fife was spot on. We were celebrating the 75th Anniversary of our charter and Rik provided the laughter, levity and fun for all in attendance. His early morning presentation was clean, enjoyable and set the positive tone for the entire day. Rik was the perfect speaker for our event and a genuine gentlemen with whom to work."
Comedian in Daytona Beach, FL

"Just wanted to give you my comments about John Felts at our convention. He was absolutely awesome! He exceeded my expectations! His promptness, professionalism, personality and connection to the audience was spot on! His material was SO very funny. As the event planner for this event, I looked around the room while he was performing to see the response and EVERYONE WAS LAUGHING! It was good, clean material – and he was just plain hilarious! And what a fine young man to talk to. I fully expect to see him succeed in his field! I will be glad to give a reference, if needed. It would be my pleasure."
Comedian in Orlando, FL

"David Ferrell was terrific. He engaged the audience in his show - one table was particularly engaging. He worked our conference theme 'Character Counts' into his characters segment of the show. When he closed with a song he wrote about batteries, it brought the house down. I would highly recommend David for any group that wants to have a good time."
Comedienne in Daytona Beach, FL

"We were really happy with Leslie Norris Townsend. She is not only funny but an amazing human being. We loved having her. All four of our shows were rated 96-99/100 and the feedback from the audience was superb! We had people requesting to bring her back next year. Some even said that they hadn't enjoy themselves so much in years. There are other departments within our system that hold charity events throughout the year and are considering Leslie after seeing her in action. Working with Larry Weaver Entertainment and Leslie was a pleasure."
Comedian in Orlando, FL

"All feedback I received from our guys was that David Ferrell did an awesome job which is in agreement with my opinion. David kept the men laughing the entire time and was multi talented between comedy, Impressions, singing and was very engaging with the audience. David arrived on Friday evening at the time he estimated he would arrive and from what I seen integrated with the men during meals & activities prior to his performance which was awesome to see."
Comedian in Melbourne, FL

"David Ferrell delivered as promised! A clean, inspiring, fantastic performance with plenty of laughs for all ages! I would recommend him for anyone!"
Comedian in Casselberry, FL

"David Ferrell was awesome, much better than we even believed. I think we can have another comedy event with him as the comedian and have double the crowd because all those who were there will tell someone else!!! He is very talented, not just in comedy but a beautiful singing voice. He blew us away!!"
Mentalist in Melbourne, FL

"Joshua Lozoff is very professional, easy to work with and an amazing magician. Our grouped loved the entertainment!"
A few of the towns our nationally-touring keynote speakers have performed in include: Casselberry, Chuluota, Daytona Beach, Deland, Flagler Beach, Leesburg, Melbourne, Ocala, Orange City, Orlando, and others.