Laugh, learn and reduce stress with this upbeat presentation. Successful organizations know that happier, healthier, and less stressed people are more productive.
Give your group a vacation without leaving their seats. Lyndy's 100% clean humor, funny PowerPoint, comedy magic, and audience involvement will entertain and challenge your group with a message on the importance of reducing stress. They will laugh, recharge, reduce stress, and learn:
The definition of stress
Top three causes of stress
Stress and workplace safety
Six ways to reduce stress
The healing power of laughter
To see the humor around you
Why Laugh More?
Laughter has the power to reduce stress and heal the body. There are many ways to reduce stress: exercise, listen to music, read, and prayer/meditation to name a few. Laughter is often not thought of as a way to reduce stress. However, laughter is medically proven to reduce stress, help muscles be less tense, the body feel more relaxed, and the mind more open while giving an overall feeling of happiness and well-being. It's even proven to help reduce/block pain and heal the body of diseases by multiplying the good cells that attack bad cells.
Why Stress Less?
Happier, healthier, and less stressed people are more productive. People suffering from high stress levels have lower engagement, are less productive and have higher absenteeism levels than those not working under excessive pressure, according to research from professional services firm Towers Watson. In today's work environment, people are working long hours, under enormous pressure to perform, and often given more responsibilities than they can manage. The results: 77% regularly experience physical symptoms caused by stress and 33% feel they are living with extreme or chronic stress.
Recent Reviews
Brookings County Farm Service Agency
"I just wanted to let you know how pleased we were with Lyndy's presentation at our Ag Women's Day program in Brookings. He far exceeded my expectations and I truly enjoyed how much he brought Agriculture into his presentation – he certainly catered his presentation to the group. We have not gotten through our written feedback yet, but I heard so many wonderful comments on his presentation. And received an email this morning from an attendee that wants to book him for their event. We have been pleased with all of the speakers you have referred to us but Lyndy by far rises to the top of the list."
- Farm Loan Specialist, Ag Women's Day in Brookings, SD
York Chamber of Commerce
"Lyndy was awesome! He had the crowd rolling with laughter the entire night. Our group was somewhat conservative, but had a great sense of humor and he played well to the crowd and their personalities. The audience participation was great - he chose the perfect guests to participate. Our group has had concerns in the past about being to understand accents and sometimes the presenters spoke to quickly, but he did a great job of communicating clearly with the crowd."
- Committee Member, York Ag Show Banquet in York, NE
Lennox Residential
"Lyndy did a fantastic job engaging with our Lennox employees and giving them useful tools to combat stress and learn to laugh more. I received many positive feedbacks from our employees of their enjoyment in his presentation."
- Senior Manager, Distribution Fulfillment Supply Chain, Women's Business Council Lunch and Learn in Richardson, TX
Ursa Farmers Cooperative
"Outstanding performance last night. Finding entertainment is a difficult job, but finding exceptional talent like Lyndy and then being the beneficiary of the comments and appreciation after his performance is really amazing. I had several customers thank me for the enjoyable evening and express their appreciation for having him as our guest speaker. He left a strong impression on my group and I am thankful."
- General Manager, Annual Meeting in Quincy, IL
Eula ISD
"Thank you so much to Lyndy for coming out to address our staff as we prepared to kick off the 2017-2018 school year. His presentation "Laugh More, Less Stress" was fabulous. The combination of magic & comedy was perfect. Our staff was attentive to his message while smiling & laughing. Eula ISD truly appreciates his time & message."
- Eula Secondary Principal, Staff Inservice in Clyde, TX
Red Lick ISD
"Red Lick ISD is a small east Texas school; however, the staff is a quality staff. I wanted to do something special for them. I had heard Lyndy before and was so impressed about how he could bring a bring a group to realize how important they are in the lives of children. He delivered! There was humor which resulted in tremendous laughter. There was entertainment in the form of magic and participatory activities. And, there was truly a serious message delivered concerning "stress" and the release of stress. It was just great! The staff is still talking about the presentation a day later."
- Superintendent, Teacher In-Service in Texarkana, TX
DuPont Pioneer
"Lyndy was an outstanding addition to our annual meeting. His message perfectly aligned with what we needed and the core values of our company. This was an entertaining presentation with a great message and is highly recommended."
- Research Scientist, Annual Soybean Research Meeting in Des Moines, IA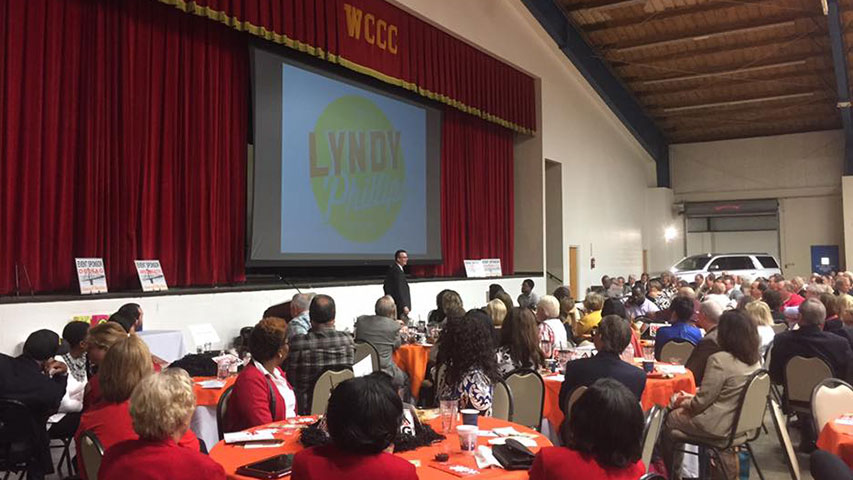 Washington County Economic Alliance
"Lyndy was wonderful!! It was probably our best annual meeting entertainment the six years I have been doing it. Everyone loved him!"
- Chamber Director, Annual Meeting in Greenville, MS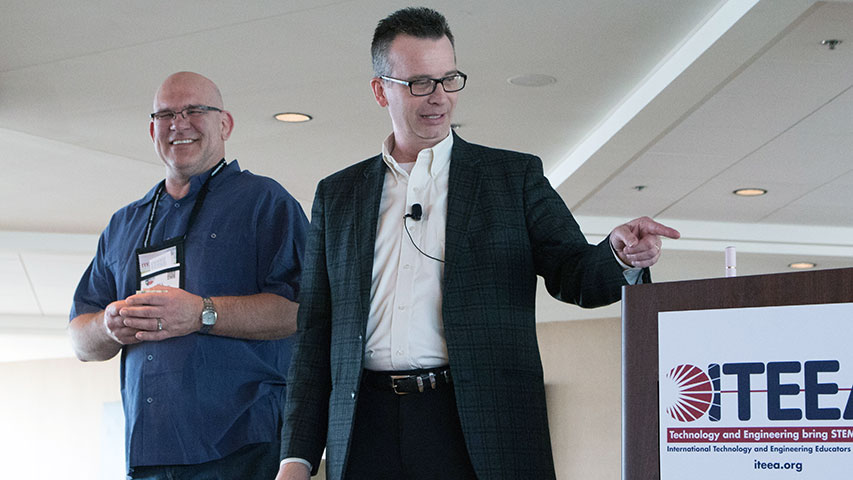 International Technology Education and Engineering Association
"Lyndy provided a wonderfully uplifting and fun way to close out our conference at the awards and recognition program. Our attendees appreciated his message and his exhilarating delivery. The bottom line is that everyone thoroughly enjoyed the awards and recognition program because of his witty, fun, and interactive presentation."
- Executive Director, Annual Conference in Dallas, TX
GROWMARK, Inc.
"Lyndy is a very talented comedian, motivator, magician and speaker. He relates well and offers a variety of offerings to keep things fresh and engaging. I cannot say enough about the tremendous respect I have for the truest form of comedy: entertainment that can have people entertained, enlightened, in tears and de-stressed without a word of foul language or off color trash. You cannot miss with a Lyndy show."
- Operations Manager, Annual Meeting in Normal, IL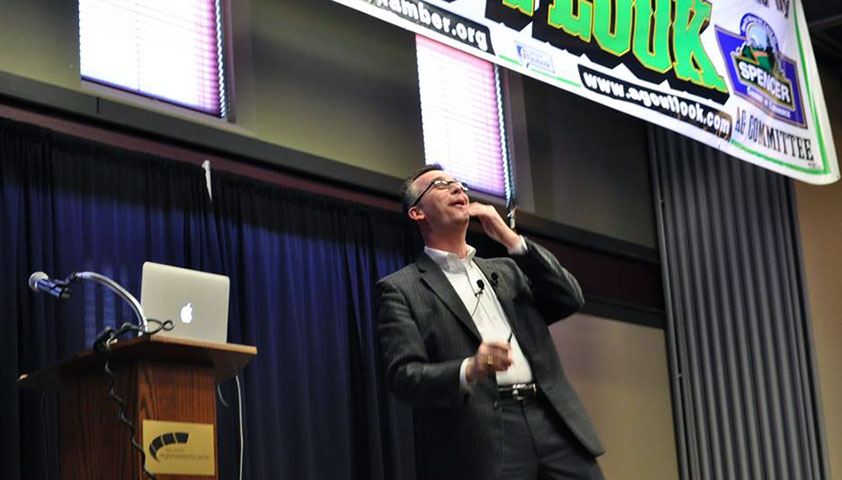 Spencer Chamber of Commerce
"We were very happy with Lyndy as our keynote speaker at the 33rd Annual Northwest Iowa Ag Outlook Conference and Trade Show! Lyndy is very easy to work with; we totally enjoyed hosting him. Our office has heard nothing but great comments on Lyndy's presentation! The audience enjoyed the interaction, the clean humor and all round presentation he presented. We have even received comments that in a couple to three years that the committee should look at bringing Lyndy back."
- Program Director, Northwest Iowa Ag Outlook Conference in Spencer, IA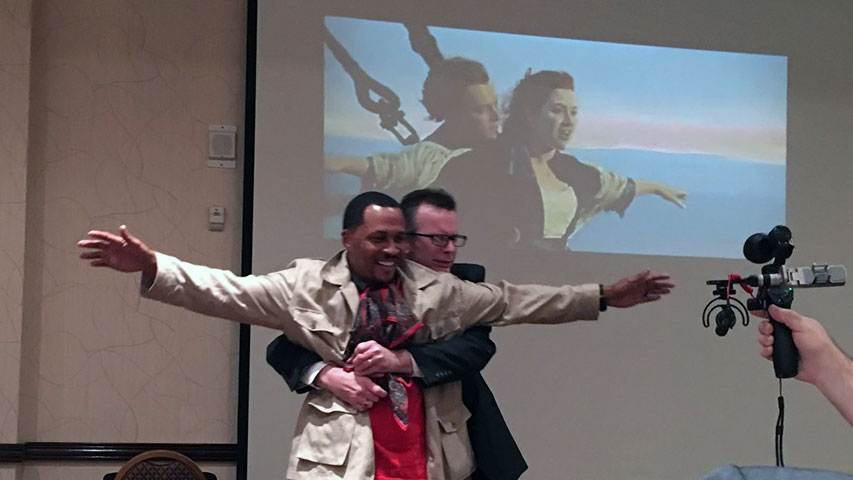 MGM Benefits Group
"Our employees are still laughing and talking about Lyndy speaking at our companywide meeting. He gave us a much needed laugh (that actually lasted the entire hour) and insight into reducing stress. His humor was right on the money and well received by all. We expect to see him for round two next year."
- President, All-Company Meeting in Richardson, TX