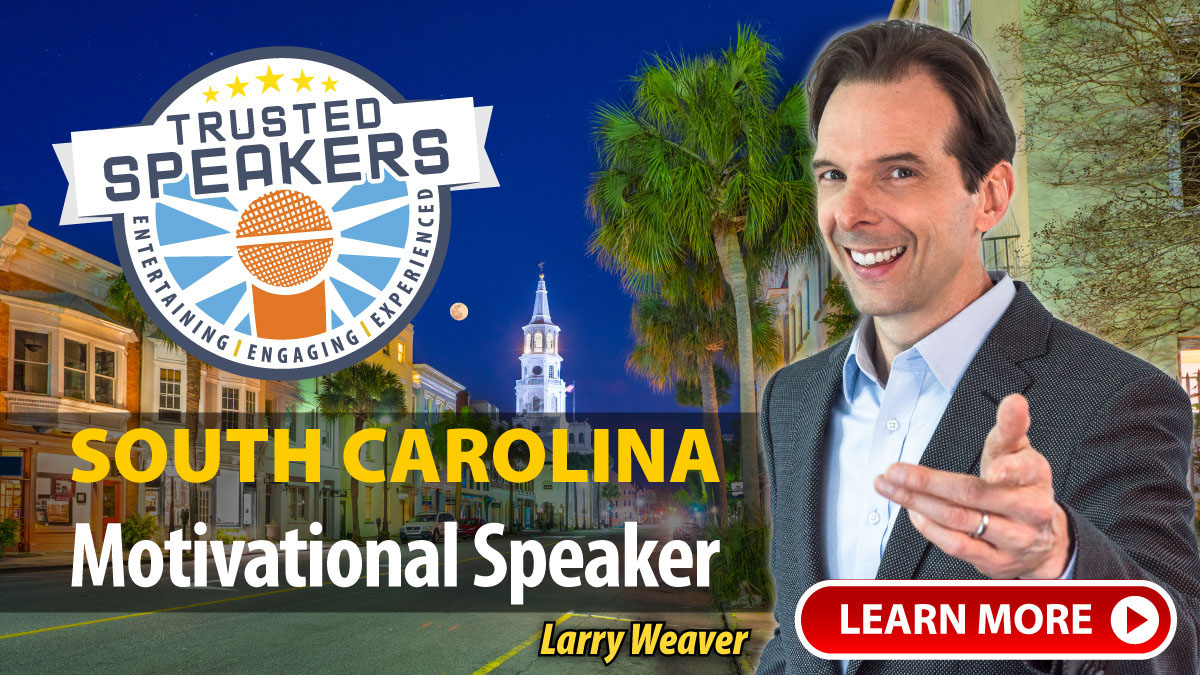 Greenville
Speakers and Comedians
Find motivational speakers, comedians and clean entertainers in Greenville, SC for your next meeting or event. Each of the keynote speakers listed below have recently performed their highly-engaging presentations in the Greenville, South Carolina - Spartanburg, SC area.
Recent Reviews from Greenville
Larry Weaver - Motivational Speaker in Greenville, SC

"We'd definitely hire Larry again, he was very funny and related well to our small group (30 people)."
Larry Weaver - Motivational Speaker in Inman, SC

"Our Welcome Back Convocation is how we launch each new school year. Over 1100 faculty and staff gather to get motivated to welcome back our students, celebrate achievements, and fellowship with each other. Larry Weaver helped make our August 2022 convocation become one of the most memorable in the 31 years we have held the event! After an exhaustive, months long search, our leadership team decided to invite Larry to be a presenter at our gathering; he didn't disappoint. Larry was easy to work with and responsive to communication, and his performance on stage was wonderful. It was packed with audience-appropriate comedy that kept us laughing! Our team loved Larry's jokes that tied in perfectly with his message of positivity."
Larry Weaver - Motivational Speaker in Greenville, SC

"Larry was excellent! We invited Larry to speak at our Internal Communications meeting. We specifically wanted a speaker from outside of our company who could lighten the mood and help lift morale, while also sharing some words of wisdom on staying positive. His jokes and positive message were very well received by our employees! We had a wide age range in our group of almost all engineers, and everyone in the audience was laughing. We were thrilled with Larry's performance. Off-stage, Larry was punctual, professional and very very kind. Overall, it was a great experience. We are very happy we chose Larry as our guest speaker."
Comedian in Greenville, SC

"David Ferrell was good clean fun. Everyone had a really great time!"
Larry Weaver - Motivational Speaker in Greenville, SC

"We booked Larry Weaver for our Annual Meeting, which includes wide range of age groups and personalities. Each of our 250+ guests enjoyed his clean comedy and motivational message. It's extremely hard to please that many people, but Larry was able to get everyone laughing and lighten the mood!"
Comedian in Greenville, SC

"It was our pleasure to have David Ferrell perform at our company holiday party. Everyone had a great time!"
Mentalist in Central, SC

"Joshua was really entertaining and and interacted with the audience really well! It was fun watching the amazement on people's faces as he performed his magic! The "strolling magic" before the show was a great idea that Joshua suggested to us."
Comedian in Greenville, SC

"David Ferrell did a great job, and was very entertaining! The outside, festival type venue and atmosphere was probably not the best for a performance, but he made the most of it. He was very professional and engaging in every way. He got out and mingled with the crowd, and came back up for an encore performance in between sets! Just an all around good guy!"
Comedian in Greenville, SC

"David Ferrell is hilarious! Everyone enjoyed his performance."
Comedian in Central, SC

"John Felts was great to work with. He was friendly and professional, showed up early, and reminded me several times that he is flexible to work some things out. His show was hilarious and personal. He did his research and connected with our students personally. He rolled with the crowd well and kept people laughing. Some students came in skeptics, but left impressed. One student in particular came expecting to leave early, but stayed for the whole show due to how funny John was. After the show, John stuck around to meet students, take pictures, and speak with some of our leadership. I have already recommended him to another nearby college, and look forward to bringing him back here one day."
Comedian in Anderson, SC

"David Ferrell was the entertainment for our Credit Union Annual Meeting. David has a funny and very clean show. Everyone enjoyed him. He stayed after the meeting to meet and talk with our members. I would highly recommend David Ferrell."
Larry Weaver - Comedian in Spartanburg, SC

"Larry Weaver is a particular favorite of ours. We love his southern humor and find ourselves in so many of his hilarious stories! We know we can count on a good time when we book Larry Weaver. Our guests love him!"
Ventriloquist in Goldsboro, NC

"Steve did a great job, I have had a lot of people who really enjoyed him a lot."
Larry Weaver - Comedian in Anderson, SC

"Larry Weaver did a phenomenal job. Not only did he exceed our expectations, he went above and beyond. His award ceremony was on point and he made the crowd shed tears for about an hour straight. Highly recommend for any event."
Comedian in Greenville, SC

"We thoroughly enjoyed our evening with David Ferrell. He arrived early and immediately started interacting with our guests as they arrived. His show was hilarious for the entire hour. We had a small event in terms of the number of guests, but that didn't seem to make any difference. David involved the audience in his act several times and made the evening all that more enjoyable. We had children in the audience and never once worried about anything off-color. The act was entirely clean, fit for any audience. David wrapped the event with some heartfelt, genuine words that impacted us all. The evening was a resounding success!"
Comedian in Greenville, SC

"John Felts was a perfect fit for our company! From the time that we started to correspond via email and phone, to the very end he was extremely professional, friendly, detailed, and 'all about us' in making our evening a success. I arranged to meet him in the ballroom prior to his performance to make sure that everything was to his liking and he was not only prompt, but early. I had provided him with specific details on some of the members of our audience and he was able to incorporate the information nicely into his routine and it was extremely well received. I had an excellent vantage point to watch the majority of the audience, including our Executive Director and our Board of Commissioners' responses, and they were thoroughly enjoying their selves from start to finish. When I arrived at work this morning I had emails from our staff telling me how much fun they had and how funny John was. As you state in your book, it wasn't the food that had them taking, it was John! I would highly recommend John many times over to any other company or organization who is looking for entertainment. A+++++"
Juggler in Greenville, SC

"We all appreciated Paul Miller's time with our company. He kept us laughing and everyone had a great time. Enjoyable entertainment for our sales conference banquet. Clever and witty, able to think on the spot and able to reference elements from our meeting and bring them back in a humorous way. Thanks again."
Comedian in Greenville, SC

"We had a wonderful anniversary party. Our guests thoroughly enjoyed David Ferrell's performance. He was a very professional entertainer. My friends and family were completely impressed that we had a professional comedian. They are still talking about it. I would highly recommend David for any event. His comedy was fast, humorous and appropriate for all the ages that we had at our party."
A few of the towns our nationally-touring keynote speakers have performed in include: Anderson, Belton, Central, Clinton, Goldsboro, Greenville, Inman, Seneca, Spartanburg, Woodruff, and others.