Joshua Lozoff has been speaking and sharing magic for over twenty years. As a public speaker, he delivers keynote presentations at conferences, seminars and retreats throughout the country. As a magician, Joshua performs at corporate & private functions around the world. He presents his stage show, Joshua Lozoff: Life is Magic at performing arts centers across the US, as well as Asia and Latin America.
Recently, Joshua was featured on the network TV competition show, Penn & Teller: Fool Us. The YouTube clip has been seen by nearly half a million people. And Joshua had the honor of being the only magician invited to perform at the World's Fair in Japan. He spent two weeks as a featured performer for the USA, entertaining Fair visitors from around the world.
Before turning his attention to magic, Joshua was a professional actor with featured roles on the TV show Cheers (as Gino Tortelli) and in the movie Clueless. You can see Joshua's martial arts skills on display in the film Teenage Mutant Ninja Turtles.
After 14 years as a professional actor, Joshua left Hollywood to devote more time to service work, including volunteer stints throughout Latin America. It was during his travels that a chance encounter with a street magician sparked a new passion, and Joshua began his training. Traveling around the world, Joshua studied with master magicians on several continents. After years of full-time training, he began sharing his craft with others.
Whether delivering a keynote presentation on communication skills, or amazing crowds with his special brand of mind reading and magic, Joshua's true talent is making connections with people in every setting. His passion for his craft and respect for his audience shine through in every performance. Spend time with Joshua, and you will come away entertained and inspired.
Available Presentations Include:
Life is Magic
Magic, mind-reading, and mystery! Joshua's stage show reflects his fascination with psychology, intuition and influence! The show combines astounding mental demonstrations with amazing illusions developed in his travels around the world.
More About This Presentation
Check Availability
The Magic of Communication
The Magic of Communication is engaging, intriguing and fun! In this interactive presentation, acclaimed magician and actor Joshua Lozoff pulls back the curtain to reveal the true secrets of his magic: powerful communication skills and strong powers of observation; skills useful for us all, from the board room to the living room.
More About This Presentation
Check Availability
Recent Reviews
American Petroleum Institute
"Joshua is an amazing performer, he kept the audience in wonder during his entire performance. Could not have expected a better performance."
- Board Member, API Fundraiser in Lafayette, LA
Blacklidge Emulsions
"Joshua was attentive to ensure in the weeks leading up to the meeting that he was aware of the event format and how he could provide the best show. During the show, he was charismatic, engaging and thoroughly entertaining. I have received several comments from the team about how much they enjoyed the show and how they got useful techniques on communication that will help them in their roles. I would highly recommend Joshua for any corporate event."
- Event Planner, Annual Meeting in Point Clear, AL
newhope church
"Joshua did a fantastic job for us during our marriage conference. Thank you!"
- Global Administrative Assistant, Marriage Conference in Durham, NC
Musson Brothers, Inc.
"Joshua Lozoff's speech and performance at our annual safety meeting for our 75th anniversary was amazing! He left our crowd in awe, speaking on a subject that isn't always addressed in the safety world. I would highly recommend Joshua if you're looking for something different that will leave your audience talking about his message for years to come."
- Safety Director, Companywide Annual Safety Meeting in Stevens Point, WI
National Electrical Contractors Association, Wisconsin Chapter
"Joshua did an excellent job intermingling magic with his message on communicating effectively with and engaging clients and potential clients. He involved the audience and really kept their attention. Joshua was very professional and very entertaining."
- Executive Vice President, NECA Winter Meeting in Pewaukee, WI
TROSA, Inc.
"How does he do it?! Joshua is funny, humble, kind and very talented. Days later, we were still wondering how he did one particular trick. We were flabbergasted. Joshua provides the opportunity for audience participation to keep folks engaged and he has a real talent for putting people at ease even when they are on stage in front of 100+ people. Thank you for a wonderfully entertaining evening!"
- Human Resources Assistant, Holiday Party in Durham, NC
Net Friends, Inc.
"Joshua Lozoff has entertained our company Christmas parties many, many times and never disappoints us!! He is the most entertaining Magician there is and we are grateful that he was available to perform for us. He continues to capture our attention and blow our minds with his magic. He has a gentle soul and warm heart and you feel that through his magic. Rock on Josh!!"
- Financial Coordinator, Company Christmas Party in Durham, NC
Modern Energy
"Joshua Lozoff was amazing! Easy to book a performance with him, he responded quickly to emails. He spoke with the venue and coordinated with them to make sure all of his needs were met. He set everything up on his own and was not only on time, he was early and ready to go right when the party started. I just sat back and enjoyed the show. Everyone had a blast and was dumbfounded about how he was able to pull off his tricks. The strolling magic is a must have, it's the perfect ice breaker and it helped everyone loosen up at the start of the party. My only regret is that we didn't book him for our previous parties."
- Office Coordinator, Office Holiday Party in Durham, NC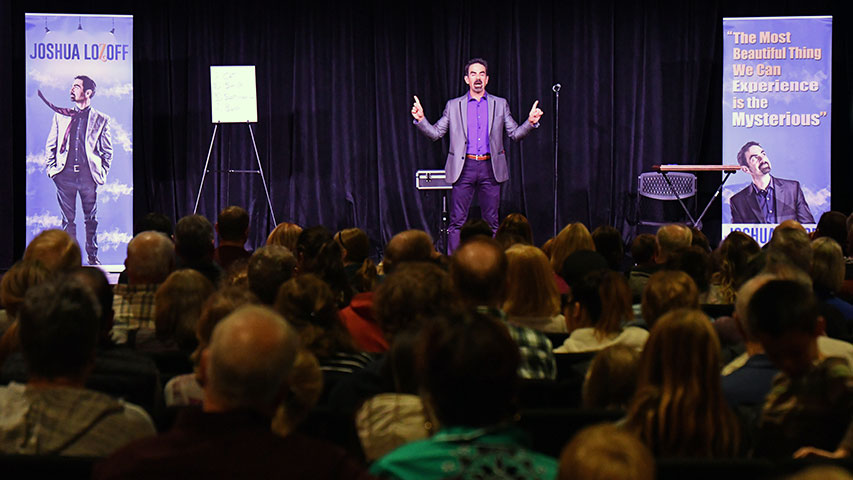 Town of Wake Forest
"Entertaining and professional on-stage and a joy to work with backstage. Joshua Lozoff's performance was SOLD OUT here at the Renaissance Centre and the crowd loved the show. Want to get that "younger audience" that everyone is seeking? Book Joshua Lozoff. The house was filled with children, their parents and a few grandparents."
- Manager, Concert in Wake Forest, NC
Guy M. Turner, Inc.
"Joshua Lozoff was great with the attendees and everyone had a great time. Will have him back again in the future."
- Sales Manager, Quarterly Meeting in Greensboro, NC
National Council of University Research Administrators Region II
"Joshua Lozoff was very prompt and professional. His presentation was extremely interactive and engaging and many of our audience members commented on how much they enjoyed it!! He was also very gracious in speaking with attendees afterwards. Would highly recommend Joshua for another event!"
- Planning Committee Member, NCURA Region II Fall Meeting in Jersey City, NJ
Tennessee Government Finance Officers Association
"It was a pleasure having Mr. Lozoff at our conference. He did a great job of keeping the attention of the audience, as he wove entertainment into a discussion on communication. His tricks were jaw-dropping and we loved that he involved members of the audience."
- Board Member, Fall Conference in Murfreesboro, TN
Schedule
| | | |
| --- | --- | --- |
| 1/17/2020 | Lincoln, NE | Company Holiday Party |
| 1/25/2020 | Pewaukee, WI | NECA Winter Meeting |
| 1/30/2020 | Stevens Point, WI | Companywide Annual Safety Meeting |
| 2/1/2020 | Myrtle Beach, SC | Annual Retreat |
| 2/5/2020 | Katy, TX | Management Meeting |
| 2/14/2020 | Durham, NC | Marriage Conference |
| 2/20/2020 | Point Clear, AL | Annual Meeting |
| 3/7/2020 | Lafayette, LA | API Fundraiser |
| 3/12/2020 | Charleston, SC | Corporate Event |
| 6/5/2020 | Durham, NC | Virtual Industry Showcase |
| 7/29/2020 | Kissimmee, FL | Software Users Group Conference |
| 9/15/2020 | Morrisville, NC | Virtual Team Meeting |
| 9/16/2020 | New York, NY | Virtual Corporate Event |
| 9/28/2020 | Richmond, VA | Virtual Fall Training |
| 10/10/2020 | New Orleans, LA | Virtual SUNA Convention |
| 10/24/2020 | Mooresville, NC | Service Award Dinner |
| 11/6/2020 | Raleigh, NC | Denim and Diamonds Gala |
| 11/7/2020 | Spotsylvania, VA | Fundraiser |
| 11/14/2020 | Greensboro, NC | Company Meeting |
| 4/28/2021 | Springfield, KY | End-of-the-Year Dinner |
| 5/25/2021 | Harrisburg, PA | PAPPC Annual Conference |
| 8/5/2021 | Tiffin, OH | Client Appreciation Event |
Where does Joshua Lozoff perform?
Joshua Lozoff has recently performed in: Alabama, Alaska, Arizona, Colorado, Florida, Georgia, Idaho, Illinois, Indiana, Iowa, Kansas, Kentucky, Louisiana, Maine, Maryland, Minnesota, Mississippi, Missouri, Nebraska, Nevada, New Jersey, New Mexico, New York, North Carolina, Ohio, Oklahoma, Pennsylvania, South Carolina, Tennessee, Texas, Utah, Virginia, Washington, Washington DC, West Virginia, Wisconsin, just to name a few.