Trusted Speakers and Entertainers
Find keynote speakers that are Entertaining, Engaging, and Experienced. You'll discover performers that are primarily entertainment as well as speakers with a message.
This site is built on thousands of testimonials. Speaker rankings are 100% merit-based. You will only see speakers that have verified, trusted testimonials for the category you choose. No one can buy their way onto this site. If a speaker isn't booked regularly or fails to deliver positive testimonials, they will no longer appear. It's that simple.
Most Recently Booked Presentation:
It's Funny Now by Rik Roberts
Dynamic comedy show funny enough to headline comedy clubs across the country and clean enough to bring your grandkids or grandparents to see. It's family-friendly and full of fun, easy to relate to material. Read More...
More About Rik Roberts
Featured Review:
Larry Weaver in Myrtle Beach, SC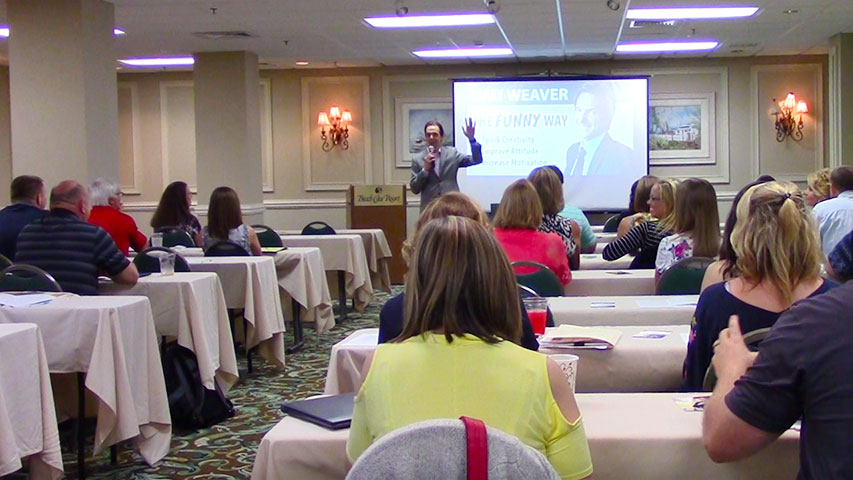 "Thank you [Larry Weaver] for an entertaining presentation to kick off our event. I had great feedback from the group. One of the companies is going to be giving you a call to speak at their annual meeting." - Board Member, Carolinas-Virginias Association of Rural Utilities Service Telephone Accountants Annual Meeting review of Larry Weaver
More About Larry Weaver
Most Popular Speakers:
Presentations by Content:
Message: Motivation | Stress | Teamwork | Other
Entertainment: Stand-up Comedy | Magic | Juggling | All Entertainers
Presentations by Audience:
Agriculture, Amish, Association, Catholic, Chamber, Christian, Christmas Party, College, Construction, Corporate, Education, Family, Finance, Fundraiser, Healthcare, Hospitality, Manufacturing, Military, Municipal, Real Estate, Safety, Seniors, Technology, Theater, Transportation, Utilities, Women, Youth
Presentations by State:
United States: Alabama, Alaska, Arizona, Arkansas, California, Colorado, Connecticut, Delaware, District of Columbia, Florida, Georgia, Hawaii, Idaho, Illinois, Indiana, Iowa, Kansas, Kentucky, Louisiana, Maine, Maryland, Massachusetts, Michigan, Minnesota, Mississippi, Missouri, Montana, Nebraska, Nevada, New Hampshire, New Jersey, New Mexico, New York, North Carolina, North Dakota, Ohio, Oklahoma, Oregon, Pennsylvania, Rhode Island, South Carolina, South Dakota, Tennessee, Texas, Utah, Vermont, Virginia, Washington, West Virginia, Wisconsin, Wyoming Canada: Alberta, Manitoba, Ontario, Saskatchewan
Upcoming Schedule
| | | |
| --- | --- | --- |
| 6/26/2018 | Cary, NC | Member Event with Rik Roberts |
| 6/28/2018 | Bowling Green, OH | International Youth Rally with John Felts |
| 6/30/2018 | Louisville, KY | Family Festival with John Felts |
| 7/7/2018 | Atlantic Beach, NC | Company Party with Joshua Lozoff |
| 7/10/2018 | Walterboro, SC | Volunteer Appreciation with John Felts |
| 7/13/2018 | Columbia, SC | Senior Adult Ministry Picnic with David Ferrell |
| 7/14/2018 | Scott City, KS | Customer Appreciation Event with Guest Speakers |
| 7/14/2018 | Cary, NC | The Cary Theater Concert with Larry Weaver |
| 7/17/2018 | Harrisburg, PA | Dealer Summit with Joshua Lozoff |
| 7/20/2018 | Grapevine, TX | Summer Conference with John Felts |
| 7/21/2018 | Alexandria, MN | Annual Membership Meeting with Joshua Lozoff |
| 7/25/2018 | McBain, MI | 100 Year Anniversary with Jerry Carroll |
| 7/26/2018 | Nebraska City, NE | CEO Retreat with Guest Speakers |
| 7/28/2018 | Connersville, IN | Fundraiser with John Felts |
| 8/4/2018 | Fort Mill, SC | Family Council Meeting with Paul Miller |
| 8/9/2018 | Victoria, TX | iCare Conference with David Ferrell |
| 8/9/2018 | Opp, AL | Fundraiser Gala with Larry Weaver |
| 8/10/2018 | Cairo, GA | Employee Appreciation Event with Larry Weaver |
| 8/12/2018 | Peoria, IL | Annual Convention with Guest Speakers |
| 8/13/2018 | Peoria, IL | Annual Convention with Joshua Lozoff |
Recent Reviews
Anniversary Banquet in Pittsburgh, PA

Larry Weaver's organization was perfect. They took care of all the details and were thoroughly prepared, taking each piece of information we provided and drawing up a very easy to understand contract.
Annual Meeting in Lovington, NM

I have used Trusted Speakers for the last couple of years and the performers are top performers. They deliver what they promise.
Volunteer Appreciation Party in Farmingdale, NJ

Larry Weaver from Trusted Speakers was professional as well as helpful to me through the process of getting the best show for our Volunteer Appreciation Party. He was in constant contact with me from start to finish. Nothing came as a surprise because everything was clearly explained in each correspondence. Trusted Speakers truly lives up to its name!
Fundraiser in Franklin Springs, GA

The event went great due to the ease of working with Larry Weaver. The speaker was early, payment was easy and the crowd was happy. Will certainly be contacting Trusted Speakers again for our next event.
Annual Administrative Professional's Luncheon in Spartanburg, SC

We have NEVER had a bad experience using the Agency. All of the comedians we have booked through the Agency were excellent, professional, and a joy to work with.
Test Track Conference in Auburn, AL

Trusted Speakers was very easy to work with and promptly and professionally accommodated our needs. We would definitely work with them again.
Customer Appreciation Dinner in Wabash, IN

We would highly recommend Trusted Speakers for providing the best options for your entertainment needs. They are very prompt and courteous with their responses to any requests. Their choices of performers to suit your event are vast. We are very pleased with the choices they provided for us to choose from. Thanks Trusted Speakers!
API Fundraiser in Lafayette, LA

We have used Trusted Speakers for the past 6 years for our event and have always been very satisfied. Very easy to deal with and we have not had any problems.