Trusted Speakers and Entertainers
Find keynote speakers that are Entertaining, Engaging, and Experienced. You'll discover performers that are primarily entertainment as well as speakers with a message.
This site is built on thousands of testimonials. Speaker rankings are 100% merit-based. You will only see speakers that have verified, trusted testimonials for the category you choose. No one can buy their way onto this site. If a speaker isn't booked regularly or fails to deliver positive testimonials, they will no longer appear. It's that simple.
Most Recently Booked Presentation:
Life is Magic by Joshua Lozoff
Magic, mind-reading, mentalism and mystery! Joshua's show combines his love for the art of magic, and his fascination with psychology, intuition and other "inner workings of the mind." Read More...
More About Joshua Lozoff
Featured Review:
Paul Miller in Cary, NC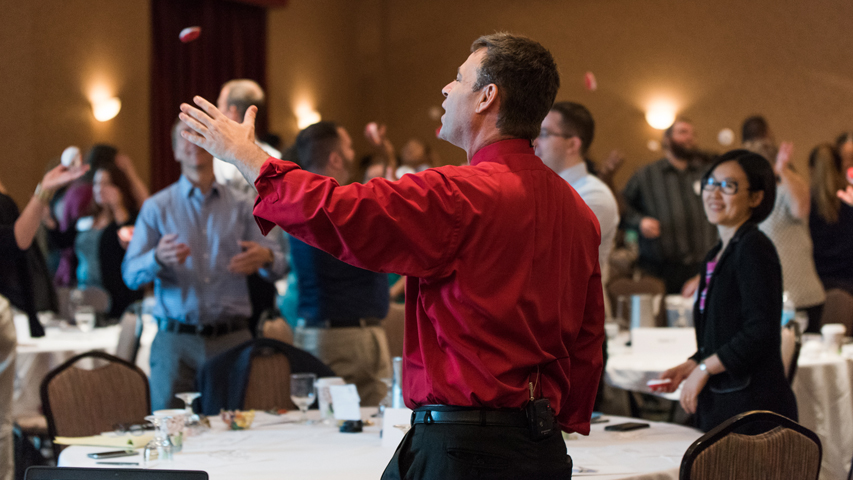 "Paul Miller was great and a wonderful add to our program. Thank you!" - VP, Compensation, Charter Communications Department Meeting review of Paul Miller
More About Paul Miller
Most Popular Speakers:
Presentations by Content:
Message: Motivation | Stress | Teamwork | Other
Entertainment: Stand-up Comedy | Magic | Juggling | All Entertainers
Presentations by Audience:
Agriculture, Amish, Association, Catholic, Chamber, Christian, Christmas Party, College, Construction, Corporate, Education, Family, Finance, Fundraiser, Healthcare, Hospitality, Manufacturing, Military, Municipal, Real Estate, Safety, Seniors, Technology, Theater, Transportation, Utilities, Women, Youth
Presentations by State:
United States: Alabama, Alaska, Arizona, Arkansas, California, Colorado, Connecticut, Delaware, District of Columbia, Florida, Georgia, Hawaii, Idaho, Illinois, Indiana, Iowa, Kansas, Kentucky, Louisiana, Maine, Maryland, Massachusetts, Michigan, Minnesota, Mississippi, Missouri, Montana, Nebraska, Nevada, New Hampshire, New Jersey, New Mexico, New York, North Carolina, North Dakota, Ohio, Oklahoma, Oregon, Pennsylvania, Rhode Island, South Carolina, South Dakota, Tennessee, Texas, Utah, Vermont, Virginia, Washington, West Virginia, Wisconsin, Wyoming Canada: Alberta, Manitoba, Ontario, Saskatchewan
Upcoming Schedule
| | | |
| --- | --- | --- |
| 7/27/2017 | Nebraska City, NE | Annual CEO Retreat with David Ferrell |
| 7/31/2017 | Cary, NC | Client Appreciation Event with Larry Weaver |
| 8/3/2017 | Williamsburg, VA | Annual Convention with Guest Speakers |
| 8/3/2017 | Des Moines, IA | Annual Research Meeting with Lyndy Phillips |
| 8/4/2017 | Athens, GA | Senior Adult Night with Larry Weaver |
| 8/7/2017 | Texarkana, TX | Teacher In-Service with Lyndy Phillips |
| 8/10/2017 | Zanesville, OH | Fundraiser with David Ferrell |
| 8/11/2017 | Zanesville, OH | Employee Party with David Ferrell |
| 8/12/2017 | Hendersonville, NC | Church Fundraiser with David Ferrell |
| 8/12/2017 | Columbus, OH | Annual Convention with Leslie Norris Townsend |
| 8/16/2017 | Fritch, TX | Staff Development with Lyndy Phillips |
| 8/16/2017 | Paris, TX | School System Convocation with Larry Weaver |
| 8/17/2017 | Orange Beach, AL | Manager's Meeting with Rik Roberts |
| 8/18/2017 | Fort Bragg, NC | Couples Date Night with David Ferrell |
| 8/20/2017 | Normal, IL | Annual Convention with Guest Speakers |
| 8/21/2017 | Normal, IL | Annual Convention with David Ferrell |
| 8/21/2017 | Clyde, TX | Staff Inservice with Lyndy Phillips |
| 8/22/2017 | Brook, IN | Annual Customer Appreciation Dinner with David Ferrell |
| 8/22/2017 | Quincy, IL | Annual Meeting with Lyndy Phillips |
| 8/23/2017 | Oklahoma City, OK | Employee Meeting with Dr. Charles Petty |
Recent Reviews
Summer Conference in Fort Worth, TX

Thank you for the prompt handling of all matters related to securing a speaker we could afford and the efficient scheduling and provision of details we needed to make the event a real success.
Annual Conference in Scottsdale, AZ

This is our second year of working with Trusted Speakers and they are becoming our go to for entertainment performances with a message.
Annual Recognition Day in Stevens, PA

The agency was very receptive to my requests and provided a great comedian for our group. You made the entire process easy and in the end made me look good!
Women's Luncheon in Kokomo, IN

Great communication, follow-up, and awareness of budgetary realities. Larry will make available a great performer for your event.
Winncom Unwired Conference in Fort Lauderdale, FL

It was a pleasure working with Larry! He was very cooperative and responded very quickly to all my emails and requests in a short amount of time (I only contacted him a few days before the performance). So I'd like to say a BIG THANK YOU for being so professional and helpful.
Comedy Night in Barnegat, NJ

Larry Weaver was great to work with. Fast, clear, and concise. We hope to do further business with this agency.
Women's Tea in Greensburg, IN

Trusted Speakers was very easy to work with. Very prompt with responses. I completely trusted Larry at the agency and would work with this agency again in a heartbeat!
Annual Meeting in Williamsburg, VA

Trusted Speakers is a top notch organization and very personable to work with. Larry provided the professionalism one would expect but also took the time to just say "How's it going" when you needed it most. Thanks Larry for everything.