Trusted Speakers and Entertainers
Find keynote speakers that are Entertaining, Engaging, and Experienced. You'll discover performers that are primarily entertainment as well as speakers with a message.
This site is built on thousands of testimonials. Speaker rankings are 100% merit-based. You will only see speakers that have verified, trusted testimonials for the category you choose. No one can buy their way onto this site. If a speaker isn't booked regularly or fails to deliver positive testimonials, they will no longer appear. It's that simple.
Most Recently Booked Presentation:
Clean Humor and Impressions by David Ferrell
100% clean stand-up comedy show suitable for all ages and backgrounds. Plus, David is happy to customize his performance with jokes about your company or organization. Read More...
More About David Ferrell
Featured Review:
Leslie Norris Townsend in Surprise, AZ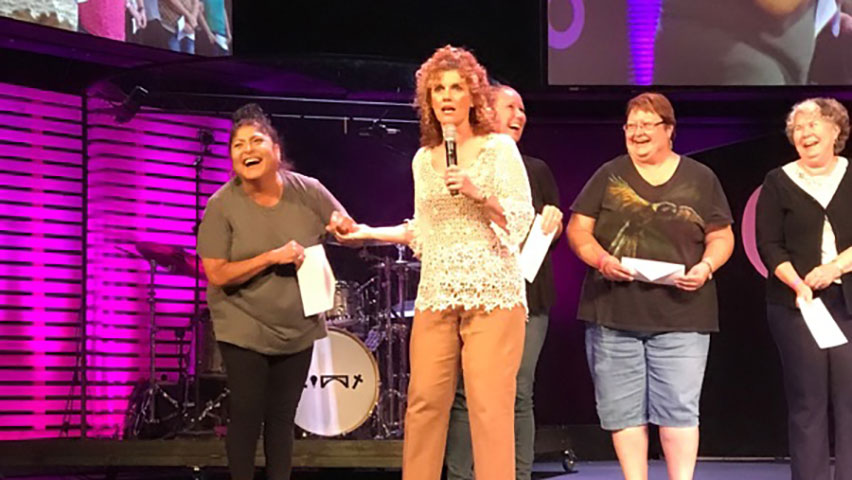 "We were so blessed to have Leslie Norris Townsend be a part of our event! So many women walked away saying that they had a Fabulous evening! They absolutely LOVED her! Thank you again Leslie for taking time out of your busy schedule to come and spend a few days with us. It was my pleasure to get to know her!" - Lead Pastor, Radiant Church Assembly of God Girls Night Out review of Leslie Norris Townsend
More About Leslie Norris Townsend
Most Popular Speakers:
Presentations by Content:
Message: Motivation | Stress | Teamwork | Other
Entertainment: Stand-up Comedy | Magic | Juggling | All Entertainers
Presentations by Audience:
Agriculture, Amish, Association, Catholic, Chamber, Christian, Christmas Party, College, Construction, Corporate, Education, Family, Finance, Fundraiser, Healthcare, Hospitality, Manufacturing, Military, Municipal, Real Estate, Safety, Seniors, Technology, Theater, Transportation, Utilities, Women, Youth
Presentations by State:
United States: Alabama, Alaska, Arizona, Arkansas, California, Colorado, Connecticut, Delaware, District of Columbia, Florida, Georgia, Hawaii, Idaho, Illinois, Indiana, Iowa, Kansas, Kentucky, Louisiana, Maine, Maryland, Massachusetts, Michigan, Minnesota, Mississippi, Missouri, Montana, Nebraska, Nevada, New Hampshire, New Jersey, New Mexico, New York, North Carolina, North Dakota, Ohio, Oklahoma, Oregon, Pennsylvania, Rhode Island, South Carolina, South Dakota, Tennessee, Texas, Utah, Vermont, Virginia, Washington, West Virginia, Wisconsin, Wyoming Canada: Alberta, Manitoba, Ontario, Saskatchewan
Upcoming Schedule
| | | |
| --- | --- | --- |
| 9/23/2017 | Sully, IA | Fundraising Dinner with David Ferrell |
| 9/23/2017 | Parkersburg, WV | Pre-Revival Meeting with John Felts |
| 9/23/2017 | Concord, NC | Annual Company Banquet with Guest Speakers |
| 9/26/2017 | Brandon, MS | Annual Awards Luncheon with John Felts |
| 9/26/2017 | Springfield, MO | Annual Conference with David Ferrell |
| 9/27/2017 | Des Moines, IA | Quarterly Meeting with Jerry Carroll |
| 9/27/2017 | Greensboro, NC | State Conference with Guest Speakers |
| 9/28/2017 | Ponte Vedra Beach, FL | President's Convocation with David Ferrell |
| 9/28/2017 | Memphis, TN | Campus Ministry Fundraiser with John Felts |
| 9/28/2017 | Detroit, MI | Fundraising Event with Guest Speakers |
| 9/29/2017 | Searcy, AR | Family Weekend with Paul Miller |
| 9/29/2017 | White Stone, VA | Employee Appreciation Day with Joshua Lozoff |
| 9/30/2017 | Milwaukee, WI | Women's Leadership Conference with Leslie Norris Townsend |
| 10/1/2017 | Savannah, GA | Annual Conference with Joshua Lozoff |
| 10/2/2017 | Selinsgrove, PA | Fundraising Banquet with John Felts |
| 10/3/2017 | Davenport, IA | Sales Meeting with Rik Roberts |
| 10/5/2017 | Knoxville, TN | Fundraiser with Larry Weaver |
| 10/5/2017 | Bluffton, SC | Board Retreat with Guest Speakers |
| 10/6/2017 | Tyler, TX | Liberty Hall Concert with Joshua Lozoff |
| 10/6/2017 | Paris, TX | Scholarship Fundraising Event with John Felts |
Recent Reviews
Farm-City Week Banquet in Wadesboro, NC

For the past nine years, we have trusted Larry Weaver to provide our event with quality entertainment, and he never fails. We would recommend him and his agency to anybody, just super to work with!
Mineola HAY Show in Mineola, TX

All of our experiences have been very pleasant. We have used the Agency multiple times and we are very pleased. The website is excellent. It is easy to use and very efficient.
Religious Education Orientation in Belgium, WI

This was the 2nd time I worked through Larry Weaver's agency. They were always so helpful, prompt and communicated well. They answered any questions I had and I greatly enjoyed working with them. I would recommend this agency to anyone.
Regional Showcase Update Meeting in Sandusky, OH

Trusted Speakers was very professional and thorough from beginning to end! They were able to accommodate us and work within our budget and we were very pleased with the whole process. We would definitely recommend them for future meetings!
Annual Customer Appreciation Dinner in Brook, IN

Trusted Speakers was flawless to work with. We had great communication from them throughout the entire process. They were extremely easy to work with and provided a great selection of entertainers to choose from for our event
Comedy Night Fundraiser in Zanesville, OH

Trusted Speakers did a great job matching us with David Ferrell. We wanted a comedian who would be clean - and also affordable for our fundraiser. Thanks for making that happen for us. It was a great evening and we couldn't have done it without you!
Senior Adult Night in Athens, GA

The agency is great! People of integrity, easy to work with and they deliver quality talent that can be counted on to fill your needs for wholesome entertainment.
Annual CEO Retreat in Nebraska City, NE

Always flawless working with Larry. Other agencies should take note.