Trusted Speakers and Entertainers
Find keynote speakers that are Entertaining, Engaging, and Experienced. You'll discover performers that are primarily entertainment as well as speakers with a message.
This site is built on thousands of testimonials. Speaker rankings are 100% merit-based. You will only see speakers that have verified, trusted testimonials for the category you choose. No one can buy their way onto this site. If a speaker isn't booked regularly or fails to deliver positive testimonials, they will no longer appear. It's that simple.
Most Recently Booked Presentation:
Dirt in Our DNA by Jerry Carroll
Stories of farming and farm life tailored for agricultural events. You'll enjoy tales of feeding hogs, raising crops, and keeping the farm equipment together with duct tape, bailing wire, and WD-40. Read More...
More About Jerry Carroll
Featured Review:
John Felts in Richmond, VA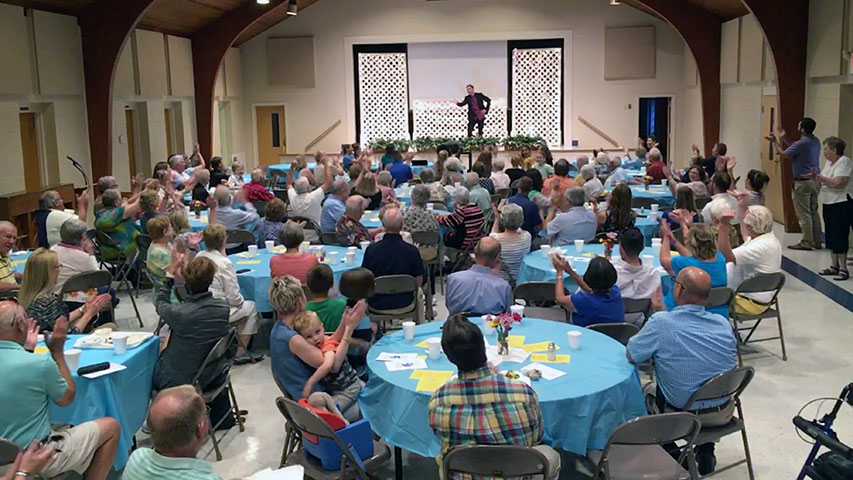 "John Felts is very personable and easy to work with. He does his homework and he knew who we were and he personalized his show and helped us laugh at ourselves. We had such a good time with John, we would recommend him for any venue! Comedy is subjective, but we all had good belly laughs with John. Thanks for a great show John!!" - Pastor, Derbyshire Baptist Church Church Service review of John Felts
More About John Felts
Most Popular Speakers:
Presentations by Content:
Message: Motivation | Stress | Teamwork | Other
Entertainment: Stand-up Comedy | Magic | Juggling | All Entertainers
Presentations by Audience:
Agriculture, Amish, Association, Catholic, Chamber, Christian, Christmas Party, College, Construction, Corporate, Education, Family, Finance, Fundraiser, Healthcare, Hospitality, Manufacturing, Military, Municipal, Real Estate, Safety, Seniors, Technology, Theater, Transportation, Utilities, Women, Youth
Presentations by State:
United States: Alabama, Alaska, Arizona, Arkansas, California, Colorado, Connecticut, Delaware, District of Columbia, Florida, Georgia, Hawaii, Idaho, Illinois, Indiana, Iowa, Kansas, Kentucky, Louisiana, Maine, Maryland, Massachusetts, Michigan, Minnesota, Mississippi, Missouri, Montana, Nebraska, Nevada, New Hampshire, New Jersey, New Mexico, New York, North Carolina, North Dakota, Ohio, Oklahoma, Oregon, Pennsylvania, Rhode Island, South Carolina, South Dakota, Tennessee, Texas, Utah, Vermont, Virginia, Washington, West Virginia, Wisconsin, Wyoming Canada: Alberta, Manitoba, Ontario, Saskatchewan
Upcoming Schedule
| | | |
| --- | --- | --- |
| 9/26/2018 | Nashville, TN | National Convention with Larry Weaver |
| 9/27/2018 | Columbia, MD | Annual Fall Conference with Joshua Lozoff |
| 9/28/2018 | Fuqua-Varina, NC | Arts Center Concerts (Sep 28-29) with Joshua Lozoff |
| 9/28/2018 | Holly Springs, NC | Comedy Series with Guest Speakers |
| 9/29/2018 | Bangor, ME | Shepherd Godparent Home Fundraiser with Guest Speakers |
| 10/1/2018 | Charleston, SC | Fall Convention with Larry Weaver |
| 10/3/2018 | Stone Mountain, GA | Annual Conference with Joshua Lozoff |
| 10/4/2018 | Greensboro, NC | Safety Conference with Joshua Lozoff |
| 10/6/2018 | Lexington, NC | Fundraiser with John Felts |
| 10/6/2018 | Reno, NV | Annex Brands Tradeshow with Joshua Lozoff |
| 10/9/2018 | Palmyra, PA | Annual Fundraiser with Paul Miller |
| 10/9/2018 | Bowling Green, KY | Annual Conference with Rik Roberts |
| 10/12/2018 | Wichita, KS | Live2Lead Simulcast with Joshua Lozoff |
| 10/13/2018 | Elgin, SC | Women's Conference with Leslie Norris Townsend |
| 10/15/2018 | Greensboro, NC | Company Anniversary Party with Guest Speakers |
| 10/18/2018 | Princeton, WV | Employee Recognition Banquet with Guest Speakers |
| 10/18/2018 | Appleton, WI | Department Conference with Rik Roberts |
| 10/19/2018 | Warren, IN | Girls Night Out with Leslie Norris Townsend |
| 10/20/2018 | Wilson, NC | Fundraiser with Jerry Carroll |
| 10/20/2018 | Memphis, TN | Campus Ministry Fundraiser with John Felts |
Recent Reviews
Stand Up for Kids Fundraiser in Anderson, IN

Trusted Speakers was very timely in getting booking and contract information out to us. I appreciate the reminders and tips for a successful evening that were provided as well. Promo materials provided on the website were eye catching and perfect for our marketing purposes.
Customer Appreciation Dinner in Keenes, IL

Trusted Speakers made the booking and payment process very easy. Larry was prompt with my questions, of which I had many. We will surely use them again to book talent in the future.
Manager's Meeting in Orange Beach, AL

Trusted Speakers has always produced top talent for me when I have asked on behalf of Alabama Farmers Cooperative. Their level of professionalism is outstanding.
Moto Summer Symposium in Osage Beach, MO

The agency was prompt and professional from start to finish. Made the entire process seamless. After reading the bios on the other speakers I will definitely be a repeat customer.
Anniversary Banquet in Pittsburgh, PA

Larry Weaver's organization was perfect. They took care of all the details and were thoroughly prepared, taking each piece of information we provided and drawing up a very easy to understand contract.
Volunteer Appreciation Party in Farmingdale, NJ

Larry Weaver from Trusted Speakers was professional as well as helpful to me through the process of getting the best show for our Volunteer Appreciation Party. He was in constant contact with me from start to finish. Nothing came as a surprise because everything was clearly explained in each correspondence. Trusted Speakers truly lives up to its name!
Annual Meeting in Lovington, NM

I have used Trusted Speakers for the last couple of years and the performers are top performers. They deliver what they promise.
Fundraiser in Franklin Springs, GA

The event went great due to the ease of working with Larry Weaver. The speaker was early, payment was easy and the crowd was happy. Will certainly be contacting Trusted Speakers again for our next event.