Trusted Speakers and Entertainers
Find keynote speakers that are Entertaining, Engaging, and Experienced. You'll discover performers that are primarily entertainment as well as speakers with a message.
This site is built on thousands of testimonials. Speaker rankings are 100% merit-based. You will only see speakers that have verified, trusted testimonials for the category you choose. No one can buy their way onto this site. If a speaker isn't booked regularly or fails to deliver positive testimonials, they will no longer appear. It's that simple.
Most Recently Booked Presentation:
Good, Clean Humor by Larry Weaver
100% clean stand-up comedy performance that is highly professional, culturally sensitive and hilariously funny. As heard on SIRIUS XM Blue Collar Radio and Laugh USA, Larry's humor includes tales of growing up in the country, home remedies, family gatherings, marriage, traveling, trying to eat right, and more. Read More...
More About Larry Weaver
Featured Review:
John Felts in Maysville, GA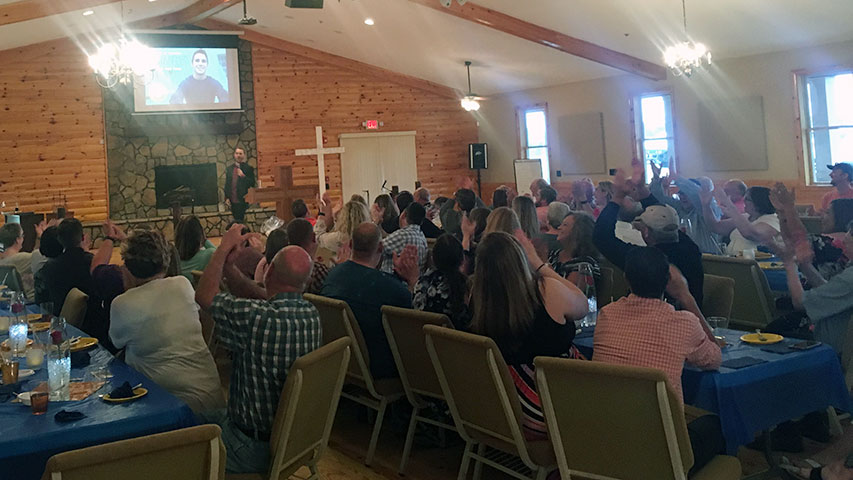 "John Felts was amazing!! What an awesome comedian!! Such an extremely funny, professional, and personable individual. Everyone from the church that attended the event is still talking and laughing about him - so much fun!! Highly, highly recommend John Felts for any event!!" - Women's Leadership Team Staff, Maysville Baptist Church Date Night review of John Felts
More About John Felts
Most Popular Speakers:
Presentations by Content:
Message: Motivation | Stress | Teamwork | Other
Entertainment: Stand-up Comedy | Magic | Juggling | All Entertainers
Presentations by Audience:
Agriculture, Amish, Association, Catholic, Chamber, Christian, Christmas Party, College, Construction, Corporate, Education, Family, Finance, Fundraiser, Healthcare, Hospitality, Manufacturing, Military, Municipal, Real Estate, Safety, Seniors, Technology, Theater, Transportation, Utilities, Women, Youth
Presentations by State:
United States: Alabama, Alaska, Arizona, Arkansas, California, Colorado, Connecticut, Delaware, District of Columbia, Florida, Georgia, Hawaii, Idaho, Illinois, Indiana, Iowa, Kansas, Kentucky, Louisiana, Maine, Maryland, Massachusetts, Michigan, Minnesota, Mississippi, Missouri, Montana, Nebraska, Nevada, New Hampshire, New Jersey, New Mexico, New York, North Carolina, North Dakota, Ohio, Oklahoma, Oregon, Pennsylvania, Rhode Island, South Carolina, South Dakota, Tennessee, Texas, Utah, Vermont, Virginia, Washington, West Virginia, Wisconsin, Wyoming Canada: Alberta, Manitoba, Ontario, Saskatchewan
Upcoming Schedule
| | | |
| --- | --- | --- |
| 4/23/2018 | Adairsville, GA | National Sales Meeting with John Felts |
| 4/24/2018 | Canton, OH | Meeting with Joshua Lozoff |
| 4/24/2018 | Franklin Springs, GA | Fundraiser with David Ferrell |
| 4/24/2018 | Tishomingo, OK | Fundraising Gala with Guest Speakers |
| 4/25/2018 | Springfield, KY | End-of-the-Year Dinner with Joshua Lozoff |
| 4/25/2018 | Athens, GA | BCP Technical Communicator Service Conference with David Ferrell |
| 4/27/2018 | Farmingdale, NJ | Volunteer Appreciation Party with John Felts |
| 4/27/2018 | Lovington, NM | Annual Meeting with Joshua Lozoff |
| 4/28/2018 | Anderson, SC | Annual Meeting with David Ferrell |
| 4/30/2018 | Savannah, GA | Annual Conference with Larry Weaver |
| 5/1/2018 | Baton Rouge, LA | Corporate Event with Joshua Lozoff |
| 5/4/2018 | Chatanooga, TN | Marriage Event with John Felts |
| 5/5/2018 | Orlando, FL | Retail Shippers Expo with Joshua Lozoff |
| 5/5/2018 | Sikeston, MO | Men's Conference with John Felts |
| 5/6/2018 | Pittsboro, NC | Member Performance with Joshua Lozoff |
| 5/7/2018 | Orlando, FL | National Convention with Guest Speakers |
| 5/8/2018 | Somers Point, NJ | Service Awards Dinner with John Felts |
| 5/8/2018 | Nashville, TN | Management Conference with Rik Roberts |
| 5/9/2018 | Germantown, TN | Membership Luncheon with Rik Roberts |
| 5/10/2018 | Crossville, TN | Comedy Night with Rik Roberts |
Recent Reviews
Annual Administrative Professional's Luncheon in Spartanburg, SC

We have NEVER had a bad experience using the Agency. All of the comedians we have booked through the Agency were excellent, professional, and a joy to work with.
Test Track Conference in Auburn, AL

Trusted Speakers was very easy to work with and promptly and professionally accommodated our needs. We would definitely work with them again.
Customer Appreciation Dinner in Wabash, IN

We would highly recommend Trusted Speakers for providing the best options for your entertainment needs. They are very prompt and courteous with their responses to any requests. Their choices of performers to suit your event are vast. We are very pleased with the choices they provided for us to choose from. Thanks Trusted Speakers!
API Fundraiser in Lafayette, LA

We have used Trusted Speakers for the past 6 years for our event and have always been very satisfied. Very easy to deal with and we have not had any problems.
Top Producer Meeting in Flora, IL

Trusted Speakers has been great to work with. I would highly recommend them to anyone. Attitude was great. They were very helpful in lining up a speaker that fit our needs.
Big Schtick Fundraiser in Richmond, VA

Trusted Speakers was extremely professional and easy to work with. Larry Weaver responded to all questions promptly and thoroughly. The reminder email was much appreciated as well. We will look to use Trusted Speakers again for our future needs.
Valentine's Day Dinner in Springfield, IL

Trusted Speakers has served me well for multiple years as I organize a yearly event. Larry Weaver is very thorough and professional. I have no anxiety about where I can go to discover excellent clean comedy and talent. Thank you.
Annual Fundraiser in Cascade, IA

Trusted Speakers is very organized and professional! They have a variety of performers available and do a great job of helping you find the right one for your group. They also provide a clear outline of billing and performer requirements. Very reliable and easy to work with!