Trusted Speakers and Entertainers
Find guest speakers that are Clean and Entertaining. You'll discover keynote speakers that are primarily entertainment as well as presenters that are more educational in nature.
This site is built on thousands of testimonials. Speaker rankings are 100% merit-based. You will only see speakers that have verified, trusted testimonials for the category you choose. No one can buy their way onto this site. If a speaker isn't booked often or fails to deliver positive testimonials, they will no longer appear. It's that simple.
Most Recently Booked Presentation:
Christian Humor by John Felts
Faith-based, clean comedy for churches, charities, and Christian companies. Each show is custom fit to the ministry or faith-based cause by gathering information prior to the performance to create that personal feel. Read More...
More About John Felts
Featured Review:
Larry Weaver in Virginia Beach, VA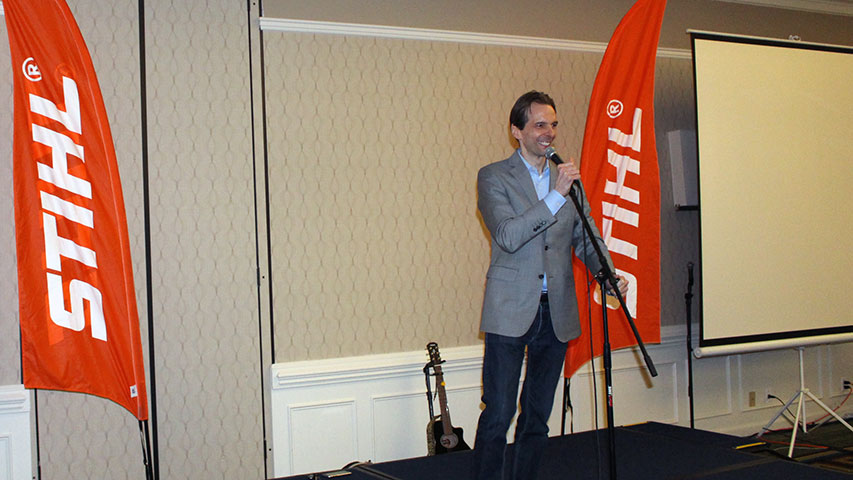 "Larry Weaver did a great job for us at our annual conference. He was able to work in some comedy that was specific to our group and it was a big hit. Larry was prompt, professional and interacted with our audience well." - Executive Director, Equipment & Engine Training Council Annual Conference review of Larry Weaver
More About Larry Weaver
Most Popular Speakers:
Presentations by Content:
Educational: All | Motivation | Stress | Teamwork
Entertainment: All | Stand-up Comedy | Magic | Juggling
Presentations by Audience:
Agriculture | Association | Chamber of Commerce | Christian | Christmas Party | College | Construction | Corporate | Education | Fundraiser | Finance/Insurance | Healthcare | Municipal | Real Estate | Transportation
Presentations by State:
United States: Alabama, Alaska, Arizona, Arkansas, California, Colorado, Connecticut, Delaware, District of Columbia, Florida, Georgia, Hawaii, Idaho, Illinois, Indiana, Iowa, Kansas, Kentucky, Louisiana, Maine, Maryland, Massachusetts, Michigan, Minnesota, Mississippi, Missouri, Montana, Nebraska, Nevada, New Hampshire, New Jersey, New Mexico, New York, North Carolina, North Dakota, Ohio, Oklahoma, Oregon, Pennsylvania, Rhode Island, South Carolina, South Dakota, Tennessee, Texas, Utah, Vermont, Virginia, Washington, West Virginia, Wisconsin, Wyoming Canada: Alberta, Manitoba, Ontario, Saskatchewan
Upcoming Schedule
| | | |
| --- | --- | --- |
| 4/24/2017 | Brookings, SD | State Convention with Jerry Carroll |
| 4/25/2017 | Pulaski, TN | Women's Luncheon with Leslie Norris Townsend |
| 4/26/2017 | Jenison, MI | Volunteer Banquet with Rik Roberts |
| 4/26/2017 | Springfield, KY | End-of-the-Year Dinner with Guest Speakers |
| 4/27/2017 | Denver, CO | Trade Show with Joshua Lozoff |
| 4/28/2017 | Graham, NC | Junior/Senior Banquet with John Felts |
| 4/28/2017 | Mount Carmel, IL | Diesel Club Reunion with Rik Roberts |
| 4/28/2017 | Lovington, NM | Annual Meeting with Jerry Carroll |
| 4/29/2017 | Doswell, VA | Good Sam Rally with Larry Weaver |
| 4/30/2017 | Plano, TX | Senior Adults Event with Lyndy Phillips |
| 5/1/2017 | Biloxi, MS | Annual Conference with John Felts |
| 5/2/2017 | Canton, OH | Volunteer Appreciation Dinner with John Felts |
| 5/2/2017 | St George, SC | Teacher Appreciation Event with David Ferrell |
| 5/3/2017 | Odessa, TX | Go Red for Women Luncheon with Leslie Norris Townsend |
| 5/5/2017 | Williamsburg, VA | Annual Meeting with John Felts |
| 5/5/2017 | Minneapolis, MN | Women's Retreat with Leslie Norris Townsend |
| 5/5/2017 | Jonesboro, AR | Leadership Conference with Larry Weaver |
| 5/5/2017 | Durham, NC | Faculty Appreciation Banquet with Guest Speakers |
| 5/6/2017 | Saint Simmons Island, GA | Private Dinner with Joshua Lozoff |
| 5/6/2017 | Southbury, CT | Volunteer Appreciation with John Felts |
Recent Reviews
Fundraiser in Lafayette, LA

We have used Larry Weaver Entertainment for the past 5 years for our annual fund raiser and have been extremely satisfied with each performer. Larry and all the performers we have used have been very cooperative, with great attitudes. We plan on using Larry again next year.
Annual Meeting in Normal, IL

Larry Weaver Entertainment ALWAYS delivers and never disappoints. Their ability to deliver not only great entertainment but just plain great people is a rare find. They are our "go to" agency when in need of quality family friendly entertainment.
Member Comedy Night in York, PA

Trusted Speakers made everything so easy from the billing to the confirmation of time and date. The details were laid out and communication was on point. Very easy company to work with!
Farmer Appreciation Breakfast in Mt. Carmel, IL

Larry Weaver with Trusted Speakers was great to deal with. There was outstanding communication throughout the whole process of booking Jerry Carroll for our event. It was made very clear as to what was expected by all parties and I would highly recommend using this agency to book great talent.
Valentine's Banquet in Dothan, AL

Trusted Speakers was very professional and communicated with me in a timely and competent manner. The show was so quality that I would have expected to pay more. We were very pleased with everything!
Valentine's Date Night in West Lawn, PA

Both Larry and John were extremely professional and prompt in their responses! They answered my (many) questions during the process of planning our the event. They made things so easy for us! We would recommend the Trusted Speakers team to anyone looking to book Comedians for an event!
National Young Farmers Program in Greenville, SC

Larry Weaver is wonderful to work with. He made suggestions on the performers he felt would meet our needs. He we prompt in responses. Highly recommend using him to book a performer.
Annual High Yield Club Banquet in Grand Rapids, MI

Larry was the ultimate easy button when booking this event. Everything he promised he delivered. I highly recommend Larry to anyone looking to host a quality event with no hassles. Can't wait to work with Trusted Speakers again.