Jerry Carroll found comedy growing up on his family's farm in Willow Spring, NC. From the time he could walk, he joined his father and uncle to farm tobacco, corn, small grain, soybeans, cattle, and hogs. Spending 14 hours a day in a tractor cab gave Jerry plenty of time to think about his life's dream of making people laugh.
Jerry's hilarious story about a farm safety mishap was a hit at the local seed store and he finally decided to pursue his life's dream at the local comedy club. His seemingly effortless ability to spin out punch line after punch line, story after story, took him from emcee to headliner in just eight short months. Since beginning in 1993, Jerry has performed for crowds from 20 to 20,000 in venues ranging from the local volunteer fire department's banquet, to the Minister's of Provincial Parliament at the Royal York in Toronto, Canada. Everywhere he goes, he leaves audiences roaring with laughter.
Besides corporate meeting and events, conventions, countless associations, comedy clubs, and country clubs, Jerry has opened concerts for music artists such as Michael Bolton, Patty Loveless, Lyle Lovett, and Larry Gatlin. Jerry has performed from coast to coast in the U.S. and throughout Canada. He's even hosted two TV shows on the Sportsman Channel: Fishing for Laughs and Amazing America with Sarah Palin.
When he's not on the road making people laugh, Jerry still works the fields of his family's farm. This experience makes him one of the nation's most sought-after speakers for farmers and agribusiness events.
Available Presentations Include:
Dirt in Our DNA
Stories of farming and farm life tailored for agricultural events. You'll enjoy tales of feeding hogs, raising crops, and keeping the farm equipment together with duct tape, bailing wire, and WD-40.
More About This Presentation
Check Availability
Life Down a Dirt Road
Down-home comedy delivered in a fast-paced, high-energy style. From stories about his grandma to his grandkids, Jerry's relatable topics crack up the most hard-to-please crowds.
More About This Presentation
Check Availability
Recent Reviews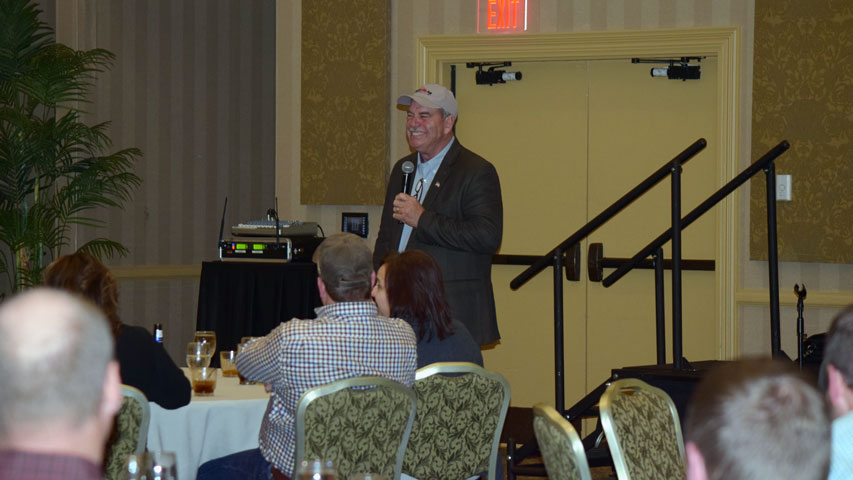 Superior Ag
"We loved Jerry Carroll! I would recommend him to anyone, especially in the Ag industry. Very clean comedian and laughs at himself. Our group of 110 Indiana farmers LOVED laughing with him. He arrived early and mingled with the group before hand. Was very down to earth, engaged with the group, made them laugh, and was very relatable to our group of farmers."
- Marketing Communication Manager, Ag Innovator's Summit in French Lick, IN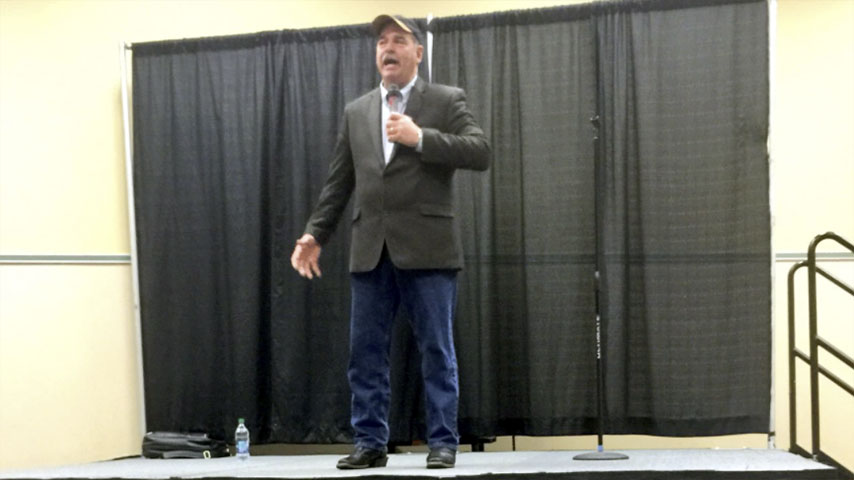 Washington State Hay Growers Association
"This is the second time I have booked Jerry Carroll for one of the Organizations we represent and he was phenomenal once again. I would recommend having Jerry at any meeting/event."
- Executive Secretary, Northwest Hay Expo in Kennewick, WA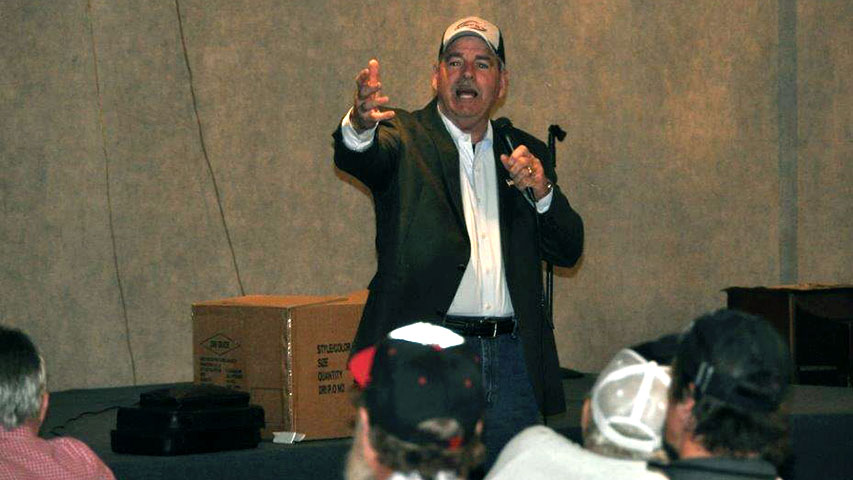 GRAINCO FS, Inc.
"Jerry Carroll stayed engaged with the audience and could relate to the same experiences they have had in their personal life. He has a unique way of finding humor in day to day on the farm activities. Jerry understood our industry and has done many of the same things we have. He had the crowd laughing like crazy! I would consider having him back and would recommend him to all the farming industry."
- Event Planner, Agronomy Appreciation Dinner in Ottawa, IL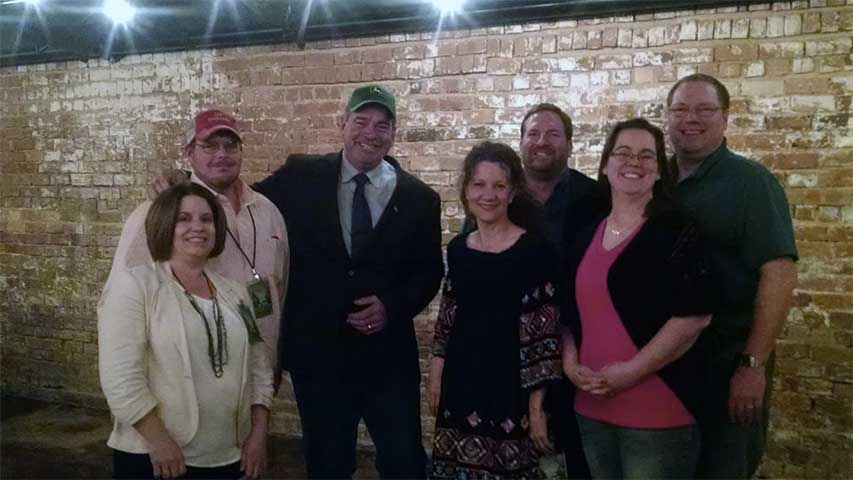 Outstanding Farmers of America
"Jerry Carroll's performance was wonderful. Everyone attending the event commented on how much they enjoyed the evening. He is very personable - taking the time to socialize with guests. He is very funny. It was nice to hear clean comedy. Highly recommend him."
- Conference Committee Member, National Young Farmers Program in Greenville, SC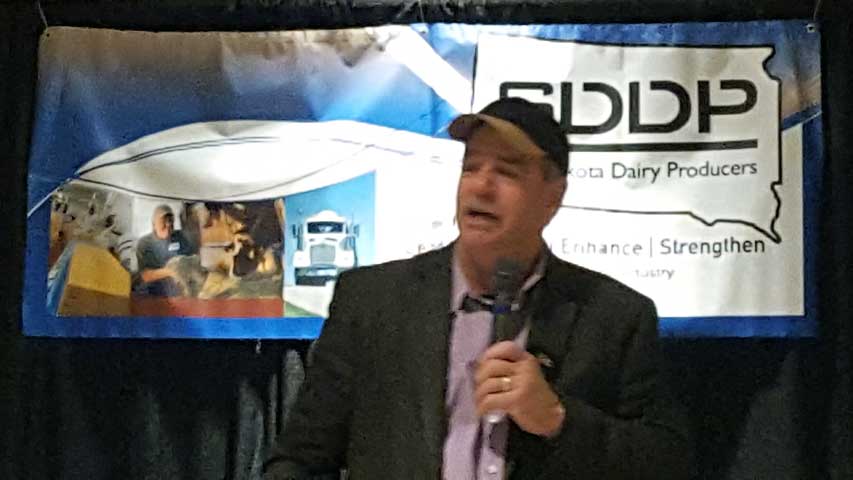 South Dakota Dairy Producers
"Jerry Carroll was very entertaining. He arrived early, listened to our business meeting and got a flavor of who SD dairy farm families were. Then he used his talents to intertwine comedy of real life experiences and dairy life to keep everyone laughing. I only wish more could have been present to go home with a pain in the side from laughing."
- Executive Director, Annual Meeting in Brookings, SD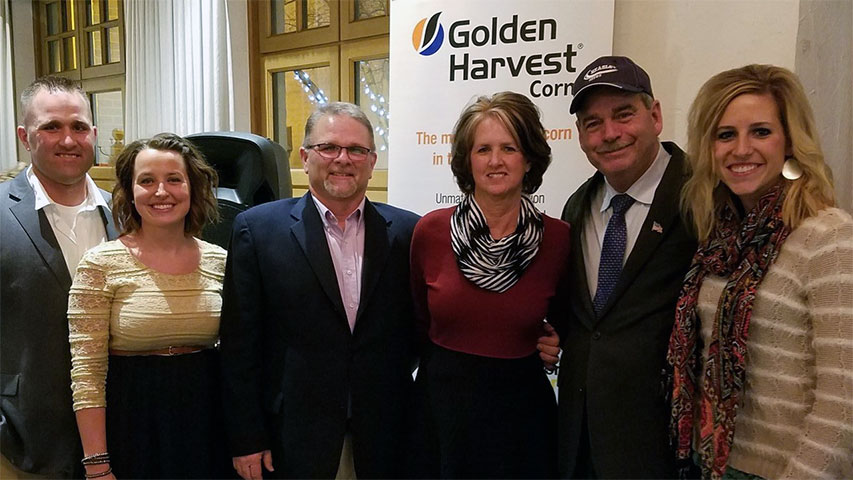 Heasley Seeds LLC
"Jerry Carroll was just great. Our folks loved his performance. He was also a joy to work with - came early and interacted with our crowd, just great. Can't say enough good about the job Jerry did for us. I am hoping we can use him again in the future."
- Owner, Annual High Yield Club Banquet in Grand Rapids, MI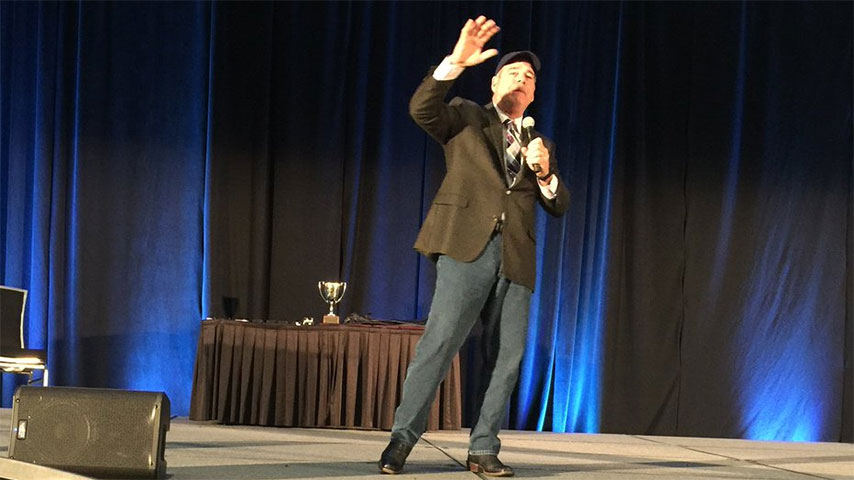 Grain Elevator and Processing Society
"Jerry Carroll did a great job. He arrived early and met our speakers and staff. He was very conversational, engaging members to better understand the business and establish good rapport. Also very professional, he connected with our audience, even at this breakfast event. We received many comments back that he was not only funny, but he knew the industry and award topics well enough to provide good lead-ins and tied the awards together nicely. It was very easy to schedule Jerry and the communication prior to the event was well timed and always spot on. It was also very helpful to have access to Jerry's introduction and high resolution photo's for the event and pre-event promotion. We enjoyed Jerry very much, both personally and professionally and would recommend Jerry to any group and especially those in an agricultural related business."
- Brand Management Leader, Annual Conference in Austin, TX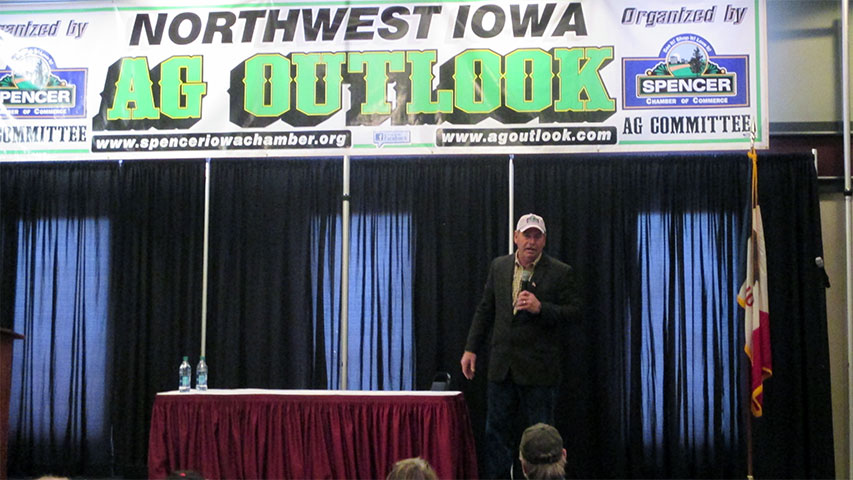 Spencer Chamber of Commerce
"Wow -- where to start? Jerry Carroll met and exceeded my expectations. He was very easy to work with and very thoughtful. Jerry attended the Vendor Reception on Monday night - networking with the vendors and getting to know our committee and the surrounding area. On Tuesday, Jerry arrived early at the venue and walked around networking with the vendors; meeting the public and attending the speaker before Jerry - Iowa Agriculture Secretary, Bill Northey. Everyone I have talked to that attended Jerry Carroll's presentation have told me nothing but great things about his presentation. Jerry staying up on what is happening in Agriculture and Business in other parts of the US - and not just his home state is what impressed me. He very much so has his homework done to relate to his audience. Jerry also dressed correctly - he did not try to out dress the audience. Jerry's audience was farmers and farm related business people mainly and he dressed to relate to them - this was wonderful! After Jerry's presentation and before he left I was very touched that he came to find me to thank me and give me a hug. I would recommend Jerry to anyone."
- Program Director, Northwest Iowa Ag Outlook Conference in Spencer, IA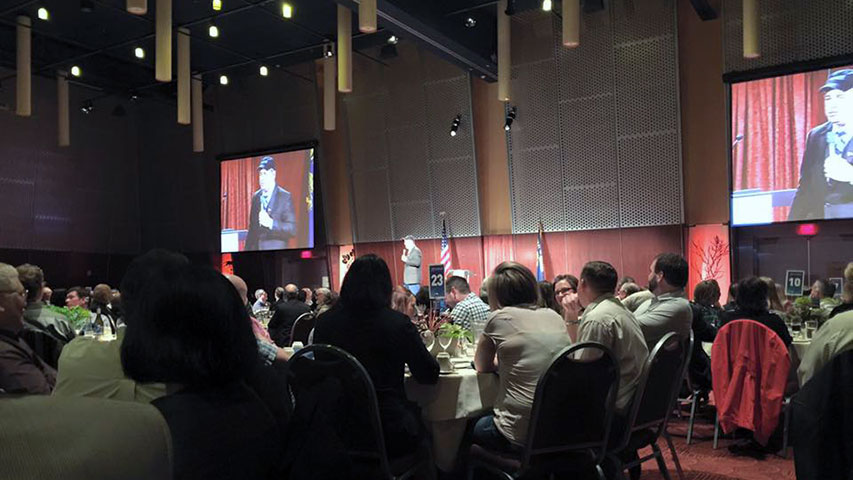 Salem Area Chamber of Commerce
"Jerry Carroll did a wonderful job at our Agri-Business Banquet! He was there well in advance to make sure everything was setup and the stage/audio-visual was to his liking. He had a message that resonated with a conservative, but diverse audience. Making a crowd of 550 have a great time is no easy task! Thank you so much."
- Director of Events and Programs, SAIF Agri-Business Banquet in Salem, OR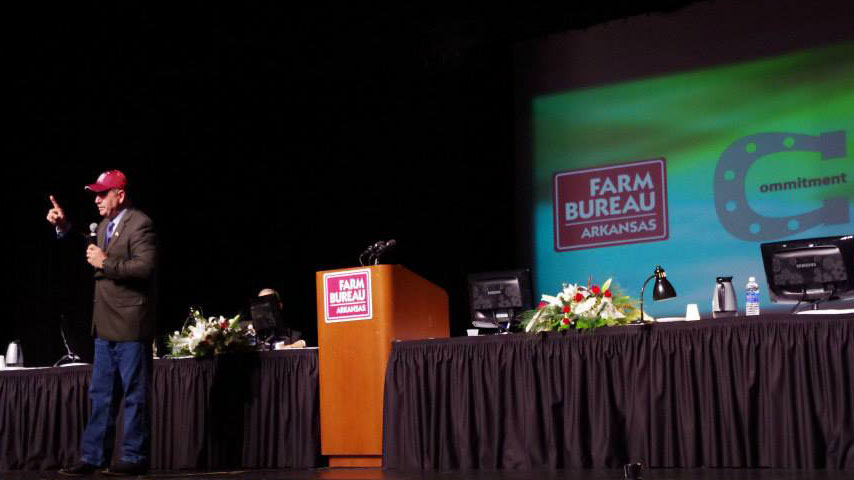 Arkansas Farm Bureau
"Jerry Carroll was wonderful to work with! I can't say enough good things about him and his performance. Our audience loved him. He connected so well I believe after an hour, he could have gone on for another hour and no one would have left. I heard many great comments, including that he was the best speaker we had had in a long time. His style of comedy was perfect for our members. I really enjoyed working with him. Everything we needed to promote the event was right at our fingertips on the website and any questions were answered quickly. We will definitely be looking to you for future entertainment."
- Rural Health Specialist, Annual Convention in Hot Springs, AR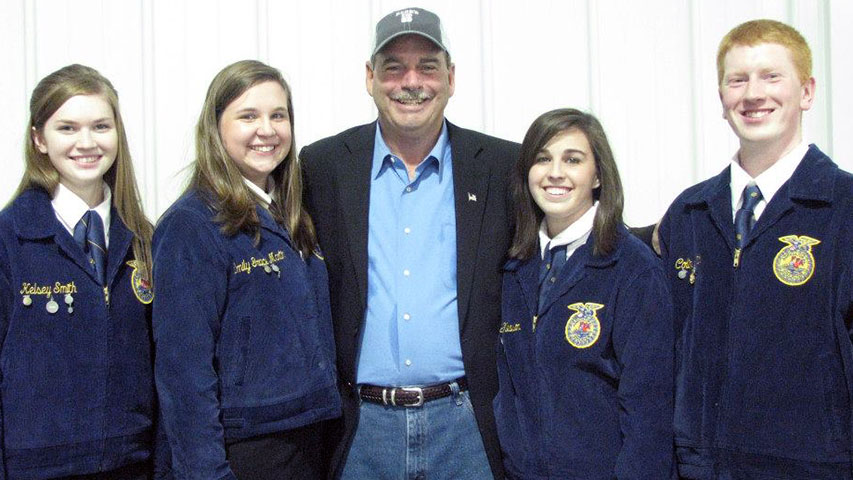 Illinois Rural Heritage Museum
"Jerry Carroll did a great job of entertaining our guests. He arrived early, toured the Museum and visited with the crowd both before and after the program. He kept everyone entertained. We were very satisfied and will consider having him again."
- Event Planner, Annual Tractor Drive and Banquet in Pinckneyville, IL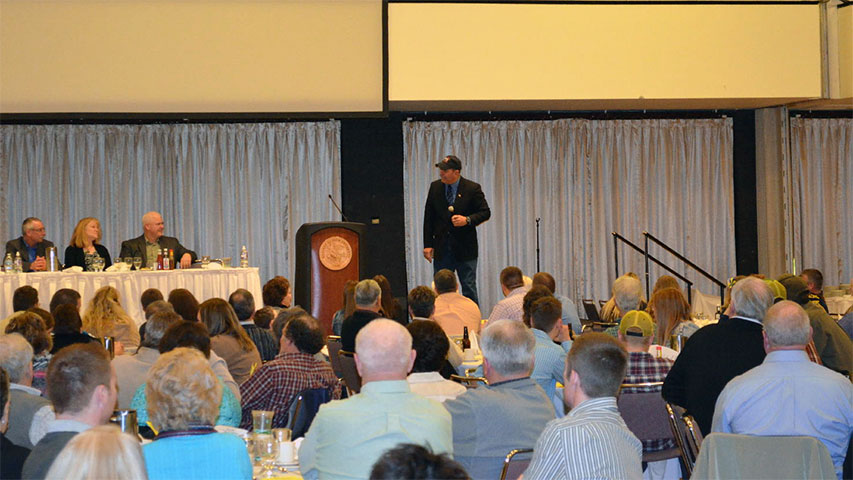 Tri-County Cattlemen's Association
"Jerry Carroll was a great fit for our audience. He was able to relate very well with the crowd. Everyone enjoyed him and had a great time. Plus, he was very easy to work with."
- President, Annual Banquet in Macomb, IL
View All 162 Reviews
Upcoming Schedule
| | | |
| --- | --- | --- |
| 10/23/2019 | Bowman, ND | Annual Farmer/Rancher Appreciation Banquet |
| 10/3/2019 | Wilmington, NC | Annual Meeting |
| 8/1/2019 | El Dorado, KS | Annual Meeting |
| 7/22/2019 | Westfield Center, OH | Agribusiness Invitational |
| 7/9/2019 | Memphis, MO | Scotland County Fair |
| 5/18/2019 | Salix, IA | Company 25 Year Celebration |
| 4/27/2019 | West Point, NE | Annual Banquet |
| 4/6/2019 | Columbus, OH | Food Animal Club Symposium |
| 3/26/2019 | Lincoln, NE | Annual Sales Meeting |
| 2/23/2019 | Wilmington, NC | Annual Meeting |
| 2/19/2019 | Frederick, MD | Growers Meeting |
| 2/9/2019 | Osage Beach, MO | Young Farmer & Rancher Conference |
| 2/2/2019 | Macomb, IL | Annual Banquet |
| 1/28/2019 | Minot, ND | Annual Convention |
| 1/26/2019 | Atalissa, IA | Annual Banquet |
| 12/21/2018 | Cullman, AL | Corporate Safety Meeting |
| 12/15/2018 | Janesville, WI | Company Christmas Party |
| 12/13/2018 | French Lick, IN | Ag Innovator's Summit |
| 12/9/2018 | Temple, TX | Customer Appreciation Dinner |
| 12/7/2018 | Harrington, DE | Centennial Celebration |
| 12/1/2018 | Lake Ozark, MO | Christmas Party |
| 11/9/2018 | Holly Springs, NC | HSCC Comedy Concert |
| 10/20/2018 | Wilson, NC | Fundraiser |
| 9/21/2018 | Starkville, MS | Loggers Awards Banquet |
Where does Jerry Carroll perform?
Jerry Carroll has recently performed in: Alabama, Alaska, Alberta, Arkansas, California, Colorado, Delaware, Florida, Georgia, Idaho, Illinois, Indiana, Iowa, Kansas, Kentucky, Louisiana, Maryland, Michigan, Minnesota, Mississippi, Missouri, Montana, Nebraska, Nevada, New Mexico, New York, North Carolina, North Dakota, Ohio, Oklahoma, Ontario, Oregon, Pennsylvania, Saskatchewan, South Carolina, South Dakota, Tennessee, Texas, Virginia, Washington, Wisconsin, just to name a few.