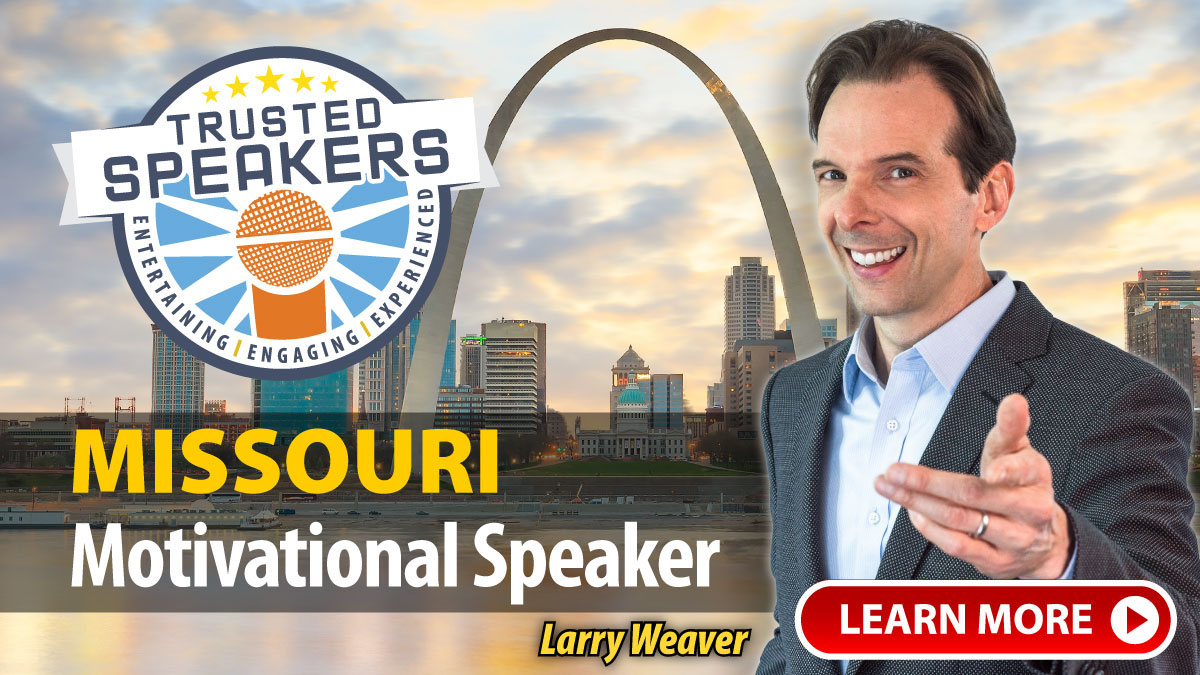 Kansas City
Speakers and Comedians
Find motivational speakers, comedians and clean entertainers in Kansas City, MO for your next meeting or event. Each of the keynote speakers listed below have recently performed their highly-engaging presentations in the Kansas City, Missouri area.
Recent Reviews from Kansas City
Rik Roberts, Comedian in Kansas City, MO

"Rik Roberts was a big hit at our appreciation banquet! He had the audience laughing the entire time. I have received lots of positive feedback from attendees who thought he was our best entertainer to date. I highly recommend Rik for any event where you want to laugh!"
Arthur Atsma, Magician in Lawrence, KS

"Great entertainer. Our group really enjoyed Arthur's performance."
John Felts, Comedian in Lenexa, KS

"John Felts was amazing! He is such a kind, genuine and fun person to be around. We really enjoyed speaking with him and getting to know him before the show. John had a customized show for our Company Christmas Party, was on time and gave an outstanding performance. All in attendance loved him! We all laughed from beginning to end! Best company party we have ever had. He has such a quick wit, and we are still laughing. We would highly recommend him!"
John Felts, Comedian in Leawood, KS

"John Felts was fabulous! We really enjoyed having him at our church. It was even better that he personalized his material to our area and our church. It made for a fun evening! Such a blast!"
Paul Miller, Juggler in Kansas City, MO

"Paul Miller is a very talented guy. Good show for all ages."
"Leslie Norris Townsend was fantastic! So funny and appropriate for our church women's event. Highly recommend her to anyone. Our ladies loved her and had a great time!"
Joshua Lozoff, Mentalist in Kansas City, MO

"Joshua Lozoff was a great performer. His show was very entertaining and kept the audience wondering! Joshua was very personable and professional. He spent time connecting with individuals and made anyone that came up on stage feel very comfortable. I have received lots of positive feedback from our crowd."
David Ferrell, Comedian in Kansas City, MO

"David Ferrell was exactly where he needed to be when he need to be there and came very informed of the audience that he would have. He was very sensitive to avoid any controversial topics, related well and with quick wit to audience comments and went above and beyond in making our guests comfortable while reminding them what our gathering was all about. It was a great night of celebration and he was the perfect entertainer! I have heard nothing but good things from his performance, words like quick, witty, hilarious, kind and humble have been used to describe him. He obviously left a very good impression on those in attendance."
Rik Roberts, Speaker in Manhattan, KS

"Rik Roberts presented to our group the "Mayberry Method". He was very well received by all level of employees. Not one person, in the audience of 190, lost interest during the 90 minutes he "entertained" and educated our group. We even had an added bonus of unexpected interaction of an official Kansas Highway Patrol Officer that assisted in his great message of how to react/respond when in an unusual or difficult situation. Many employees have requested to have him back again!"
Rik Roberts, Speaker in Blue Springs, MO

"I'd like to express our sincere appreciation to Rik Roberts for a job well done at our annual Mid-Year Conference. His portrayal of Barney Fife was "right on" and was very funny with some real life lessons to be learned by those in attendance. I've heard nothing but positive remarks regarding his presentation from our attendees."
Rik Roberts, Comedian in Atchison, KS

"Rik Roberts was a huge success at the Bank's annual Ag conference which has approximately 250 clients attend. He was on time (came early), very professional, and most importantly, very entertaining. I would highly recommend Rik."
Paul Miller, Juggler in Kansas City, MO

"Paul Miller was extremely good. He is very talented and incredibly funny. The audience participation was great. We host an appreciation banquet every year and quite a few of the attendees said they thought Paul was the best yet!"
Rik Roberts, Comedian in Hiawatha, KS

"Rik Roberts was very professional, but also personable. He is a fun guy off stage, too. His Barney imitation was a hit and entering the audience area in an old Cop car let everyone know he arrived. During his stage performance, many folks laughed non-stop. He was a HIT. Later in the show, Rik started some audience participation which was hilarious. We were very well pleased and would recommend Rik for very clean comedy."
"David Ferrell exceeded our expectations! He did an awesome job – exactly what we needed."
John Felts, Comedian in Fayette, MO

"John Felts was a fabulous presence for our event. His humor was spot on and we loved how well he tied his jokes in with the happenings on campus. He was extremely courteous and professional, prompt, and very easy to work with. He had the audience in stitches for the whole show – building an instant rapport with them. We would be delighted to have him back any time."
David Ferrell, Comedian in Kansas City, MO

"Our events this weekend went very well. David did a great job interacting with the audience and getting audience participation. His impersonations were excellent. I heard from several people that they thought he was one of the funniest entertainers they have seen. I really appreciate this kind of feedback as it helps the reputation of our events. I would highly recommend David Ferrell! He did great with both a large and small crowd (I know smaller crowds are more difficult for entertainers but he didn't miss a beat)."
Paul Miller, Juggler in Lawrence, KS

"Paul Miller put on a great show for us. I received many compliments. He kept the audience engaged and laughing. Everything went very smooth with both Paul and with the agency. I'll be contacting you soon for next year's show."
Paul Miller, Juggler in St. Joseph, MO

"Paul Miller was great. The show was hilarious and very entertaining. Paul did a fantastic job of using information in his routine about our company and employees that he gathered beforehand. He spent his time before the show making sure everything was ready and entertaining everyone he came in contact with. Everyone wanted to know afterward how I found him. Paul is very professional in his manner and made sure he respected our request for a purely clean fun show. We had a blast."
A few of the towns our nationally-touring keynote speakers have performed in include: Atchison, Belton, Bethany, Blue Springs, Fayette, Garden City, Hiawatha, Kansas City, Lawrence, Leawood, Lenexa, Manhattan, Marshall, Maysville, Mound City, Seneca, Shawnee, St. Joseph, Topeka, and others.