Larry Weaver is a nationally-touring clean comedian and keynote speaker. His easy-going demeanor, Southern charm, and quick wit have won the hearts of audiences across America for years.
Larry grew up in the rural village of Saxapahaw, NC and started performing at a young age. After majoring in accounting at the University of North Carolina, Larry left his CPA dreams behind to pursue a career in show business. He has shared the stage with entertainment legends like Faith Hill, Ray Romano, Chris Rock, and "Weird Al" Yankovic — just to name a few. You can hear him daily on Sirius XM radio's "Laugh USA" and "Jeff and Larry's Comedy Roundup."
Larry is the President of Trusted Speakers, author of "101 Funny Employee Awards", and a recognized expert in Search Engine Marketing. His business insights have been quoted in Inc. Magazine and The Wall Street Journal.
A true veteran of the stage, Larry has spoken at well over 1,000 corporate events, conferences, and company meetings across 45 states. He has the experience to make your next event a success!
Available Presentations Include:
Motivational, Inspirational, and Funny Keynotes!
Professional comedian and keynote speaker Larry Weaver uses clean humor, funny anecdotes, and emotionally charged stories to illustrate the importance of energy, attitude, and motivation. These topics are crucial to success in any venture, whether your focus is Leadership, Teamwork, Customer Service, Sales, Change, Safety, Stress Reduction, or simply Having More Fun at Work. The presentation combines stand-up comedy with content – seamlessly intertwined. Your audience will laugh, learn, and leave feeling refreshed.
Check Availability
Clean Humor with a Positive Message!
100% clean stand-up comedy with a positive message! After majoring in accounting, Larry left his CPA dreams behind to pursue his dream of making people laugh. In addition to comedy, Larry delivers motivational, inspirational, and funny presentations on Attitude, Health & Wellness, Stress Reduction, Resilience, Change, and Humor in the Workplace.
Check Availability
Virtual Comedy and Keynotes
Virtual comedian and motivational speaker Larry Weaver provides LIVE clean humor and inspiration virtually around the World! Add some humor to your next videoconference call. Provide a funny and motivational keynote for your virtual conference. Boost employee morale with a virtual happy hour. Available In-Person, Pre-Recorded, or Live-Streaming via Zoom, Cisco WebEx, Microsoft Teams, GoToMeeting, RingCentral, and other popular videoconferencing software.
Check Availability
Recent Reviews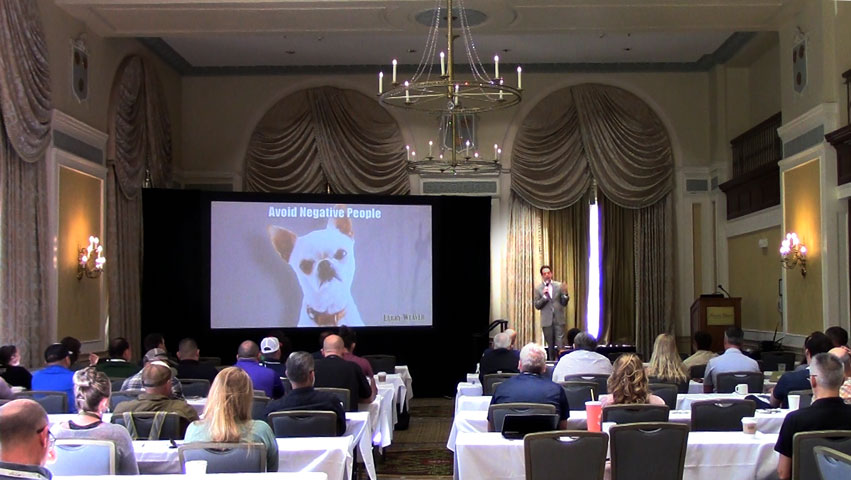 TCIA Workshop Motivational Speaker
| Tree Care Industry Association, Inc.
"Larry's presentation was nothing short of exceptional, and his contributions greatly enhanced the overall experience of our event. Perhaps one of the most memorable aspects of Larry's presentation was his ability to infuse humor into his message. The lighthearted and humorous approach he adopted resonated extremely well with our audience. It allowed for a relaxed and enjoyable experience while ensuring that his key points were effectively communicated and retained by attendees. We would highly recommend Larry to any organization seeking a dynamic and engaging presenter."
- Director of Business Solutions, Charleston, SC 2023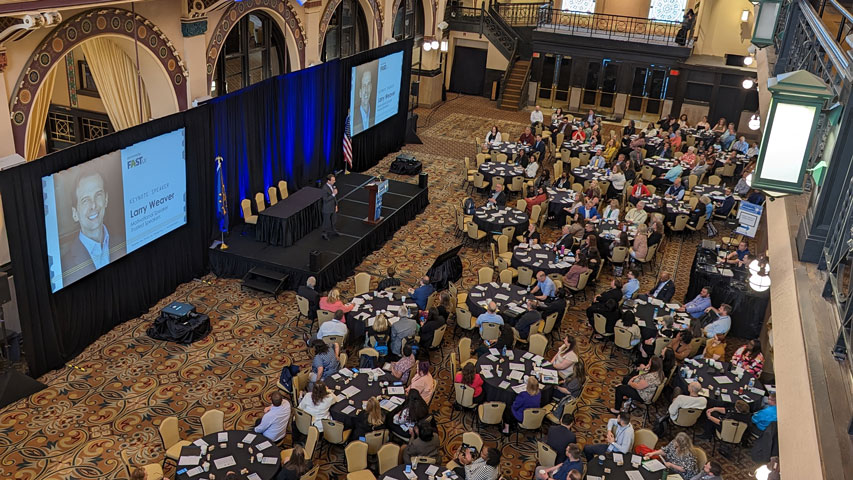 NASWA SIDES Seminar Motivational Speaker
| National Association of State Workforce Agencies
"Our attendees rated Larry's session 4.7 out of 5.0 which is GREAT! His pre-event communication was excellent. He was willing to take the time to hear about the attendees - their passion and the discouragement inherent in their jobs. I would recommend Larry to anyone for any kind of event. A+++"
- Director, Indianapolis, IN 2023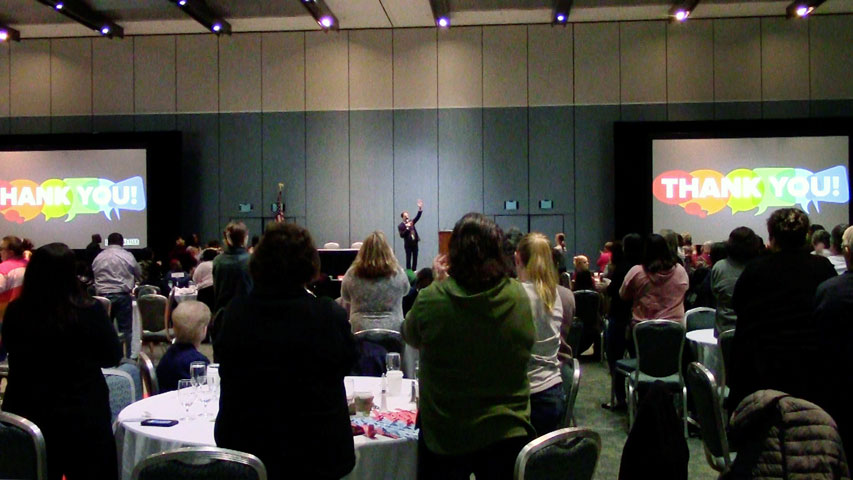 SNA-VA State Conference Motivational Speaker
| School Nutrition Association of Virginia
"Everyone had a wonderful time. I received a lot of comments of how they enjoyed the session. A few of the people I talked to said it has been the best they have seen in some time. I actually had a director ask me about Larry for something they are going to do! Thanks for all the humor, the belly laughs and in some cases tears from laughing so hard."
- Co-Conference Chair, Hampton, VA 2023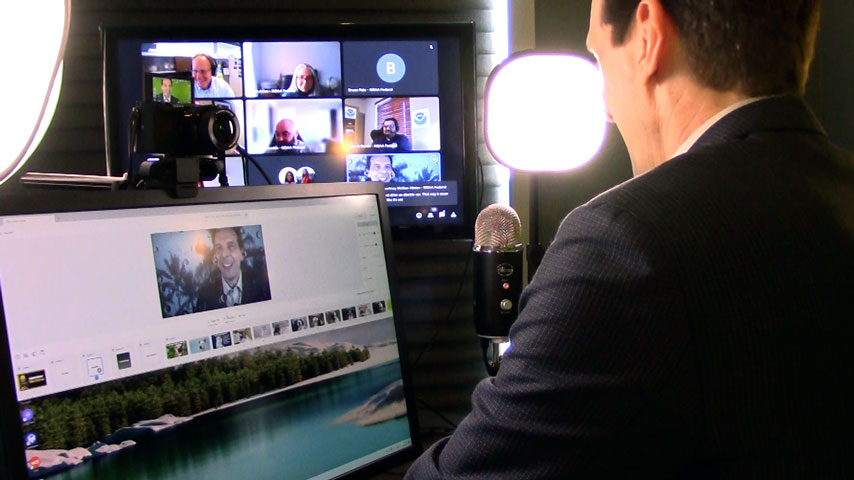 Virtual NOAA Safety & Health Week Virtual Comedian and Speaker
| National Oceanic and Atmospheric Administration
"Mr Larry Weaver was the perfect guest speaker for our annual event in every way. He was as friendly, positive and engaging during our initial meeting as he was on stage. My first call was returned the same day. He was punctual for every call, every email communication or video chat, and arrived early to the scheduled event to ensure everything was ready to go for the scheduled event time. Prior to our "all virtual" event, Mr, Weaver worked with me to not only understand the goals for our event, but took the time to learn about our Agency mission and activities to aid him in connecting with our employees! Mr. Weaver's performance was both professional and personal, and very funny. He seamlessly incorporated our event theme and safety messaging into his very motivational performance. He even worked our Safety mascot into his comedy… From his studio he was able to deliver amazing video graphics and animations, as well as safety themed content that was visually appealing and entertaining. His creative use of the camera was commented on by many pleased participants. Mr. Weaver's performance was extremely well received. He easily won over a very tough audience, and he accomplished this in a virtual setting. This is no easy feat! There was not one negative review! As an event organizer, one is always concerned about providing great content… and Mr. Weaver more than delivered! I look forward to working with Mr. Weaver in the future. Here is a small sampling of the unanimously positive feedback: "Larry was great! Good selection for a speaker! Hope he's invited back." "This was fantastic. I enjoyed the comical way he delivered safety messages! Bring him back next year!" "Lots of great tips. He made my day a little lighter!!!" "Speaker was engaging and very informative! Funny presentation!" "Appreciated that Larry took the time to learn about NOAA and work it into his routine, it made the performance and the safety messaging really resonate. Thank you Larry""
- NOAA Safety and Environmental Compliance Office, Washington, DC 2023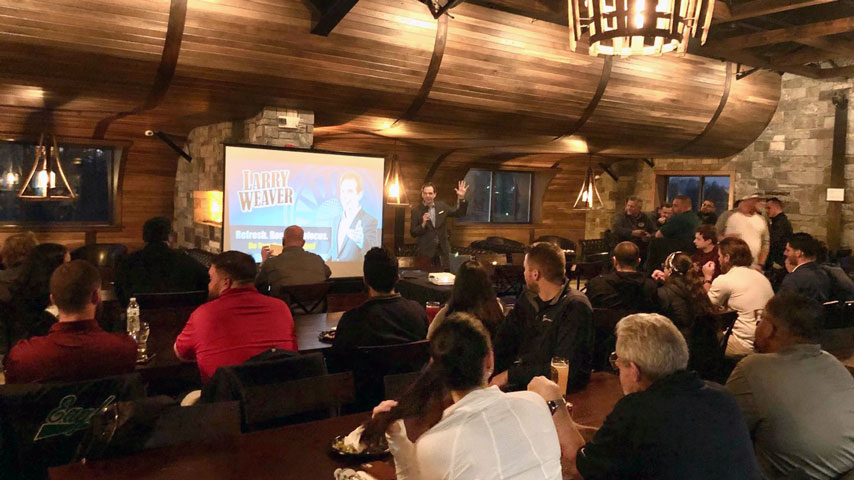 Annual Company Conference Motivational Speaker
| The School of Flood
"Larry played a large role in our annual company conference with his amazing 1-hour message. His pre-communication to gather information on our company was very smooth. He was able to capture our audience based off of what he knew about us as an organization as well as by his own personal stories.Larry provided very clean humor and positive messages that had everyone laughing and thinking. He was able to intertwine the two perfectly and we could not have been happier with the outcome!"
- Executive Assistant, Glassboro, NJ 2023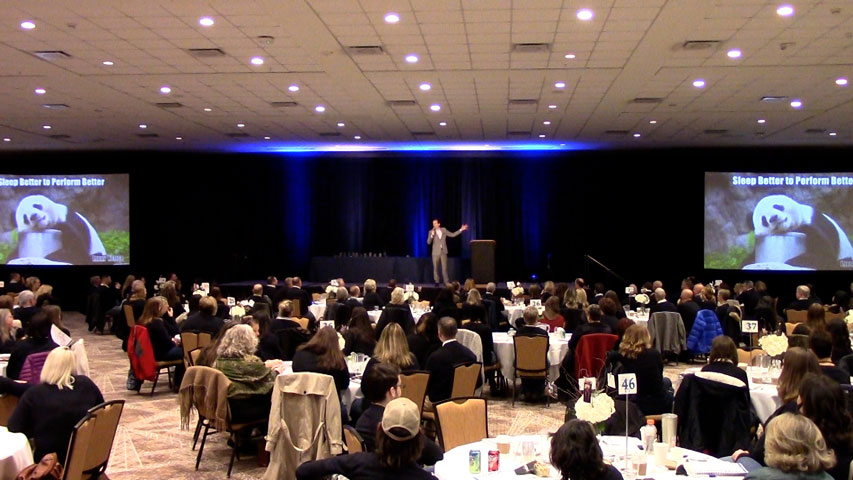 Annual Meeting Motivational Speaker
| Fidelity Bank
"Larry was the perfect keynote speaker for our company's Annual Meeting. He was engaging and entertaining from the start. He was clean, uplifting and kept the audience laughing the entire time. We have received great feedback from our associates!"
- Chief Product Management & Marketing Officer, Winston-Salem, NC 2023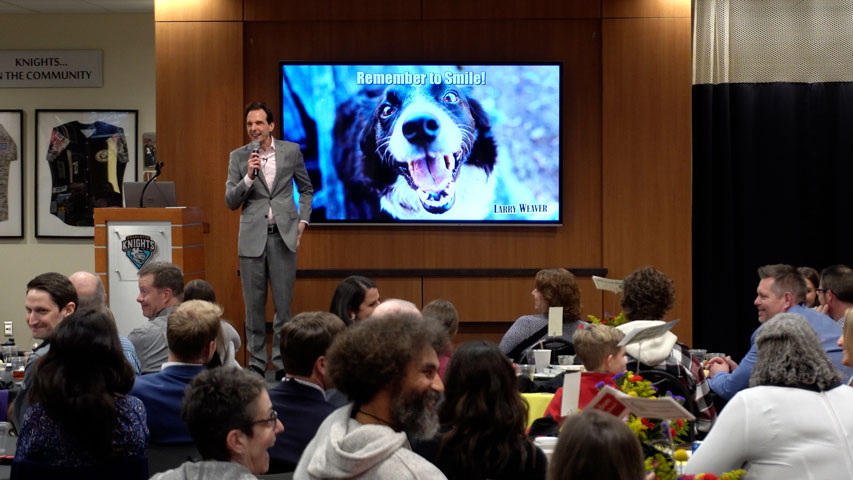 Teacher of the Year Event Motivational Speaker
| FSIoffice
"Larry Weaver hit it out of the park! We had a Teacher Appreciation event, and his motivational speech was spot on. The crowd loved him, and we even received raving reviews from the teachers themselves. From start to finish it was so easy and seamless to work with Larry. He was on time, prepared and easy to communicate with throughout the whole process. There was clean comedy and real life, funny experiences he shared with us. All while teaching a great lesson and inspiring the teachers and other attendees in the room. There were plenty of materials to choose from to put in our brochures for the event and instructions for what needed to be done to prepare for his arrival were easy to follow. He was very low maintenance compared to some other speakers we have had. Truly just a pleasure to work with and all at a very reasonable price. You won't break the bank booking this funny, professional and inspiring speaker. I highly recommend him for your next upcoming event!"
- Event Coordinator, Charlotte, NC 2023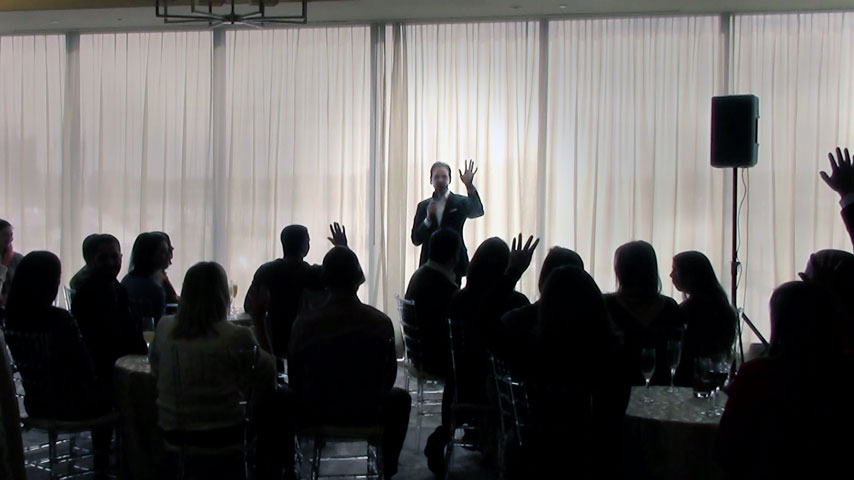 Awards Luncheon Motivational Speaker
| Troyce Gatewood & Partners
"Larry was the absolute perfect choice as our guest speaker at our annual team event. He was spot on, both funny and motivational. We are pretty particular with who we have address our team as we try to maintain a certain culture of which many other comedians would not work for us. Larry was exactly as he presented himself; funny, engaging, uplifting, offering clean humor and professionalism. With a wide variety of ages on our team, it was great that everyone raved about how much they enjoyed having Larry speak. We typically do something completely different every year for our team but I am inclined to have Larry back as that is how much we enjoyed having him."
- Managing Partner, Baltimore, MD 2023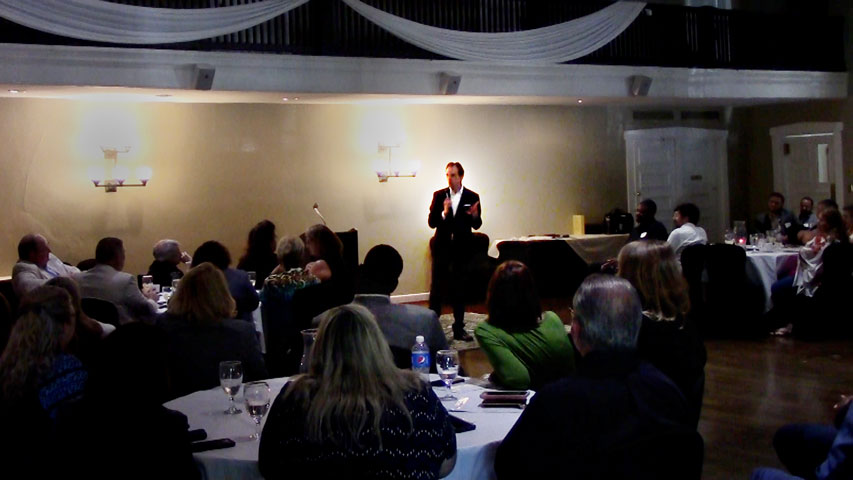 Company Year-End Meeting Motivational Speaker
| Schewel Furniture Co., Inc.
"Larry gave us some great tips on how to be resilient in these tough economic times, and several attendees told me how much his talk inspired them to be more positive and resilient! His mix of comedy and motivation was just what our group needed."
- Executive Assistant, Lynchburg, VA 2023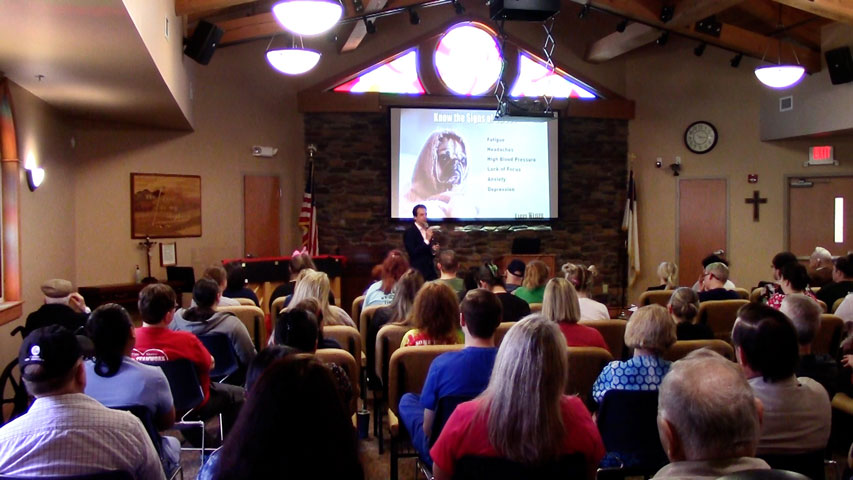 Staff Meeting Motivational Speaker
| Missouri Veterans Home
"Larry was very prompt in booking our event with us. Each email was answered quickly which made it very easy to book with him. His communication throughout the planning process was great and his material was wonderful. He was prompt on his arrival and everything went very smoothly. Thanks for a great time and making our staff laugh. It was just the pick me up they needed."
- Administrator, Cape Girardeau, MO 2023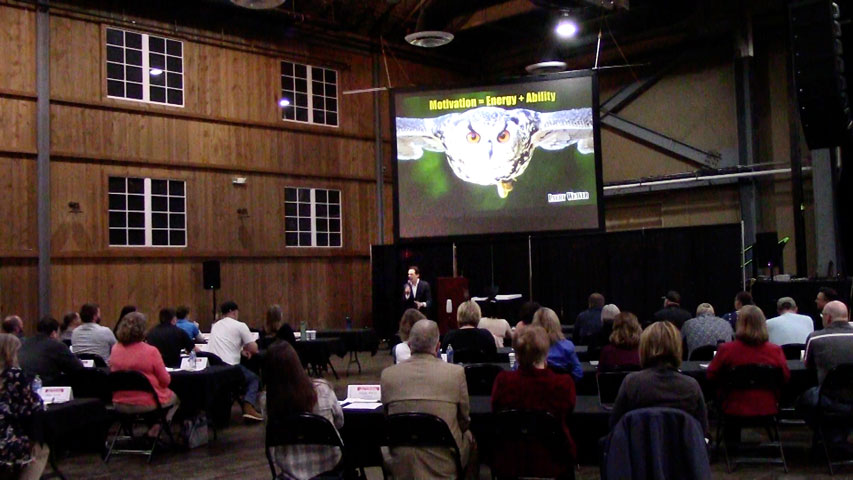 SDREA Spring Meeting Motivational Speaker
| South Dakota Rural Electric Association
"Mr. Weaver was an outstanding motivational speaker to our group! On behalf of the SDRE Member Services Association and SDRE Office Managers & Accountants Association, we would like to extend our thanks. He truly made a difference for our rural electric cooperatives, and we are extremely grateful!"
- Training and Special Events Coordinator, Deadwood, SD 2023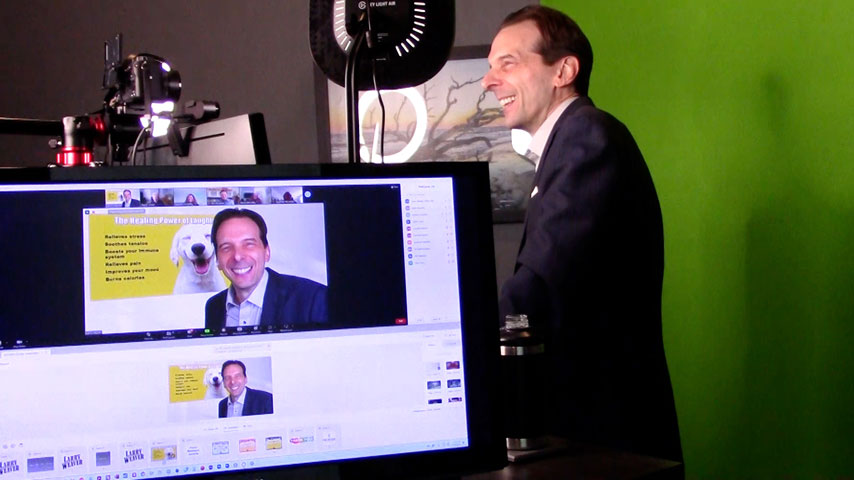 Pharmaceutical Webinar Virtual Comedian and Speaker
| Frontier Technologies, Inc
"Looking for a new way to introduce a technology webinar, we found Larry Weaver and reviewed the videos he has on his website. We hired him to do something different for this webinar and our topic was new to him: technology and healthcare sustainability but he didn't disappoint. It is obvious that he does his homework to try and relate to the audience. His clean quick wit fit the audience and the subject and provided a new and fresh approach to this type of webinar."
- Chief of Staff, Wilmington, DE 2023
| | | |
| --- | --- | --- |
| 1/6/2023 | St. Cloud, MN | FDA Winter Conference |
| 1/8/2023 | Baltimore, MD | Awards Luncheon |
| 1/11/2023 | Phoenix, AZ | Annual Division Kick-Off |
| 1/16/2023 | Atlanta, GA | Annual Goals Meeting |
| 1/18/2023 | Cherry Hill, NJ | 2023 Kick Off Meeting |
| 1/21/2023 | Charlotte, NC | Teacher of the Year Event |
| 1/25/2023 | Phoenix, AZ | Virtual APS Safety Kickoff |
| 1/27/2023 | Rockport, ME | Winter Wellness Summit |
| 2/2/2023 | Omaha, NE | Concrete Plant/Mixer Service Seminar |
| 2/4/2023 | Winston-Salem, NC | Annual Meeting |
| 2/7/2023 | Winston-Salem, NC | Fundraising Event |
| 2/20/2023 | Carrollton, KY | Employee Training Day |
| 2/21/2023 | Glassboro, NJ | Annual Company Conference |
| 2/23/2023 | Charleston, SC | Annual Contractor Safety Summit |
| 2/28/2023 | Washington, DC | Virtual NOAA Safety & Health Week |
| 3/12/2023 | Hampton, VA | SNA-VA State Conference |
| 3/13/2023 | Lake Charles, LA | CPSB Teacher In-Service |
| 3/15/2023 | Hartford, CT | Company Meeting |
| 3/18/2023 | Maui, HI | Western Candy Conference |
| 3/23/2023 | Charlotte, NC | National Leadership Meeting |
| 4/12/2023 | Austin, TX | TACE Annual Conference |
| 4/15/2023 | Laramie, WY | Diabetes and Nutrition Healthcare Conference |
| 4/19/2023 | Indianapolis, IN | NASWA SIDES Seminar |
| 4/20/2023 | Wilmington, DE | Pharmaceutical Webinar |
| 4/22/2023 | Dothan, AL | Annual Safety Banquet |
| 4/26/2023 | Deadwood, SD | SDREA Spring Meeting |
| 4/28/2023 | Minneapolis, MN | MOLN Spring Conference |
| 5/2/2023 | Charleston, SC | TCIA Workshop |
| 5/5/2023 | Durham, NC | Comedy w/ Ryan Hamilton |
| 5/9/2023 | Branson, MO | Annual Meeting |
| 5/16/2023 | French Lick, IN | EPPC Conference |
| 5/17/2023 | Cape Girardeau, MO | Staff Meeting |
| 5/24/2023 | Nashville, TN | HEALTHCON 2023 |
| 5/25/2023 | Lynchburg, VA | Company Year-End Meeting |
| 6/5/2023 | Boca Raton, FL | Channel Partner Meeting |
| 6/9/2023 | New York, NY | AHFNY Educational Symposium |
| 6/12/2023 | San Antonio, TX | TCA Safety & Security Meeting |
| 6/15/2023 | Richardson, TX | Leadership Meeting |
| 6/20/2023 | McAllen, TX | CDCAT Summer Conference |
| 6/23/2023 | Ann Arbor, MI | Shared Services Staff Event |
| 6/24/2023 | New York, NY | Emerging Voices in Dentistry |
| 7/24/2023 | Kingsport, TN | UETHDA Training Kickoff |
| 7/28/2023 | Houston, TX | TPA Annual Conference |
| 8/25/2023 | Chicopee, MA | School Training Event |
| 8/31/2023 | Binghamton, NY | Annual Staff Wellness Day |
| 9/15/2023 | Austin, TX | Texas Payroll Conference |
| 9/21/2023 | Coralville, IA | BFC National Conference |
Where does Larry Weaver perform?
Larry Weaver has recently performed in: Alabama, Alaska, Arizona, Arkansas, California, Colorado, Connecticut, Delaware, Florida, Georgia, Hawaii, Illinois, Indiana, Iowa, Kansas, Kentucky, Louisiana, Maine, Maryland, Massachusetts, Michigan, Minnesota, Mississippi, Missouri, Montana, Nebraska, Nevada, New Brunswick, New Hampshire, New Jersey, New Mexico, New York, North Carolina, North Dakota, Ohio, Oklahoma, Pennsylvania, Rhode Island, South Carolina, South Dakota, Tennessee, Texas, Utah, Vermont, Virginia, Washington, Washington DC, West Virginia, Wisconsin, Wyoming, just to name a few.