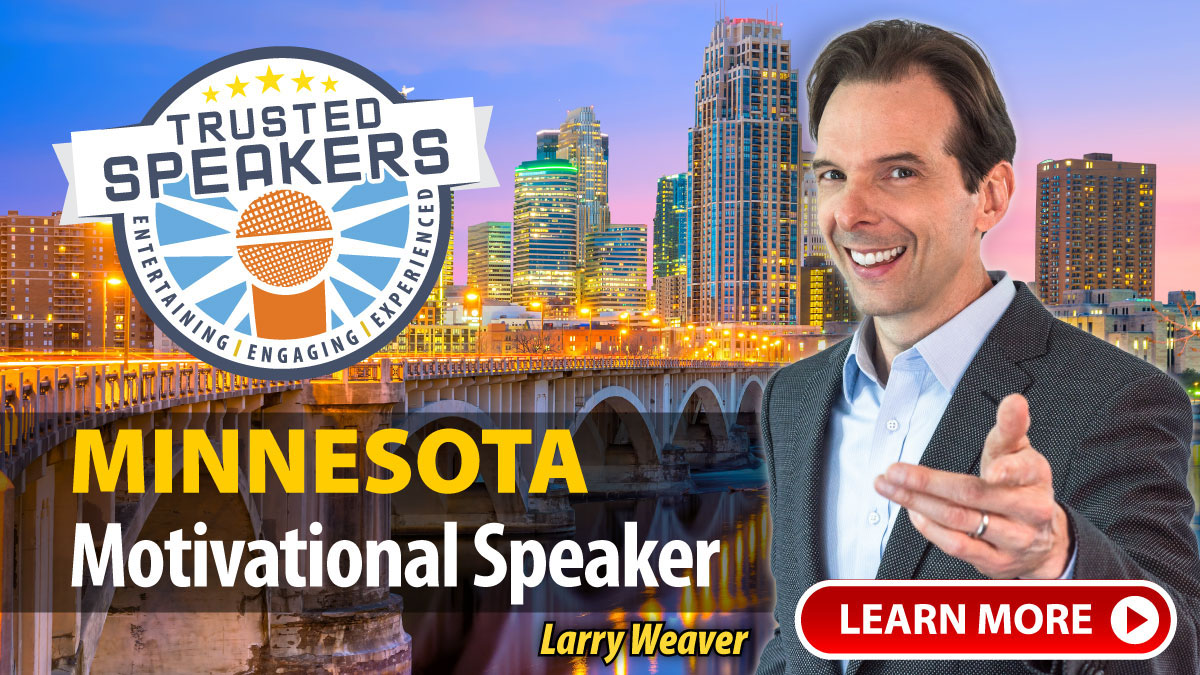 Minneapolis
Speakers and Comedians
Find motivational speakers, comedians and clean entertainers in Minneapolis, MN for your next meeting or event. Each of the keynote speakers listed below have recently performed their highly-engaging presentations in the Minneapolis, Minnesota area.
Recent Reviews from Minneapolis
Larry Weaver - Motivational Speaker in Morgan, MN

"Larry Weaver was something our district needed to start the year off on a positive light hearted note. Great message with lots of laughs. Easy to book and timely responses by Larry himself."
Juggler in Alexandria, MN

"We really enjoyed the show that Paul put on for us! He's fun, entertaining and very engaging! Paul does a great job interacting with the audience and is easily able to modify his skit/routine to fit the group he's with. We received great feedback from our employees and their guests!"
Comedian in Chaska, MN

"Andy Beningo was a hit with our audience! His clean, relatable comedy had everyone laughing and he kept the energy in the room going for his full performance. He offered a refreshing bit of fun that is so much needed! We enjoyed having him at our event and will definitely use him again!"
Larry Weaver - Comedian in Morton, MN

"Larry provided a great performance for our ag-based group. We were all able to relate to his stories and share laughter along the way. Thank you, Larry."
Comedian in Red Wing, MN

"Andy was exceptional! He interacted with the audience and kept us laughing and entertained."
Comedienne in Morton, MN

"Leslie Norris Townsend has a high energy performance that connects with her audience very well. She interacts with them and draws them into her performance. Even though a snowstorm was starting outside, people opted to stay for Leslie's presentation and they expressed their appreciation for her enthusiasm and her message of maintaining hope in the face of agricultural economic troubles. Bottom line: we loved her!!!"
Comedian in Minneapolis, MN

"David did a great job at our event. He was engaging, interactive and funny. The response from attendees was overwhelmingly positive. I would recommend him, without hesitation, for a wonderful, fun, and entertaining evening."
Comedian in Albert Lea, MN

"Rik Roberts put on an entertaining and educational show. The crowd seemed to be enjoying him and his style. Rik communicated very well to make sure the event would go smoothly."
Comedian in Ramsey, MN

"John Felts was very personable with our group, taking time to meet with and joke with everyone after the event, I really appreciated that. He also did a great job of presenting material that was appropriate for our variety of age groups/couples. EVERYONE was enjoying his comedy and thought he was funny and felt engaged. Thank you for your time, especially after some flight delays/cancellations, it meant a lot to us that he made such an effort."
Comedienne in Minneapolis, MN

"If I have one word to describe Leslie Townsend it would be "Connection" She connects to any type of crowd. She works her trade well. As a comedian she makes you laugh and feels your empty heart with joy. But the "connection" that makes you feel like you're not alone in the world in daily struggles of life and how she brings it all back to laughter and joy is what makes her a good guest for any event. If you want your guests to feel connected, appreciated, entertained, and leave with a soul full of joy, she is your comedian for your special event."
Comedian in Hutchinson, MN

"Thank you to David Ferrell for providing the entertainment piece of our Annual Share N' Care Dinner, He did an amazing job. Hospice is not always a fun topic to discuss. David brought laughs to an evening and on top of that tied in how important the nights cause was. He truly brought everything full circle and created a fun environment raising funds for a very worthy cause. The staff of the Hutchinson Health Foundation highly recommends him -- his CLEAN comedy is superb!"
Juggler in Minneapolis, MN

"Paul Miller was amazing. He mingled with the guests prior to the luncheon, and had everyone laughing during the performance. The humor level was appropriate and people were still coming up to me yesterday wanting to know where I'd found Paul. Our founder and his wife drove over an hour to come to the company Christmas Party. I was glad to have talent of Paul's caliber there to entertain as they said this is the highlight of their year."
Mentalist in New Brighton, MN

"I will enthusiastically recommend Joshua Lozoff to anyone looking to book talent for an event. Our evening was awesome and he was a big part of that. I have heard nothing but positive comments regarding his performance."
A few of the towns our nationally-touring keynote speakers have performed in include: Albert Lea, Alexandria, Buffalo Lake, Chaska, Fairmont, Hutchinson, Mankato, Minneapolis, Morgan, Morton, New Brighton, New Ulm, Northfield, Otsego, Ramsey, Red Wing, Roseville, St Cloud, St. Cloud, Welch, and others.