John caters to audiences seeking good humor and good taste. He delivers real, funny, one-of-a-kind perspectives on dating, marriage, parenting, American culture and struggling to do the right thing.
John grew up in Northern Virginia, just outside of Washington D.C. He studied Marketing at the University of North Carolina at Wilmington and worked a regular shirt and tie job as his interest in comedy grew. After competing in and winning local comedy competitions, John discovered he had knack for telling jokes and stories that could draw a crowd of any age.
John enjoys making a wide variety of audiences laugh while never having to resort to harsh language, shock value or taboo subject matters. Each show is custom fit to the company or organization by gathering information prior to the performance to create that personal feel.
His comedy is a mix of commentary, story-telling, and clean humor. He currently lives in downtown Wilmington, NC with his wife, Elizabeth and their two young children.
Available Presentations Include:
Clean, Customized Humor
Show your clients, employees, families or loyal customers a good time through John's clean and carefully put together set. You are guaranteed to see lots of laughs, smiles and possibly a fellow audience member on stage!
More About This Presentation
Check Availability
Recent Reviews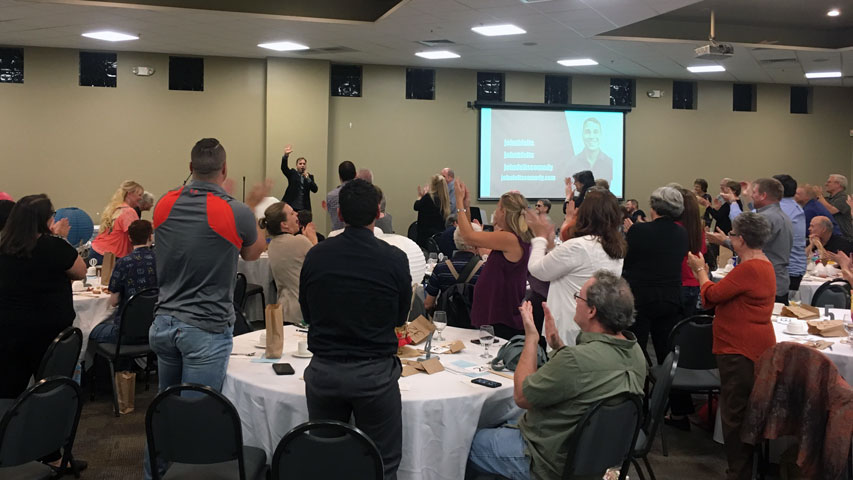 Redeemer Christian School
"As far as John Felts, his performance, & his character, we could not have been more pleased. We had a very diverse crowd and we were all in stitches the entire time. His thoughtfulness to research our community and our school really showed his level of dedication to his client and his craft. It gave the performance a personal touch that was appreciated by everyone. John really went above and beyond what we expected and I can't say enough nice things about him. I would definitely recommend him for entertainment at any event. It was our pleasure to have him at our annual auction, he really made the night one to remember."
- Registrar, Annual Fundraiser in Mesa, AZ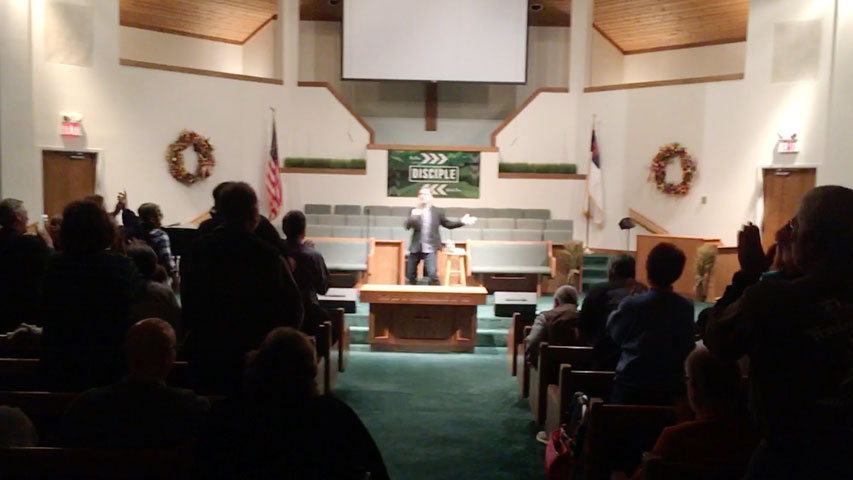 Spring Hill Church of Christ
"We could not be more satisfied with John's performance! From beginning to end, he had all of us rolling! He had asked a few questions about our church beforehand, and he customized his material to suit us. It was great to have so many of our congregation together laughing at his jokes, and laughing at each other. Words cannot express enough how great he was, it was truly a blessing having him at our church! He was on time, professional, and so friendly. Highly recommended!"
- Deacon, Outreach Event in Middletown, OH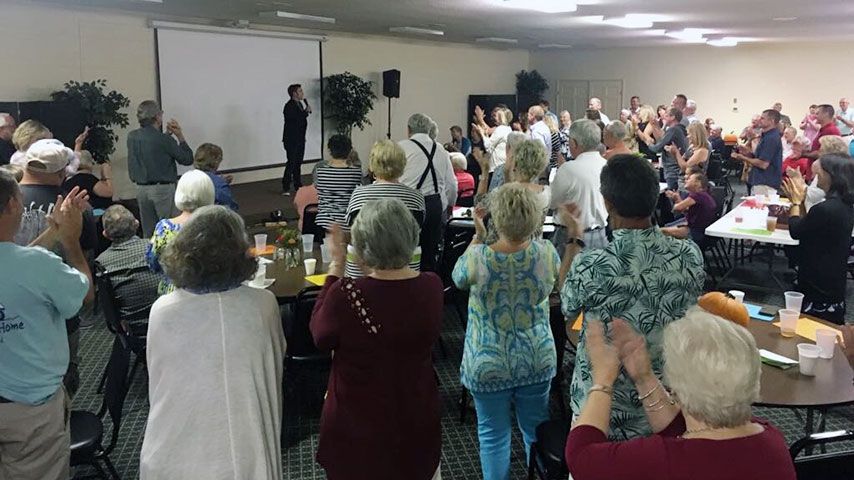 Becks Reformed Church
"John Felts was a phenomenal comedian! He did an outstanding job researching our church and community. The crowd LOVED how he incorporated the information into his jokes! John truly has a gift. He could tell jokes right off the cuff and they were hilarious! He has such a great disposition and was so easy to work with. It was like we knew him for years. His generosity towards our fundraiser was so gracious and thoughtful. We thoroughly enjoyed his comedy act and we hope to have him back in the future! I highly recommend John Felts for any event."
- Deacon, Fundraiser in Lexington, NC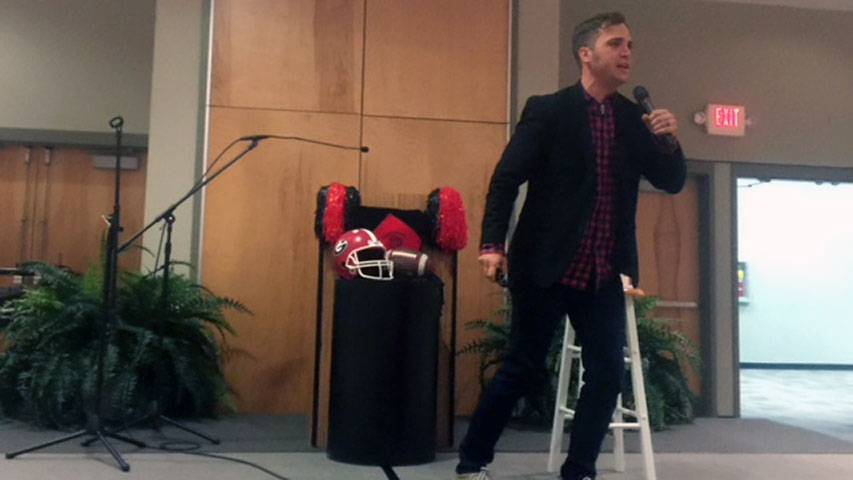 Lifehouse Ministries
"John Felts did a wonderful job at our event. He really pulled the audience in; every age group seemed to enjoy it. We had some great laughs at our banquet. I will definitely recommend him to others. He even promoted our ministry for us. I give him 5 stars."
- Executive Assistant to Director, Annual Fundraiser Banquet in Tifton, GA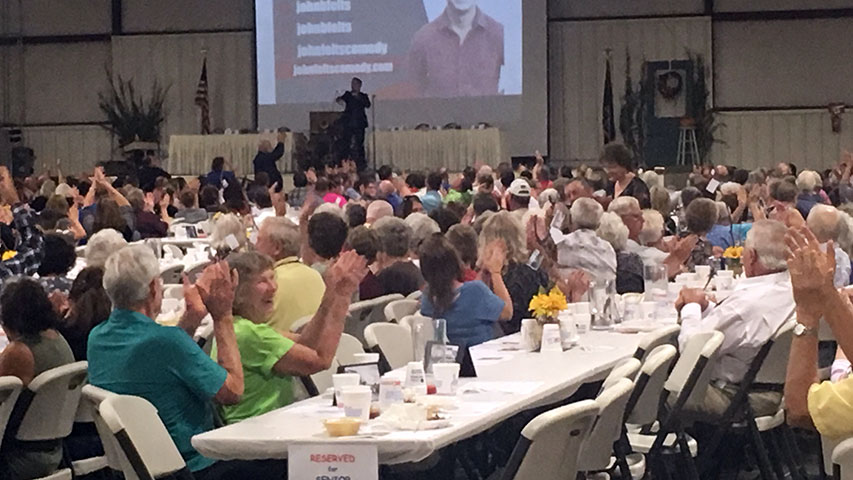 Grant County Chamber of Commerce
"John Felts did a good job of research on our community so that he could personalize his presentation. We received great feedback from our guests. He was very easy to work with and I would recommend him wholeheartedly!"
- Director, Home Products Dinner in Ulysses, KS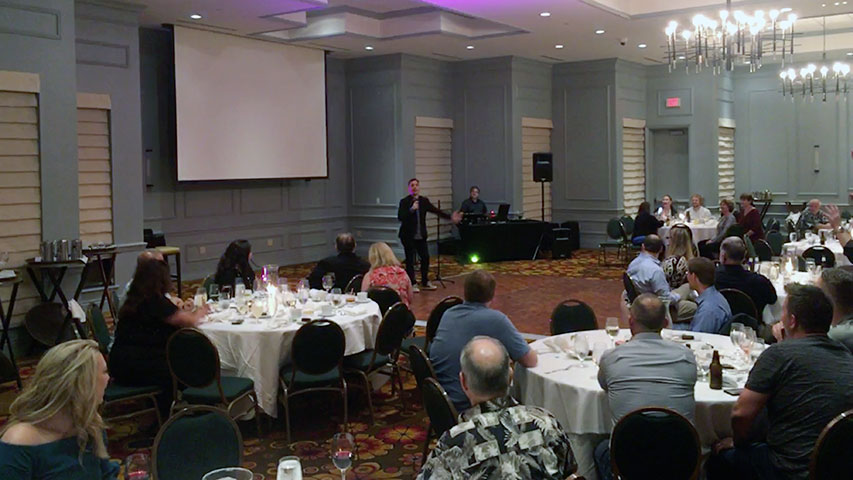 UnitiEast
"John Felts' show was amazing!! I received awesome feedback from the users at our conference. People couldn't stop talking about it the next day!"
- Committee Member, Annual User Conference in Portland, ME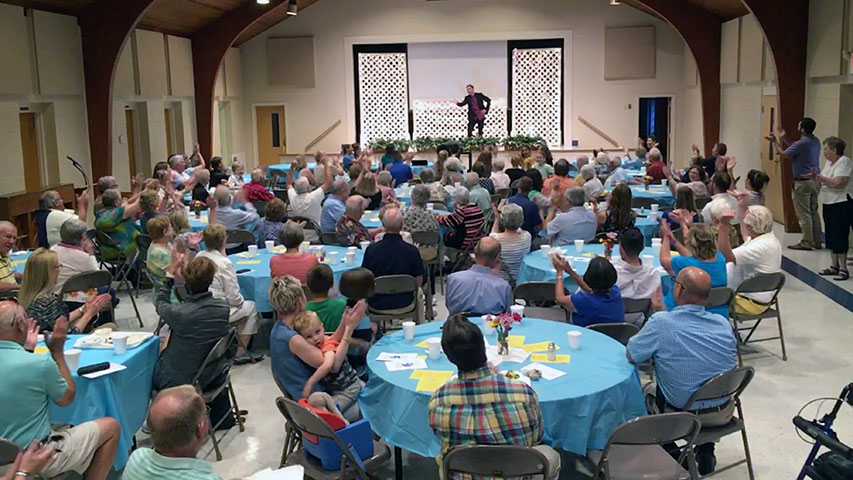 Derbyshire Baptist Church
"John Felts is very personable and easy to work with. He does his homework and he knew who we were and he personalized his show and helped us laugh at ourselves. We had such a good time with John, we would recommend him for any venue! Comedy is subjective, but we all had good belly laughs with John. Thanks for a great show John!!"
- Pastor, Church Service in Richmond, VA
Southern Wesleyan University
"John Felts was great to work with. He was friendly and professional, showed up early, and reminded me several times that he is flexible to work some things out. His show was hilarious and personal. He did his research and connected with our students personally. He rolled with the crowd well and kept people laughing. Some students came in skeptics, but left impressed. One student in particular came expecting to leave early, but stayed for the whole show due to how funny John was. After the show, John stuck around to meet students, take pictures, and speak with some of our leadership. I have already recommended him to another nearby college, and look forward to bringing him back here one day."
- Coordinator for Campus Activities, Welcome Week in Central, SC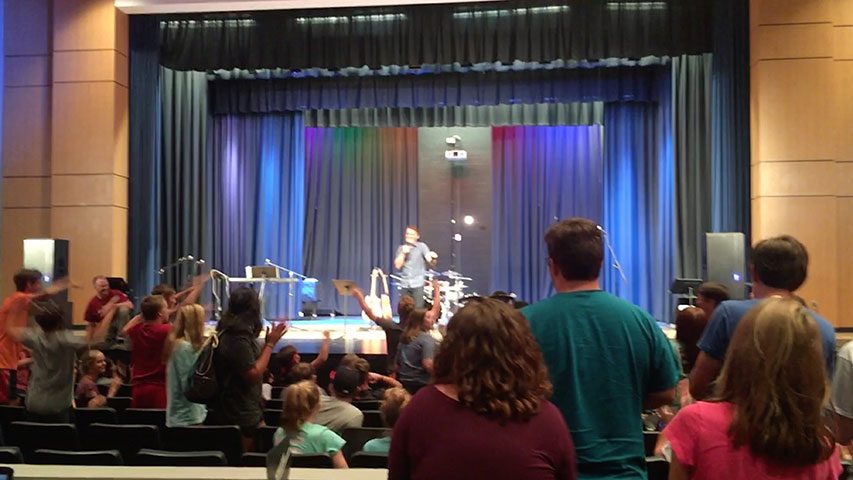 Mission Serve Walterboro
"John Felts was extraordinary. Prior to the event, we were in regular contact. On the day of the event, he arrived early and was well-prepared for the event. His audiovisual use of information provided to him allowed him to connect quickly with the crowd of nearly 200, most of whom were teenagers. John was warm, transparent, engaging, and extremely funny. Woven within his comedy were messages of character and responsibility. He might have arrived as a stranger to our audience, but he left a rock star. We hope to be able to work with John again one day."
- Associational Missionary, Volunteer Appreciation in Walterboro, SC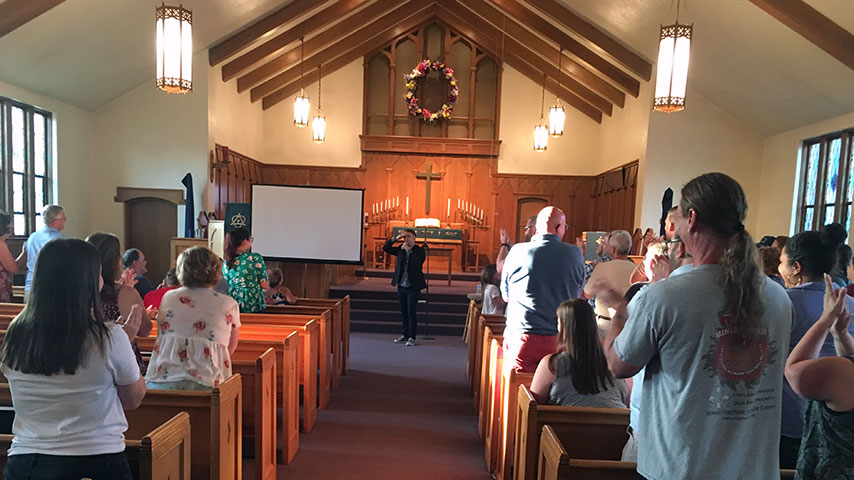 St. James Church
"John Felts was funnier than I expected! Better than the youtube videos available. He studied our audience well to immediately engage at a personal level. He had the grade school kids laughing with the white haired octogenarians. He graciously catered to our location, budget, accommodations as a friend. We plan to have him back again!"
- Music Pastor, Family Festival in Louisville, KY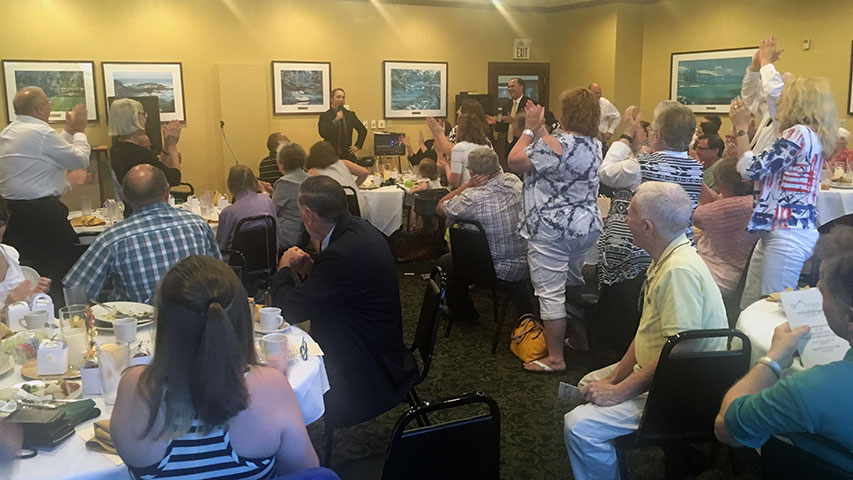 Swisshelm Park Primitive Methodist Church
"Our audience LOVED John Felts! He did such a great job of connecting with them, making eye contact, and speaking to young and old as if he has known us for years. He did his research on our church and he was able to incorporate that into the act! I heard nothing but positive comments about John, and I would HIGHLY recommend him, especially for anyone looking for clean, family friendly humor."
- Event Planner, Anniversary Banquet in Pittsburgh, PA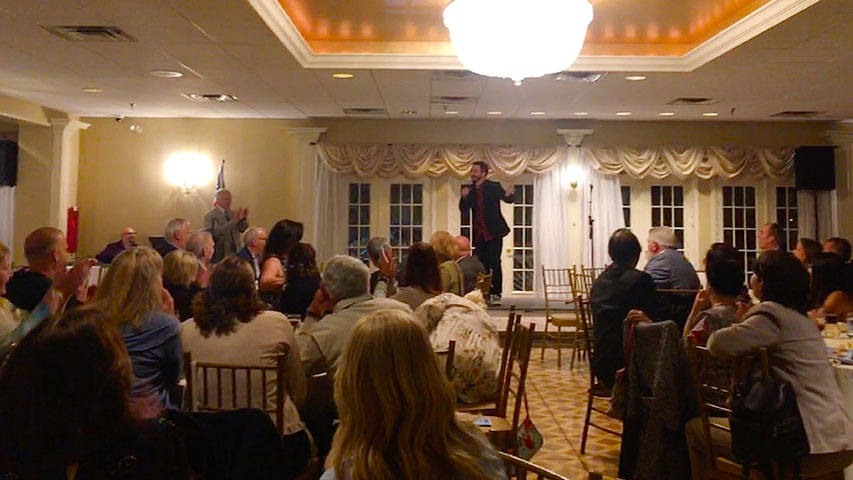 Shore Medical Center
"John felts did a great job, both as a MC and also as our comedic entertainment. He set the stage early by doing a bit with his using the internet search on our area and playing off of the information he found. He is warm and personable and plays well to the crowd."
- Vice President of Human Resources, Employee Recognition Dinner in Somers Point, NJ
View All 172 Reviews
Upcoming Schedule
| | | |
| --- | --- | --- |
| 10/9/2020 | Bangor, ME | 50th Anniversary Weekend |
| 6/28/2020 | Blair, NE | Anniversary Jubilee |
| 4/4/2020 | Fitchburg, MA | Comedy Night Fundraiser |
| 3/11/2020 | Devils Lake, ND | Annual Meeting |
| 2/9/2020 | Evansville, IN | Valentines Event |
| 2/7/2020 | Ridgecrest, CA | Youth Rally |
| 1/31/2020 | Middlefield, CT | Leadership Appreciation Event |
| 1/30/2020 | Farmville, NC | Annual Safety and Service Banquet |
| 1/11/2020 | Garden City, KS | Annual Awards Banquet |
| 1/8/2020 | Loganville, GA | Marriage Seminar |
| 12/13/2019 | Lenexa, KS | Company Christmas Dinner |
| 12/10/2019 | Eunice, LA | Appreciation Banquet |
| 12/8/2019 | Hartford City, IN | Holiday Party |
| 12/7/2019 | Cincinnati, OH | Company Christmas Party |
| 12/6/2019 | Indianapolis, IN | Regional Pastor & Spouse Christmas Dinner |
| 12/5/2019 | Williamsburg, VA | Winter Conference |
| 12/3/2019 | Leawood, KS | Volunteer Appreciation Dinner |
| 11/12/2019 | Florence, SC | Revival Meeting |
| 11/8/2019 | Noblesville, IN | Volunteer Appreciation Dinner |
| 10/27/2019 | Middletown, OH | Outreach Event |
| 10/26/2019 | Owosso, MI | Singles Event |
| 9/27/2019 | Searcy, AR | HU Family Weekend |
| 4/7/2019 | Oakland, MD | Church Services |
| 4/6/2019 | Mountain Lake Park, MD | 15th Annual Father Daughter Gala |
Where does John Felts perform?
John Felts has recently performed in: Alabama, Arizona, Arkansas, California, Connecticut, Florida, Georgia, Illinois, Indiana, Iowa, Kansas, Kentucky, Louisiana, Maine, Maryland, Massachusetts, Michigan, Minnesota, Mississippi, Missouri, Nebraska, New Jersey, New Mexico, New York, North Carolina, North Dakota, Ohio, Oklahoma, Pennsylvania, South Carolina, South Dakota, Tennessee, Texas, Vermont, Virginia, West Virginia, Wisconsin, Wyoming, just to name a few.