John caters to audiences seeking good humor and good taste. He delivers real, funny, one-of-a-kind perspectives on dating, marriage, parenting, American culture and struggling to do the right thing.
John grew up in Northern Virginia, just outside of Washington D.C. He studied Marketing at the University of North Carolina at Wilmington and worked a regular shirt and tie job as his interest in comedy grew. After competing in and winning local comedy competitions, John discovered he had knack for telling jokes and stories that could draw a crowd of any age.
John enjoys making a wide variety of audiences laugh while never having to resort to harsh language, shock value or taboo subject matters. Each show is custom fit to the company or organization by gathering information prior to the performance to create that personal feel.
His comedy is a mix of commentary, story-telling, and clean humor. He currently lives in downtown Wilmington, NC with his wife, Elizabeth and their two young children.
Available Presentations Include:
Clean, Customized Humor
Show your clients, employees, families or loyal customers a good time through John's clean and carefully put together set. You are guaranteed to see lots of laughs, smiles and possibly a fellow audience member on stage!
More About This Presentation
Check Availability
Recent Reviews
Association of Lake Region Bankers
"I just wanted to let you know how much our group enjoyed John Felts at our gathering. He was a big hit, everyone seemed to really enjoy the performance. This was the second time we have had him perform, and both times were outstanding!! He related to the audience and made it very personable and relatable."
- Business Banking Assistant, Annual Meeting in Devils Lake, ND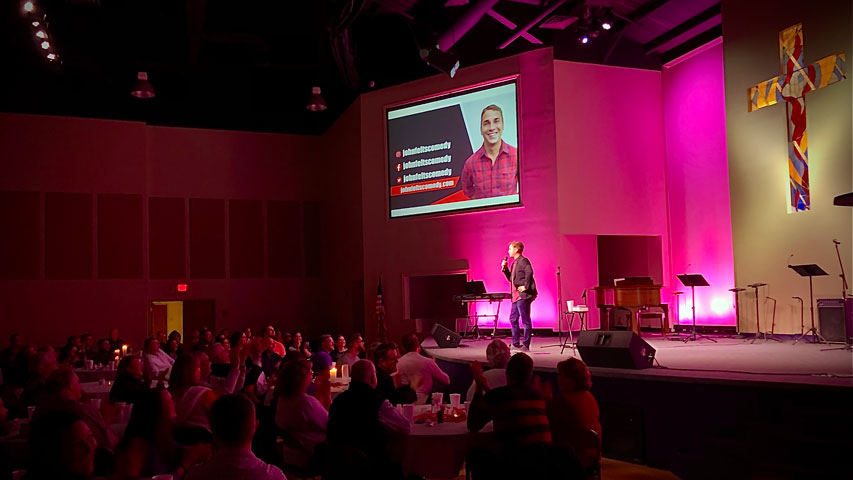 Oakhill Baptist Church
"John Felts put on an amazing show for us! Everyone at our event loved him. He had great, fresh, and funny material. We received numerous compliments from those in attendance. Our event was a couple's banquet. We loved how John wove his own life experience into the show to encourage and challenge our couples, all while keeping us laughing. The audience loved how he took time to research our city and even our church leaders, pointing out hilarious observations about both. His comedy is fun, tasteful, and hilarious. We would strongly recommend John Felts for your next event. We have hosted him three times in the past few years and he keeps getting better each time. We would definitely have him back for future events."
- Pastor of Children & Missions, Valentines Event in Evansville, IN
Immanuel Baptist Church
"Ours was a City Wide Crusade in Ridgecrest CA. Even though the emphasis of John's message was to be with teens, his material was diverse and spoke to all ages. He did a fantastic job! John was very down to earth relationally and super easy to work with. John took the time to study his audience in advance and it showed in his material. It drew a great response from the crowd. I highly recommend him."
- Senior Pastor, Youth Rally in Ridgecrest, CA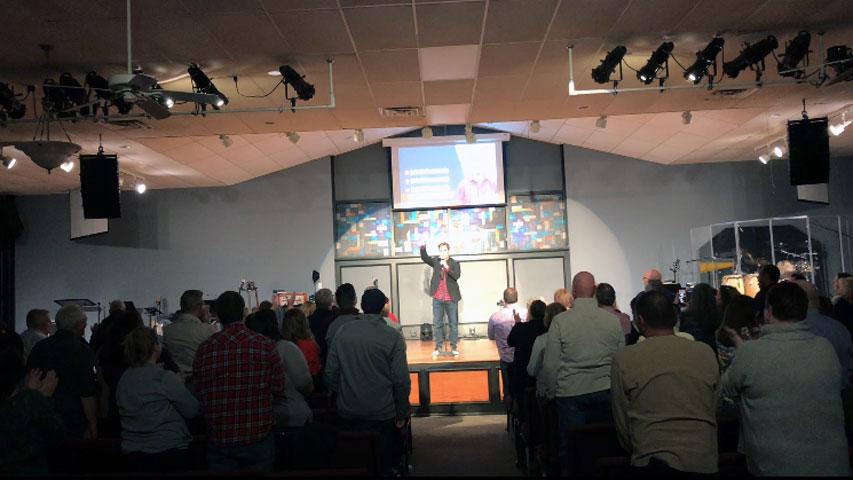 Victory Church
"John Felts was professional in every aspect of his performance. Loved how he made his routine personal by including so many church personnel in his opening session. We all got a healthy laugh from the light-hearted comments and personal touch. We all enjoyed interacting with him."
- Pastor, Leadership Appreciation Event in Middlefield, CT
Farrior and Sons, Inc.
"John Felts performed wonderfully at our event! He asked us questions regarding tid-bits about the company in order to cater to our audience, which made his performance even more enjoyable. He was hilarious! He was on time, had a professional demeanor on and off the stage, and very friendly. We would highly recommend him at any event!"
- Administrative Assistant, Annual Safety and Service Banquet in Farmville, NC
Garden City Police Department
"John Felts was asked perform in front of a room full of police officers, which is obviously a different crowd than he is used to entertaining. Not only did he knock it out of the park during the performance, two days after the event people are STILL laughing at his jokes and that is no small achievement! John was great from start to finish and spent the time leading up to his set visiting with the audience. He is a very personable, friendly and energetic comedian who we would love to invite back to other events!"
- Budget Analayst, Annual Awards Banquet in Garden City, KS
First Baptist Church
"John Felts did an amazing job speaking on Marriage and Family conference. The entire congregation enjoyed the presentation and laughted for an hour. John mixed in knowledge of our community and staff to make the event very personal. I would recommend him for any type of event. It was our pleasure having John and we hope to use him again."
- Marriage Ministry Leader, Marriage Seminar in Loganville, GA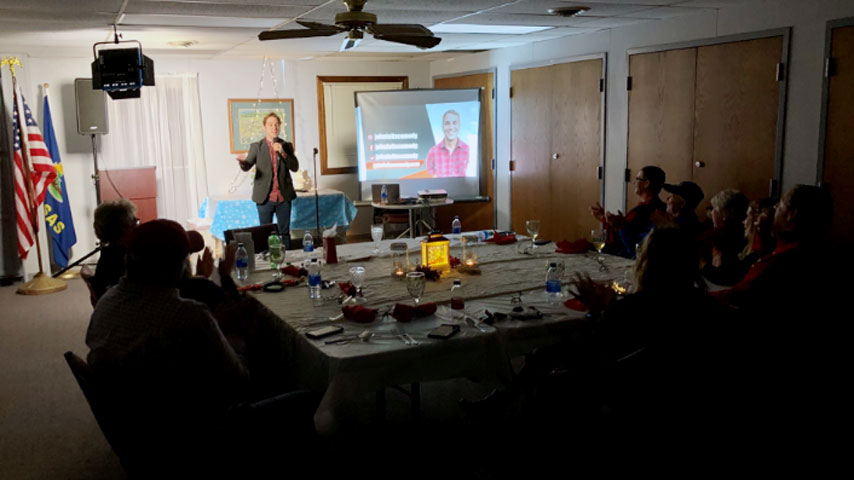 Lawrence Glass
"John Felts was amazing! He is such a kind, genuine and fun person to be around. We really enjoyed speaking with him and getting to know him before the show. John had a customized show for our Company Christmas Party, was on time and gave an outstanding performance. All in attendance loved him! We all laughed from beginning to end! Best company party we have ever had. He has such a quick wit, and we are still laughing. We would highly recommend him!"
- Owners, Company Christmas Dinner in Lenexa, KS
Acadian Baptist Center
"John Felts was great! Everyone liked him. He was very nice to work with. He left the audience in stitches."
- Director, Appreciation Banquet in Eunice, LA
Zimmer Tractor
"John Felts used 'real time' pics that had been taken during the evening and Facebook posts which he showed on the screen to make light fun of some of our employees. As previous comments, he made his program relevent to our company and town. We are very leary of comedians because they can quickly head to the gutter which embarrasses us and our employees. John kept it all G or PG and he was hilarious. We received lots of compliments from our employees as to how much fun they had at our Christmas party."
- Vice President, Company Christmas Party in Cincinnati, OH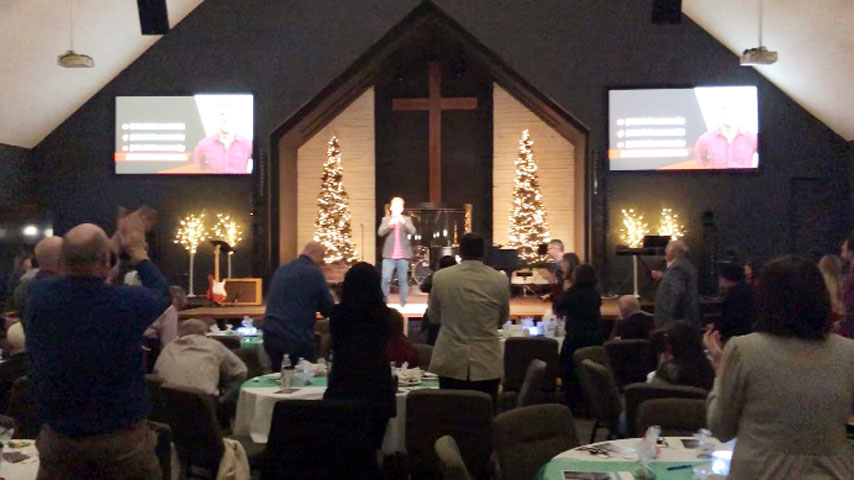 Trinity Church
"John Felts was the highlight of our Regional Pastor and Spouse Christmas Dinner! He was absolutely on his game and provided a wonderful evening of entertainment to an audience of diverse ages. There was something in his routine that everyone could relate to and hearty laughter was a common thread of all. He was personable, spontaneous, engaging, and his humor was definitely in good taste. John was great to work with as we prepared for this event. He was accessible and responded to questions immediately and you could tell he really took the time to make our event special for us! Highly recommended!"
- Executive Assistant, Regional Pastor & Spouse Christmas Dinner in Indianapolis, IN
Christ Community Evangelical Free Church
"John Felts was fabulous! We really enjoyed having him at our church. It was even better that he personalized his material to our area and our church. It made for a fun evening! Such a blast!"
- Family & Care Ministry Assistant, Volunteer Appreciation Dinner in Leawood, KS
Schedule
| | | |
| --- | --- | --- |
| 1/8/2020 | Loganville, GA | Marriage Seminar |
| 1/11/2020 | Garden City, KS | Annual Awards Banquet |
| 1/30/2020 | Farmville, NC | Annual Safety and Service Banquet |
| 1/31/2020 | Middlefield, CT | Leadership Appreciation Event |
| 2/7/2020 | Ridgecrest, CA | Youth Rally |
| 2/9/2020 | Evansville, IN | Valentines Event |
| 3/11/2020 | Devils Lake, ND | Annual Meeting |
Where does John Felts perform?
John Felts has recently performed in: Alabama, Arizona, Arkansas, California, Connecticut, Florida, Georgia, Illinois, Indiana, Iowa, Kansas, Kentucky, Louisiana, Maine, Maryland, Massachusetts, Michigan, Minnesota, Mississippi, Missouri, Nebraska, New Jersey, New Mexico, New York, North Carolina, North Dakota, Ohio, Oklahoma, Pennsylvania, South Carolina, South Dakota, Tennessee, Texas, Vermont, Virginia, West Virginia, Wisconsin, Wyoming, just to name a few.