Professional comedian and keynote speaker Larry Weaver uses clean humor, funny anecdotes, and emotionally charged stories to illustrate the importance of creativity, attitude, and motivation. These topics are crucial to success in any venture, whether your focus is leadership, teamwork, customer service, sales, change, safety, stress reduction, or just having more fun. The presentation combines stand-up comedy with content – seamlessly intertwined. Your audience will laugh, learn, and leave feeling refreshed.
Key Points Include:
Creativity – write your story, brainstorm effectively, and overcome obstacles.
Attitude – tune out distractions, embrace change, and reduce stress.
Motivation – find energy, practice excellence, and achieve your goals.
Attendees will learn to 1) improve attitude, 2) maintain motivation, and 3) spark creativity.
Customized Topics:
Each presentation is customized to your event. Need a specific topic expanded on or the theme of your event woven into the presentation? Just ask! Recent variations on client themes include:
"Three Key Ingredients of Leadership" for Young Leadership Conference
"What's So Funny About Safety?" for Transportation Company Meeting
"Dealing with Difficult Customers" for Government Employee Training Day
"Maintaining your Motivation" for School System Employee Convocation
"Finding Success by Seeing Things Differently" for Company-Wide Meeting
"The 3 R's: Ready, Resilient, Responsible" for Electric Coop Annual Meeting
Larry is a nationally-touring comedian, author of "101 Funny Employee Awards", Kenan-Flagler Business School alum, and President of Trusted Speakers. As a comedian, he has headlined over 1,000 performances in 38 states, sharing the stage with entertainment legends like Faith Hill, Ray Romano and "Weird Al" Yankovic. An early expert in Search Engine Marketing and Ecommerce, his business insights have been quoted in Inc. Magazine and The Wall Street Journal. You can hear his comedy routines daily on Sirius XM radio's "Laugh USA" and "Great American Comedy."
Larry delivers his upbeat and memorable presentations for conferences, company events, staff meetings, and more. It's the perfect way to kick off your event with a bang, pick up the energy after a long training session, or end on a high note!
Recent Reviews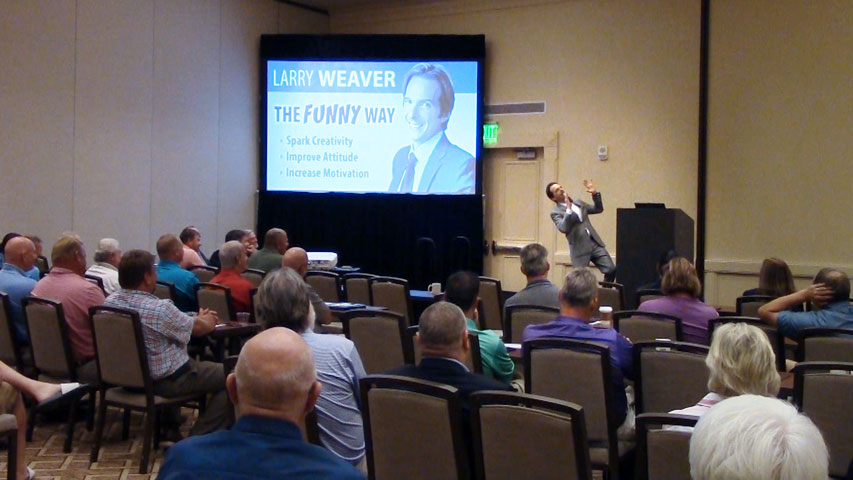 South Carolina Independent Consumer Finance Association
"Outstanding performance! I'd give Larry Weaver 6 stars if I could! Highly recommended!"
- President, ICFA Annual Convention in Charleston, SC
Gregory Pest Services
"We booked Larry Weaver for our Annual Meeting, which includes wide range of age groups and personalities. Each of our 250+ guests enjoyed his clean comedy and motivational message. It's extremely hard to please that many people, but Larry was able to get everyone laughing and lighten the mood!"
- Marketing Coordinator, Annual Meeting in Greenville, SC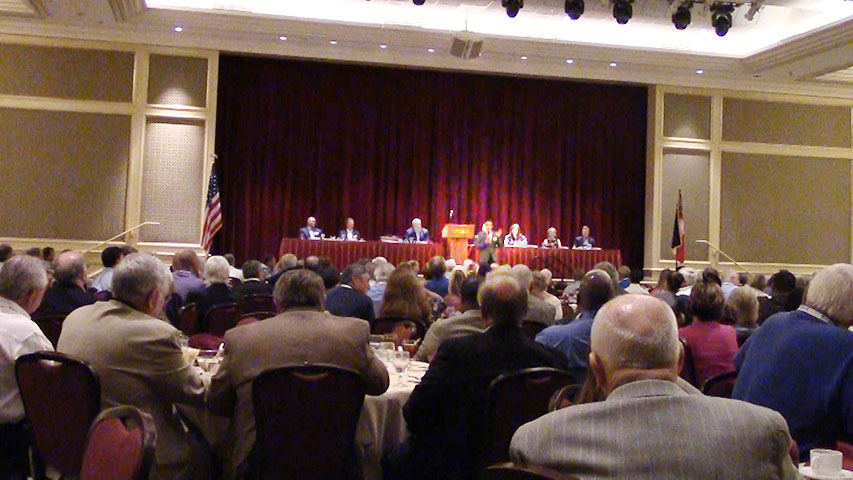 Electric Cooperatives of Mississippi
"Larry Weaver served as our luncheon speaker for our statewide annual meeting attended by 375 people. The audience is very diversified by age and a ratio of 65-35, male-to-female. Larry understood his audience and developed a program that was very entertaining and brought laughter throughout our group. His delivery style and stories related very well with our group and I received a lot of positive feedback specifically about his performance. He was fantastic, hilarious and very professional. He was easy to work with and customized his presentation from information we provided in our meeting profile. He did a great job of including a timely and special motivational message along with outstanding comedy/humor. A well-balanced program that had our group leaving with a smile on their face! As the meeting planner, it was a very good decision."
- Senior Vice President of Communications, Annual Meeting in Biloxi, MS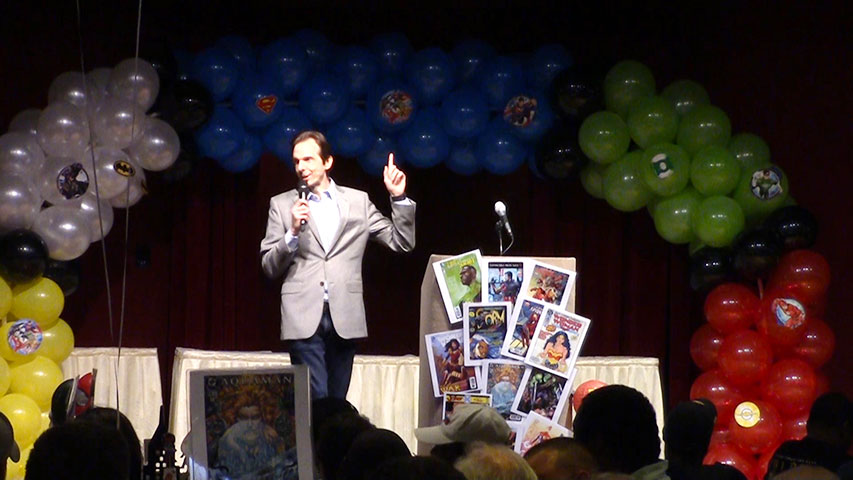 Procter and Gamble
"Larry Weaver had a great connection with the audience and tied our Superhero Theme to his performance. His comedy was clean and we could all relate to his jokes."
- Quality Assurance, Deployment Day in Greensboro, NC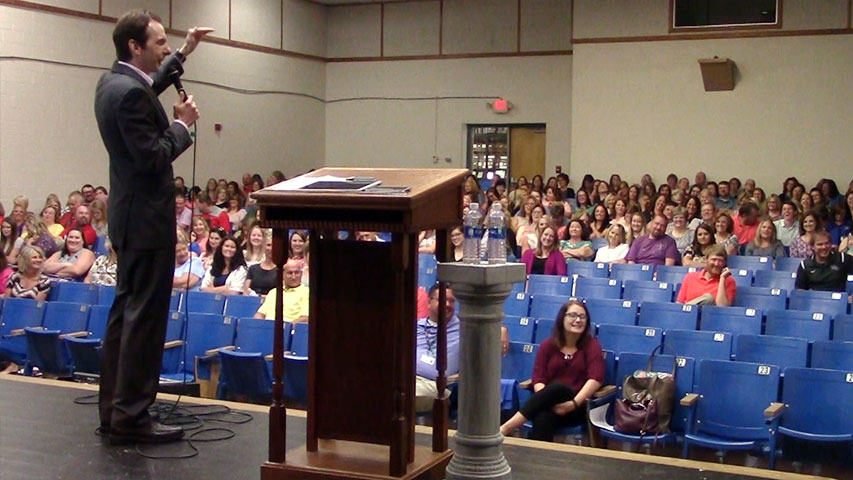 Macon County Board of Education
"Larry Weaver was great! He kept our teachers engaged and had them rolling in their seats. Getting the school year started with laughter and a great message is always a plus. Larry truly motivated our teachers!"
- Federal Programs Director, County Wide Teacher Professional Development Inservice in Lafayette, TN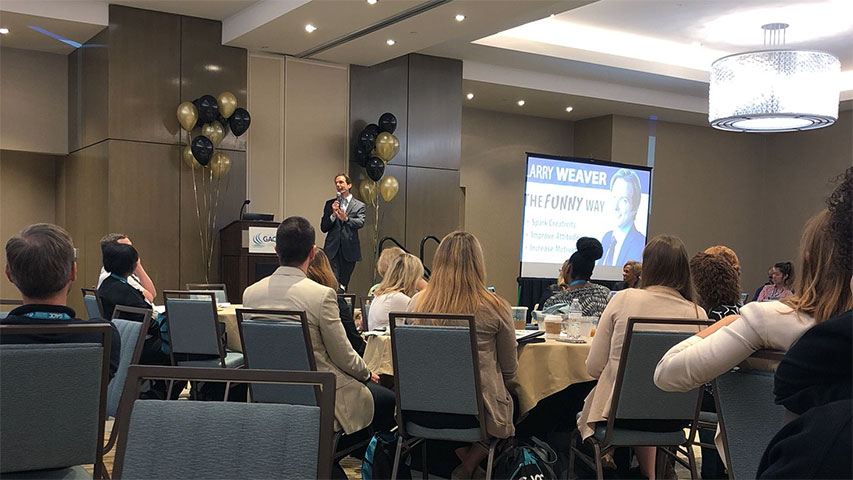 Georgia Association of Colleges & Employers
"Larry Weaver was a great presenter and very funny! He was a big hit at my organization's 50th Annual Conference. You are sure to have a good presentation with Mr. Weaver. I highly recommend him."
- Assistant Director, GACE Annual Conference in Jekyll Island, GA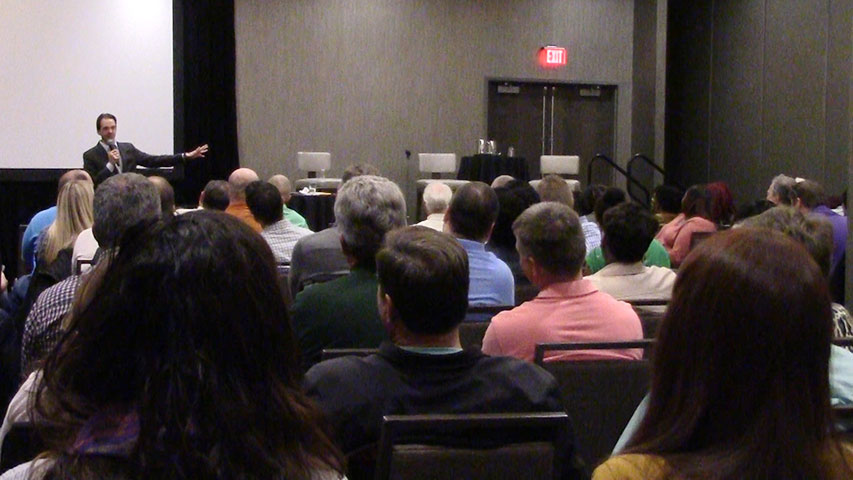 Piedmont Natural Gas
"Larry Weaver provided the perfect ending to our annual sales meeting! From initial contact to his actual performance, he could not have been easier to work with. Prompt, professional and very funny! Larry's humor was well received by our team and he was able to blend in a meaningful message that resonated with our group. The feedback has been outstanding! I would highly recommend Larry to any group or organization seeking good, clean entertainment. Top notch all the way!"
- Director of Sales and Delivery Services, Annual Sales Meeting in Charlotte, NC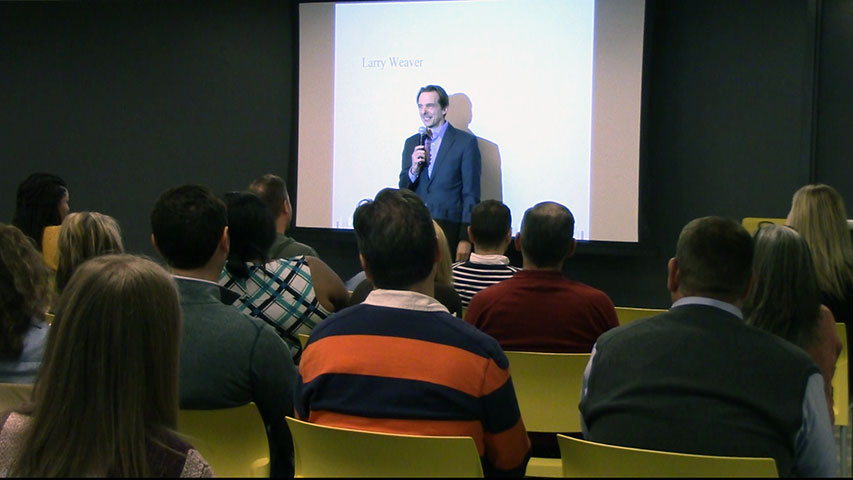 Synchrony Financial
"I am thrilled with Larry Weaver. Got nothing but good comments on his show and message. You never know what you are getting with live talent and Larry far exceeded our expectations. I have already recommended him to my colleagues."
- Executive Assistant, Corporate Meeting in Charlotte, NC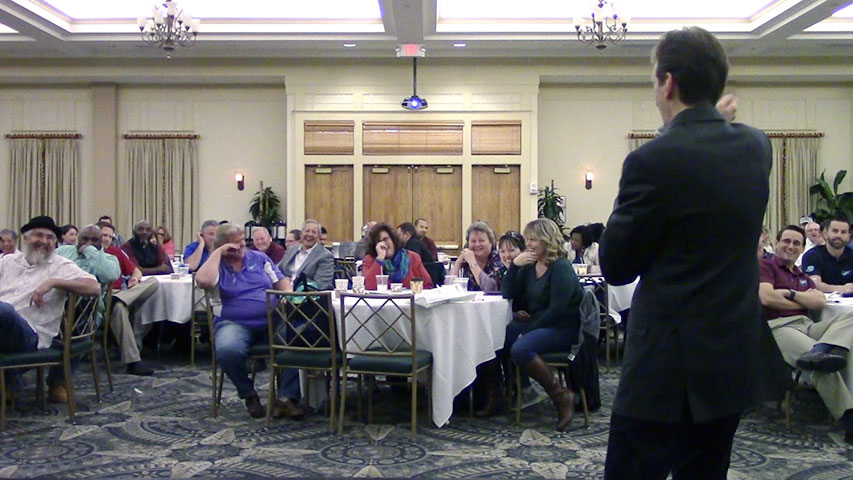 Delaware Electric Cooperative, Inc.
"Larry Weaver was awesome!!! I am so glad he spoke at our event. All the employees have raved about this routine. Even with some technical difficulties we had with the microphone, he didn't skip a beat - he was able to make light of the situation and keep the laughs coming! Our employees range in age from 20 to 60+ and everyone was laughing. He was very, very funny! It was a great way to end our event!"
- Human Resources Manager, Annual Focus Day in Bridgeville, DE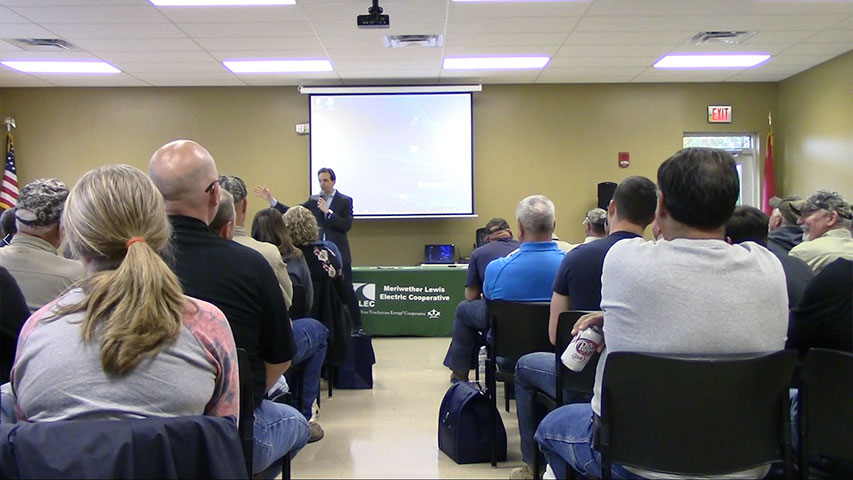 Meriwether Lewis Electric Cooperative
"We really enjoyed Larry Weaver's presentation at our all employee meeting. The jokes were a hit and, being from the south ourselves, were spot on! The motivational tips he threw in were just what we were looking for. I appreciate his promptness, professionalism, ease to work with and creativity. Larry's ability to tie in bits from our other training earlier in the day made it that much funnier! It was just what we needed after a long day of training!"
- VP Employee & Member Services, All-Employee Meeting in Centerville, TN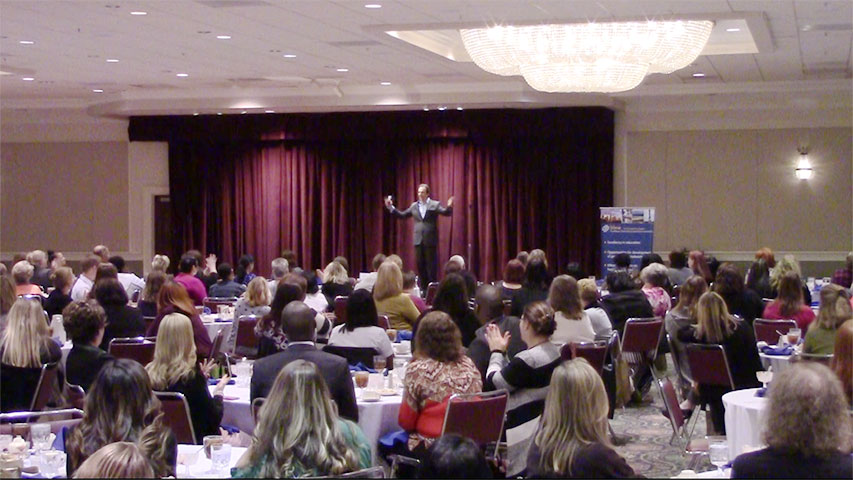 North Carolina Healthcare Financial Management Association
"Larry Weaver was outstanding, beyond expectations. His humor and message left us energized and with something to truly think about and apply. I highly recommend Larry."
- Education Council, HFMA Health Insurance Institute in Greensboro, NC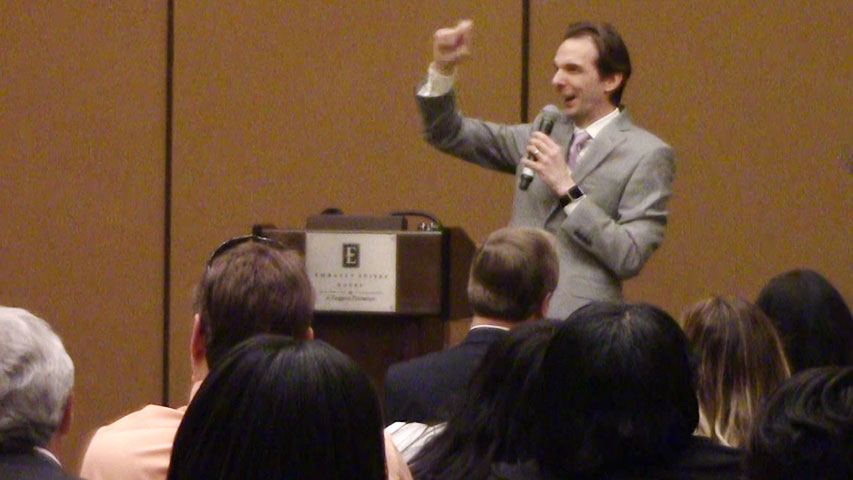 South Carolina Vocational Rehabilitation Association
"Larry Weaver brought a new dimension to our annual meeting this year and the response was overwhelmingly positive. His creative, down-home humor resonated with our audience, and he blended it with a motivational message that each person could take with them to their workplace and personal lives. He was very thorough in preparing for this event, researching the audience in advance and talking through logistics and expectations with us to ensure a great result."
- Assistant Commissioner, VRA Annual Conference in Myrtle Beach, SC