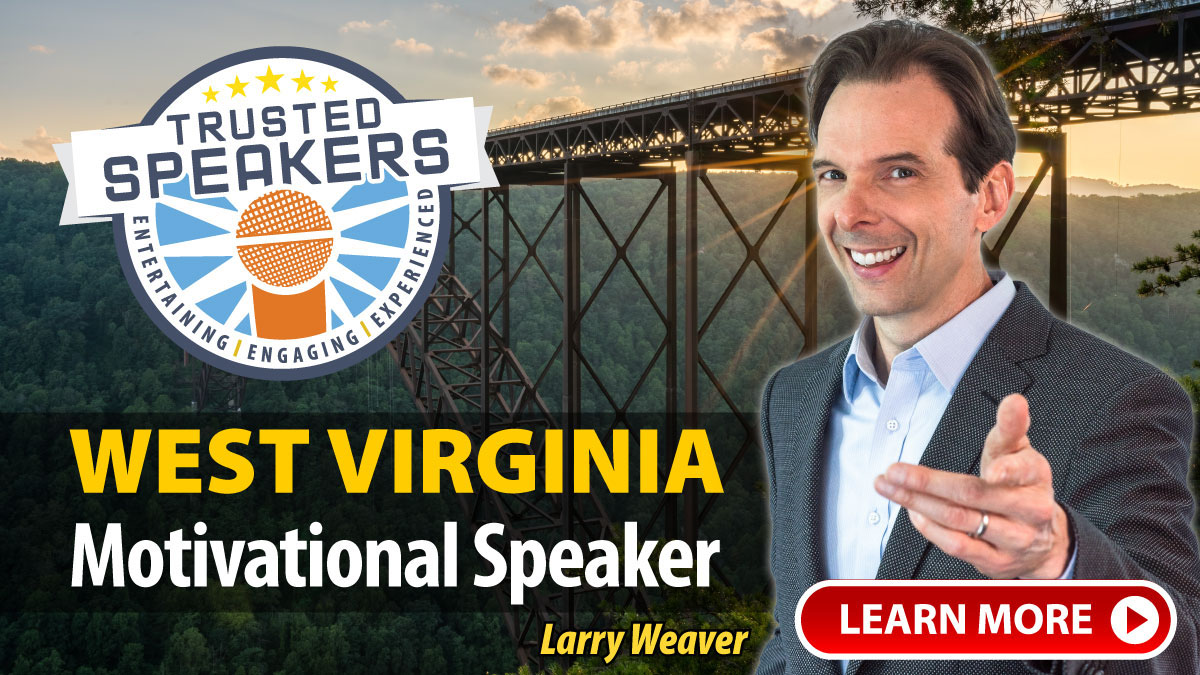 Charleston
Speakers and Comedians
Find motivational speakers, comedians and clean entertainers in Charleston, WV for your next meeting or event. Each of the keynote speakers listed below have recently performed their highly-engaging presentations in the Charleston, West Virginia area.
Recent Reviews from Charleston
Rik Roberts, Speaker in Roanoke, WV

"Rik Roberts was the perfect choice for our conference. He delivered a strong message with lots of humor. Conference attendees couldn't stop raving about his presentation. As a keynote he kicked off our event on a high note. We will definitely invite him back in the future."
Joshua Lozoff, Mentalist in White Sulphur Springs, WV

"Joshua Lozoff was an engaging entertainer! All of my guests enjoyed the show!"
David Ferrell, Comedian in Princeton, WV

"David Ferrell was very interactive with our group. He engaged and involved the audience throughout his performance."
John Felts, Comedian in Parkersburg, WV

"John Felts did an excellent job. Very funny and interactive with the audience."
"Leslie Norris Townsend was absolutely wonderful. She meet all of my expectations and more. The employees and physicians really laughed which is exactly what they needed. One of our CEO's from local area hospitals participated in one of her activities, he told her he was the Janitor. He text me later that night and told me he had a great time. So thank you and Leslie. It was the perfect party."
Joshua Lozoff, Mentalist in Princeton, WV

"We brought Joshua Lozoff in to perform a public show for us because I saw him perform a few years ago and he just blew my mind. We sold almost 600 tickets, and we were thrilled with his performance. He was wonderful."
Paul Miller, Juggler in Princeton, WV

"We were so pleased with Paul Miller's performance!! We have received nothing but positive feedback. His show is one of a kind! He was able to really engage the audience. I would highly recommend him to anyone."
Joshua Lozoff, Mentalist in Cross Lanes, WV

"I would like to thank you for the top notch quality entertainment at our Sales meeting. Joshua Lozoff was a big hit with our crowds and his tricks and abilities amazed our group. They are still talking for how he did it. The biggest hit of the night was the interaction between Joshua and the members of the audience. Great entertainment for our event. We would highly recommend Joshua to any audience."
"Our audience loved Leslie Norris Townsend. She gave a very good performance."
David Ferrell, Comedian in Moorefield, WV

"We HIGHLY recommend David Ferrell to anyone seeking a clean and professional entertaining experience. He was very prompt and professional. David is very talented, material was great and he knows how to work the crowd and never acted in a pretentious matter. He has the unique ability to adlib when needed and I heard NO negative remarks from the audience following the show. Everyone who spoke with personally enjoyed his engaging and infectious personality - a true delight to be around. His words of motivation and encouragement at the end of the program was the 'icing on the cake'. Well Done!"
Larry Weaver, Comedian in Huntington, WV

"Larry Weaver was a great comedian for our Company Christmas Party. I have received lots of favorable feedback this morning from Management and Team Members. One attendee commented that she was crying from laughter. Thanks again for a great show."
Larry Weaver, Comedian in Princeton, WV

"Larry Weaver was great to work with! He was proactive in gathering information about our company as well as the area. He arrived early, provided the introduction, and delivered an awesome show, which he tailored to our group. His presentation of awards was great!"
Larry Weaver, Comedian in Ashland, KY

"I received several comments regarding Larry Weaver's performance from the drivers stating that they really enjoyed the funny awards portion of the show. Larry's spin on the awards show was very entertaining."
Paul Miller, Juggler in Beckley, WV

"Paul Miller did a wonderful job!! Everyone enjoyed the show from the adults to the teenagers. I was extremely pleased and would have him come again."
A few of the towns our nationally-touring keynote speakers have performed in include: Ashland, Beckley, Charleston, Cross Lanes, Davis, Flatwoods, Green Bank, Harrisville, Huntington, Mill Creek, Moorefield, Morgantown, Parkersburg, Pipestem, Princeton, Roanoke, Summersville, White Sulphur Springs, and others.