Paul Miller performs his unique blend of comedy magic, spectacular juggling, and contagious energy both nationally and internationally for Fortune 500 companies, USO, TEDx Creative Coast, Off-Broadway, and Disney Cruise Lines.
Graduating from Bentley University with a degree in accounting, Paul began his career street performing in Boston, MA. Those first experiences taught him that connecting with an audience is at the core of any meaningful connection. For over 20 years he has cultivated quick wit and improvisational skill to allow him to turn ordinary moments into a room full of refreshing laughter.
When not on the road, Paul runs Flow Circus with his wife and partner Dawn Daria. Since 1999 Flow Circus has worked to implement sustainable, high impact, growth oriented programs with organizations ranging from state library systems to the USO's Warrior Reset project.
Available Presentations Include:
Juggler's Mindset®: A Healthy Approach to Work and Play
Audience members experience a world-class comedy juggling demonstration intermixed with step-by-step instructions for learning to juggle, or for learning anything, better. Learn strategies for reducing stress and developing physical, intellectual, emotional and social well being. Juggler's Mindset is interactive, improvisational, and engaging from start to finish.
More About This Presentation
Check Availability
Recent Reviews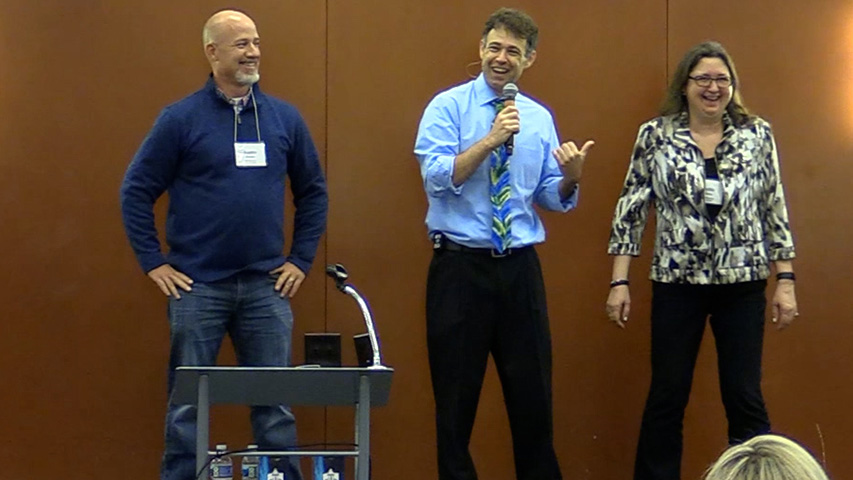 Indiana Prosecuting Attorneys Council
"Paul Miller was a pleasure to work with. Our audience loved him. Everything went perfectly and if that wasn't enough, Paul came out after hours and just spent time with our conference attendees on a one-on-one basis, just making the evening most enjoyable for all. That has never happened before with any motivational speaker we have had attending our conferences and it was "above and beyond"! We very much appreciate his dedication...and he is very, very good at what he does."
- Staff Attorney, IPAC State Child Support Conference in Indianapolis, IN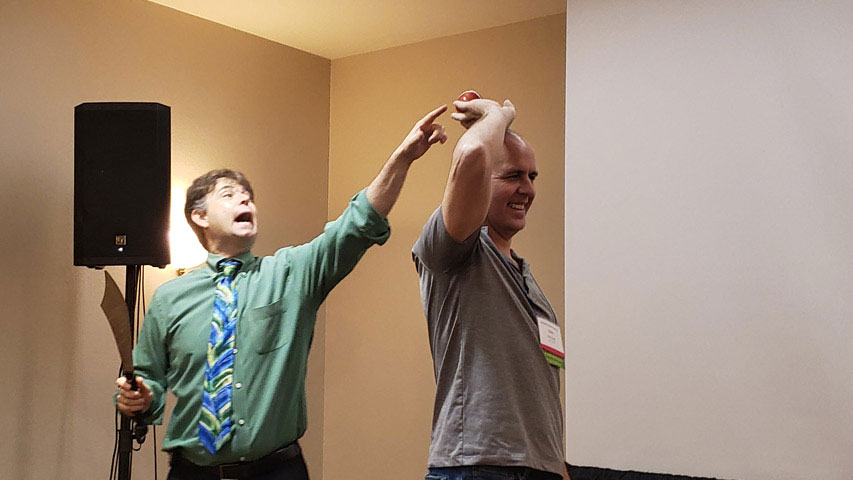 American Dairy Products Association
"I just took a quick look at the convention evaluations, and as I suspected, Paul Miller was a big hit!"
- Managing Director, Annual Convention in Savannah, GA
John Beal Inc
"Paul Miller is great! We had a situation with traffic accidents so employees were running late. He was very accommodating and understanding of this. We had a special request and he nailed it. After his show, I surveyed our team and everyone loved it. Thank you, Paul! You were awesome!!"
- Operations Manager, Company Christmas Party in St. Louis, MO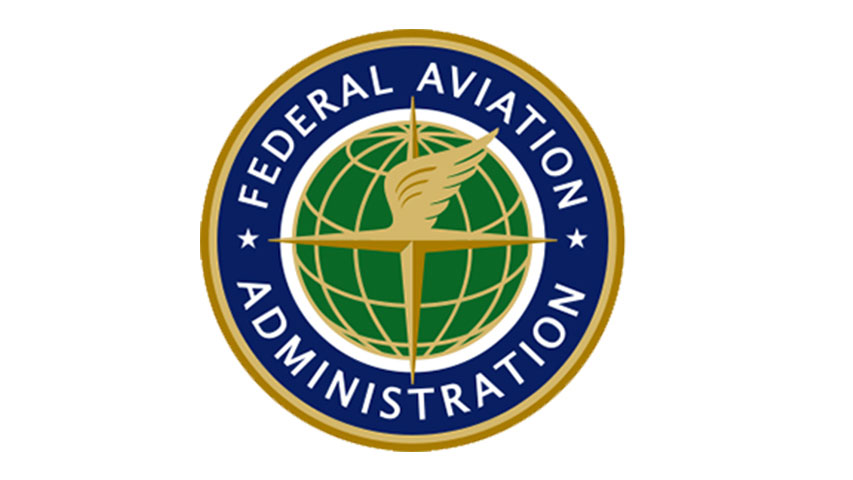 Federal Aviation Administration
"Paul Miller's presentation of a "Juggler's Mindset" was exceptional! We booked Paul for our inaugural IT Employee Day event and was an overwhelming success. Many employees shared that they thought this would be another mundane, "rah-rah", or "preachy" attempt by management to motivate the workforce, but were pleasantly surprised. They loved Paul's very engaging style and personality and the very interactive, and entertaining presentation. I would highly recommend Paul for professional or social events. Thank you for making our employee event a very memorable one!"
- Supervisory Computer Specialist, Employee Engagement Event in Washington, DC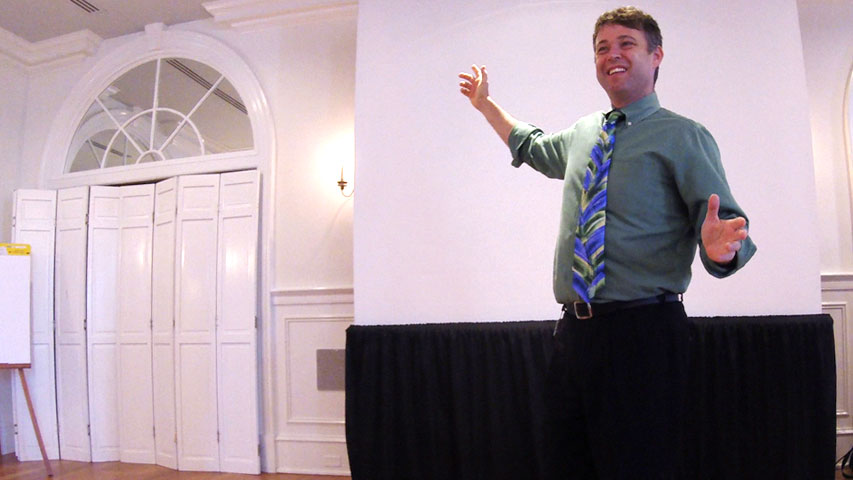 University of Virginia Investment Management Company
"Paul Miller is an engaging and high energy individual. Our group really liked him. Although Paul lightly covers the subject at hand, he is able to keep the audience's attention and send a message with his humor. The real takeaway was that EVERYONE felt included and all worked together doing a fun activity. He's also an amazing talent that gives your group a great show. Paul works with you to make him performance relevant to your group's needs."
- Travel Specialist, Operations Retreat in Charlottesville, VA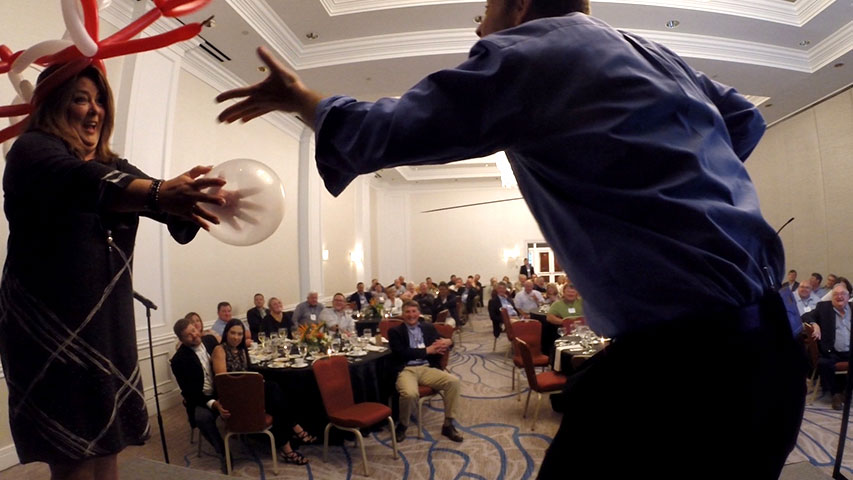 Southern Forest Products Association
"Paul Miller is a great talent. We enjoyed his interaction with our members during a reception, ahead of his after-dinner performance. Paul kept our audience rolling with laughter and surprises."
- Vice President, Communications, Annual Meeting in Bonita Springs, FL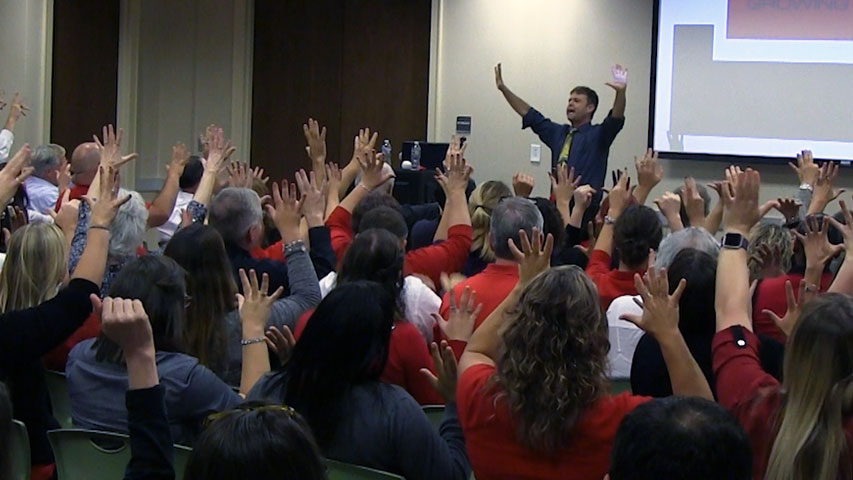 Essex Bank
"Paul was perfect for our event!"
- Director of Human Resources, Corporate Training Day in Richmond, VA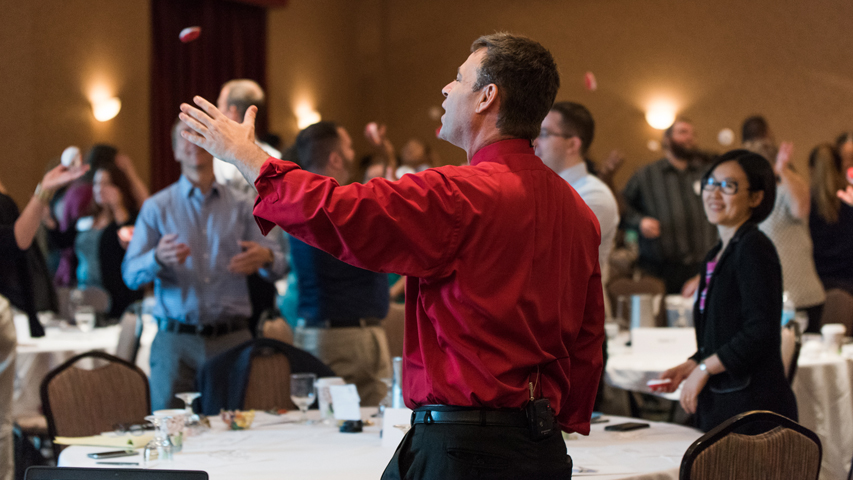 Charter Communications
"Paul Miller was great and a wonderful add to our program. Thank you!"
- VP, Compensation, Department Meeting in Cary, NC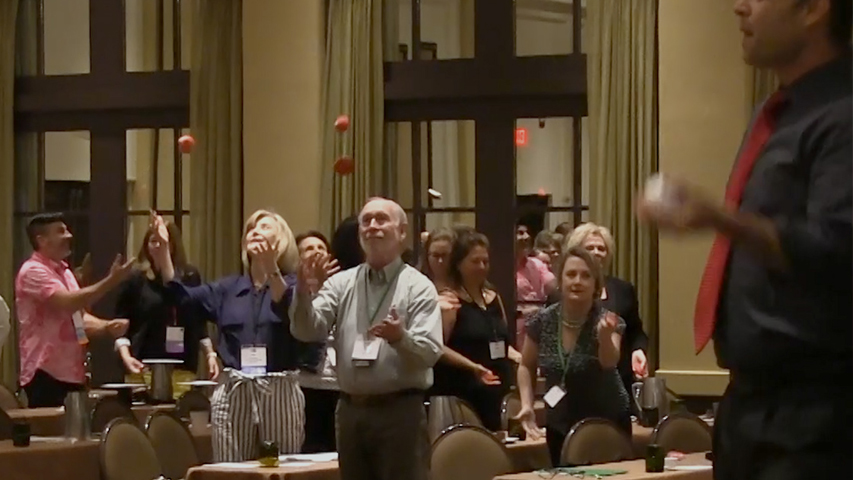 Accessories Resource Team
"What a fun performance! Paul entertained us and got our group actively involved in learning to juggle while reminding us of the juggling act we perform daily peppered with tidbits of wisdom. He was a pleasure to work with and his professionalism was appreciated."
- Executive Director, Annual Conference in Scottsdale, AZ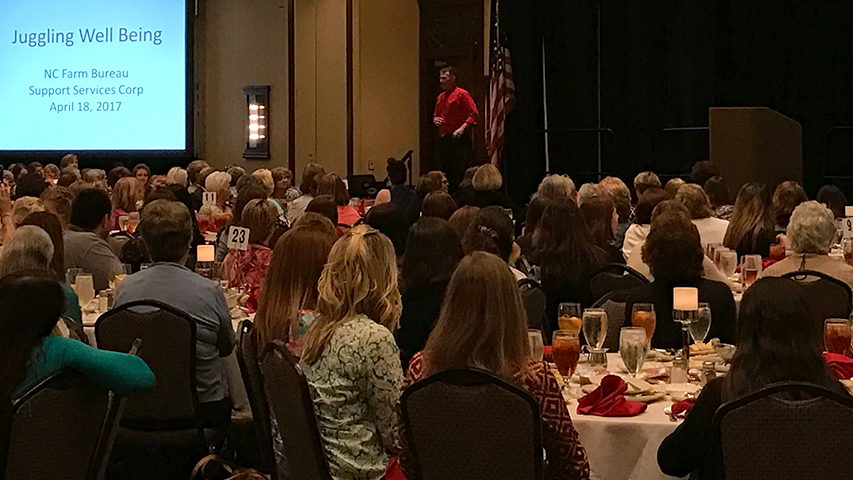 NC Farm Bureau Support Services Corp
"Paul Miller was a very energetic and entertaining performer who brought everyday relevance to his juggling act."
- Director, Customer Service Conference in Durham, NC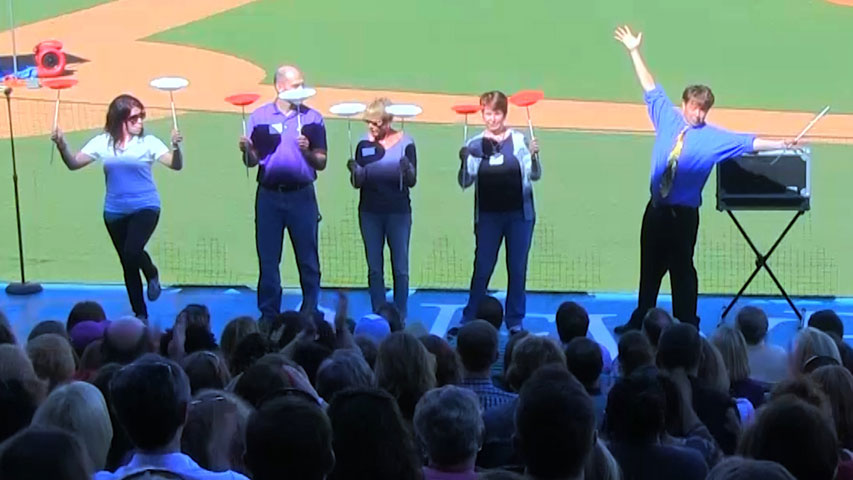 Newbridge Bank Corp
"We loved Paul Miller! He not only did a great job as per our expectations of his official 'Act' but he was able to truly 'go with the flow' as we did have some technical issues along the way. He just went with it and our crowd loved him. Such a great demeanor and fun. I will highly recommend him and hope that we might have opportunity to hire him again."
- Client Hospitality Manager, Employee Appreciation Day in Greensboro, NC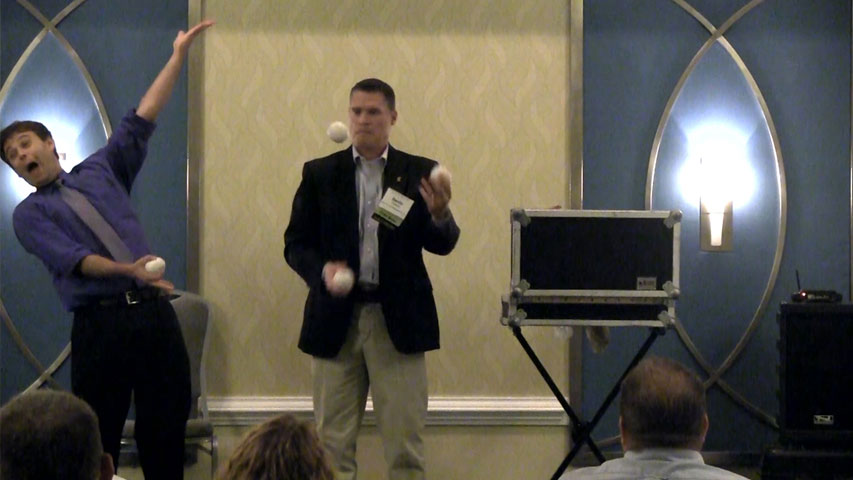 National Wildlife Control Operators Association
"Our state association was delighted with the performance Paul Miller gave to the leaders, business owners and managers at a dinner reception at our State Technical Meeting. Paul's routine "Juggling Strong Leaders" caught my eye when searching for a performer through Larry Weaver. I couldn't have found a better comedian to deliver a funny, but still meaningful message about leadership and team building to our audience. Paul was prepared and polished and gave a fun and engaging performance. He was responsive and timely in every aspect from planning to performance. Several of my attendees rushed up to Paul after his performance to inquire about booking him for their own company events!"
- Associate Director, Annual Meeting in Richmond, VA
Confirmed Dates
| | | |
| --- | --- | --- |
| 2/24/2022 | Rockingham, NC | RCH Employee Meeting |
Where does Paul Miller perform?
Paul Miller has recently performed in: Alabama, Alaska, Arizona, Arkansas, Connecticut, Delaware, Florida, Georgia, Illinois, Indiana, Iowa, Kansas, Kentucky, Louisiana, Maryland, Massachusetts, Michigan, Minnesota, Missouri, Nebraska, Nevada, New Hampshire, New Jersey, North Carolina, Ohio, Oklahoma, Pennsylvania, Rhode Island, South Carolina, Tennessee, Texas, Virginia, Washington DC, West Virginia, Wisconsin, Wyoming, just to name a few.