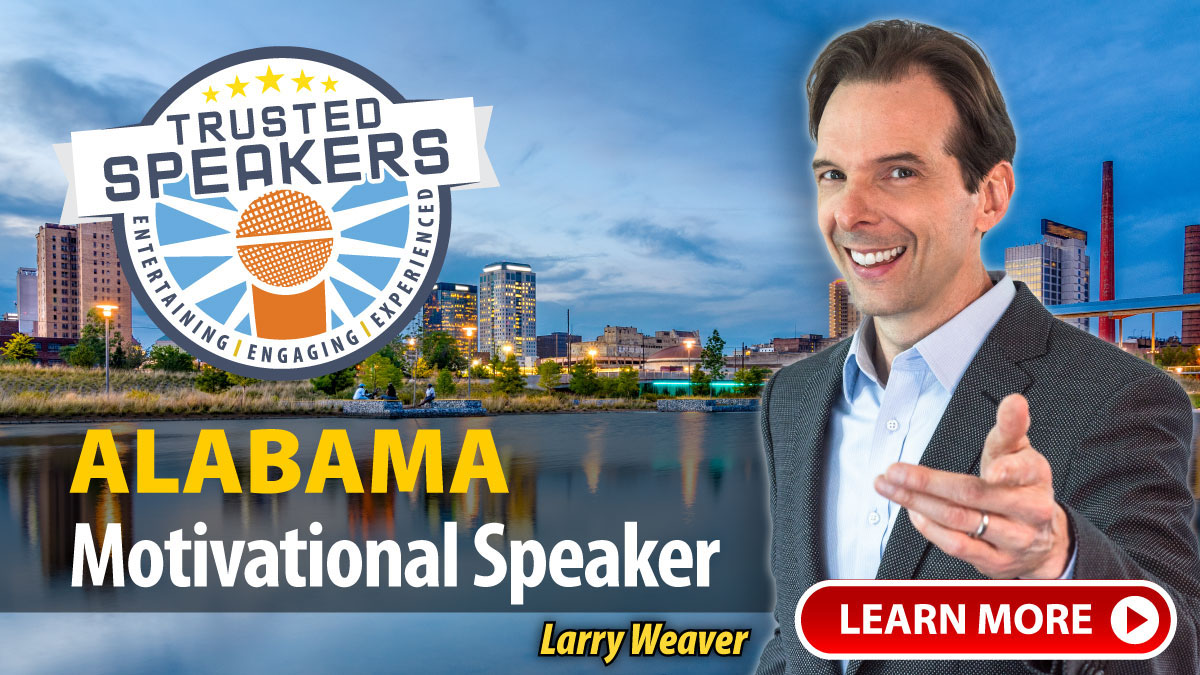 Birmingham
Speakers and Comedians
Find motivational speakers, comedians and clean entertainers in Birmingham, AL for your next meeting or event. Each of the keynote speakers listed below have recently performed their highly-engaging presentations in the Birmingham, Alabama - Huntsville, Montgomery, AL area.
Recent Reviews from Birmingham
Larry Weaver - Motivational Speaker in Montgomery, AL

"Larry did a great job closing our our conference with a good motivating message along with some clean comedy. He was easy to work with throughout the booking process and connected well with our audience."
Larry Weaver - Motivational Speaker in Birmingham, AL

"Larry Weaver was the perfect closing keynote speaker for our conference. He was able to intertwine clean humor with safety messaging. Larry is very professional and was relatable to our attendees. He is very easy with which to work. I would recommend Larry."
Comedian in Prattville, AL

"John Felts gave us an amazing time! John was very funny and very respectful of the audience. We have received numerous reports from our students saying how much they loved what they heard. John earned his money by putting hours of work in ahead of time before the event. He took the time to look up research on our town, church, and student ministry. He related very well and I would highly recommend."
Comedian in Cullman, AL

"David Ferrell was a great success for our Christmas Party. He was on time, didn't have any crazy requests, and was very professional. Before the show, he hung out with everyone and ate dinner with us. His material was very funny and clean. I would recommend David for any type of event."
Larry Weaver - Comedian in Oxford, AL

"Larry Weaver performed for our Annual Christmas Celebration and Awards Banquet. This was the first time we have included a Comedy act at this event and we were unsure as to how it might be received. Well, the night turned out to be Super and the entire staff loved it. Larry is a true professional. He arrived promptly and took great care to ensure the evening went as planned and was extremely accommodating to our wishes. With 30+ years experience, we used his input and expertise to plan the agenda and we were not disappointed. ...Our staff loved the "Fun Awards" segment and it got the night off to a great start. In fact, they are still laughing and talking about them. His comedy routine is hilarious and the connection he made with our staff members and guests during his performance created even more laughs. We are so glad we found a comedian who performs using clean material and who was suitable for all ages and backgrounds. We would highly recommend Larry for your corporate event or any event that you need a good clean performer."
Comedian in Hoover, AL

"David was very communicative and reachable before the event. He arrived early, was professional and friendly, and he did an incredible job of connecting with our seniors. Many laughs were had by all, and we all enjoyed the fun and lightness that he brought to the atmosphere."
Comedian in Centre, AL

"We loved having Rik Roberts at our meeting. Everyone is commenting on him from last night. He had all of us in tears."
Larry Weaver - Comedian in Decatur, AL

"The Bible tells us that laughter is like medicine and we received a good dose of it at our annual church volunteer appreciation party! Larry was both professional and funny. Our people were able to relate to his "hometown" humor and it was clean and appropriate for a church related function. People are still talking about it almost a month later."
Juggler in Rainsville, AL

"Five stars for Paul Miller - Extremely Satisfied"
Comedian in Birmingham, AL

"We brought John Felts in as our late night entertainment for our youth retreat. John Felts was super easy to work with from the get go. He was a great addition to our retreat this year. He related really well to middle school and high school students. I would highly recommend him to anyone looking for a great clean comedy act."
Comedian in Decatur, AL

""REFRESHING!" - over and over that was the phrase we heard from our church volunteers when talking about the banquet we hosted for them with John Felts as the entertainment. The personal touch he added with his thorough research of our church is what made his performance like no other. John was very funny, professional, and personable. He interacted with our people not only during the performance but before and afterward. We actually had a few volunteers think he was a new volunteer. I will definitely be recommending him to all of my Pastor friends. We believe, like the Bible says, "laughter is medicine" and we all got an overdose that night!!"
Comedian in Rainsville, AL

"David Ferrell did an awesome job of entertaining at our 50th Annual Banquet. We are a small rural town, and everyone is still talking about the Banquet and that it was the best one ever. They loved David's performance. He was clean, funny and quick witted. I was very impressed with the way he engaged the audience. We are very appreciative of David for making our banquet a success, and we would highly recommend him."
Comedian in Birmingham, AL

"David Ferrell was so good and so funny at our fundraising event, I am tempted to have him back every year! He kept the whole audience in stitches the whole time and everyone has had nothing but compliments about how much they loved the event! Many are asking when the next event will be they loved it so much! If you are looking for a truly funny guy who relates well, David is your guy. Since this was our first fundraiser (yes, first EVER) we were very pleased to raise $33,900! God has been good to us and I believe He led us to David. He was perfect for our night, kindhearted, honest, professional, and went the extra mile to help with the sound and other suggestions that really added to the overall experience. I would not hesitate to recommend him to any audience."
Comedian in Boaz, AL

"David Ferrell was the perfect choice for our Alumni Homecoming. He is extremely funny, friendly and was great to work with. His interaction with the audience added hometown humor that kept everyone laughing. Positive comments from our members have been overwhelming. Thanks, David!"
Comedienne in Tuscaloosa, AL

"We had such an amazing event and people are still talking about how funny Leslie Norris Townsend was. She was just as much fun off stage as on and we loved every minute. I would not hesitate to put her in front of any audience. They are sure to laugh and leave happy. So glad we were able to have her for our event!"
Comedian in Guntersville, AL

"Everyone really enjoyed the entertainment by David Ferrell. He interacted with the audience well! Great job!!!"
Larry Weaver - Comedian in Florence, AL

"Larry Weaver was fabulous to work with before and during the event. He made himself very available to my questions and needs. It would be my privilege to work with Larry again."
Comedienne in Albertville, AL

"This is our second time using Leslie Norris Townsend this year. As before, she did an absolutely OVER THE TOP performance for our group!!!! We appreciate her talent so much and loved having her back to good ol' Alabama!"
A few of the towns our nationally-touring keynote speakers have performed in include: Albertville, Anniston, Athens, Birmingham, Boaz, Centre, Cullman, Decatur, Florence, Guntersville, Hoover, Huntsville, Montgomery, Oxford, Prattville, Rainsville, Tuscaloosa, and others.