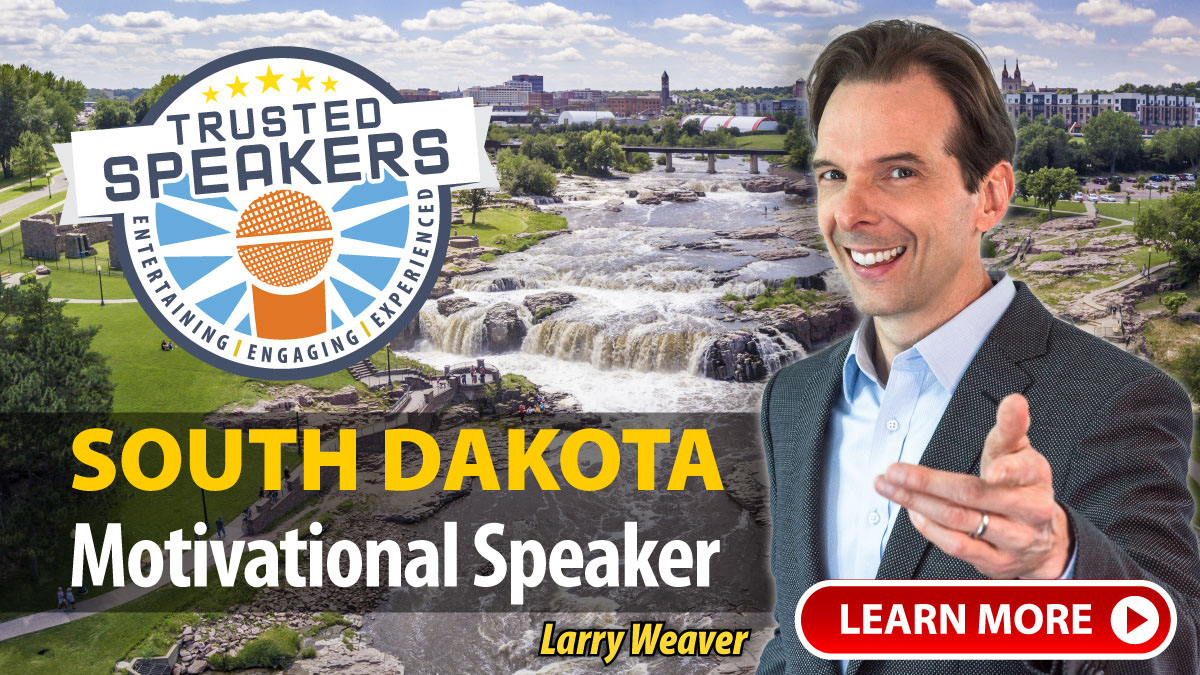 Sioux Falls
Speakers and Comedians
Find motivational speakers, comedians and clean entertainers in Sioux Falls, SD for your next meeting or event. Each of the keynote speakers listed below have recently performed their highly-engaging presentations in the Sioux Falls, South Dakota area.
Recent Reviews from Sioux Falls
Andy Beningo, Comedian in Sioux Falls, SD

"Andy was great, we really enjoyed having him here! Thanks for recommending him."
Arthur Atsma, Magician in Watertown, SD

"Outstanding performer!!! Would highly recommend Arthur to any and all organizations, especially faith based ones that welcome the gospel message. Arthur had a wonderful, family friendly performance!!"
David Ferrell, Comedian in Brookings, SD

"David Ferrell had very good response from our audience. I had many people come up to me afterwards and say how much they enjoyed him. I also was there for the entire presentation and thought it was very well done. I liked the way he engaged the audience."
"David Ferrell came to perform for a group of over 100 farmers for an appreciation supper. He had them all laughing the whole hour and we have heard nothing but good feedback from the farmers about David. He arrived 45 min early to the event and was very easy going and fun to work with. We would definitely have him back."
David Ferrell, Comedian in Brookings, SD

"Very professionally interactive act. Pulled the audience in and had them engaged. Very pleased with David Ferrell."
"We were very pleased with Leslie Norris Townsend's performance - lots of laughter and kept it very light hearted. Positive comments from many of our attendees."
John Felts, Comedian in Aberdeen, SD

"John Felts did an outstanding job. We all had great things to say about him. He was professional and very funny. He did a great job relating to the audience to the event and situation. We will definitely use your service and John again. The whole experience exceeded our expectations."
David Ferrell, Comedian in Watertown, SD

"When I was working with David Ferrell, whether it was by email, on the phone or in person, he was always very pleasant, friendly, professional and very accommodating. David arrived to our event early, which was great he got a chance to meet our Emcees for our event and talk one on one with our audience. David did a great job at our event!! His performance was awesome and kept you laughing the whole time. We received favorable comments from the audience. David helped make our event a great success!!"
David Ferrell, Comedian in Watertown, SD

"Thank you so much to David Ferrell for providing great entertainment for our event. We were very pleased and had great feedback! I look forward to working with you again in the future!"
John Felts, Comedian in Aberdeen, SD

"We had such a great event with John Felts. We spoke prior to his arrival and the morning of our event. He arrived early and was very professional and personable. His material was so relevant to our community and church. He covered a variety of subjects which all brought laughter from a wide age range. This was our church's first experience with a comedian. One of our pastors was a bit hesitant but shortly after John's performance he talked about having John back. I cannot say enough good things about John. He stayed a while afterwards and visited with several people. They really enjoyed him. Thank you so much for suggesting John. He was a hit. We will definitely recommend you both."
A few of the towns our nationally-touring keynote speakers have performed in include: Aberdeen, Brookings, Clear Lake, De Smet, Deadwood, Flandreau, Milbank, Mitchell, Pierre, Sioux Falls, Watertown, and others.