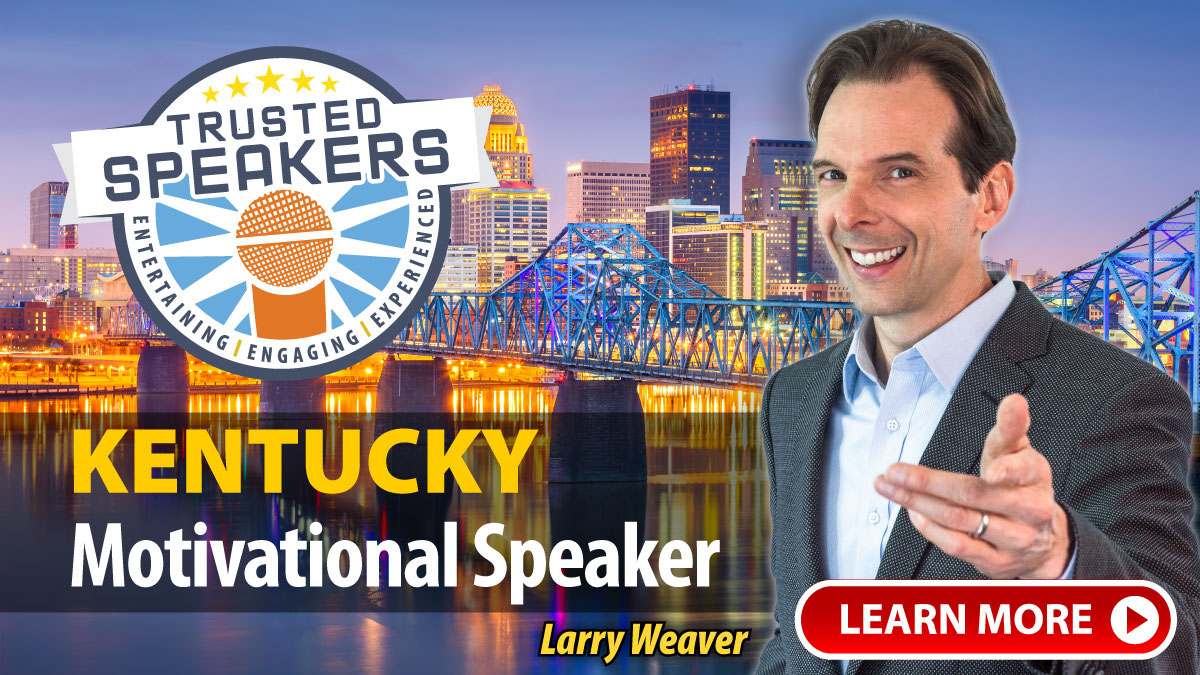 Louisville
Speakers and Comedians
Find motivational speakers, comedians and clean entertainers in Louisville, KY for your next meeting or event. Each of the keynote speakers listed below have recently performed their highly-engaging presentations in the Louisville, KY - Lexington, Kentucky area.
Recent Reviews from Louisville
Larry Weaver, Comedian in Lexington, KY

"Larry was absolutely fantastic to work with! He was the entertainment at our 75th Annual Conference Honors Luncheon and our people loved him! He was clean, very funny, and exactly what we were looking for at the event. We have other events so I'm planning to see if we can get him back for more! I highly recommend him."
Rik Roberts, Comedian in Lexington, KY

"Rik what is the highlight of our evening. He was great at connecting with local people and places. He worked in the audience very well engaging with them in conversation and humor. When the evening was over, he received a standing ovation."
Larry Weaver, Motivational Speaker in Glasgow, KY

"Mr. Weaver was enjoyed by our employees and has received high marks in their rating of our annual employee training day. He was our end-of-the-meeting speaker and helped conclude our day on a high note."
"Joshua Lozoff was amazing and engaging. He is an incredible magician that weaves that with his message. We loved Joshua's challenge to be present, curious, and genuine. Our staff is still talking about his magic!"
Rik Roberts, Comedian in New Albany, IN

"Rik Roberts was incredible. We got lots of positive comments after the event."
Rik Roberts, Speaker in Bowling Green, KY

"Our association had a great time with Rik Roberts. His Mayberry Method of Customer Service Presentation is both educational and fun! His use of the element of surprise, quick wittedness and good clean humor is a true asset in the industry. Rik is charming, engaging and fun! Our audience loved him!"
John Felts, Comedian in Louisville, KY

"John Felts was funnier than I expected! Better than the youtube videos available. He studied our audience well to immediately engage at a personal level. He had the grade school kids laughing with the white haired octogenarians. He graciously catered to our location, budget, accommodations as a friend. We plan to have him back again!"
"Absolutely wonderful!!! Everyone had a blast. Very interactive with the employees which made it very funny as we always like to make fun of our co-workers. I would highly recommend David Ferrell to any event. Very, very clean and we appreciate that!!!"
Rik Roberts, Comedian in Louisville, KY

"The feedback that we received on Rik Roberts was overwhelmingly positive. Our large group appreciated his clean humor. When in Louisville it's hard to compete with 4th Street Live entertainment. However, Rik managed to keep everyone in their seats during the hour long performance. It was a pleasure working with him and we look forward to working with Rik again in the future."
Paul Miller, Juggler in Lexington, KY

"Paul Miller did a fine job for us. Everything we requested and I as well as attendees thoroughly enjoyed him. Just what we had in mind when we asked him to come."
David Ferrell, Comedian in Louisville, KY

"David Ferrell met all expectations. He was very professional and funny. The audience loved him and was impressed with his humbleness."
David Ferrell, Comedian in Jeffersonville, IN

"David Ferrell was awesome. He more than provided the laughter the event called for and was extremely professional. Thanks again for helping us make our event the success that it was."
Larry Weaver, Comedian in Cynthiana, KY

"Thank you Larry Weaver for coming to Cynthiana to entertain us. We enjoyed having you and the segment of our daily exercise was a big hit!! Thank you for the fresh, clean material. We really enjoyed your company!"
"Leslie Norris Townsend helped make our event a success. She brought the laughter we needed. I reached out to others for feedback and received some wonderful comments - She was professional. Entertaining. Many enjoyed her program immensely."
Paul Miller, Juggler in Springfield, KY

"Our group, which consisted of adults, teens, and children, thoroughly enjoyed Paul Miller's performance. His material was very appropriate for my religious education program. He provided an evening of laughs in a good, clean manner."
John Felts, Comedian in Wilmore, KY

"We are not used to having comedians here at Asbury, so having John Felts was a unique experience. And what a great event it turned out to be! John was great with communication preceding the performance and gave prompt replies and excellent info on what he was hoping and what he needed. It was very simple to host him. His needs were minimal and so it was easy to prepare for his time here. The event was very well attended. The students packed out our Student Center and it was fun to hear them relaxing and enjoying the time. There seemed to me to be a great connection between the students and John. They stayed the whole time and laughed a lot at his jokes. I was really happy with the turn out and response. He was professional and easy to work with."
"Leslie Norris Townsend absolutely exceeded our expectations. From beginning to end she entertained the crowd. Beyond the laughter there was a very heartfelt message of hope. She encouraged the audience to "enjoy the adventure" that is life because you never know where it will take you. Leslie brought our event to life."
Steve Brogan, Ventriloquist in Springfield, KY

"Everything was absolutely wonderful!!!!!!"
A few of the towns our nationally-touring keynote speakers have performed in include: Bowling Green, Carrollton, Cynthiana, Elizabeth, Frankfort, Glasgow, Jamestown, Jeffersonville, Lexington, Louisville, Madison, Middlesboro, New Albany, Somerset, Springfield, Wilmore, and others.