The Magic of Communication by Joshua Lozoff
About the Presentation
In this entertaining and interactive presentation, Joshua pulls back the curtain to reveal the true secrets of his well-honed craft, which aren't trap doors or mirrors, but involves a heightened awareness of our own intuition and the subtle ways we're all constantly communicating with each other.
Professional mentalist and magician Joshua Lozoff appears to read minds. But what he really does is read people, a skill that is highly applicable in business. And in all parts of our lives. Highlights include:
Channel Your Inner Sherlock
Research shows that 85% of communication is non-verbal. We already know how to interpret body language and other non-verbal communication, just like Sherlock Holmes. In fact, we send and receive communications constantly—whether or not we are aware of it. Harness the skills already within you to master communication in both your professional and personal life.
Stay Truly Connected
Real connections aren't about social media and mobile devices. We have the power to truly connect with everyone with whom we interact. Recognizing our connections reinforces empathy, and empathy results in more effective interactions with customers, clients and co-workers—as well as friends and family.
Summon your best Decision-Making Powers
Who is really making your decisions? We all make thousands of choices every day. Yet, do we know how those choices are influenced and why we make the choices we do? Joshua reveals the three ways we unwittingly give away our decision-making power every day, and how to reclaim it.
Joshua illustrates his ideas with mind-boggling demonstrations that you'll swear are real magic... and maybe they are! True magic happens when we are aware of our own perceptions, connections, and communication.
Your attendees will leave Joshua's presentation inspired, energized, and aware of their own magical powers of communication.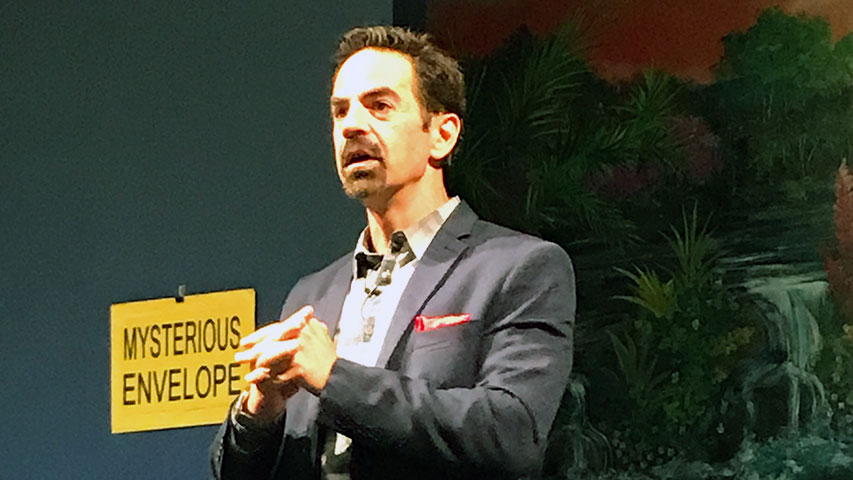 Recent Reviews
Benchmark Community Bank

A very big THANK YOU to Joshua Lozoff for an outstanding, fabulous keynote presentation yesterday. I'll put a more formal thank you in the mail but didn't want to let today pass by without expressing my thanks for how much his performance amazed and delighted, and was enjoyed by our employees. It was all they could talk about today! He taught us so much about communication, especially non-verbal communication and subliminal messages and absolutely astonished us with his magic. BRAVO!!!