Virtual motivational speaker and comedian Larry Weaver provides LIVE clean humor and inspiration virtually around the World! Add some humor to your next videoconference call. Provide a funny and motivational keynote for your virtual conference. Boost employee morale with a virtual happy hour. Available In-Person, Pre-Recorded, or Live Streaming via Zoom, Cisco WebEx, Microsoft Teams, GoToMeeting, RingCentral, and other popular videoconferencing software.
Full HD Camera with 7 lights (4 on backdrop, 1 hair light, 1 key light, 1 fill light)
1Gbps Fiber Optic Internet Connection over Ethernet + 4G LTE Internet Backup
Uninterruptible Power Supply battery backup to protect against Power & Internet outages
Virtual Comedy Show
100% clean stand-up comedy with a positive message! Larry's humor is highly professional, culturally sensitive, and hilariously funny. After majoring in accounting, Larry left his CPA dreams behind to pursue his dream of making people laugh. As heard on SIRIUS XM Blue Collar Radio and Laugh USA, Larry's show includes tales of growing up in the country, home remedies, family gatherings, marriage, traveling, trying to eat right, and more.
Larry's lightning-fast wit is always on display as he playfully banters with the audience. In addition to Sirius XM Radio, his stand-up routines receive heavy airplay on John Boy & Billy, Big D & Bubba, and radio stations around the U.S. Some of his most popular tracks include "Ghost in the Trailer," "Redneck Rehab," and "Pot Luck Dinner."
Virtual Motivational Speaking
Professional comedian and keynote speaker Larry Weaver uses clean humor, funny anecdotes, and emotionally charged stories to illustrate the importance of energy, attitude, and motivation. These topics are crucial to success in any venture, whether your focus is Leadership, Teamwork, Customer Service, Sales, Change, Safety, Stress Reduction, or simply Having More Fun at Work . The presentation combines stand-up comedy with content – seamlessly intertwined. Your audience will laugh, learn, and leave feeling refreshed.
Key Points Include:
Energy – mprove health and wellness, live a balanced life, prioritize self-improvement.
Attitude – become more positive, embrace change, and reduce stress.
Motivation – increase ability, commit to lifelong learning, and achieve your goals.
Attendees will leave feeling inspired and encouraged to give to their full potential and creative best each day.
Larry is a nationally-touring comedian, author of "101 Funny Employee Awards", Kenan-Flagler Business School alum, and President of Trusted Speakers. As a comedian, he has headlined over 1,000 performances in 38 states, sharing the stage with entertainment legends like Faith Hill, Ray Romano and "Weird Al" Yankovic. An early expert in Search Engine Marketing and Ecommerce, his business insights have been quoted in Inc. Magazine and The Wall Street Journal. You can hear his comedy routines daily on Sirius XM radio's "Laugh USA" and "Great American Comedy."
Larry delivers his upbeat and memorable presentations for conferences, company events, staff meetings, and more. It's the perfect way to kick off your event with a bang, pick up the energy after a long training session, or end on a high note!
Recent Reviews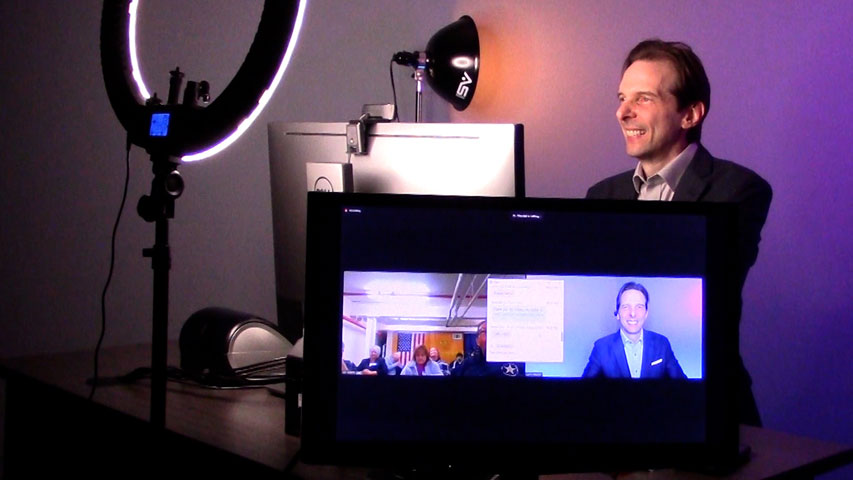 Madison County Sheriff's Department Chaplaincy Program
"Larry Weaver is a talented comedian. Larry shared tips and recommendations that really had a huge positive impact on our virtual Fundraising event! We appreciated the joy, laughter and meaningful comedic performance of Larry Weaver especially in the midst of a global pandemic! Thank you, Larry!"
- Administrative Assistant, Virtual MCSD Fundraiser in Anderson, IN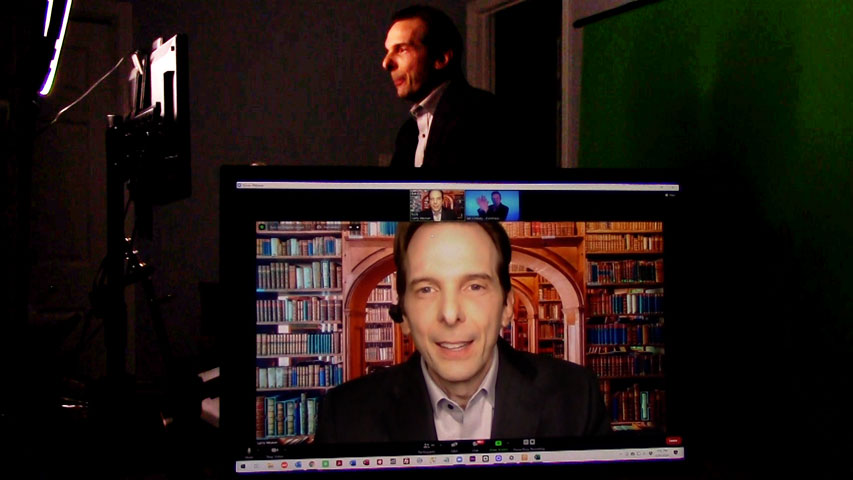 Raising A Reader MA
"Larry Weaver is a talented and engaging performer and comedian. Larry also shared tips and recommendations that enhanced our event and the overall experience for our attendees. Larry's professionalism and sincerity in delivering a set that was laced with our message and mission indicated that Larry took the time to tailor the set which created a deeper connection with our audience. We appreciate the joy, laughter and meaningful comedic performance of Larry Weaver. Laughter is indeed good medicine!. Thank you, Larry!"
- Director of Development, Virtual RAR-MA Winter Soiree in Boston, MA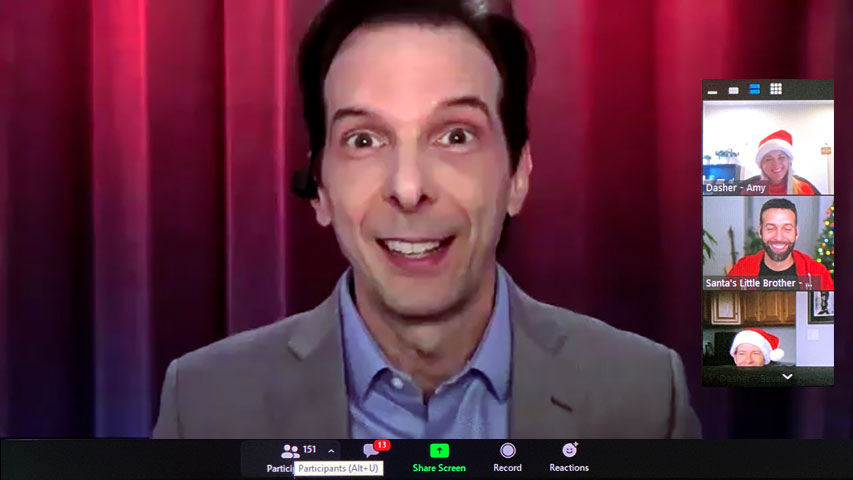 American Academy of Professional Coders
"Larry Weaver was very great to work with, he provided a virtual comedy routine for our holiday party that was very entertaining. Our team had a blast and I would recommend Larry Weaver for your company gathering. He was professional, clean, and perfect for a corporate event."
- Human Resources Manager, Virtual AAPC Holiday Party in Salt Lake City, UT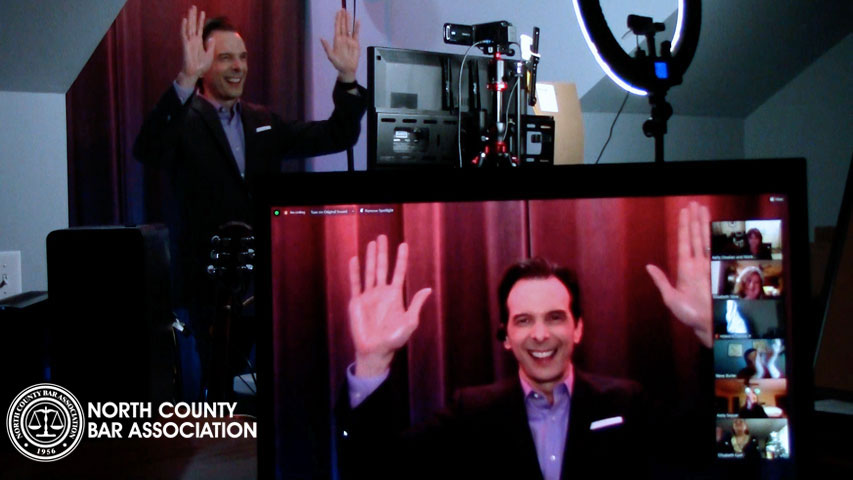 North County Bar Association
"Larry Weaver was just what our Virtual Holiday Party needed! Be ready for tailored comedy to your group as well as stuff that makes everyone laugh, and it's clean, so no need to worry about any member's sensitivity. In this world of virtual meetings, it is necessary to mix it up and that is exactly what Larry Weaver will do for your group. He is prompt, professional and the perfect type of interactive entertainment for the virtual world. I am sure he is excellent in person, but luckily we did not have to pay for a flight or hotel - he came right to us through our Zoom channel. It was great fun!"
- Board Member, Virtual NCBA Holiday Party in Vista, CA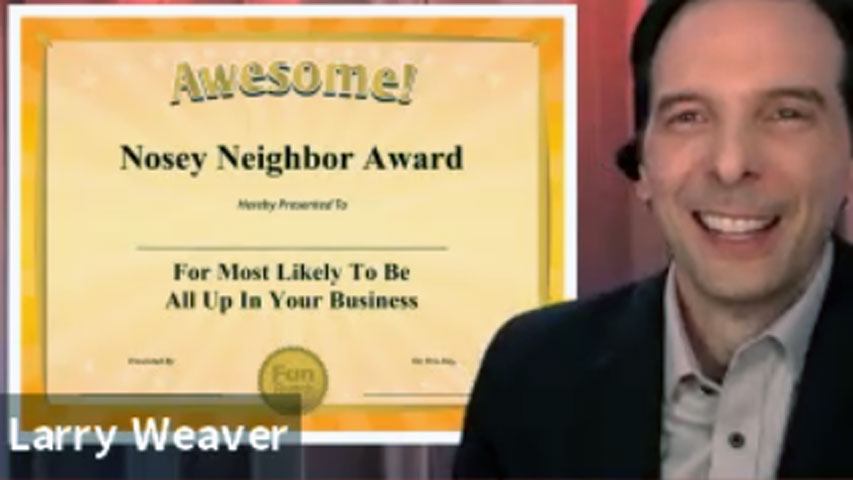 FM Global
"Larry's material was timely, relevant and a big hit with our group. He asked for information about our organization and did a nice job of incorporating it into his material. We had a great time."
- Administrative Manager, St. Louis Operations, Virtual FM Global Team Meeting in St Louis, MO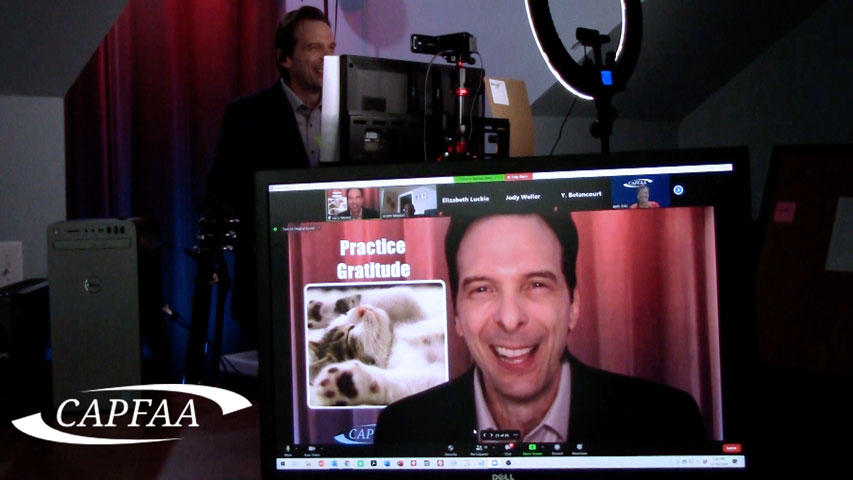 Connecticut Association of Professional Financial Aid Administrators
"Larry Weaver was a breath of fresh air. He made me laugh until my stomach hurt. He is a first-class professional performer that is in touch with our business. Keep up the awesome work."
- Member, Virtual CAPFAA Annual Conference in West Hartford, CT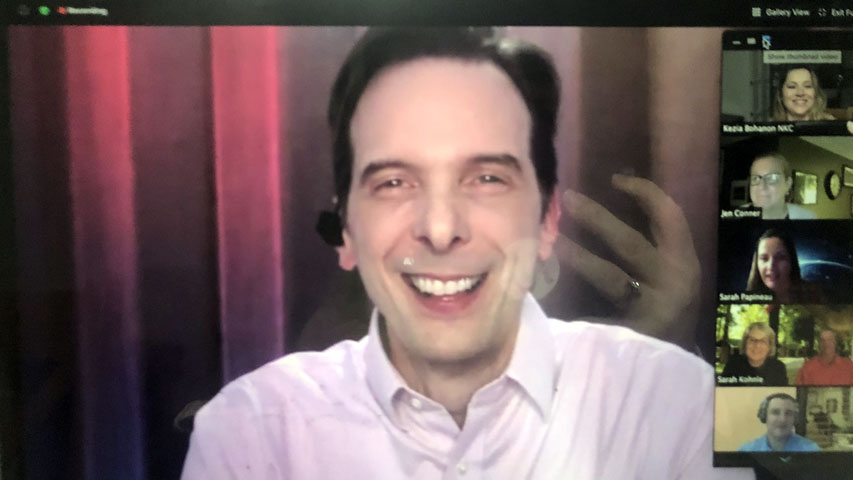 Missouri State Teachers Association
"I was nervous to take on the task of choosing entertainment options for our state convention as we had to move it to a virtual platform due to Covid. We normally have hundreds participate when we are in-person, but who wants to be online for virtual entertainment after being on a computer all day? As it turned out, a lot of people do. Larry made the whole process simple. He is responsive, understands how to deliver a comedy show virtually and he even researched the situation in our state to customize his show and connect with our participants. He is a funny guy and brought some much-needed laughter to a large group of educators in a great virtual comedy show. Our feedback was great and we heard from so many who said that they needed a laugh so badly and that his virtual comedy was such a great choice for our convention entertainment. Larry gave us clean comedy, perfect for a professional setting. Thanks, Larry!"
- Member Service Coordinator, Virtual MSTA State Convention in Columbia, MO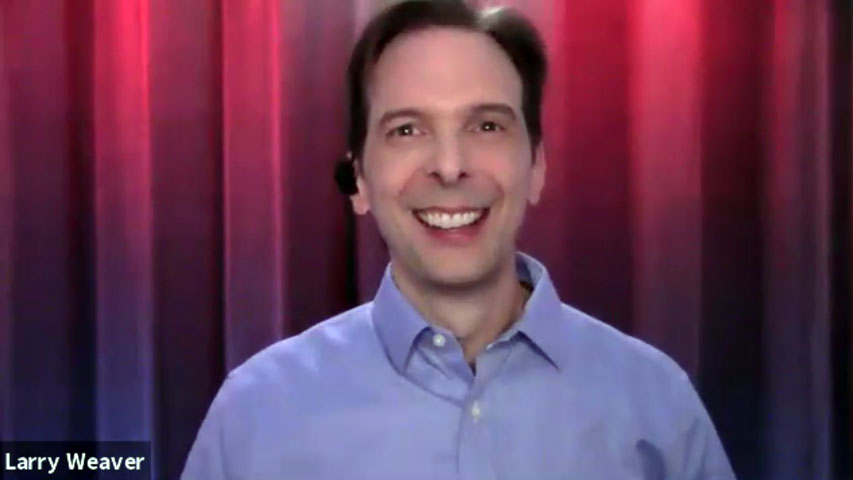 Gilead Ministries
"I have to say that working with Larry in the season of COVID was probably one of the best experiences I've had with making a virtual event happen. Larry not only went out of his way to help us get all the technical details covered, he kept himself available for what was a 'once in a lifetime' challenge as a non-profit. The idea of making this new format work and actually having success was overwhelming. I also had staff that was out with COVID-related quarantine, so I had to rely a lot on Larry's generosity. With all that said, HE DID A TREMENDOUS JOB ENTERTAINING OUR PEOPLE! I would highly recommend Larry for any of your events."
- Executive Director, Virtual Fundraiser in Marion, IN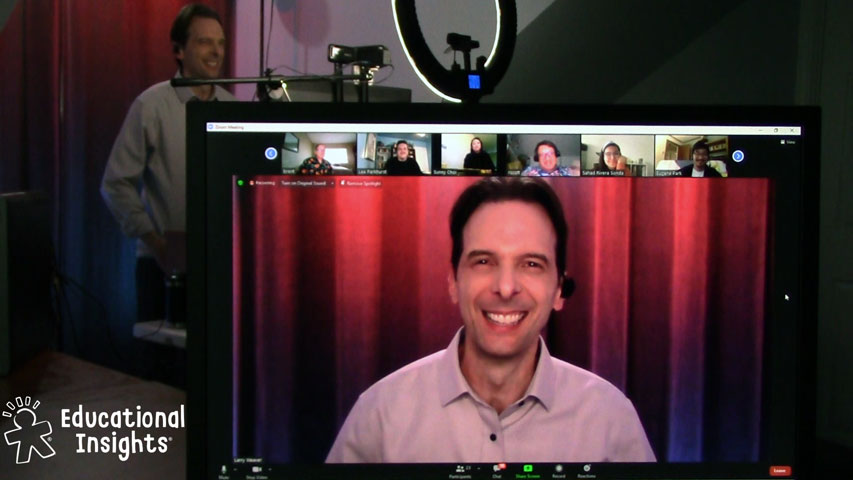 Educational Insights
"It was such a delight to have Larry Weaver entertain during one of our virtual work lunches. His comedy routine had my team laughing the entire time and uplifted everyone's spirits. Larry was an absolute pro to work with! He scheduled a pre-event call, tailored his act to our team, and oversaw important details (even showing up early!) to make sure our virtual event ran flawlessly. Best of all, my team had a blast and even enjoyed some live bantering with Larry during his act!"
- General Manager, Virtual Company Meeting in Gardena, CA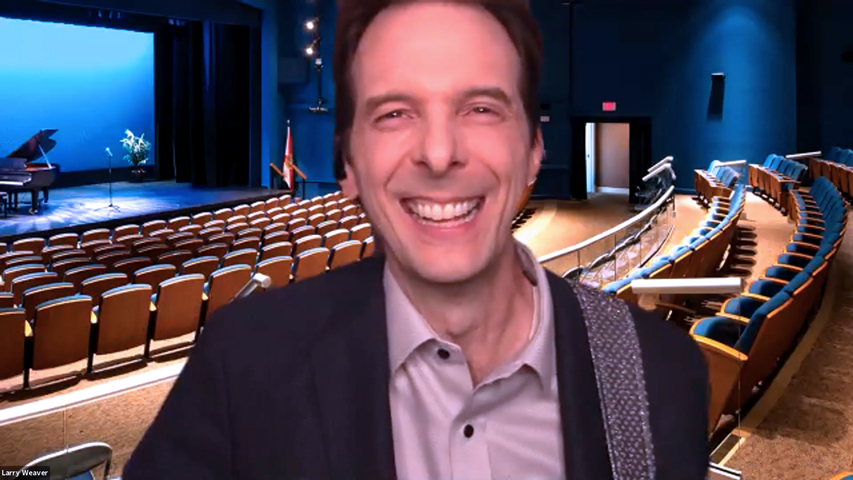 The Glenridge on Palmer Ranch
"Larry Weaver was really a pleasure to work with! We have nothing but high praise for Larry's pre-show communication, punctuality, personality, and cleanliness of material. We had positive audience feedback via the event Chat function and emails sent to me. We'd love to have Larry perform in person at some point in the future. We so enjoyed his virtual performance! Thanks again for the professionalism and great humor"
- Life Planning Event Coordinator, Virtual Comedy Show in Sarasota, FL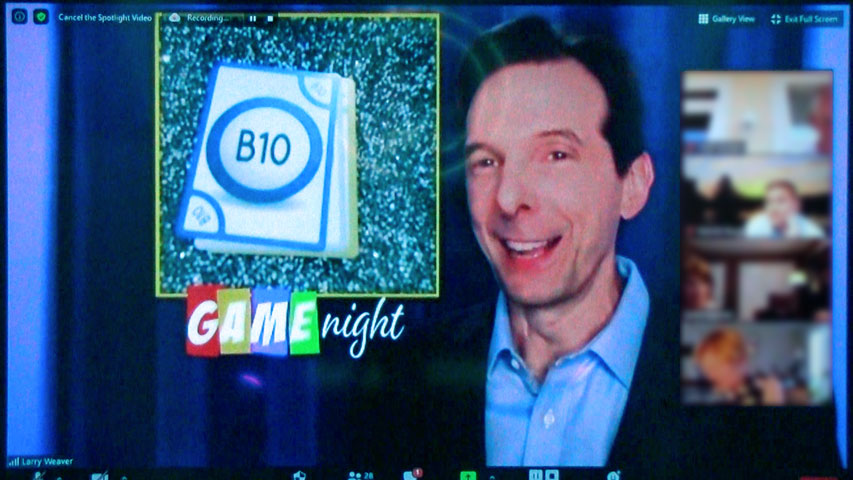 Triad Financial Advisors, Inc.
"Larry Weaver is funny, smart and professional! Our firm hosted a virtual bingo for clients. Larry performed stand-up and acted as the emcee for bingo. Not only was he funny but everyone was really impressed with his trivia knowledge. Larry was so easy to work with and was 100% prepared due to outstanding pre-show communication and professionalism. We would 100% work with Larry Weaver again!"
- Director of Marketing and Client Services, Virtual Client Meeting in Greensboro, NC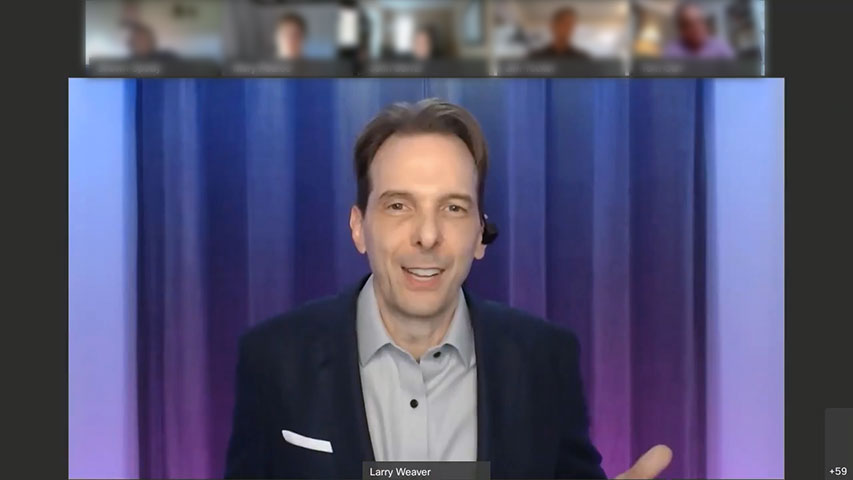 SyCom Technologies
"We've tried to get creative to stay connected with our employees while they are working remotely. Larry pulled off a really fabulous virtual event for our staff of 80+. He did a nice comedy routine, very topical, and included jokes that applied to our line of work. People felt free to laugh and make comments, which Larry handled brilliantly. He kept everyone smiling. If you're looking for a way to stay connected to your employees in these tough times, I'd recommend Larry host an event for you."
- CEO, Virtual Team Meeting in Richmond, VA