John caters to audiences seeking good humor and good taste. He delivers real, funny, one-of-a-kind perspectives on dating, marriage, parenting, American culture and struggling to do the right thing.
John grew up in Northern Virginia, just outside of Washington D.C. He studied Marketing at the University of North Carolina at Wilmington and worked a regular shirt and tie job as his interest in comedy grew. After competing in and winning local comedy competitions, John discovered he had knack for telling jokes and stories that could draw a crowd of any age.
John enjoys making a wide variety of audiences laugh while never having to resort to harsh language, shock value or taboo subject matters. Each show is custom fit to the company or organization by gathering information prior to the performance to create that personal feel.
His comedy is a mix of commentary, story-telling, and clean humor. He currently lives in downtown Wilmington, NC with his wife, Elizabeth and their two young children.
Available Presentations Include:
Christian Comedy
Faith-based, clean comedy for churches, charities, and Christian companies. Each show is custom fit to the ministry or faith-based cause by gathering information prior to the performance to create that personal feel.
More About This Presentation
Check Availability
Clean Customized Humor
Show your clients, employees, families or loyal customers a good time through John's clean and carefully put together set. You are guaranteed to see lots of laughs, smiles and possibly a fellow audience member on stage!
More About This Presentation
Check Availability
Recent Reviews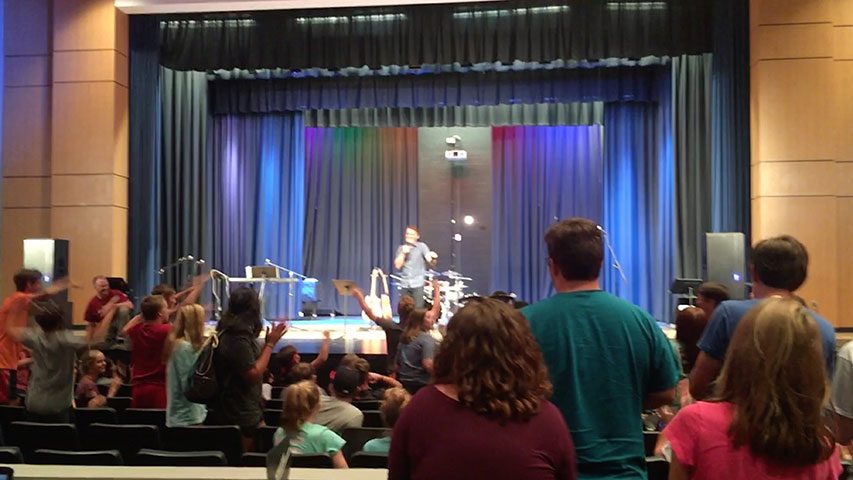 Mission Serve Walterboro
"John Felts was extraordinary. Prior to the event, we were in regular contact. On the day of the event, he arrived early and was well-prepared for the event. His audiovisual use of information provided to him allowed him to connect quickly with the crowd of nearly 200, most of whom were teenagers. John was warm, transparent, engaging, and extremely funny. Woven within his comedy were messages of character and responsibility. He might have arrived as a stranger to our audience, but he left a rock star. We hope to be able to work with John again one day."
- Associational Missionary, Volunteer Appreciation in Walterboro, SC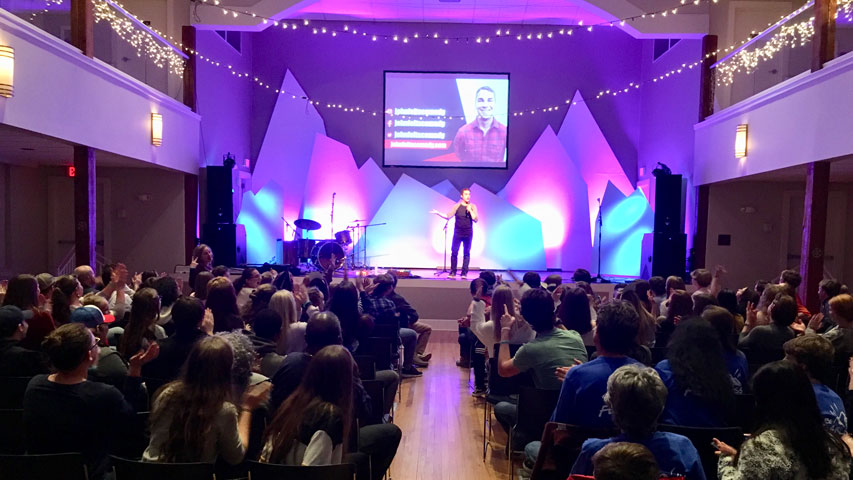 Lake Junaluska Conference & Retreat Center
"John Felts is professional and easy to work with. I really appreciated that John went the extra mile to research the youth groups that would be present at our event and to incorporate things from their environments into the show. The attendees were surprised and honored that he took the time to know them."
- Director of Programming, Christian Youth Retreat in Lake Junaluska, NC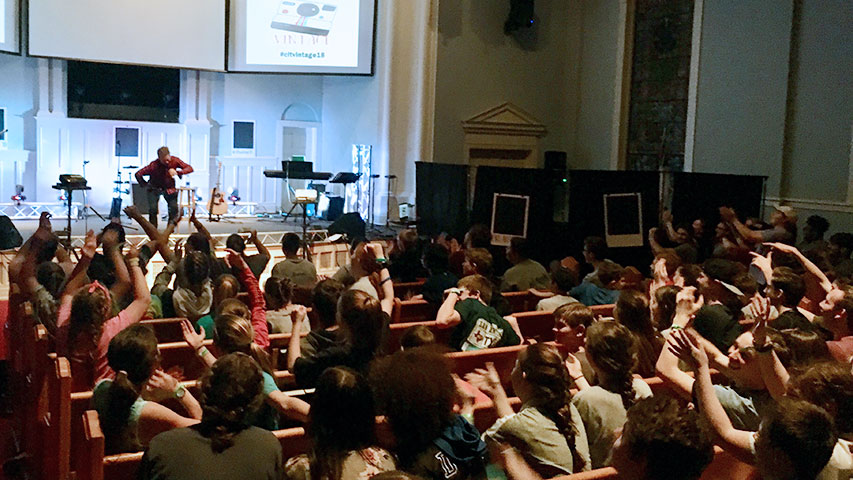 Idlewild Baptist
"John Felts was funny and adapted his show to the audience. He did research about who was there so the audience felt like they were a part of the show."
- Youth Pastor, Youth Event in Matthews, NC
Lake Junaluska Conference & Retreat Center
"John Felts performed at one of our Winter Youth Retreats in front of a multi-denominational audience of about fifteen youth groups from churches across the Southeastern US. The youth and adults alike laughed constantly as he shared jokes and observations about parenting, youth group leadership and particiaption, church life, school life, marriage and more. He took time before his show to learn more about who was present in the audience and drew from that to ensure the audience felt he knew and understood them. He communicated well prior to the engagement, was on time for the show, worked well with our event leaders and tech crew, and showed real interest in our organization. I will certainly consider booking him again."
- Program Director, Youth Winter Retreat in Lake Junaluska, NC
First United Methodist Church of Grenada, MS
"We brought John Felts in as our late night entertainment for our youth retreat. John Felts was super easy to work with from the get go. He was a great addition to our retreat this year. He related really well to middle school and high school students. I would highly recommend him to anyone looking for a great clean comedy act."
- Minister, Breakthru Retreat in Birmingham, AL
First Baptist Church
"John Felts did an outstanding job for our event. His material was personalized to our audience. I could tell he took time to research our area and tailor his performance to our people, our area and our event. He interacted with our audience well, especially given that it was outside and dark. Everyone I talked to afterwards loved him. John was also extremely easy to work with. He was prompt, very personable one on one, and worked hard to help make our event a success.I would highly recommend him to anyone looking for a fun evening of clean comedy."
- Assistant to Pastor, Back to School Bash in Kaufman, TX
Bethel Lutheran Church
"Our evening went well and John Felts was a big part of that. The response to his show was excellent and he was able to connect with the crowd. My experience with your agency was positive also. I wouldn't hesitate to use John or your agency again in the future. Thanks for everything."
- Youth Director, Converge Youth Concert in Claremont, NC
Harding University
"The performance by John Felts was great. We had 600 in attendance and John had them laughing from start to finish. John was top notch to work with. He contacted me weeks before the show date to get some "inside" information on our school. After he got that info, he called me to talk through some of the finer points of our traditions to make sure that the audience would "get the joke." I could tell from his questions that he knew what he was doing and that reassured me and helped with promotion. John used the right amount"
- Director of Campus Life, Family weekend in Searcy, AR
Wayne Christian School
"Just a quick note to let you know that everything went well at the Junior-Senior Banquet last week. John Felts was a hit with the audience. The students were making favorable comments about him and the event as they talked on Monday. I appreciate your helpfulness and look forward to doing business with you again."
- Dean of Students, Junior-Senior Banquet in Goldsboro, NC
Church of Christ Mountain View
"John Felts was very friendly and definitely engaged the audience extremely well. He was quick witted and funny, and was very entertaining for the entire hour. He stayed after the show and talked with and took photos with the folks. We had a great evening and we would love to have him back again!!"
- Deacon, Christian Concert in Winchester, VA
Light The Night Ministries, Inc.
"John Felts did a wonderful delivering a great message to the youth of our community. Even with all the excitement of New Years, he had our youth and young at heart was able to instill a very appropriate and important message. Thanks for working with us on this event!"
- Founder, Light the Night Christian Youth Rally in South Hill, VA
Crestview High School
"John Felts did a great job relating to the kids both during the performance and at the after-event. We appreciate him sharing his talent and his story."
- Program Coordinator, Student Assembly in Convoy, OH
View All 151 Reviews
Upcoming Schedule
| | | |
| --- | --- | --- |
| 10/9/2020 | Bangor, ME | 50th Anniversary Weekend |
| 4/7/2019 | Oakland, MD | Church Services |
| 4/6/2019 | Mountain Lake Park, MD | Father Daughter Gala |
| 3/22/2019 | Avon, MA | Volunteer Banquet |
| 3/16/2019 | Burlington, NC | Comedy Night |
| 3/9/2019 | Hot Springs, AR | Annual Convention |
| 3/2/2019 | La Grange, NC | Member Appreciation Banquet |
| 2/23/2019 | Dodge City, KS | Annual Banquet |
| 2/15/2019 | Onalaska, WI | Laugh Your Heart Out Loud Comedy Night |
| 2/10/2019 | Wilmington, NC | Comedy Show |
| 1/25/2019 | Grayslake, IL | MOPS Date Night |
| 1/18/2019 | Bellville, TX | Comedy Show |
| 1/12/2019 | Garden City, KS | Christmas Party |
| 1/4/2019 | Green Bay, WI | Company Holiday Celebration |
| 12/31/2018 | Lake Junaluska, NC | Christian Youth Retreat |
| 12/16/2018 | Beaufort, SC | Christmas Celebration |
| 12/15/2018 | Bowling Green, FL | Company Christmas Party |
| 12/7/2018 | Van Wert, OH | Company Christmas Party |
| 11/4/2018 | Dallas, TX | Volunteer Appreciation Banquet |
| 11/3/2018 | Mesa, AZ | Annual Fundraiser |
| 10/28/2018 | Middletown, OH | Outreach Event |
| 10/27/2018 | Culpeper, VA | "Come Laugh With Me" Date Night |
| 10/20/2018 | Memphis, TN | Campus Ministry Fundraiser |
| 10/6/2018 | Lexington, NC | Fundraiser |
Where does John Felts perform?
John Felts has recently performed in: Alabama, Arizona, Arkansas, California, Connecticut, Florida, Georgia, Illinois, Indiana, Iowa, Kansas, Kentucky, Maine, Maryland, Massachusetts, Michigan, Minnesota, Mississippi, Missouri, Nebraska, New Jersey, New Mexico, New York, North Carolina, North Dakota, Ohio, Oklahoma, Pennsylvania, South Carolina, South Dakota, Tennessee, Texas, Vermont, Virginia, West Virginia, Wisconsin, Wyoming, just to name a few.