Filter Reviews: Most Recent (250), Association, Chamber, Christian, Corporate, Non-Profit, Other, Social, Theater, Agriculture, Christmas Party, Construction, Education, Family, Finance, Fundraiser, Healthcare, Hospitality, Manufacturing, Military, Municipal, Real Estate, Safety, Seniors, Technology, Transportation, Utilities, Volunteer, Women, Youth,
Showing: Reviews
Engineering Design & Testing Corp

"Arthur knocked it out of the ballpark last week at my event – my guests are STILL talking about him! It is NOT an easy task to awe a room full of engineers, but Arthur did. I received your survey and am drafting the right words to describe his outstanding performance. He is an amazing magician and wonderful person."
Kinder Chamber of Commerce

"Wow is all I can say. We absolutely loved Arthur. He is such a people person that I felt like I had known him for years. He mingled with the guests beforehand and they couldn't wait for his performance. One of the businesses wanted his information for an upcoming event later in the year. The audience even kept him after trying to figure out the magic tricks. They were in awe because they could not. I have been getting messages all morning about how much they loved the performance. He is absolutely an amazing entertainer."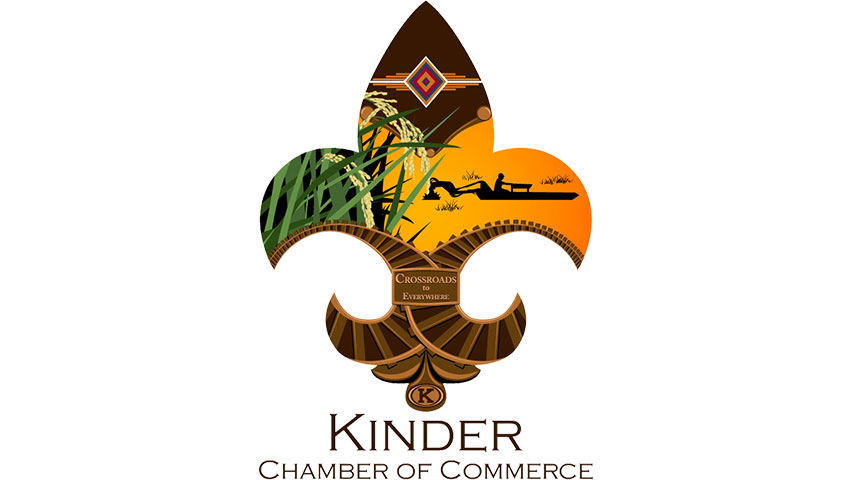 K & M Builders, Ltd

"Arthur was amazing. Our company consists of 90% Amish folk and everyone extremely enjoyed his Magic Tricks. He has a warm personality and makes everyone feel welcome to his performance. He has some audience participation and all enjoyed. Would highly recommend him to any office party."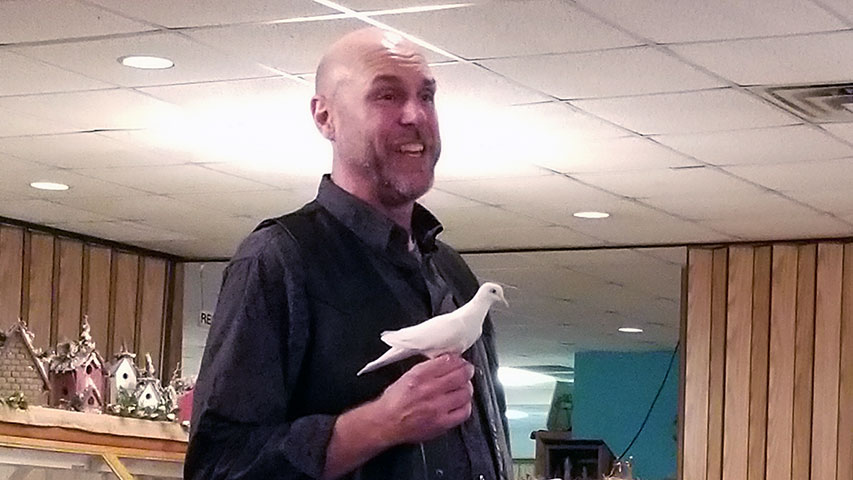 South Carolina Hospital Association

"Arthur DELIVERED! I was looking for a magician/comedian who provided the "wow factor" for this event - and oh boy did he ever! Our guests were still talking about his performance the next day. Arthur was professional, respectful, reliable, and his material, as well as his personality, was perfect for our group. THANK YOU!"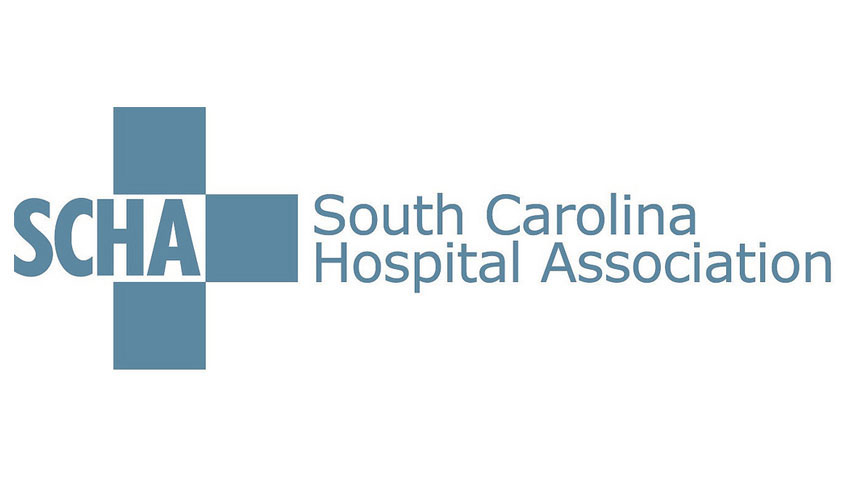 American Petroleum Institute

"Arthur's performance was exceptional, he was very well prepared and kept everyone's full attention. Our guest were all amazed with his presentation. I would highly recommend Arthur to anyone who is looking for a clean, funny, fascinating performer."
Lawndale Baptist Church

"Arthur did a fantastic job! I am just really pleased with how everything turned out. He is a wonderful entertainer and does a great job with all audiences. Thanks so much for the recommendation."
GEA Refrigeration North America, Inc.

"Arthur was absolutely fabulous and greatly exceeded our expectations. He was very personable and hung around even after his show. I am going to have employees for months to come asking "how did he do that?" Tell everyone to book this guy -- they won't be sorry."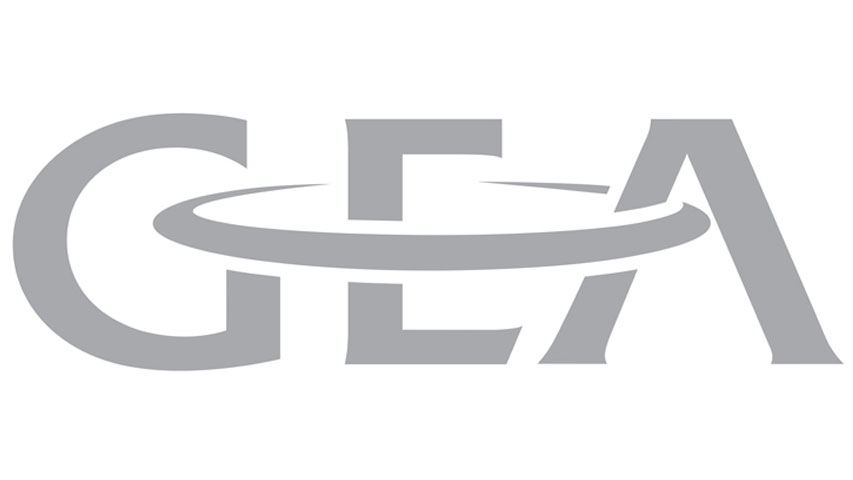 North Madison Christian Church

"Andy was humble behind the scenes and hilarious behind the mic. Glad to have brought him in for our family event!"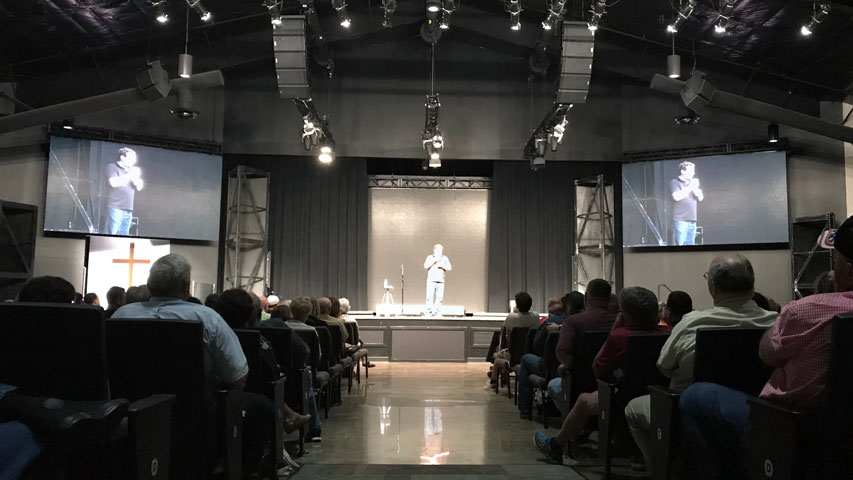 Procter and Gamble

"Mike arrived one and a half hours ahead of his scheduled performance. He was very focused, professional, and determined to entertain the audience with his sense of humor and wit. The audience loved him! I would highly recommend Mike for your function and rest assured that he will not disappoint your audience."
Ursa Farmers Cooperative Co

"Andy presented fun family friendly entertainment. He successfully pulled in the audience with participation and made It even more entertaining!! I heard a lot of great comments about the performance."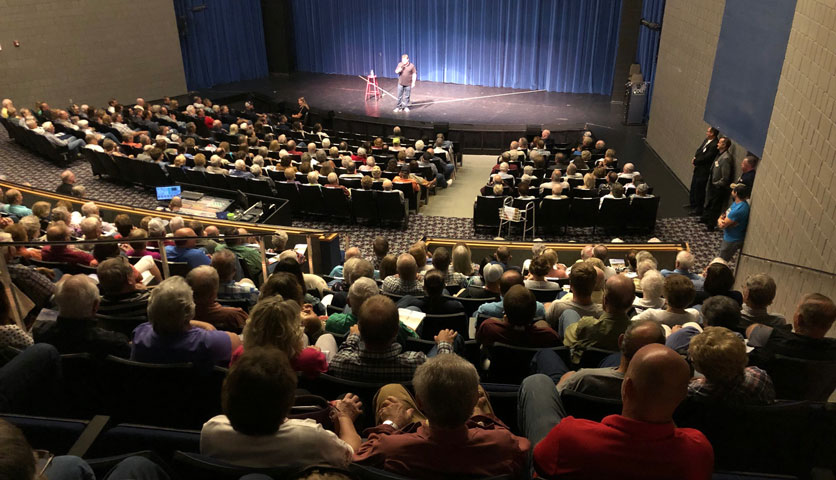 Grace Fellowship Church of God

"Steve did a great job. He is a super talented ventriloquist who engages the audience with humor that keeps everyone laughing. I would recommend him to anyone looking for someone who delivers a professional performance of good, clean fun."
Prairie Health Ventures

"We hired Sid to be the after dinner entertainment for a corporate event - and 4 days later I'm still getting positive reviews from attendees. He was very interactive with the audience and kept everyone laughing during his entire show. From a event manager perspective he was very easy to work with and came through on all points. Would highly recommend Sid for any event where you want funny entertainment from a seasoned professional."
CORE Credit Union

"Steve was awesome and really funny. He had the whole membership laughing. He was even on task that when a storm was going on he extended his show till the storm died down. We would definitely have him again."
North Carolina Potato Association, Inc.

"Mike did a great job! Very funny and entertaining. The crowd enjoyed him."
The Salvation Army

"I cannot tell you how amazing everything went - words simply will not do it justice! God did an amazing work in and through all that were in attendance, and Arthur's participation was a huge part of it (both in his show, and outside of it as well)! Those that were in attendance for Arthur's performance were both highly entertained as well as ministered to through his openness to the leading of God. I will highly recommend him to anyone that I hear needs someone like him!"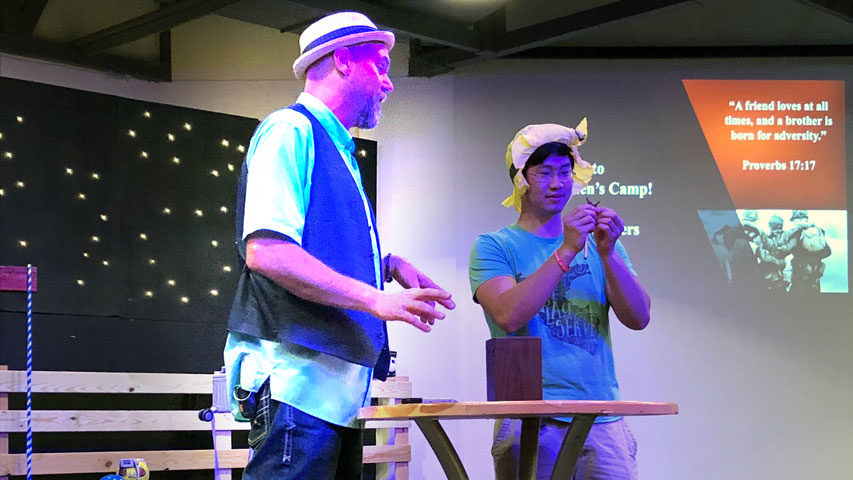 New Hampshire Government Finance Officers Association

"We needed a "cleaner" comedian for our group and Ross did a great job of going right up to the line but not crossing it. People were talking about how funny he was the next day at the conference and we can be a tough group!"
The Shepherd's Center

"Michelle was a riot! Guests thought she was the best comic ever at our event. She was down-home, related great to the audience, and just plain hilarious!"
Sunset Retirement Communities

"Everyone loved Steve. Our residents will be talking about Steve and Elmer for a long time. He was funny, professional, clean, and gracious. Steve and his friends are good medicine for the soul."
Cardinal FG

"Steve did a wonderful job making us all feel we were part of the entertainment. Great humor that made everyone laugh and feel good. Over the course of two events I watched him carefully study everyone and deliver a performance we won't soon forget. I even had some come by my desk later and stated that they would gladly pay to see a performance like that. HE WAS GREAT."
Bethany Wesleyan Church

"We truly enjoyed having Andy with us for the Marriage Conference. He was able to interact with the audience and kept them engaged and laughing. All the feedback from those who attended was positive. Off the stage, he was very kind and accommodating."
Spooner Wesleyan Church

"The event was fantastic. Several people commented on how they enjoyed Andy's use of the crowd for content. Others said they had been to events with comedians before, and they weren't all that funny, but Andy was amazing. Personally, I was wondering how he would be able to keep a crowd (made up of ages 16-93) entertained for that length of time, but he did it, and it was hilarious the entire time. I also have a couple of people tell me that they know of organizations who hire comedians for annual meetings, and they'd love to see him come back to the area."
Nutrien Ag Solutions

"Andy was exceptional! He interacted with the audience and kept us laughing and entertained."
Hub 757

"What a great comedian! Funny, appropriate for all ages. Highly recommend!!!"
Mount Gilead Baptist Church

"Arthur was awesome. He engaged the audience - young and old - before, during and after the show. He gave a gospel presentation tied in with his use of magic that was very clear and easy to understand. Completely entertaining. His show has been the topic of conversation among our people since."
Goeglein's Catering

"Tony was fantastic! I have never laughed so much. It was amazing how many of our guests came up to compliment me about Tony. I can't give enough of a raving review. Outstanding performance and thank you very much Tony!"
River of Life

"Having Arthur at our event was amazing. His engagement with the audience was exceptional. He greeted people as they were entering the venue and was very professional. He kept the audiences attention throughout the entire show and the message he brought during the show was really good as well. We enjoyed everything about him. Before the show began he even helped me light candles before people arrived. I would recommend him to others if they wanted a magician."
Petal Area Chamber of Commerce

"Marty was our entertainer at the Chamber of Commerce annual banquet. He delivered more than I could've expected. He had the crowd in tears. He was able to bring in a lot of our local eccentricities into his program which really made it personal. I would highly recommend Marty for any of your special events."
NorthStar Church

"What an absolutely amazing thing your company has with Arthur!! He was incredible! But what I enjoyed most was, no one was a number; everyone in the crowd was somebody. He spoke to you like a person and was as down to earth as he could be. He presented an amazing salvation message while demonstrating it with magic tricks; which captivated everyone SO well! Overall, so thrilled we invited him. It was a phenomenal night! Will definitely be inviting him back!"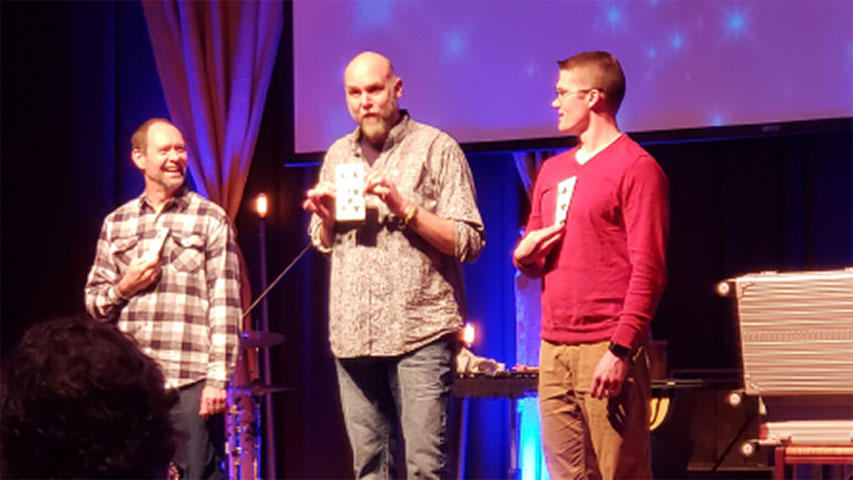 Brubaker Grain

"We had Arthur for our company Christmas Party and he did a great job of engaging our employees, received many compliment on his presentation!"
Marietta Housing Authority

"We had a wonderful time, Arthur Atsma was a pleasure. Feed back from staff: 'Loved him OMG! He was really good and pleasant', 'He did a great job and he interacted with his audience very well', It was amazing and thoroughly entertaining', 'Enjoyed his interaction with the crowd, very personable and approachable', '5 stars for sure! Very entertaining'. Overall, Mr. Atsma was awesome!! Great Job!"
Analog Way Inc.

"Robert did a great job of researching our company and the crowd that would be gathered, and came up with original material that was funny and non-controversial. I was nervous about having a comedian for a corporate event given how easily people are offended these days, but Robert was a complete professional, quick witted, and kind hearted with his humor. Everyone enjoyed it, and I wouldn't hesitate to recommend him for other events"
Angela Hospice Home Care, Inc.

"Tony was hilarious – he had the crowd rolling. One guest event said, "I almost peed my pants" (true statement). Tony was witty, engaging, and even tried out some new material that was a big hit. Much needed laughter for a night out!"
Princeton Community Hospital

"Michelle was very engaging with our audience. She was a great fit for our event!"
Calligaris USA Inc.

"Greg was absolutely fabulous to work with. He ensured he customized his performance to our needs and was so flexible throughout the whole process. Our company loved having him speak on our behalf and our guests were so impressed with how charming he is!! For any corporate entertainment, we give him a 10 on his whole process: start to finish."
Holly Springs Cultural Center

"Steve and his opening act Teresa did an absolutely fantastic job! I loved having them both with us and we got loads of compliments from the audience afterwards. They were also both super easy to work with."
Florida Gift Fruit Shippers Association

"At the last minute the speaker we had booked had a family emergency. Tim very graciously filled in for him and did a phenomenal job. He had less than 24 hours to prepare, but be came into our group and nailed it. Everyone enjoyed it."
Prairie Health Ventures

"Robert was just the best. We have a door prize drawing event that can last upwards of 45 minutes and I had asked Robert if he would help me drawing names etc. He couldn't have been more gracious – or funny! The attendees just loved his spontaneous wit and ad libbing. He "got" the audience right away and just ran with it. I was told that if he had stopped after the door prizes people would have been OK with that, he was so funny. But then he forged ahead and did his hour routine which was right on point. Very very funny man and a pleasure to work with."
CORE Credit Union

"Mike arrived on time (actually really early) and he was fantastic! We hosted an annual meeting for our credit union and the feedback was positive from our members, staff and board of directors. We would definitely hire him again."
Helena Chemical Company

"Tim was very accommodating before and after the show. His content was really good and funny. Our customers loved his show."
Central Baptist Church

"I was told by many that attended the Closing Rally that Arthur presented the Gospel better than any they had heard in the past. Arthur's Gospel presentation was absolutely amazing and all of his presentation flowed very well. He was great at watching the crowd and kids, when the kids would start to drift in focus he quickly brought them back with excitement. I highly recommend Arthur for your next activity and plan to have him back!"
Crop Production Services

"Tim was outstanding! He had the crowed laughing the entire show!!! It was great. Very professional. Material was spot on for our Grower Meeting."
Angela Hospice Home Care, Inc.

"Karen was fantastic. She had everyone laughing out loud with tears in hysterics!"
Crosspoint Church

"Andy was a classic pro! Engaged with the audience and used the geographical area to create humor!"
Telair U.S. Cargo Systems

"Steve did a great job, I have had a lot of people who really enjoyed him a lot."
Black Rock Church

"Ross was kind enough to do our show last minute after inclement weather prevented our comic from attending. He connected well with our audience. He also asked permission before to mention a bit of his faith background -- it was a church event so this appreciated -- but would have had a great show even without it!"
Kades-Margolis Corporation

"We were very fortunate to have booked Tony Deyo for our annual sales meeting. Tony did a phenomenal, truly funny, upbeat, and perfect performance. The crowd was laughing hilariously. We have done these retreats for over 30 years and I can tell you that no one literally rocked the crowd like Tony. I highly recommend him."
Hollywood Casino Hotel

"Tony was very prompt in getting to our event and was extremely professional in all interactions. His humor was very appropriate for a company gathering and he made a good connection with the audience. Feedback from attendees has been very positive."
Meadowbrook Church

"Arthur was a delight to have perform for our Christmas Event. He fit in just like family, worked the crowd, gave an amazing performance, and gave us a wonderful surprise as he found a way to present the Gospel message through Magic. I would definitely recommend him to anyone who is looking or a guy who comes in as a performer, and leaves as a friend!"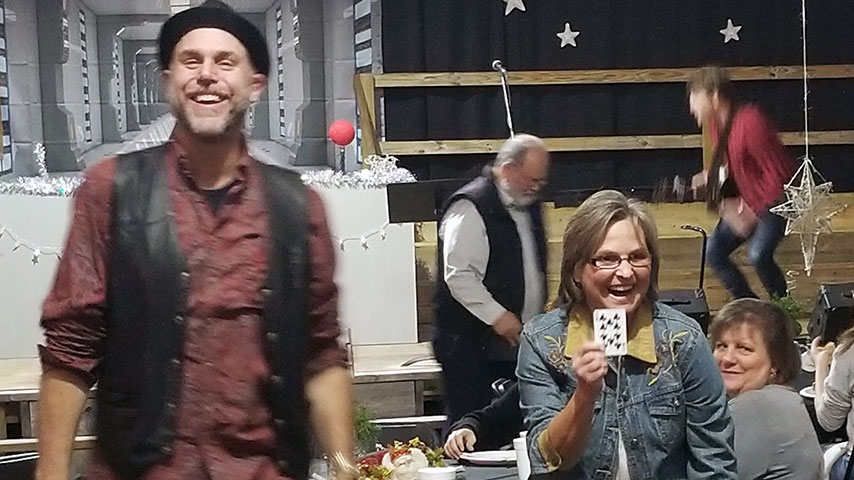 Pearson Kent McKinley Raaf Engineers,LLC

"Tony put on a great show! It was such a pleasure having him perform for our company's holiday party. The material was clean and so funny, and Tony delivered it wonderfully. His humorous tales are entertaining and made me think, "I'd like to get to know this guy." I laughed the entire time and he even got a tough crowd of engineers laughing. Professional, friendly, and funny. Awesome performance!"
Leland Smith Insurance Services Inc

"Sid Davis was awesome. He had everyone laughing from start to finish. Great clean comedy. I would highly recommend Sid."
VMware, Inc.

"Great job customizing the routine using our company lingo."
Mechanical Contractors of Southern Indiana

"I had so many people come up after Matt's show and compliment the entertainment. He killed it. Thanks again for a wonderful evening. I will be meeting with the board in January and am going to make a motion to have Matt back next year."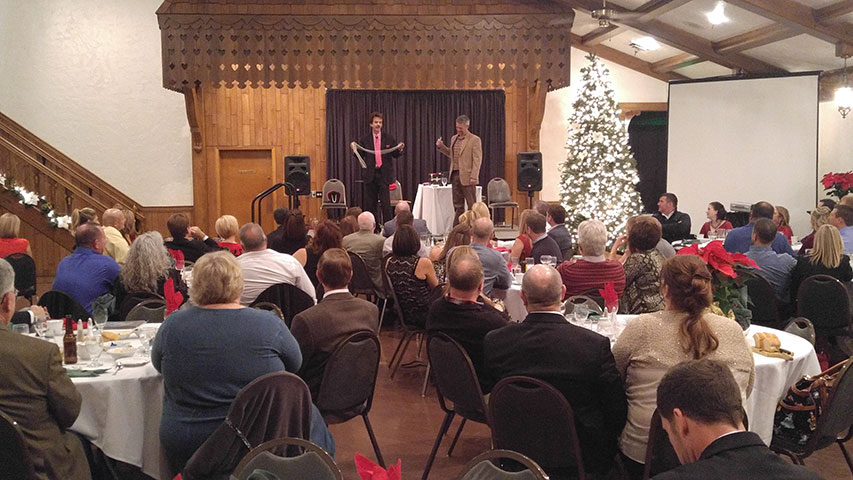 Cinergy Financial

"I would highly recommend that anyone having a party or event hire a comedian. Our guests loved the idea, and really enjoyed Robert G Lee. He was a great hit."
North Carolina Subway Group

"Greg's act was perfect for our event. His work preparing to specialize the content to our group was very meaningful to all."
Eddie Cochran Enterprises

"Tony was really good. Everyone enjoyed it. Thanks so much."
Special Olympics Wyoming

"Tony did a great job. He had fun with the crowd, and was friendly and easy to work with."
Preformed Line Products

"Mike was wonderful! We enjoyed having him entertain during our service awards banquet. He sat through the awards presentation prior to his performance and was able to customize his performance to relate to our employees. He kept everyone engaged. He was hilarious!"
Anson County Cooperative Extension

"Mike Goodwin is just wonderful. We loved him! If you are looking for someone who can relate to southern peculiarities, he is definitely your guy. Prompt, courteous and professional, we could not have asked for a better entertainer. Thanks for sending him our way!"
Virginia Manufactured and Modular Housing Association

"We surveyed our attendees. Ross received a score of 4.5 on a scale with 5.0 being awesome. He was prompt and accommodating to changes in performance time. He researched our group to ensure his performance related to the audience."
US Army

"Mike was the perfect performer for this event. My family and friends loved him. He really had all of our stomachs and cheeks hurting for laughing so hard! He was very prompt and had an awesome appearance. His jokes were clean fun jokes for any audience! Loved him!!!"
Liberty Mutual Group

"Tony Deyo was hilarious and made our recognition day the best we ever had! Our employees loved his show!! I would highly recommend Tony!!! Thanks for the great show!"
RADWIN Inc.

"Tim was amazing! Exactly what we were looking for at this specific event. The fact that Tim is a dairy farmer and a comedian is really unique. We received really good feedback from the people who were at the show and met with Tim. Tim was funny, professional and it was a pleasure for me personally to work with him."
North Carolina Central University

"Mike was awesome! We appreciate his professionalism and flexibility. He interacted with the audience and kept them engaged."
Sun City Hilton Head Community Association

"So many residents told me that Karen was their favorite so far! She was fantastic! We didn't receive any negative feedback, which is rare! She was a joy to be with & she has a great outlook on life!"
GKN Driveline

"It was such a pleasure working with Greg Romeo! He customized his material, which added a personal touch, making the event very special. His performance was exceptional and memorable. I highly recommend Greg!"
Helena Chemical Company

"We had approximately 300 customers at our Appreciation Banquet. Sid did a great job of entertaining our crowd. He stayed around afterwards to visit with some of them, which was awesome because he still had them laughing. We got a lot of good feedback the next couple of days. We would definitely consider hiring him again. Thank you."
Murray State College Foundation

"Oh My Gosh, Mike was perfect. It was a wonderful evening."
Ringler Associates

"Dennis performed for our group during our company dinner at our annual meeting last week. This was our second time welcoming Dennis to this event and he surpassed our expectations. The entire room was in stitches and we all enjoyed Dennis' performance. It was the highlight of our meeting."
Telair U.S. Cargo Systems

"Carl did a fantastic job at our company party! He performed in front of a diverse group of employees which included many engineers who were still trying to figure out many of his "performance tricks" the next morning. The office chatter has continued with people also asking for his business card. When you have people still talking about it a few days later, you know you hit a home run! Thank you Carl."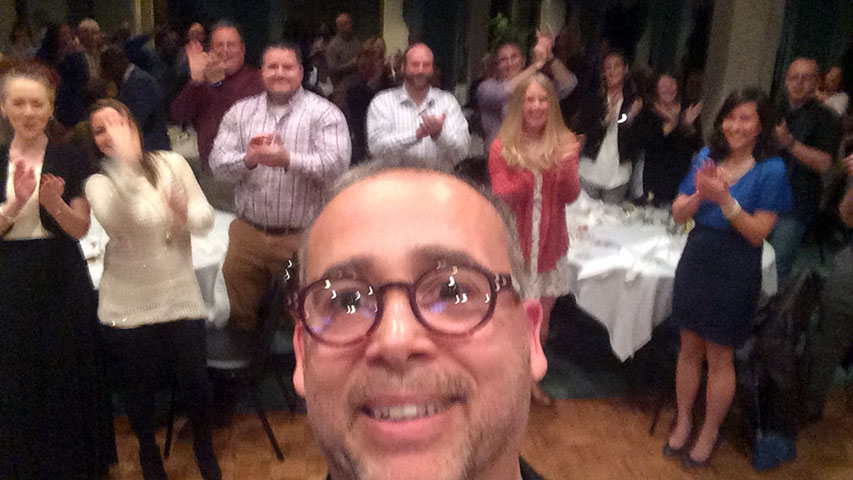 Nuclear Waste Partnership LLC

"This was the first time that our company has had a comedian at an event. Greg did a great job, we are still hearing feedback from the guest that attended saying they had a wonderful time. Greg was able to use the information that we provided him about the audience members and everyone laughed and had a great time. Greg was awesome to work with very kind, prompt and professional."
Town of Holly Springs

"Mike was amazing! We all loved him. He was prompt, professional, courteous and the employees loved his performance. They have asked to have him back next year! I believe our Cultural Center is planning to contact you about adding him to their comedy show schedule. He is great! Thank you so much for sending him our way."
Town of Cary

"We had a good event with Andy and Bill. Very strong house and the end of event report stated that all was really good and the audience was very appreciative. Thanks so much!"
Office of Emergency Medical Services

"Sid was phenomenal! He was very well received, his style was very appropriate for the audience and he was a real joy to have. Sid actually sat with me during dinner and we had a great conversation. Off stage he was personable and engaging. He had a real interest in our group and what our profession was all about. We would certainly recommend him to other groups and would consider having him back."
Maine Healthcare Financial Management Association

"We couldn't have picked a better comedian! Karen had the whole group laughing from the moment she started to the very end. No wonder she is called Maine's funniest mom! After the event, we received numerous comments from the audience how much they enjoyed the show and thanking the organizers for finding such a great entertainer. Hilarious, clean comedy, perfect for a professional group, highly recommend it!"
The Shepherd's Center

"Sid was perfectly hilarious. He was personable, came early, and stayed late to talk to guests. We had nothing but positive feedback from our guests regarding his performance and personality. We would love to have Sid return."
WRH Realty Services, Inc.

"Greg did an absolutely wonderful job at our corporate banquets this year. Not only did he incorporate our company motto into his routine, but his entire performance was tailored around the multifamily industry, which made it very relatable for our on-site employees. We have received great feedback from those who attended the banquets and would recommend Greg for any other corporate events you may have! He was a pleasure to work with and really took those extra steps to make sure everyone would have a great time watching him perform. Thanks Greg!"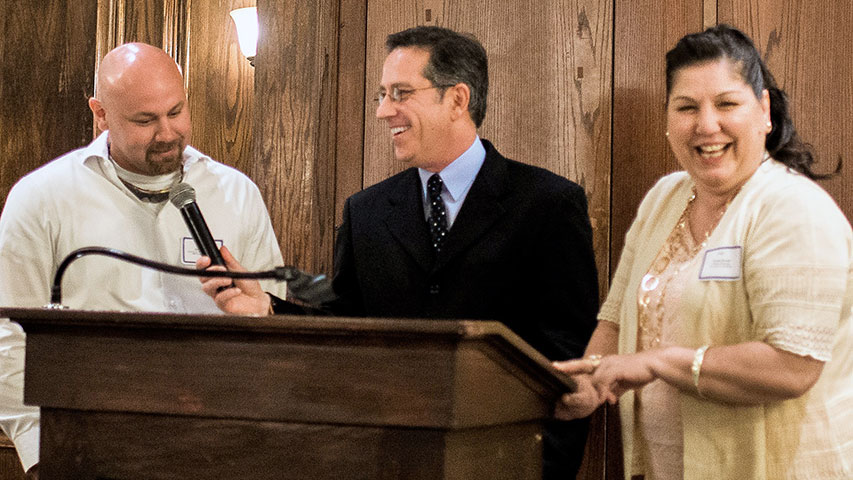 First Church of God

"We were very, very happy with Marty! His performance was great! We received a lot of good feedback on the event. We enjoyed the time we got to spend with Marty after the event at dinner he was so much fun, I really enjoyed getting to know him! Thank you for your help this past few years in helping us with our events!"
North Carolina Apple Growers Association

"Sid did a great job. His presentation was very good, funny and clean natured. I have received comments, all positive, on how much they enjoyed the entertainment. He arrived promptly, was set-up on time and was pleasant to talk to."
Land & Coates, Inc.

"Greg was fantastic! I truly enjoyed working with him to customize his performance to our organization. We went with a phony motivational speaker intro and completely duped our staff. During the performance I looked around the room and not one face was unhappy. Thank you."
Associated General Contractors of Texas

"Dennis Regan's low key approach was well received. Everyone came away completely satisfied. Dennis is highly professional and prepared for specifically for the audience."
Environmental Air Systems, Inc.

"Greg Romeo was the best entertainer yet!! Loved how his show was personalized to our bunch!!! Too funny! And I got a copy of the closing poem. I'm going to get it typed up on one page and frame it."
Preformed Line Products

"Greg did a wonderful job! He was very prompt & professional. The employees loved how he customized his performance for our company. As always, we appreciate your help! That's why we keep coming back. Thanks again!"
Catholic Financial Life

"Dennis was a huge hit! Great feedback from all the attendees."
El Paseo Arts Foundation

"Dennis was HILARIOUS! His comedy was directed to the community and the audience loved it! It was like sitting with a really funny friend and laughing so hard you can't breathe."
North Carolina Office of State Human Resources

"Greg was awesome. Thank you!"
Sun City Hilton Head Community Association

"I just wanted to thank you for letting us book Ross - he was a hoot! I enjoyed the show, and so did the residents. I watched the whole first show and left at the beginning at the second. He received a standing ovation at the first show, and I was told at the second show, as well. Thank you!"
Michigan Lumber & Building Materials Association

"Andy did an excellent job at both of events. He arrived ahead of schedule for both events and was flexible in adjusting his performance start time in order to accommodate the conclusion of the meal so there was no down time. Andy was engaging with the audience and drew them into his comedy routine which made his performance more personable."
Grace Community Church

"Steve was great. I think the crowd enjoyed him as much as any comedian we have had. They were amazed at his talent. We have received great reviews. Honestly, due to his rough travel day to even get to our event, it may have been easy to start and stop, pack it up and get to the hotel to sleep. Not Steve, he came to entertain and did just that. His finish was personal and appropriate for our occasion. Just a great job."
National Association of Residential Property Managers

"We are were thrilled with Greg's performance! He did a great job and we had so many members tell us how much they enjoyed his material! We are 100% pleased and will recommend him to our other organization contacts!!! Thank you!"
Alabama Farmers Cooperative, Inc.

"Our experience with Vic was extremely good. He was punctual, asked good questions about the audience prior to performance, and used the information well. The managers enjoyed him very much. So much so, I would like to discuss how we can get him again."
Town of Cary

"Derrick gave an excellent performance. The crowd seemed to really enjoy him and we heard a lot of great things. He was very professional and a pleasure to work with."
Lambda Technologies, Inc.

"If Greg did not get the message from the standing ovation he received after his performance, I just wanted to say again what a wonderful experience it was for all. The intro as a motivational speaker had everyone squirming for just long enough. His superb preparation on the background and personality of our employees allowed him to include specific details on each participant in his skits. And, the final poem that mentioned everyone, including spouses, was a fantastic close. Everyone has taken away a positive and funny memory of our 20th anniversary. Thanks again and best regards."
G & B Energy

"Wanted to let you know that everything about the entertainment at our meeting was excellent. Greg arrived promptly, was very professional and entertaining. We felt that last years entertainer would be a tough act to follow but we have had more positive comments about Greg's performance than ever before. He connected very well with our employees. Thanks again for your help."
St. Rose Catholic Church

"Everything was absolutely wonderful!!!!!!"
Center for Plain Language

"Greg was fantastic. He was prompt, friendly, quick on his feet and very engaging."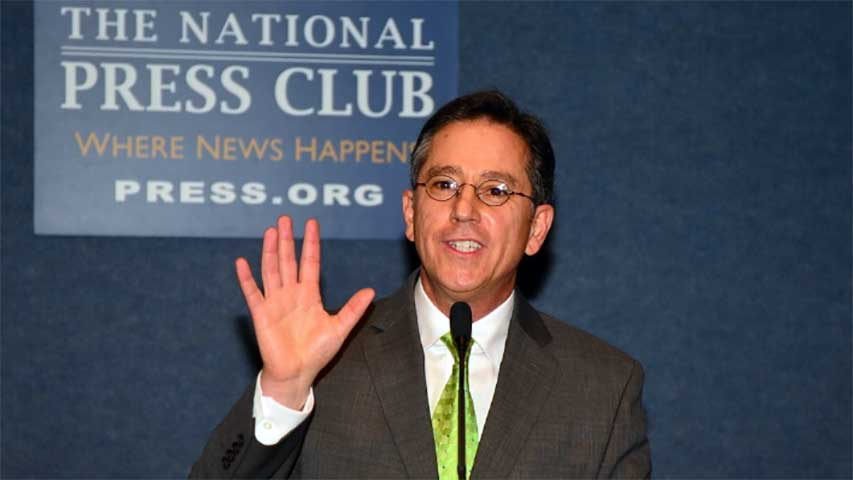 Martin Marietta

"Greg was outstanding! He did his homework on our company and spun everything into some very creative and funny ideas. He is high energy and engaging, and got the audience involved right from the start. He made the evening so much fun for everyone."
Richmond & Company CPA's

"Greg did a phenomenal job. He captivated his audience and everyone had positive comments. It was a pleasure working with him. He has been our best entertainment."
ALMACO

"Greg is incredibly professional and prepared - we spoke at least 3 times prior to the party and then met to discuss last minute arrangements a few hours ahead of time. He put so much thought into our custom show - it was really impressive."
Barney's Pharmacy

"Greg was a delight!"
Betts Industries, Inc.

"Vic was a hit at our Christmas party. I had many people come up to me saying that he was the best act we ever had. He rocked! Thanks again."
---