Hilarious insights on work-life balance and how to take care of family while taking care of business. Perfect for all groups and especially when guests/spouses are in the audience.
Dr. Petty will:
(1) help audiences understand the impact of family relationships upon job performance,
(2) share some principles that help achieve success in balancing one's job and family, and
(3) motivate people to put these principles into practice.
Sample Outline
Diversity of Families in America
Universal Factors Complicating the Climb
Marriage/Singleness
Children/Grandchildren
Age
Impact of Career and Family Success Upon Each Other
Productivity
Creativity
Satisfaction
Principles Which Help Insure Success at Work and Home
Time (Quality & Quantity)
Warm Words
Thoughtful Actions
Touch
Understanding
Acceptance
Facts/Feelings
Communication (Verbal & Non-verbal)
Exclusion (Parents/In-laws, Children, Neighbors)
Forgiveness
Faithfulness
Priorities
Relationships vs Things
Honesty
Oneness
Commitment (Person, Institution, Permanent)
Initiative
Love
Conlcusion

Recent Reviews
Mineola FFA Alumni Association
"Mr. Petty was a pleasure to work with. He is very professional, he is prompt, and he relates to the audience very well. His material was good and received well by our audience."
- Chair, Mineola Hay Show in Mineola, TX
Sanford-Fritch ISD
"Outstanding presentation skills. Subject matter was spot on for an educational audience. Dr. Petty shares a wealth of knowledge through personal and professional experiences. As a superintendent of a school district, I highly recommend Dr. Petty for your next in-service."
- Superintendent, Staff Development in Fritch, TX
Wyoming Leadership Education and Development
"Dr. Charles Petty's presentation was the highlight of our conference. He combines humor with a positive message to keep the audience engaged. Even though he was only hired to perform for an hour, he spent most of the day with us, getting to know his audience prior to his performance. We would highly recommend Dr. Petty to other organizations!"
- Director, Graduation Event in Casper, WY
Savers Marketing
"We had Dr. Charles Petty back this year for an encore performance. Once again, Dr. Petty did a great presentation for our group. He tailored his comments to the attendees and everyone enjoyed and appreciated his comments."
- Executive Vice President, Training Event in Winston-Salem, NC
Savers Marketing
"Dr. Petty did a great job. The audience was totally captivated by his humor and the message that he delivered."
- Executive Vice President, Annual Training Event in Winston-Salem, NC
Texas Rural Education Association
"Dr. Petty was a hit with our crowd. He geared his presentation to our audience which included students ,teachers, parents and school administrators. He was perfect for that event. He certainly has my recommendation for anyone looking for high level entertainment with a positive message."
- Executive Director, Summer Conference in Fort Worth, TX
SciMax Solutions
"Everything with Dr. Charles Petty went very well. Our clients really enjoyed him and his presentation. I would definitely recommend him, and will also be in touch with you on future needs."
- Team Leader, Annual Learning Seminar in Des Moines, IA
Sioux County Dairy Board Promotion
"Dr. Charles Petty met our expectations. He did an exceptional job of communicating with me prior to the event. He told me after the event that the crowd was younger than he had expected and that was somewhat evident in the feedback that I got too. He was good for everyone but the older audience members seemed to like him more, they thought he was great! The younger of the crowd thought he was still good, but didn't enjoy him as much. His material was appropriate."
- Board Treasurer, Annual Meeting in Sioux Center, IA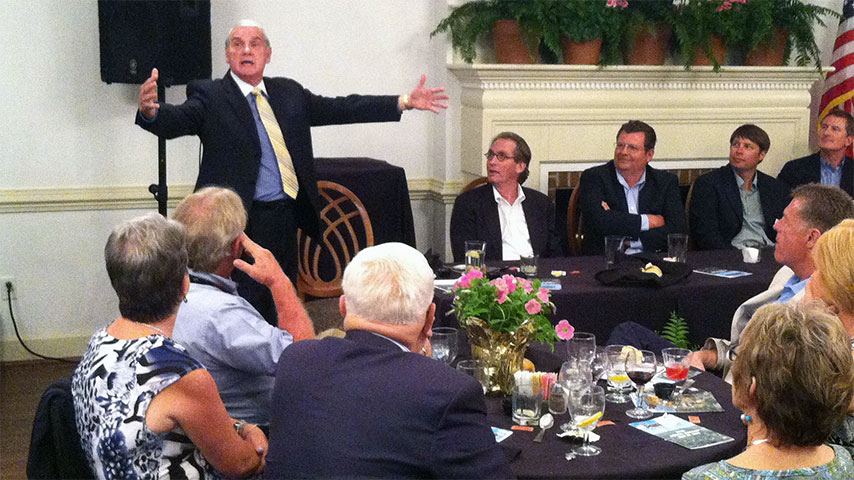 North Carolina Potato Association
"Dr. Petty did a great job of entertaining the crowd. He was prompt, professional, humorous and motivational. I've heard great comments on his performance from several that attended. You did a great job of helping us! Thank you!"
- Executive Director, Annual Meeting in Elizabeth City, NC
United Bank
"Dr. Petty did an outstanding job. He took the time with us beforehand to understand the event and audience and tailored the material to them perfectly."
- VP Marketing & Business Development, Agriculture Appreciation luncheon in Atmore, AL
Florida Agricultural Aviation Association
"Dr. Petty was perfect for our group! He was very professional, on time and available to chat with our attendees. His family oriented message was spot on for our aerial applicators; humorous and inspirational. I don't think I have ever heard them laugh as much as they did Tuesday evening. He set the stage for a spirited auction and raffle that followed his presentation. Comments from our group were very positive. One attendee wanted the contact information. He thought he might be perfect for an upcoming meeting. Personally, I was extremely pleased! Thank you so much!"
- Executive Director, 40th Annual Southeast AeroCultural Fair in Savannah, GA
Alabama Farmers Cooperative, Inc.
"We were very pleased with Charles Petty!!! He was wonderful."
- Executive Assistant, Annual Meeting in Decatur, AL