Charles Petty, Ph.D., CSP, CPAE, is a humorist who has spoken to over 3200 different audiences in 50 states and 14 countries, primarily on work/life balance. He has the rare ability to package profound, life-changing truths in humor. He has a soft southern accent and uses clean, original humor. He says, "My job as a speaker is to put a smile on faces, information in minds, motivation in hearts, inspiration in spirits, and - make the program planner look good."
His presentations are perfect for a keynote or following a meal, and especially when spouses and guests are present. Dr. Petty is President of Family Success Unlimited, located in North Carolina, and since 1985 all he does is "eat and speak." He was inducted into the National Speaker Hall of Fame in 1998, joining such speaking legends as Art Linkletter, Norman Vincent Peale, Earl Nightingale and Zig Ziglar.
Dr. Petty speaks to trade associations, businesses, chambers of commerce, volunteer and civic organizations, as well as teachers and educators. His presentations can last minutes or hours, be primarily funny or more educational, whichever the program planner wants. He has spoken to as many as 27,000 or as few as 3! His venues range from the 21 Club in New York City to Mr. B's Buffeteria in Hiawassee, GA. His presentations motivate, inspire, entertain and inform his audiences. The reason for his popularity is simple: Audiences laugh and learn!
Charles was reared on a farm in Arkansas and was educated in Arkansas, Mississippi and Texas for 22 consecutive years, which means he is either well educated or a little slow! He has been a counselor, visiting professor, executive in large corporations and on the North Carolina Governor's senior staff. He is married and has two grown children, four grandchildren and a grand dog.
Available Presentations Include:
Climbing the Ladder of Success and Taking Your Family with You
Hilarious insights on work-life balance and how to take care of family while taking care of business. Perfect for all groups and especially when guests/spouses are in the audience.
More About This Presentation
Check Availability
Roaring Fires, Flickering Flames, Dying Embers Or Cold Ashes?
This motivational presentation focuses on the importance of maintaining energy and purpose in one's life and work, and suggests some ways to achieve and maintain a healthy productivity. Helps managers, sales people and employees to "keep the fires going."
More About This Presentation
Check Availability
Ambush at the Generation Gap
Understand generational differences in the workplace from Baby Boomers to Generation X to Millennials (Gen Y). This entertaining and educational presentation examines the difference in mind-sets of each generation, the origin of mind-sets, and the implications these mind-sets have for business and industry, as well as for one's personal and professional lives.
More About This Presentation
Check Availability
Recent Reviews
Wyoming Leadership Education and Development
"Dr. Charles Petty's presentation was the highlight of our conference. He combines humor with a positive message to keep the audience engaged. Even though he was only hired to perform for an hour, he spent most of the day with us, getting to know his audience prior to his performance. We would highly recommend Dr. Petty to other organizations!"
- Director, Graduation Event in Casper, WY
Savers Marketing
"We had Dr. Charles Petty back this year for an encore performance. Once again, Dr. Petty did a great presentation for our group. He tailored his comments to the attendees and everyone enjoyed and appreciated his comments."
- Executive Vice President, Training Event in Winston-Salem, NC
Savers Marketing
"Dr. Petty did a great job. The audience was totally captivated by his humor and the message that he delivered."
- Executive Vice President, Annual Training Event in Winston-Salem, NC
Variety Care
"The feedback on Charles Petty from staff was very good and they connected with his overall delivery of a serious message in a light hearted way. He tailored his comments to fit nicely with our overall theme and he gave hilarious illustrations of the points he was making. I would give high recommendations to anyone looking good old fashioned uplifting yet meaningful keynote."
- CEO, Annual All Hands Meeting in Oklahoma City, OK
Texas Rural Education Association
"Dr. Petty was a hit with our crowd. He geared his presentation to our audience which included students ,teachers, parents and school administrators. He was perfect for that event. He certainly has my recommendation for anyone looking for high level entertainment with a positive message."
- Executive Director, Summer Conference in Fort Worth, TX
Arkansas Community Action Agencies Association, Inc.
"I want to thank Charles Petty for being a vital part of our conference. Among the feedback received was 'Charles was a great speaker. We need more positive, remind-us-of-our-mission-type speakers… He was wonderful!... I loved Charles Petty… good to be nourished in spirit… Dr. Petty was an outstanding combination of an entertaining speaker who educated us on soft skills… Mr. Petty was awesome!... Please bring Charles Petty back.' Thank you again!"
- Executive Director, Annual Conference in Little Rock, AR
SciMax Solutions
"Everything with Dr. Charles Petty went very well. Our clients really enjoyed him and his presentation. I would definitely recommend him, and will also be in touch with you on future needs."
- Team Leader, Annual Learning Seminar in Des Moines, IA
Sioux County Dairy Board Promotion
"Dr. Charles Petty met our expectations. He did an exceptional job of communicating with me prior to the event. He told me after the event that the crowd was younger than he had expected and that was somewhat evident in the feedback that I got too. He was good for everyone but the older audience members seemed to like him more, they thought he was great! The younger of the crowd thought he was still good, but didn't enjoy him as much. His material was appropriate."
- Board Treasurer, Annual Meeting in Sioux Center, IA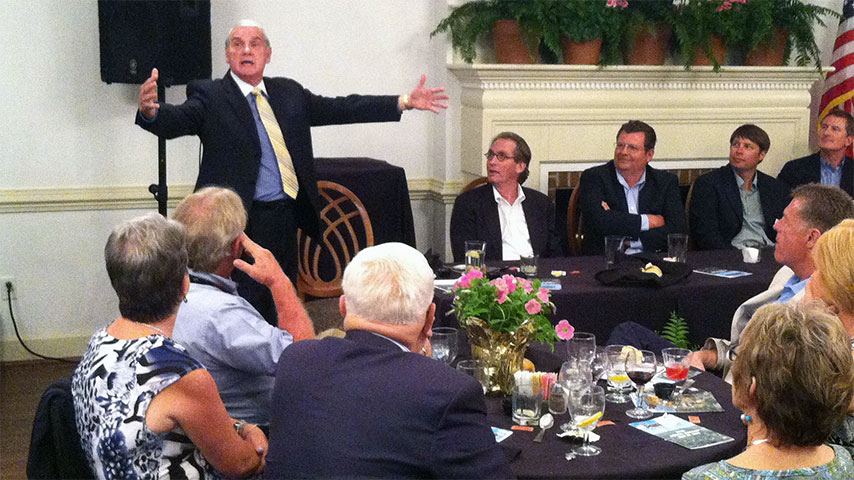 North Carolina Potato Association
"Dr. Petty did a great job of entertaining the crowd. He was prompt, professional, humorous and motivational. I've heard great comments on his performance from several that attended. You did a great job of helping us! Thank you!"
- Executive Director, Annual Meeting in Elizabeth City, NC
Battery Alliance, Inc.
"Dr. Charles Petty said exactly what our people needed to hear. Our crowd consisted of people in their mid 30's to early 70's. Everyone got a new insight in dealing with someone in a different generation. I highly recommend Dr. Charles Petty as a keynote speaker for any group and all generations."
- Project Manager, Annual National Convention in Orlando, FL
United Bank
"Dr. Petty did an outstanding job. He took the time with us beforehand to understand the event and audience and tailored the material to them perfectly."
- VP Marketing & Business Development, Agriculture Appreciation luncheon in Atmore, AL
Florida Agricultural Aviation Association
"Dr. Petty was perfect for our group! He was very professional, on time and available to chat with our attendees. His family oriented message was spot on for our aerial applicators; humorous and inspirational. I don't think I have ever heard them laugh as much as they did Tuesday evening. He set the stage for a spirited auction and raffle that followed his presentation. Comments from our group were very positive. One attendee wanted the contact information. He thought he might be perfect for an upcoming meeting. Personally, I was extremely pleased! Thank you so much!"
- Executive Director, 40th Annual Southeast AeroCultural Fair in Savannah, GA
View All 16 Reviews
Upcoming Schedule
| | | |
| --- | --- | --- |
| 9/10/2019 | Mineola, TX | Mineola Hay Show |
| 8/13/2019 | Fritch, TX | Staff Development |
| 3/8/2019 | Charlottesville, VA | Spring Regional Conference |
| 11/3/2018 | Casper, WY | Graduation Event |
| 9/5/2018 | Winston-Salem, NC | Training Event |
| 8/15/2018 | Paris, TX | County Wide Convocation |
Where does Dr. Charles Petty perform?
Dr. Charles Petty has recently performed in: Alabama, Arkansas, Florida, Georgia, Iowa, Missouri, Nebraska, New Mexico, North Carolina, Ohio, Oklahoma, Oregon, Tennessee, Texas, Virginia, Wisconsin, Wyoming, just to name a few.