Rik grew up in Kentucky working on tobacco farms with his father. When the crop was in the barn, he would moonlight working with Thoroughbreds on some of the most beautiful land in the world. Whether in the field, on a tractor, or working out the horses, the rural way of living has always been in his blood.
After graduating from Bethany College in West Virginia, he worked for Simon & Schuster publishing company. But the cubicle life was not for this country boy. He has now been performing for over 24 years. At last count, he had taken stage over 5600 times, including 45 states, 3 countries and several times on the back of a flatbed truck!
His uncanny impersonation of Don Knotts as "Barney Fife" will take your group back to the days of good clean fun. His humor resonates with folks who work hard and want to have a great time. He's been featured on several TV shows including CMT's 20 Greatest Redneck Moments, The Henry Cho Show, Laugh Out Loud, and Tennessee Crossroads. He also had his own episode of the Emmy® Award winning Bananas Family Comedy. Rik is a regular on Blue Collar Radio and Laugh USA. His six CD's have been featured on countless syndicated radio shows such as Bob & Tom, John Boy and Billy, Rick and Bubba and NPR's Car Talk.
Rik has developed a reputation as a presenter who can take even the toughest of crowds and bring them together for a truly unforgettable event. Using his down home demeanor and love of the simple life, he quickly forms a bond with the audience and takes them on a laugh-filled journey.
Rik is a proud father of two, husband to one, and resides in Nashville, TN. He is a member of the National Speakers Association and Christian Comedy Association.
Available Presentations Include:
It's Funny Now
Dynamic comedy show funny enough to headline comedy clubs across the country and clean enough to bring your grandkids or grandparents to see. It's family-friendly and full of fun, easy to relate to material.
More About This Presentation
Check Availability
The Mayberry Method
Increase Productivity By Nipping Distractions In The Bud! Imagine your attendees surprised by America's Favorite Deputy Barney Fife blowing a whistle as he enters the conference room. Next, he pulls out a few "citations" that he has written up on members of your group. The group belly laughs as the "harmless offenses" are revealed. Once the group is engaged, Rik steps out of character and delivers a speech about 1) Increasing productivity by eliminating distractions, 2) Managing time more effectively, and 3) Setting clearer goals.
More About This Presentation
Check Availability
Listen UP – Laugh it UP
Strengthen team building through laughter and improvisation. Learn the benefits of laughter and explore how to better listen to customer, co-workers and clients. You will be on your feet practicing active listening exercises. These methods will change the way you go about "hearing" what your customers have to say.
More About This Presentation
Check Availability
Recent Reviews
New Mexico Hay Association
"Excellent! Rik Roberts had the whole crowd going with his impression of Barney Fife from the Andy Griffith show. He was great. Thank you again so much!"
- Executive Director, Southwest Hay and Forage Conference in Ruidoso, NM
Whiteside County Cattlemen's Association
"Thanks to Rik Roberts for entertaining at our Cattlemens Spring Banquet. We have had a lot of positive feedback on his program. The audience interaction was quite entertaining and got people involved, including Mark singing - that was priceless. I believe he would go on tour with Rik. Thanks again."
- Board of Directors, Annual Banquet in Morrison, IL
Hiawatha Implement Company
"Rik Roberts was very professional, but also personable. He is a fun guy off stage, too. His Barney imitation was a hit and entering the audience area in an old Cop car let everyone know he arrived. During his stage performance, many folks laughed non-stop. He was a HIT. Later in the show, Rik started some audience participation which was hilarious. We were very well pleased and would recommend Rik for very clean comedy."
- Product Support, Customer Appreciation Event in Hiawatha, KS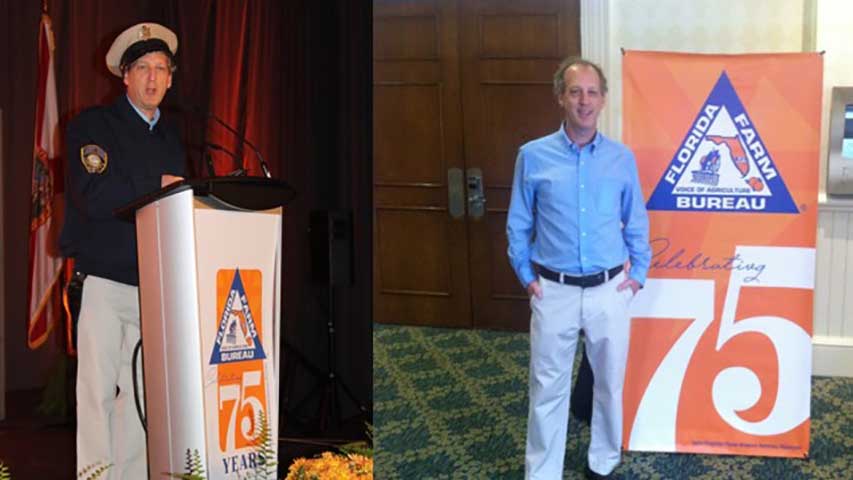 Florida Farm Bureau Insurance
"We were pleased to have Rik Roberts as one of the key note speakers at our annual meeting. He was the absolute best with his humorous presentation and his character of Barney Fife was spot on. We were celebrating the 75th Anniversary of our charter and Rik provided the laughter, levity and fun for all in attendance. His early morning presentation was clean, enjoyable and set the positive tone for the entire day. Rik was the perfect speaker for our event and a genuine gentlemen with whom to work."
- State Sales Manager, Annual Meeting in Orlando, FL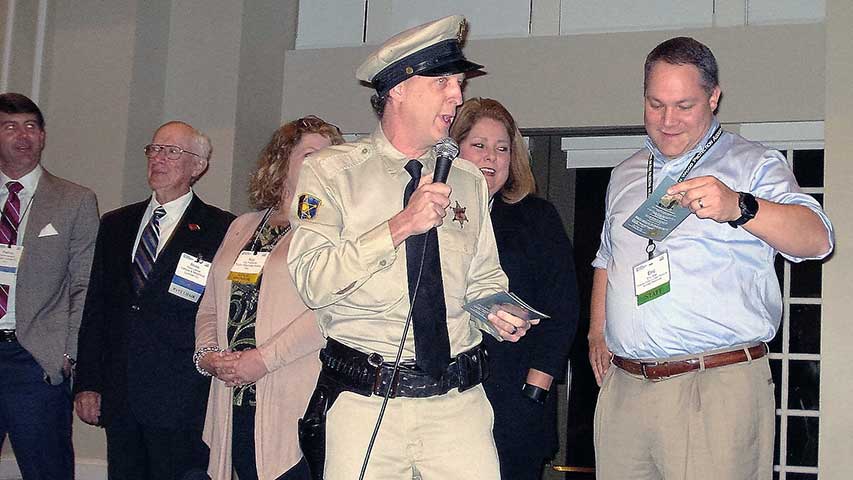 Southern Forest Products Association
"Rik Roberts kept our members laughing. He was the ideal after-dinner entertainment for our group. His audience participation bits were very enjoyable. And he can really play the guitar!!"
- Vice President, Communications, Annual Meeting in Williamsburg, VA
TriGreen Equipment
"Rik Roberts was very professional and well prepared. He was able to customize the presentation to our specific needs. He made the planning process very easy."
- Marketing Director, Customer Service Expo in Athens, AL
Columbus Agri-Business Group
"Rik Roberts was great !! He spoke at our Agribusiness Dinner and was able to engage all age groups. I would highly recommend Rik!!"
- Secretary, Annual Banquet in Columbus, WI
Rural Water Association of Utah
"Rik Roberts was a pleasure to work with and made some very valuable points in his session. Our attendees loved his humor and the information he shared."
- Event Planner, Annual Conference in St. George, UT
City National Bank
"Rik Roberts was very prompt and professional. He had a great personality and connected well with the audience. The material he used went over well with the audience. I had a lot of the audience tell me how much they enjoyed the program."
- Loan Secretary, Farmer's Appreciation Dinner in Metropolis, IL
Great Falls Area Chamber of Commerce
"Rik Roberts is full of good clean humor that will make anyone laugh and have a good time!! You will not be disappointed!"
- Agriculture Committee Chair, Agriculture Appreciation Banquet in Great Falls, MT
Alabama Farmers Cooperative, Inc.
"This was the second time that Rik Roberts has performed for Alabama Farmers Cooperative. First he did his skit Mayberry skit. This time, he performed with singing and jokes. Both were top class."
- VP Management Services, Manager's Meeting in Orange Beach, AL
Freeborn County Corn and Soybean Growers
"Rik Roberts put on an entertaining and educational show. The crowd seemed to be enjoying him and his style. Rik communicated very well to make sure the event would go smoothly."
- Business Manager, Annual Meeting in Albert Lea, MN
View All 52 Reviews
Upcoming Schedule
| | | |
| --- | --- | --- |
| 9/27/2019 | Frankenmuth, MI | Client Appreciation Event |
| 9/13/2019 | Orlando, FL | Annual Meeting |
| 8/8/2019 | Centre, AL | Annual Meeting |
| 8/7/2019 | Wallis, TX | School District Convocation |
| 6/9/2019 | Myrtle Beach, SC | Summer Convention |
| 5/30/2019 | LaFollette, TN | Pastor's Appreciation Dinner |
| 4/25/2019 | Biloxi, MS | Annual Conference |
| 4/12/2019 | Evansville, IN | Employee Appreciation Dinner |
| 3/19/2019 | Columbus, WI | Annual Banquet |
| 3/2/2019 | Melbourne, FL | Annual Winter Banquet |
| 2/27/2019 | St. George, UT | Annual Conference |
| 1/28/2019 | Metropolis, IL | Farmer's Appreciation Dinner |
| 1/18/2019 | Great Falls, MT | Agriculture Appreciation Banquet |
| 1/10/2019 | Fort Collins, CO | Annual Conference |
| 12/18/2018 | Cullman, AL | Company Christmas Party |
| 12/3/2018 | Kingsport, TN | Company Christmas Party |
| 11/10/2018 | Greenwood, IN | Volunteer Appreciation Dinner |
| 11/9/2018 | New Albany, IN | Fundraiser |
| 10/29/2018 | Roanoke, WV | Annual Conference |
| 10/18/2018 | Appleton, WI | IT Fall Conference |
| 10/9/2018 | Bowling Green, KY | Annual Conference |
| 8/23/2018 | Atlanta, GA | Team Building Event |
| 8/16/2018 | Orange Beach, AL | Manager's Meeting |
| 8/9/2018 | Indianapolis, IN | Supervisory Workshop |
Where does Rik Roberts perform?
Rik Roberts has recently performed in: Alabama, Arizona, Arkansas, Colorado, Florida, Georgia, Illinois, Indiana, Iowa, Kansas, Kentucky, Massachusetts, Michigan, Minnesota, Mississippi, Missouri, Montana, Nebraska, New Mexico, North Carolina, Ohio, Oklahoma, Pennsylvania, South Carolina, Tennessee, Texas, Utah, Vermont, Virginia, West Virginia, Wisconsin, just to name a few.