Filter Reviews: Most Recent (174), Association, Chamber, Christian, College, Corporate, Non-Profit, Other, Social, Theater, Agriculture, Christmas Party, Construction, Education, Family, Finance, Fundraiser, Healthcare, Hospitality, Military, Real Estate, Safety, Seniors, Volunteer, Youth,
Showing: Corporate Reviews
Farrior and Sons, Inc.

"John Felts performed wonderfully at our event! He asked us questions regarding tid-bits about the company in order to cater to our audience, which made his performance even more enjoyable. He was hilarious! He was on time, had a professional demeanor on and off the stage, and very friendly. We would highly recommend him at any event!"
Lawrence Glass

"John Felts was amazing! He is such a kind, genuine and fun person to be around. We really enjoyed speaking with him and getting to know him before the show. John had a customized show for our Company Christmas Party, was on time and gave an outstanding performance. All in attendance loved him! We all laughed from beginning to end! Best company party we have ever had. He has such a quick wit, and we are still laughing. We would highly recommend him!"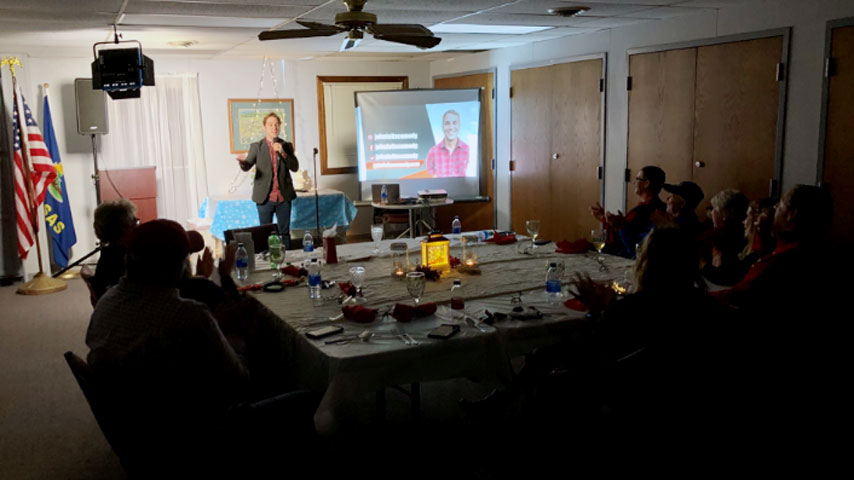 Zimmer Tractor

"John Felts used 'real time' pics that had been taken during the evening and Facebook posts which he showed on the screen to make light fun of some of our employees. As previous comments, he made his program relevent to our company and town. We are very leary of comedians because they can quickly head to the gutter which embarrasses us and our employees. John kept it all G or PG and he was hilarious. We received lots of compliments from our employees as to how much fun they had at our Christmas party."
Elexco, Inc.

"John Felts was a genuine class act. He had a preliminary phone call with us to get to know our company, took our company & employee information and worked it into his skit. John arrived early to make sure we had everything set up for him to make his stand-up run smoothly. John talked with lots of our employees prior to the show and made everyone feel included. We could tell he put in the time to get to know us and it paid off. John kept the whole crowd laughing continuously for the hour he was on stage and before and after the show. If you have the opportunity to have John at one of your events, do it! You will not be disappointed."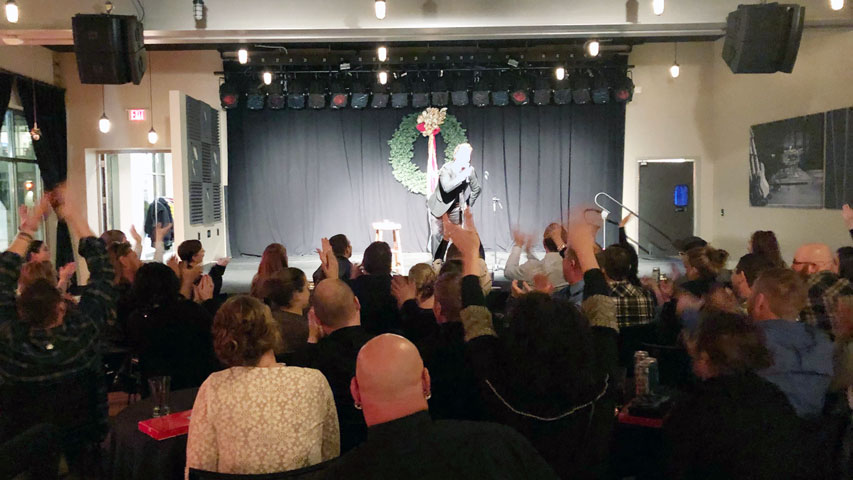 Imperial Press Direct

"John Felts did a great job! He impressed the entire crowd by engaging early and often with the group during cocktail hour. His performance was raved about by the group!"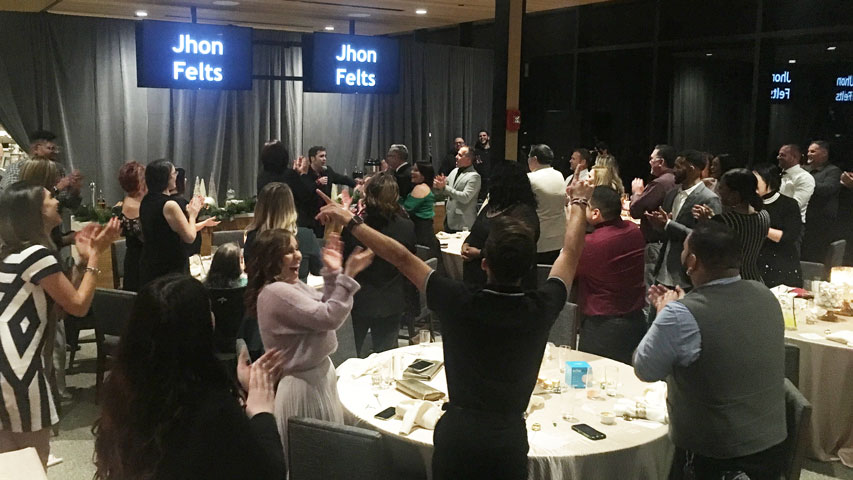 Leland Smith Insurance Services

"John was great right from the beginning. He kept everyone laughing for 75 minutes. Everyone was impressed with his research about our group and his creativity was spot on. I would highly recommend John Felts."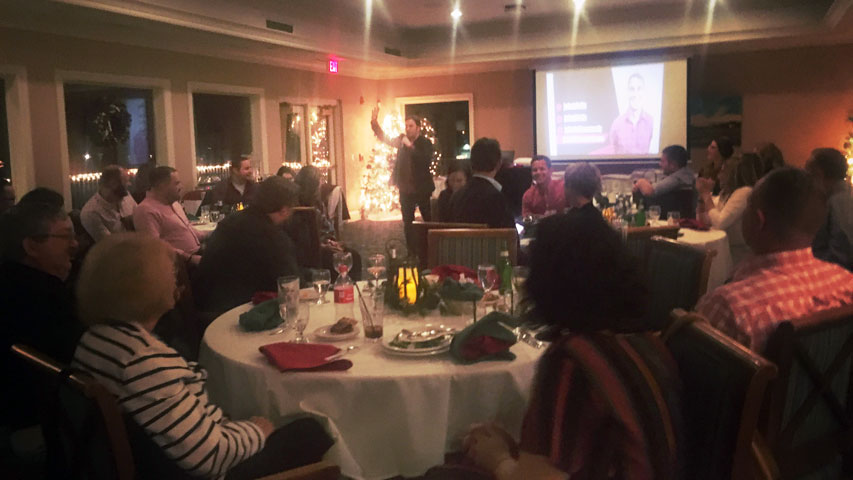 Thrivent Financial

"The audience really connected with John Felts at my client appreciation event. All of the feedback I heard was very positive. I would highly recommend John to anyone looking for entertainment that will leave a lasting impression. He is also clean, so you do not have to worry about offending anyone (unless they are a cat lover). I will recommend him to my colleagues looking to host similar events."
Shore Medical Center

"John felts did a great job, both as a MC and also as our comedic entertainment. He set the stage early by doing a bit with his using the internet search on our area and playing off of the information he found. He is warm and personable and plays well to the crowd."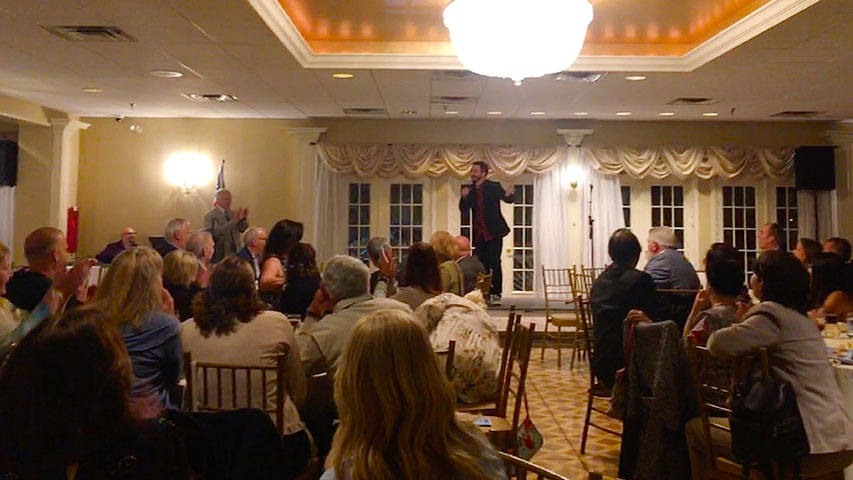 Texas AirSystems

"John Felts was awesome and on point!! Kept our group entertained and laughing the whole night! Would definitely recommend and will invite him back."
One Point

"John Felts entertained at our company Christmas party. He was super funny, clean and played to a wide audience. We couldn't have been more pleased with our experience with him."
Cowart Mulch Products, Inc.

"I have spent most of this morning receiving compliments and positive feedback from the employees on the performance. John Felts was personable and had the room rolling in laughter. He was very professional and easy to work with and I would love to book him for any future events we have."
Internal Medicine and Pediatric Clinic

"John Felts did a fabulous job! He did a great job personalizing his presentation to our staff. He took the information we gave him and worked well with it. He was very easy to work with. He kept everyone entertained! We would love to have him again and highly recommend him to others!"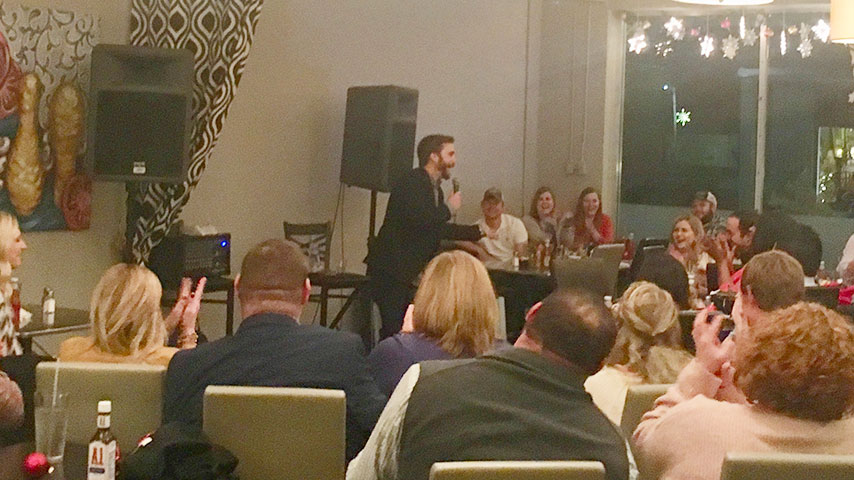 TruPoint Bank

"John Felts gave a great performance at our Bank's employee Christmas Party! Everyone is still talking about how much they enjoyed the evening. I was impressed that he customized his performance to our group and also that he visited with employees during our dinner. Definitely recommend him for company events!"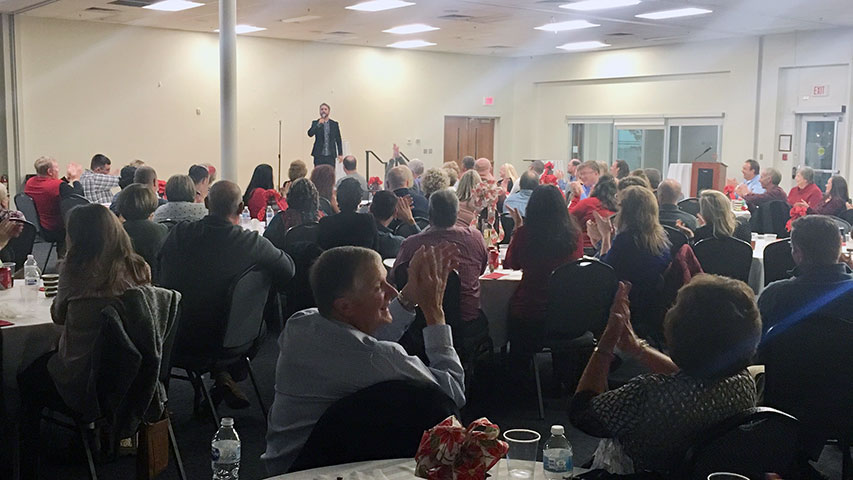 Walk-On's Enterprises

"John Felts was great! He connected with the audience (our company) right away using social media posts and talking about one of our commercials. He was extremely funny and personable. He was also able to adjust quickly with some microphone issues. We definitely recommend him and would be happy to have him back!"
Osceola Community Health Foundation

"John Felts was very easy to work with leading up to our event and that set the tone for everything to follow. John was incredibly professional and also quite funny. It was nice to have a clean comedian that could make everyone in the room laugh without going blue. John connected with our audience and did a great job of keeping people engaged. A great talent, John would be perfect at any company event."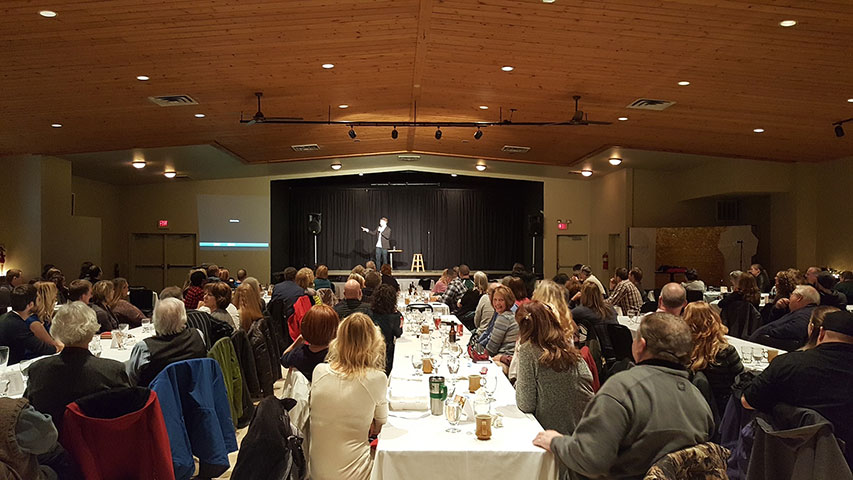 Cloudistics

"John Felts was prompt, interacted with the audience, and his material was well received. We had a great time and the reviews were positive. Thanks again."
FNB Community Bank

"Our entertainer John Felts was perfect for our event. Very funny guy!! John introduced himself to me when I arrived at the party so I didn't have to worry about him showing up. He was all set up and had coordinated sound and video with the staff. I have received several comments from my employees on how much they enjoyed his show and the fact that it was a clean show with no profanity or inappropriate innuendos. I would highly recommend John Felts."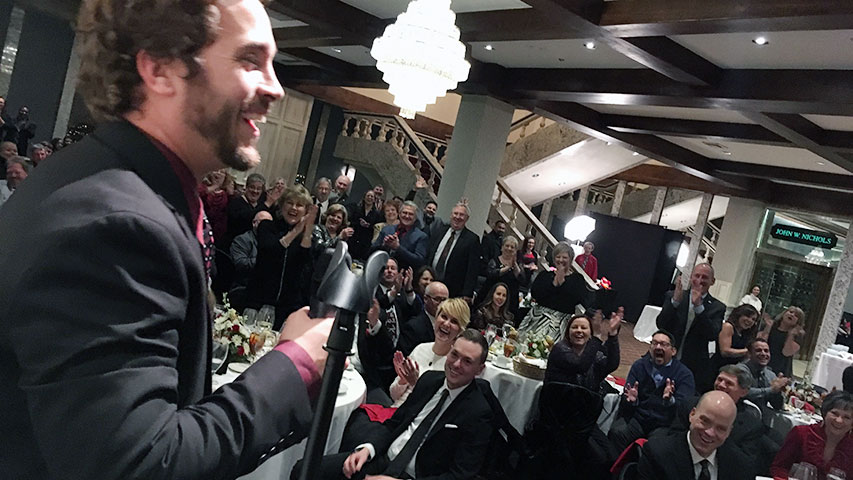 Bridge Valley & Associates Inc.

"I would like to share how much we enjoyed John Felts, both as a professional and a comedian. He was stellar! He contacted me beforehand regarding information about the business and a little insight into our employee's personalities. He mingled prior to the performance as a guest, so the employees were pleasantly surprised to see him introduced as a comedian. John managed to connect with several of our employee's unique qualities and seamlessly brought them into the act. Bridge Valley employees and their guest are still talking about John Felts! Thanks for the laughs!"
Open Range Engineering

"John Felts was entertaining, easy going and overall a perfect fit or our company party. He was early to the party and very professional when he arrived. John was easy to work with and took the time to connect with our employees. His research on the company was spot on and made the jokes that much better! Everyone enjoyed the party and several employees told me this was their favorite Christmas party so far and they have never laughed that much. John was truly entertaining!"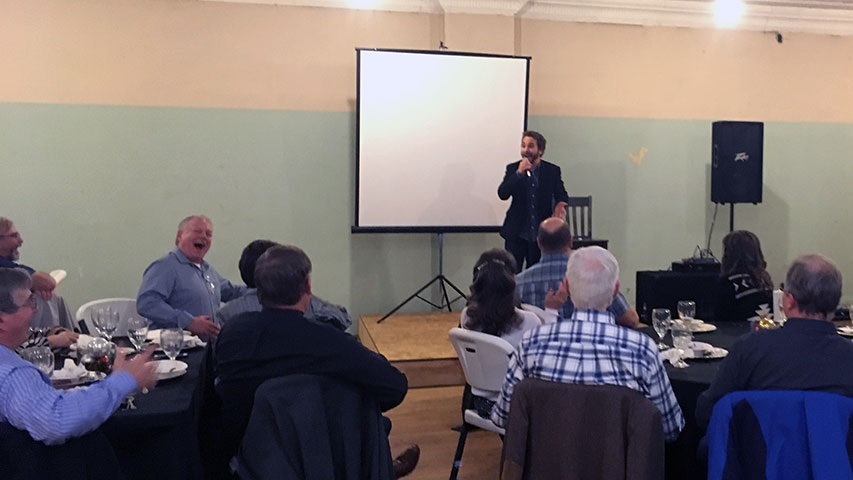 Harvey Chevrolet Corp

"John Felts arrived early and mingled with our employees. He has such a great personality that everyone was liking him even before the program started. John's performance was hilarious and appropriate for our mixed group. The employees are still talking about him. I would definitely recommend John."
CENTURY 21

"Just wanted to give you my comments about John Felts at our convention. He was absolutely awesome! He exceeded my expectations! His promptness, professionalism, personality and connection to the audience was spot on! His material was SO very funny. As the event planner for this event, I looked around the room while he was performing to see the response and EVERYONE WAS LAUGHING! It was good, clean material – and he was just plain hilarious! And what a fine young man to talk to. I fully expect to see him succeed in his field! I will be glad to give a reference, if needed. It would be my pleasure."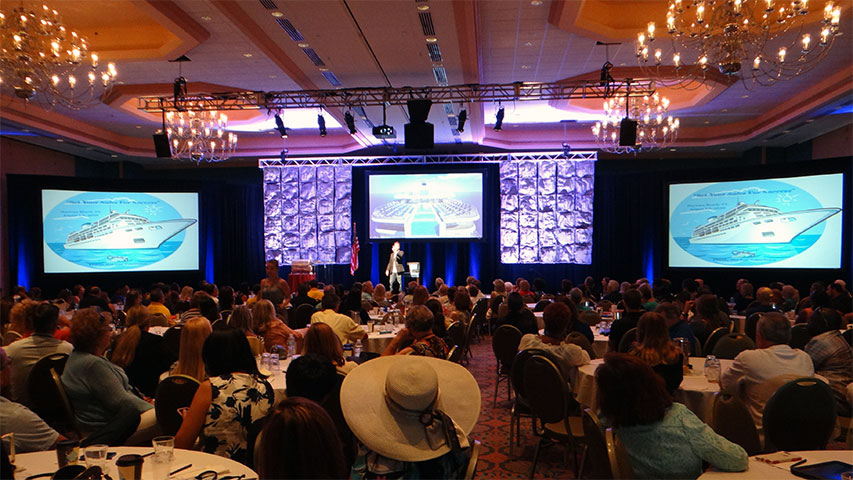 VMware, Inc.

"John Felts was outstanding to work with. Very funny and a great communicator. He was organized, easy going and interactive with the crowd. I was really pleased that he researched our company ahead of time and delivered custom content. We'll definitely book him again!"
Legacy Retirement Group

"John Felts was hilarious! He was easy to work with, was on time and didn't mind waiting around a little bit for the show to start. He was very funny, very interactive with the audience and made everyone laugh. He even made time to spend time with our clients after the show was over. We would definitely hire him again!"
Essenhaus, Inc.

"John Felts was great. We were impressed with how prepared he was - you could tell he definitely did his research and it was great how he customized the show for us. He arrived in plenty of time to prepare and made himself at home. Employees really enjoyed his show - they like to laugh. It's getting increasingly harder to find comedians/entertainers that are appropriate for our conservative setting and he was great. Thanks again for helping to make our Christmas party a success."
Maymead, Inc.

"Everyone enjoyed John Felts and his performance. We provided him with some information about our employees and he did a little of his own research during the dinner to come up with some very funny one-liners. Once again we were extremely happy with the entertainment provided by your service. Thank you for providing clean event humor."
Renewable Water Resources

"John Felts was a perfect fit for our company! From the time that we started to correspond via email and phone, to the very end he was extremely professional, friendly, detailed, and 'all about us' in making our evening a success. I arranged to meet him in the ballroom prior to his performance to make sure that everything was to his liking and he was not only prompt, but early. I had provided him with specific details on some of the members of our audience and he was able to incorporate the information nicely into his routine and it was extremely well received. I had an excellent vantage point to watch the majority of the audience, including our Executive Director and our Board of Commissioners' responses, and they were thoroughly enjoying their selves from start to finish. When I arrived at work this morning I had emails from our staff telling me how much fun they had and how funny John was. As you state in your book, it wasn't the food that had them taking, it was John! I would highly recommend John many times over to any other company or organization who is looking for entertainment. A+++++"
International Special Events Society

"John Felts was awesome! He: was responsive, kept in communication with us several times before the gala, was on time for the dress rehearsal as requested, worked well with the emcee, made up great jokes ahead of time and on the fly based on what was happening at the time (shows me he was paying attention), had great energy during his performance, and was well dressed (dark suit at the black tie optional event). We had great feedback from gala attendees (thought he was funny). Jokes were appropriate, relevant and clean. It was a pleasure working with John on this gala and we thank him and you for your willingness to help with this element of entertainment."
Corvias Military Living

"Thank you so much John Felts for being a part of our event - couples had an amazing time and a huge part of that enjoyment came from laughter. I remember hearing you say that laughter is the sixth love language and you are absolutely correct. And due to the stresses that our families experience it is a language they can't forget about that - thanks for helping them remember about it. I heard nothing but great feedback about from staff and residents - thank you for helping us create a fun and positive energy for our event. It was a pleasure working with you and Larry Weaver Entertainment and look forward to being able to do so again for future events."
Spire Investment Partners, LLC

"John Felts was excellent! I can't rave about him enough. He was a huge success with the crowd and with my boss (which certainly made me look good too!). Everyone was laughing hysterically, and he did a great job of involving the crowd. He arrived early and got to know some of the guests which helped incorporate them in his jokes. He and your company will definitely come highly recommended in the future. Thanks for all your help. He truly was hilarious and talented!"
Cottonwood Pre-Elementary

"John Felts was great! He had our employees in stitches, and they very much enjoyed his clean comedy act!! We will absolutely recommend him to others."
Bekaert Corp

"John Felts did a great job learning the audience. He came to our event early and socialized with employees. He was then able to take that information and incorporate it into his act. His personal touch was greatly appreciated and well received by all."
---