Filter Reviews: Most Recent (174), Association, Chamber, Christian, College, Corporate, Non-Profit, Other, Social, Theater, Agriculture, Christmas Party, Construction, Education, Family, Finance, Fundraiser, Healthcare, Hospitality, Military, Real Estate, Safety, Seniors, Volunteer, Youth,
Showing: Christmas Party Reviews
Garden City Police Department

"John Felts was asked perform in front of a room full of police officers, which is obviously a different crowd than he is used to entertaining. Not only did he knock it out of the park during the performance, two days after the event people are STILL laughing at his jokes and that is no small achievement! John was great from start to finish and spent the time leading up to his set visiting with the audience. He is a very personable, friendly and energetic comedian who we would love to invite back to other events!"
Lawrence Glass

"John Felts was amazing! He is such a kind, genuine and fun person to be around. We really enjoyed speaking with him and getting to know him before the show. John had a customized show for our Company Christmas Party, was on time and gave an outstanding performance. All in attendance loved him! We all laughed from beginning to end! Best company party we have ever had. He has such a quick wit, and we are still laughing. We would highly recommend him!"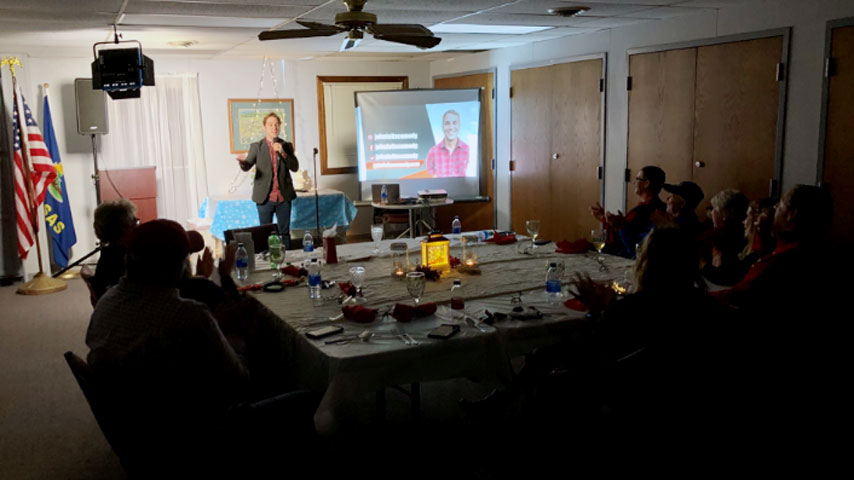 Zimmer Tractor

"John Felts used 'real time' pics that had been taken during the evening and Facebook posts which he showed on the screen to make light fun of some of our employees. As previous comments, he made his program relevent to our company and town. We are very leary of comedians because they can quickly head to the gutter which embarrasses us and our employees. John kept it all G or PG and he was hilarious. We received lots of compliments from our employees as to how much fun they had at our Christmas party."
Trinity Church

"John Felts was the highlight of our Regional Pastor and Spouse Christmas Dinner! He was absolutely on his game and provided a wonderful evening of entertainment to an audience of diverse ages. There was something in his routine that everyone could relate to and hearty laughter was a common thread of all. He was personable, spontaneous, engaging, and his humor was definitely in good taste. John was great to work with as we prepared for this event. He was accessible and responded to questions immediately and you could tell he really took the time to make our event special for us! Highly recommended!"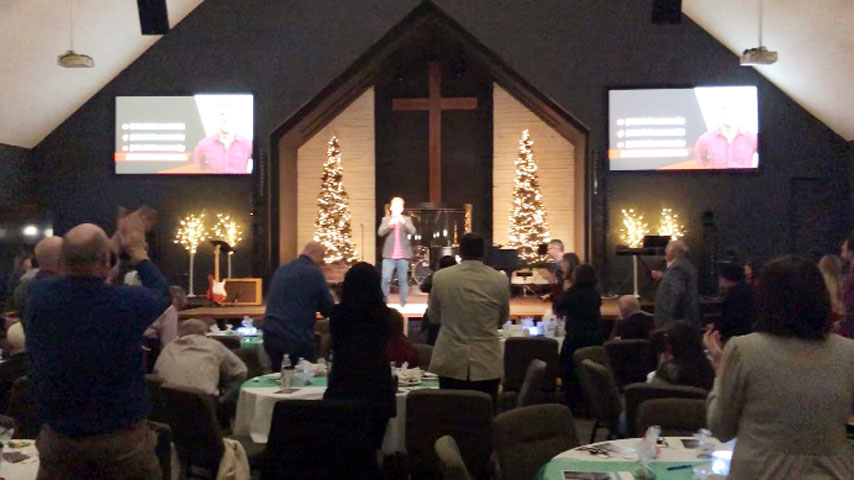 Elexco, Inc.

"John Felts was a genuine class act. He had a preliminary phone call with us to get to know our company, took our company & employee information and worked it into his skit. John arrived early to make sure we had everything set up for him to make his stand-up run smoothly. John talked with lots of our employees prior to the show and made everyone feel included. We could tell he put in the time to get to know us and it paid off. John kept the whole crowd laughing continuously for the hour he was on stage and before and after the show. If you have the opportunity to have John at one of your events, do it! You will not be disappointed."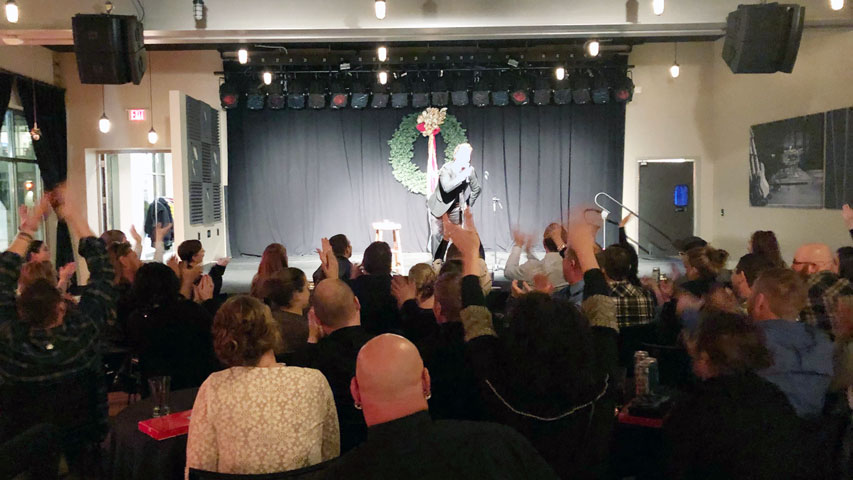 Meadowbrook Baptist Church

"John Felts is a great comedian, with a flair for making his show personal. His crowd interaction was actually the funniest part of his act. We will definitely recommend him to anybody looking for a good clean night of comedy."
Imperial Press Direct

"John Felts did a great job! He impressed the entire crowd by engaging early and often with the group during cocktail hour. His performance was raved about by the group!"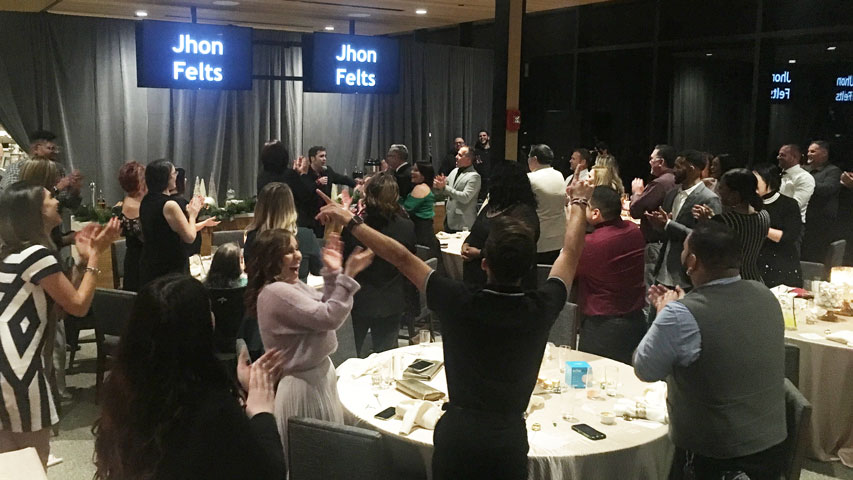 Leland Smith Insurance Services

"John was great right from the beginning. He kept everyone laughing for 75 minutes. Everyone was impressed with his research about our group and his creativity was spot on. I would highly recommend John Felts."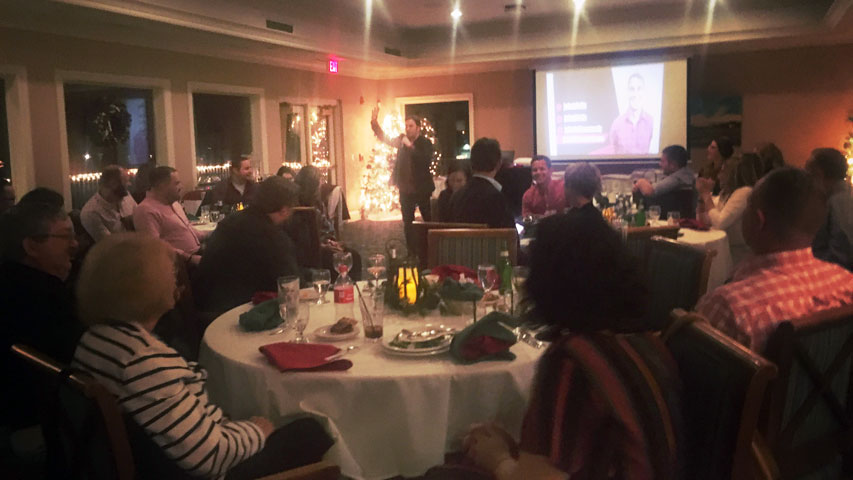 One Point

"John Felts entertained at our company Christmas party. He was super funny, clean and played to a wide audience. We couldn't have been more pleased with our experience with him."
The Refuge Church

"This was our second year to have John Felts as our Christmas party entertainment. We were not disappointed. John is extremely funny. Very personable and always a joy to have. If you are looking for someone who will take a personal approach to your event and and keep your group entertained, I highly recommend John Felts."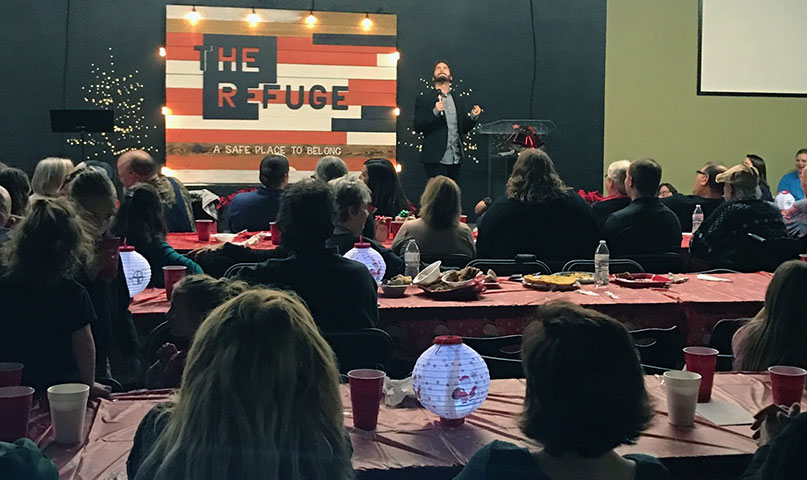 Cowart Mulch Products, Inc.

"I have spent most of this morning receiving compliments and positive feedback from the employees on the performance. John Felts was personable and had the room rolling in laughter. He was very professional and easy to work with and I would love to book him for any future events we have."
Internal Medicine and Pediatric Clinic

"John Felts did a fabulous job! He did a great job personalizing his presentation to our staff. He took the information we gave him and worked well with it. He was very easy to work with. He kept everyone entertained! We would love to have him again and highly recommend him to others!"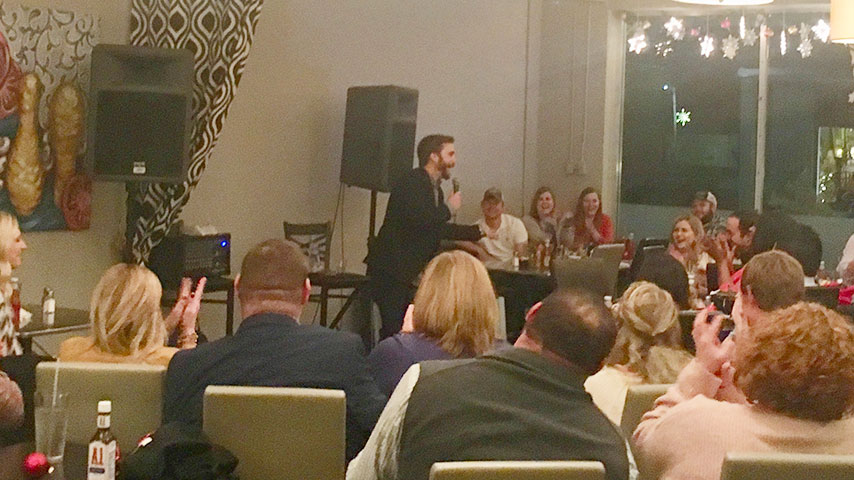 TruPoint Bank

"John Felts gave a great performance at our Bank's employee Christmas Party! Everyone is still talking about how much they enjoyed the evening. I was impressed that he customized his performance to our group and also that he visited with employees during our dinner. Definitely recommend him for company events!"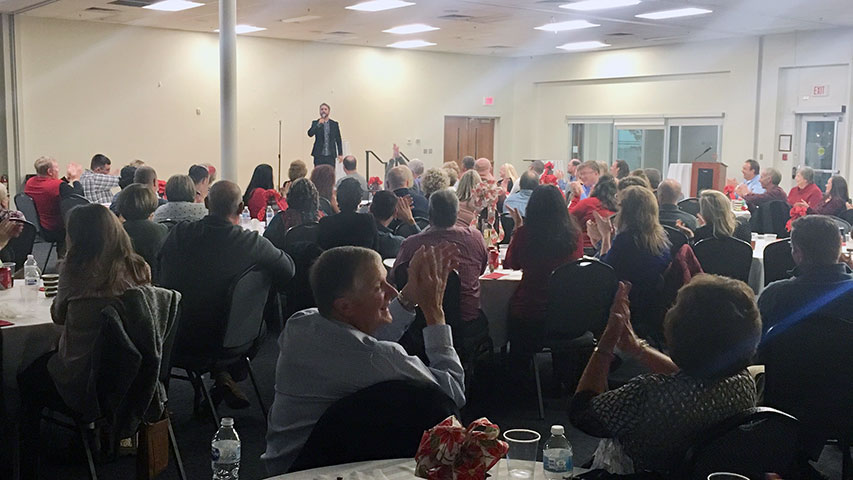 Cloudistics

"John Felts was prompt, interacted with the audience, and his material was well received. We had a great time and the reviews were positive. Thanks again."
The Refuge

"John Felts is a great guy and it made for a great evening! Very personable and immensely funny. He took time to familiarize himself with our group and when the jokes started rolling it was like the show was custom made for us! We will definitely be having him back. Please tell John how much we loved his act and appreciated his wonderful personality and humor!"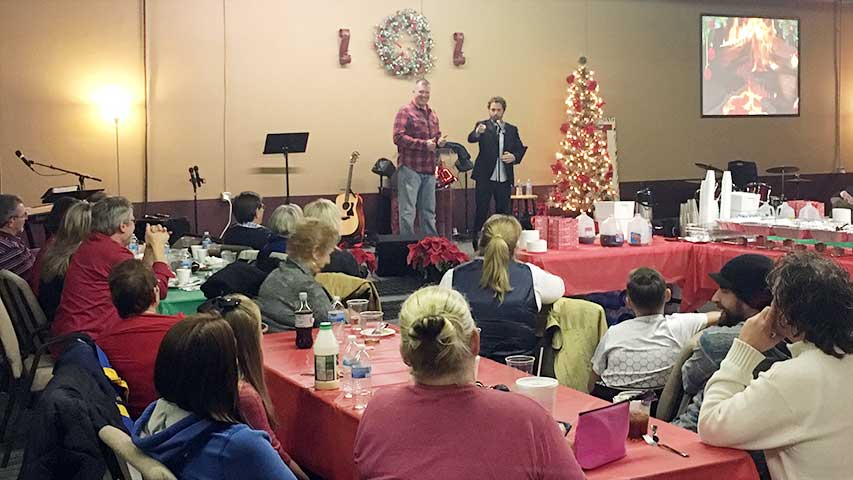 FNB Community Bank

"Our entertainer John Felts was perfect for our event. Very funny guy!! John introduced himself to me when I arrived at the party so I didn't have to worry about him showing up. He was all set up and had coordinated sound and video with the staff. I have received several comments from my employees on how much they enjoyed his show and the fact that it was a clean show with no profanity or inappropriate innuendos. I would highly recommend John Felts."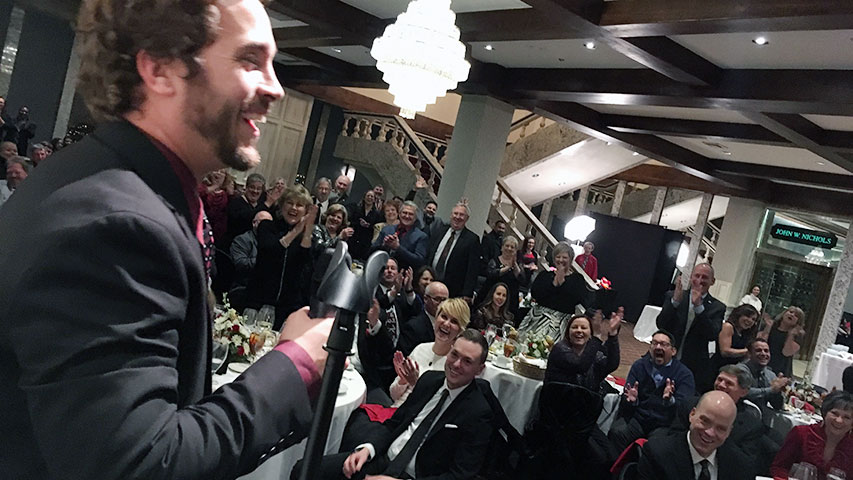 Bridge Valley & Associates Inc.

"I would like to share how much we enjoyed John Felts, both as a professional and a comedian. He was stellar! He contacted me beforehand regarding information about the business and a little insight into our employee's personalities. He mingled prior to the performance as a guest, so the employees were pleasantly surprised to see him introduced as a comedian. John managed to connect with several of our employee's unique qualities and seamlessly brought them into the act. Bridge Valley employees and their guest are still talking about John Felts! Thanks for the laughs!"
Open Range Engineering

"John Felts was entertaining, easy going and overall a perfect fit or our company party. He was early to the party and very professional when he arrived. John was easy to work with and took the time to connect with our employees. His research on the company was spot on and made the jokes that much better! Everyone enjoyed the party and several employees told me this was their favorite Christmas party so far and they have never laughed that much. John was truly entertaining!"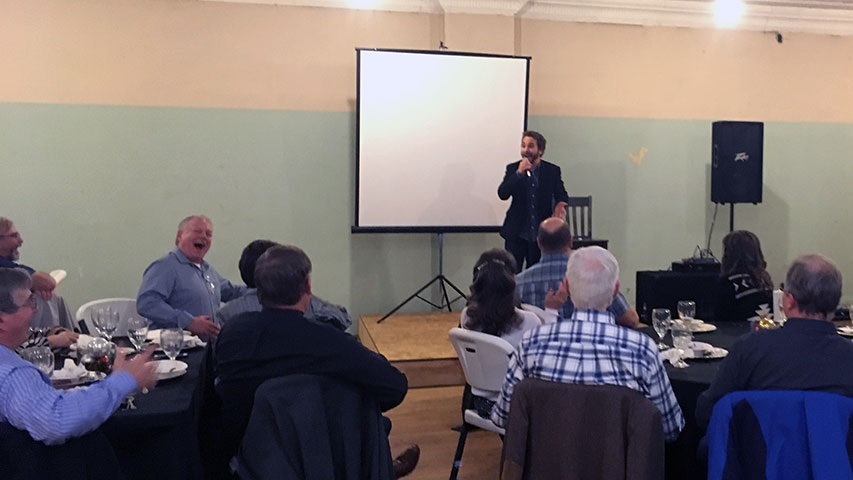 Harvey Chevrolet Corp

"John Felts arrived early and mingled with our employees. He has such a great personality that everyone was liking him even before the program started. John's performance was hilarious and appropriate for our mixed group. The employees are still talking about him. I would definitely recommend John."
VMware, Inc.

"John Felts was outstanding to work with. Very funny and a great communicator. He was organized, easy going and interactive with the crowd. I was really pleased that he researched our company ahead of time and delivered custom content. We'll definitely book him again!"
Southwestern Ohio District Church of the Nazarene

"We were very pleased with John Felts, he did a fabulous job performing for our Leaders Christmas Banquet. We had close to 300 attending and have received all positive comments and feedback. It was a success, thank you!"
Essenhaus, Inc.

"John Felts was great. We were impressed with how prepared he was - you could tell he definitely did his research and it was great how he customized the show for us. He arrived in plenty of time to prepare and made himself at home. Employees really enjoyed his show - they like to laugh. It's getting increasingly harder to find comedians/entertainers that are appropriate for our conservative setting and he was great. Thanks again for helping to make our Christmas party a success."
Maymead, Inc.

"Everyone enjoyed John Felts and his performance. We provided him with some information about our employees and he did a little of his own research during the dinner to come up with some very funny one-liners. Once again we were extremely happy with the entertainment provided by your service. Thank you for providing clean event humor."
Family Worship Center

"John Felts was fantastic! His pre-event communication was excellent, gathering community and church information to personalize his performance. He was prompt, professional, co-operative and thorough in his preparation. He arrived an hour or more before the event for light and sound check, and gave a stellar performance that was enjoyed by all. I think he was the most well-prepared comedian we have hosted. I would recommend him to anyone."
Spire Investment Partners, LLC

"John Felts was excellent! I can't rave about him enough. He was a huge success with the crowd and with my boss (which certainly made me look good too!). Everyone was laughing hysterically, and he did a great job of involving the crowd. He arrived early and got to know some of the guests which helped incorporate them in his jokes. He and your company will definitely come highly recommended in the future. Thanks for all your help. He truly was hilarious and talented!"
The Point Church

"John Felts did a great job. I heard nothing but absolutely positive reviews and feedback. It was by far the most successful fundraiser we did and he played an important role in that. I would hire him again or recommend him to anyone!"
Cary Church Of God

"I gotta tell ya, John Felts was fantastic. I had seen a couple of the youtubes and liked him but, well, you know how that goes sometimes. I spoke with him several times prior to his gig with us and each time learned more about him and his work. It was a brilliant idea for him to ask for some little bits of data about our people, our town, our church and ministry, etc, prior to his arrival. He did an amazing job including these tidbits in his act. It was a great time, fun, lightà.we laughed a lot. I'm extremely pleased that it was so successful. Folks were still talking about John last night, and probably will continue for a while. We'll have him back."
Cottonwood Pre-Elementary

"John Felts was great! He had our employees in stitches, and they very much enjoyed his clean comedy act!! We will absolutely recommend him to others."
---