Filter Reviews: Most Recent (166), Association, Chamber, Corporate, Non-Profit, Other, Social, Theater, Agriculture, Christmas Party, Construction, Finance, Fundraiser, Healthcare, Safety, Seniors, Transportation, Utilities,
Showing: Corporate Reviews
Leffler Commodities LLC

"Working with Jerry Carroll, before the speaking engagement was very easy and Jerry was very helpful and friendly. The attendees at our conference enjoyed Jerry's humor and interaction with the attendees. Jerry also sat through most of our conference and interacted with the attendees, he actually blended in with everyone. His performance last a little over a hour and a quarter, but it seemed like only half that long."
Plains Equipment Group

"Jerry Carroll performed at our annual sales meeting, and perform did he! His style of comedy, timing of delivery, and subject matter was a huge hit with our team. Several people had sore jaws the next day from laughing so hard! Jerry tailored his jokes to the situation and our event, which made it even more relatable. He even stuck around after the performance to meet with people and share more jokes and stories. A great performer and even a better guy. Highly recommend him!"
Eddie Mercer Agri-Service Inc.

"Jerry Carroll was Outstanding!! We've had many comments regarding his positively positive and enjoyable talk. We all needed some cheering up. He sure got the job done."
Polyock Transport

"Jerry Carroll struck a home run! Everyone loved him. He was down to earth from the very beginning. He was easy to work with, meeting out needs. As well as his own. He is a regular guy, and gets just as excited to get into a new combine as we do! Jerry was very personable both on and off the stage. The man has stories… stories for days! LOL so be ready to listen and laugh!"
Superior Ag

"We loved Jerry Carroll! I would recommend him to anyone, especially in the Ag industry. Very clean comedian and laughs at himself. Our group of 110 Indiana farmers LOVED laughing with him. He arrived early and mingled with the group before hand. Was very down to earth, engaged with the group, made them laugh, and was very relatable to our group of farmers."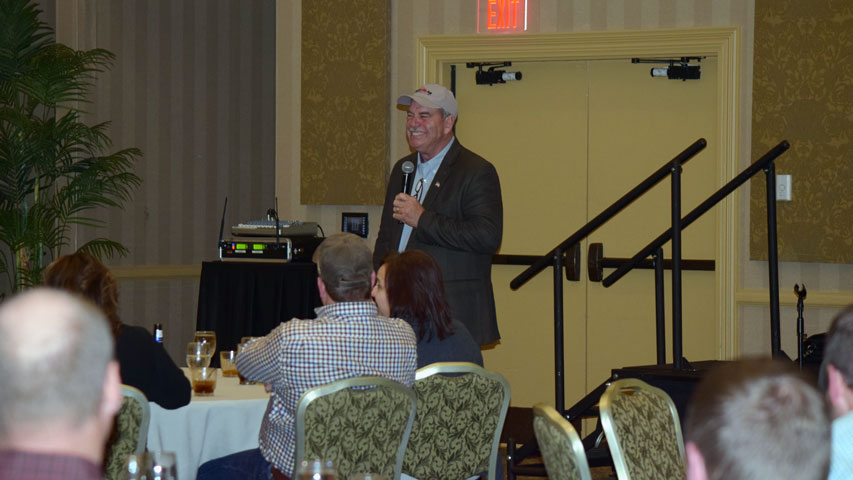 The Delaware State Fair, Inc.

"Jerry Carroll is so funny and very engaging. Our audience was filled with people from ages 17-80 and every review I heard from them after the show was positive (and our crowd is tough to impress). He covered many topics and was really able to connect with the audience. He was early for the show, stuck to the time limit we gave him and overall wonderful to deal with! We would definitely have him back in the future!!"
Farm Credit Services of America

"Jerry Carroll appealed to everyone in the audience, both young and old. He was humorous and his act was in good taste. I wouldn't hesitate hiring him again for another engagement in the future."
Nutrien Ag Solutions

"Jerry Carroll did a great job both relating to, and capturing our audience. People were hooked on his humor and the laughs lasted through his entire performance. He arrived early and engaged in one on one conversations with some of our guests, prior to the event starting. We would book him again in a heartbeat!"
Farmers Cooperative Elevator Co.

"Jerry Carroll was great! Very personable, friendly, and funny!!! The crowd thoroughly enjoyed him!"
Georgia Farm Bureau Foundation for Agriculture

"This is the fourth year we have held our event and Jerry Carroll was by far the best entertainment to date! He kept our crowd of farmers and friends of agriculture rolling in laughter from start to finish. The President of our company told me I had hit a home run after he finished. We'd have him back every year if we could! Thank you, Jerry!"
Crop Production Services

"Everyone loved Jerry Carroll, He was very personable and his show was hilarious. I am getting calls from our guest letting me know they really enjoyed his show."
Mid Columbia Producers, Inc.

"4 stars - Very Satisfied"
Scott County Farm Bureau

"Jerry Carroll had the entire audience in tears with his funny stories!!"
Crop Risk Services

"Jerry Carroll did an outstanding job and had us rolling with laughter! I'm fairly sure he may have some new prospective leads for other events from our group. Highly recommended!!"
Midwest Ag Service, LLC

"We loved having Jerry Carroll and we have had so many wonderful comments on how great his performance was. We greatly appreciated that he stuck around afterwards and talked with people. Thank you so much for making our customer appreciation very successful!!"
Doebler's Pennsylvania Hybrids, Inc.

"Jerry Caroll was amazing! He related well to our entire organization and brought a smile to everyone in the room. Our group can't stop commenting on how great he was!"
Brookings County Farm Service Agency

"We were very pleased with Jerry Carroll's performance and felt he certainly met our expectations. Lots of positive feedback from the attendees, and we too enjoyed his performance. He even received a standing ovation!"
J R Simplot Company - Food Group

"Jerry Carroll related really well to our group. After a long day of meetings, he was just what we needed to have a few laughs and put some smiles on faces."
Pride Ag Resources

"Jerry Carroll did a great job and everyone enjoyed him. With his backgound our customers where able to relate to him very easy. He is very personable and the dialog was easy for the audience to envision. We were very pleased with his performance and his message at the end of the presentation."
CHS New Horizons

"Jerry Carroll was a perfect fit for our audience. His stories are relatable to anyone who has ever been on a farm."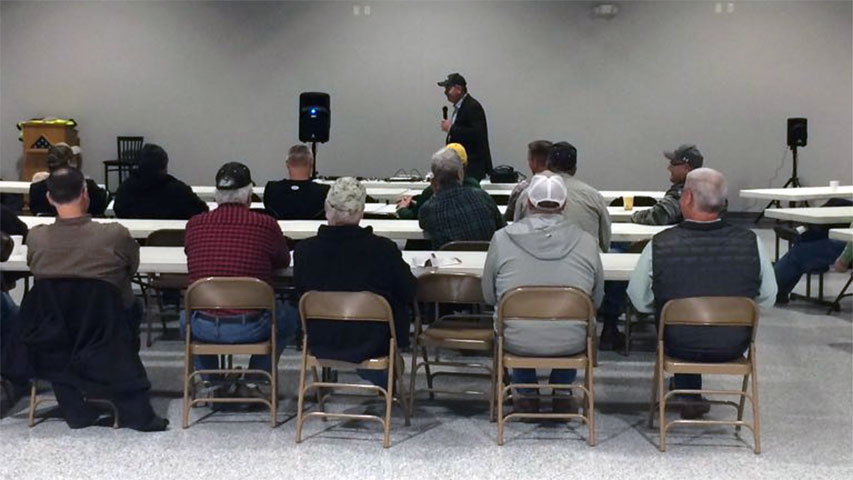 GRAINCO FS, Inc.

"Jerry Carroll stayed engaged with the audience and could relate to the same experiences they have had in their personal life. He has a unique way of finding humor in day to day on the farm activities. Jerry understood our industry and has done many of the same things we have. He had the crowd laughing like crazy! I would consider having him back and would recommend him to all the farming industry."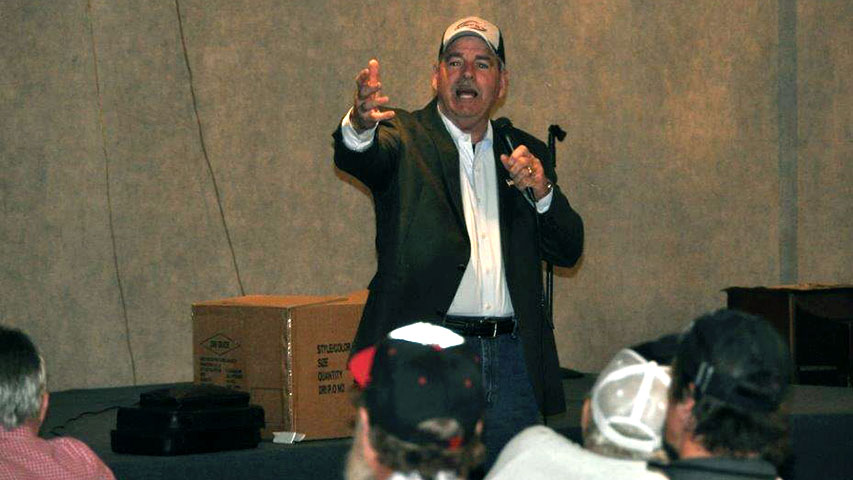 First National Bank of Allendale

"Jerry Carroll arrived early for our farmer appreciation breakfast, visited with our guests, and then delivered an outstanding performance. He is extremely funny and had the whole room laughing. I would highly recommend Jerry for any event you are planning."
CHS Larsen Cooperative

"Jerry Carroll was great."
Heasley Seeds LLC

"Jerry Carroll was just great. Our folks loved his performance. He was also a joy to work with - came early and interacted with our crowd, just great. Can't say enough good about the job Jerry did for us. I am hoping we can use him again in the future."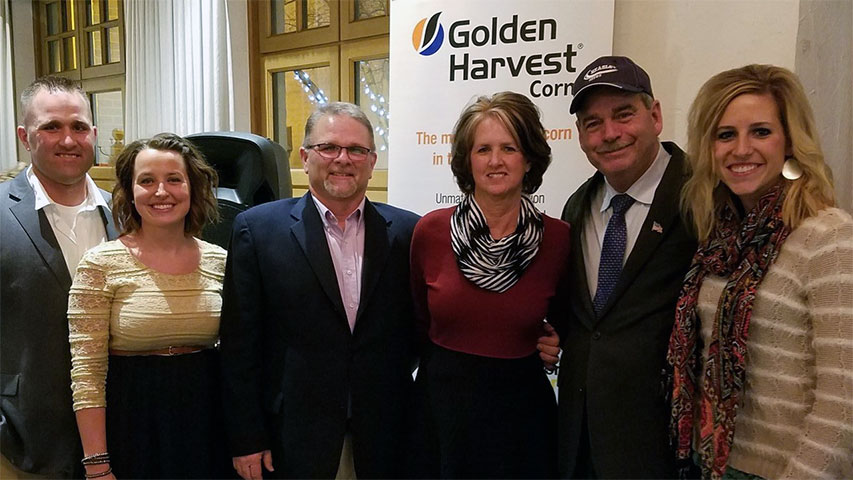 Spudnik Equipment Company LLC

"It was a pleasure having Jerry Carroll. First it was so good he planned on coming in a day early in case of weather. That paid off as the day of the party the weather was not good. Jerry came in and spent about an hour seeing our facility and meeting employees. He was very attentive to all the employees and interested in our process. Jerry's personality was very welcoming to all and everyone I have spoken too was so impressed with his connection to them and he was sincerely interested in the conversations he had with them. Plus lots of laughs at the time. He incorporated his travels to Blackfoot, Idaho into his act and this personal touch was a hit. His act was clean and I have not heard that anyone was offended by his performance. This was great as we have a mix of employees with beliefs and culture. Jerry is one we will most definitely look at bringing back for other functions and we all look forward to that time."
Central Prairie Coop

"Jerry Carroll was a huge hit. He arrived on time and we spent some time before the show discussing agriculture. He shared his story and what he was doing on the farm today. He did an incredible job of relating his upbringing to his comedy and doing it without missing a beat. He went from one funny story to another. I am pretty sure it had some humorous fiction built in but he kept our audience laughing the whole time. Several members stated it was the best entertainment yet."
Grain Elevator and Processing Society

"Jerry Carroll did a great job. He arrived early and met our speakers and staff. He was very conversational, engaging members to better understand the business and establish good rapport. Also very professional, he connected with our audience, even at this breakfast event. We received many comments back that he was not only funny, but he knew the industry and award topics well enough to provide good lead-ins and tied the awards together nicely. It was very easy to schedule Jerry and the communication prior to the event was well timed and always spot on. It was also very helpful to have access to Jerry's introduction and high resolution photo's for the event and pre-event promotion. We enjoyed Jerry very much, both personally and professionally and would recommend Jerry to any group and especially those in an agricultural related business."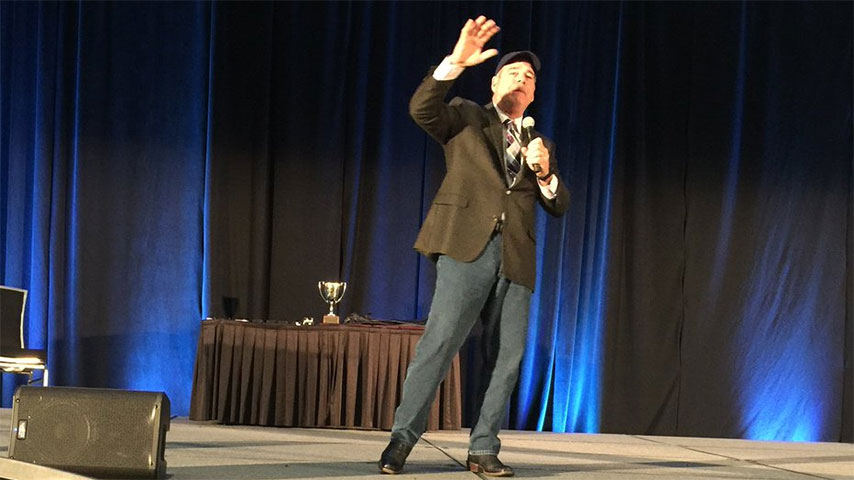 Renville County Corn & Soybean Growers

"Jerry Carroll's performance was very good. His material and camaraderie with the audience was excellent! We had good feedback from the audience members about it."
Chem Gro of Houghton Inc

"Jerry Carroll did a wonderful job at our grower meeting. He stayed in touch with me in the days leading up to the presentation, and arrived in a timely fashion. The audience certainly enjoyed him, and our company is very happy with the job he did."
Nebraska Farm Bureau Federation

"Jerry Carroll was great! He put in a plug about his state Farm Bureau membership and they just loved it! We only had 22 surveys returned but he was scored 19 as Excellent and 2 as Good. The only comment was 'have him back'!"
Schram Seeds

"We were very pleased with Jerry Carroll at our event. He was great to work with, did a great job mingling with the growers attending before and after his show. His act was great. He could really relate to our clients with his agricultural based humor. We have had several people that were in attendance that have commented since how great the evening was. I even actually had another salesman for another product stop in and mention he's had customer comment to him what a great event it was. I definitely hope it would work out to do something in the future again. Hopefully people keep talking about it and we can drive some sales and try to do a much larger event."
Crop Production Services

"Jerry Carroll did a bang up job. He arrived at our meeting 30 minutes prior to dinner. He mixed with the crowd before and after the meeting. He even worked one of our products into his presentation. He told good, down-to-earth stories, one right after the other. People actually had tears of laughter rolling down their cheeks. Everyone has raved about him since his program. I would recommend him to anybody for an after dinner speaker. He is all country. We might try to have him back next year."
Georgia Pirtle Crop Insurance

"Jerry Carroll was FANTASTIC. We loved him. He communicated with us on his travel itinerary, called on arrival and showed up early. Our crowd is already asking us to have him come back again!!! Thanks again, our party was a huge success!"
Virginia Cooperative Extension

"Jerry Carroll was great and the crowd had a great time. We sold out every seat."
Bayer CropScience

"Jerry Carroll was awesome, the feedback from the group was all positive. They also like the fact that Jerry did not swear once during his performance. He was very easy to work & communicate with. You made the process very easy, and it was great to work with you."
Agrium Wholesale Communications

"Jerry Carroll was very entertaining. We had a great time!"
Titan Pro SCI

"We were very pleased with Jerry Carroll. He had our crowd laughing the entire time and we really enjoyed his company. Thank you."
Alabama Farmers Cooperative, Inc.

"Jerry Carroll did a great job with our managers. His farm background certainly gave him the perspective to connect with the audience. I invited him to join us for dinner and awards, which were prior to his time. I also encouraged him to use what he learned from the awards portion in his act. He did so and this was met with much enjoyment. Jerry was punctual, professional and a great choice for our audience. Thanks again for working with us and providing quality entertainment."
Blue River Hybrids

"Jerry Carroll was so kind and honored us by being present for the whole event on Wednesday evening. He even gave another "performance" after the event was over which created quite a buzz at the owners meeting on the following Friday."
Curry Seed

"Jerry Carroll did a great job. He showed up before hand to check in and socialized prior to going on stage. He was certainly easy going. There were a lot of big smiles and laughs shared. He also related well to the audience."
SunPrairie Grain

"Jerry Carroll was great. Our growers enjoyed having him there! He was very easy to work with and has a great energy! He lit up the room and was talking to our growers like he knew them for years. We were very happy with him and will definitely keep him in mind for future events! Very nice man!"
DuPont Pioneer

"It is always a pleasure to have Jerry Carroll entertain our events! We have booked him multiple times in several states and I look forward to seeing him each and every time!"
U.S. Custom Harvesters, Inc.

"Jerry Carroll lightened up the day of learning about safety! He was the highlight of the day. He told stories that will probably stick in the minds of the attendees better than some of the other presenters. :)"
Montana Seed Show

"Jerry Carroll was great. He arrived several hours before the performance and helped setup the stage and adjust the PA system. His performance was excellent. I had several people ask about his booking info. All in all it was well received and went over very well. Thank you."
Finch Services, Inc

"Thank you so much for allowing Jerry Carroll to help us celebrate our 70th anniversary event. Jerry was prompt and very professional, on and off the stage. The feedback from our staff and all our guests was tremendous. As a John Deere dealer and Jerry being a farmer, he was able to relate to many of our farmer guests with humorous stories that made every day events come to life in a funny way. Jerry has been blessed to make people laugh at themselves and we really appreciated his style and "down home" approach to comedy."
U.S. Custom Harvesters, Inc.

"Jerry Carroll was wonderful! While he was with us, he shared a story about coming in contact with a PTO, which is something our group can relate to. He had the audience in tears! Thank you very much and I look forward to working with Jerry again one day!"
AgriVision

"Everyone had a great time at this year's Holiday Party and really enjoyed Jerry Carroll's performance. He provided a high quality and entertaining show. We would love to have him back again sometime!"
West Central Cooperative

"First of all, a big thanks to Jerry Carroll. The evening went great, and everyone commented on how much they enjoyed him. I had set some expectations and I can definitely say that Jerry exceeded them. Second, I have had nothing but good service from you and the agency. I look forward to dealing with you again to bring Jerry back in the future."
Farm Credit Illinois

"Comments ranged across the board. He closed out with Dirt in DNA, but it would have been great to have that message throughout the presentation to be able to connect back instead of only mentioning in the last 5 minutes of his presentation to connect with some audience members."
Arkansas Farm Bureau

"Jerry Carroll was wonderful to work with! I can't say enough good things about him and his performance. Our audience loved him. He connected so well I believe after an hour, he could have gone on for another hour and no one would have left. I heard many great comments, including that he was the best speaker we had had in a long time. His style of comedy was perfect for our members. I really enjoyed working with him. Everything we needed to promote the event was right at our fingertips on the website and any questions were answered quickly. We will definitely be looking to you for future entertainment."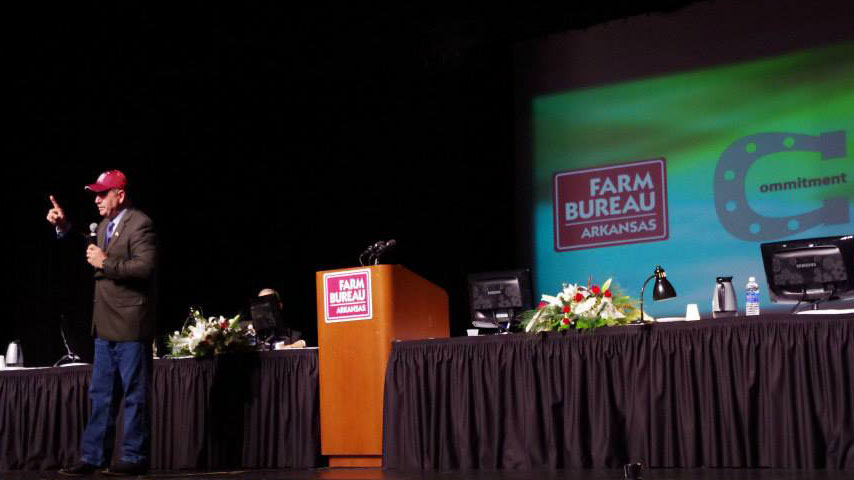 Meherrin Agricultural & Chemical

"Jerry Carroll was excellent."
DuPont Pioneer

"Jerry Carroll delivered a very entertaining show at our Kickoff meeting. He integrated stories and jokes that our sales reps (growers) could relate to and involved the audience throughout the show. I received nothing but positive remarks from our sales team following his performance. I would highly recommend Jerry to other groups inside and outside of our company."
Farmchem Corp.

"Jerry Carroll showed up on time and very quickly became one of us before the show. He kept the show clean and was able to relate to the crowd very well. His material was all good with a pretty large percentage of it improvised and custom to our group which I think really helped the show. Jerry also stuck around for a while after the show and visited with some of the audience which I think people really appreciated. I would recommend Jerry Carroll to anyone."
See-Mor Grain

"Jerry Carroll was FANTASTIC. His comedy fit right in with our crowd. He was fast paced and exciting to watch. We enjoyed his stories about growing up and it's funny how you can relate to lots of the things he has been through! He arrived early, interacted with a lot of our customers and enjoyed dinner with them as well. We would recommend him to anyone and hope to have him back again in the future!"
AgTexas Farm Credit Services

"Great performance. Jerry Carroll kept the audience engaged and laughing throughout the entire performance."
Fairmont Veterinary Clinic

"Jerry Carroll was Great! The day was perfect."
Linn Co-op Oil Co.

"Jerry Carroll called me twice to let me know he had arrived and then to confirm timing. He was prompt and interacted with others beforehand, and his performance was great, clean humor which is exactly what I asked for. Would recommend Jerry to anyone wanting to lighten their event."
Makhteshim Agan of North America, Inc.

"Jerry Carroll was on time, dressed for the occasion, and ready to bring the audience to a laughing good time. He did a good show and entertained the crowd appropriately. We appreciate you guys working with our event and making it another memorable consultants meeting."
DEKALB (Monsanto)

"Jerry Carroll put on a great show and interacted with the crowd in an awesome fashion. Many people are still commenting on his show and how approachable and original he was. Overall great show!"
Farm Credit Services of North Dakota

"Jerry Carroll did a great job for us. All the comments we received were very positive! They loved being able to laugh and enjoy the evening. They especially appreciated the rural farm humor as they have all "been there done that" and could identify with exactly what he was talking about. Thanks again for everything!"
Iowa Farm Bureau

"Jerry Carroll is a generous, entertaining, and inspiring speaker. His comical talents was a perfect wrap up to our Conference. We were so glad to have him join us! He had the crowd laughing and was a great person to relate to our group. It was an absolute pleasure working with him. Thank you for everything!"
No-Till Farmer / Lessiter Publications

"Jerry Carroll really connected with our farmers. I really enjoyed talking with him over dinner and I had numerous positive comments about his humor. These are rural, down-to-earth folks who like good, clean humor and Jerry delivered. One of my manufacturer customers left me the following note: 'Banquet was great and I think I laughed more that night than I have in the last year.'"
Agriland FS

"Jerry Carroll was fantastic. The next morning my phone rang off the hook as they said the entertainment was SUPER. He is a must to see - you cannot go wrong getting him for entertainment. We are already looking forward to bringing him back next year."
Select Sires

"Jerry Carroll showed up for our National Sales Conference several hours in advance of his performance and immediately started relating to our group and making them laugh. He is one of the funniest and fun people to be around that I have ever met. He is unassuming and very personable. If you are looking for a great performance of humor and real-life rural and farm humor, Jerry Carroll is as good as I have ever heard. In our reviewing our conference participant surveys, Jerry received the highest presentation rating of all of our hired presenters this year."
Mills County Farm Bureau

"Jerry Carroll was very well received by our members. Jerry's farm background allowed him to relate well with our organizations Agriculture/rural members. Post performance survey of our members proved Jerry was the right choice for our event."
Humphreys County Soil & Water Conservation District

"Jerry Carroll was a huge hit and the crowd loved him."
AgTrax Technologies

"Jerry Carroll is a top notch entertainer as well as being a genuine nice person! He had several of our customers in tears from laughing so hard! It could not have been any better. He knocked the ball out of the park!!!!"
Future Vision Partnership

"Everything went great with Jerry Carroll's appearance. He fit in with the attendees, mixed in and visited before and after our banquet. Everyone really enjoyed him and laughed at his clean humor. Hope to have him back in a couple of years."
New Century FS

"Jerry Carroll did a great job communicating with his audience. He had them in constant laughter. He did an excellent job of wrapping up with how important today's farmers and agriculture is important to our society and to our nation. Great presentation. I would highly recommend him to anyone."
Bank of Atchison

"Jerry Carroll was a HOME RUN for us. He did a great job. He was funny and entertaining. He arrived early and was professional. Our group would sure recommend Jerry for any Ag group."
B&S Insurance Agency

"You knew Jerry was a farmer as soon as he started to talk. He was great. Just kept people laughing. We had a lot of people come up and say Jerry Carroll was the best speaker we've ever had."
Nutrient Advisors & Summit Ag

"We were very pleased with Jerry Carroll's performance! We have received very positive comments from conference attendees."
James Valley Grain

"We really enjoyed having Jerry come do his show for us. He did a fantastic job of entertaining our elevator employees and board members with his wide array of stories and experiences that pertained to the agricultural lifestyle. He conducted himself and his show with top-notch professionalism. We would recommend Jerry Carroll to other elevators and agribusiness firms."
Midstate Agronomy

"We were very pleased with Jerry Carroll. He was extremely personable and his material fit in with our audience of all farmers."
Washington Farm Bureau

"Jerry Carroll was received well by all of our members. Nothing but positive comments. He also stayed and visited with our members which they thoroughly enjoyed!"
American Museum of Agriculture

"Jerry Carroll's high energy performance had the audience laughing instantly and kept them rolling for over an hour. Great job - well suited to our audience."
Cooperative Extension Secretaries

"Jerry Carroll was the icing-on-the-cake to our annual conference and workshops. He related directly with parents, grandparents, farmers and executives - all on an insightful, entertaining level. One professor from the university finally had to take his glasses off because he kept wiping tears. Our event evaluations show the group enjoyed his program VERY much."
Asgrow and DEKALB Seed

"Jerry Carroll did a great job connecting with our agricultural customers and tailored his performance to their profession. He is very personable and knowledgeable about our industry. I would recommend him to others."
NuTech Seed

"The feedback I have received on Jerry Carroll's performance has all been positive! Thanks for everything!"
Kankakee County Fair

"We loved Jerry Carroll's humor and he was great to work with. He even took time out to go through the Livestock Barns! Great job."
Holtzinger Fruit Company

"Jerry Carroll connected very well with the audience. He was the highlight of the evening!"
Horizon Resources

"I have heard nothing but positive comments for Jerry Carroll's performance. He was very entertaining and everyone enjoyed themselves."
Effingham Equity

"Everyone in attendance enjoyed Jerry Carroll's performance. He arrived early and met all the Board Members. It was nice meeting him and he was a pleasure to talk to. His stories were relateable and very entertaining."
Bayer CropScience

"Jerry Carroll is definitely someone who identifies well with growers! They all appreciated his genuine, down to earth humour!"
Ohio Farm Bureau Federation

"Everyone loved Jerry Carroll!! He was a perfect way to end our conference!!"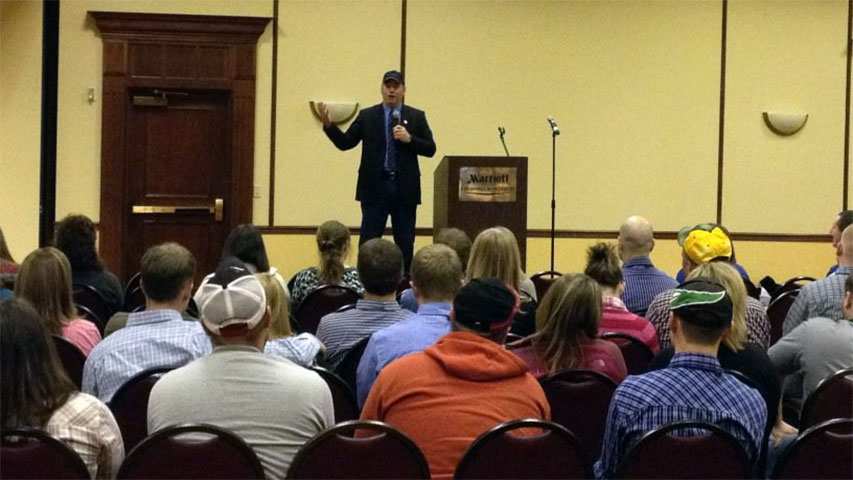 James River Equipment

"Jerry Carroll did a great job and kept the crowd engaged the entire evening. I have had a lot of positive comments from our customers. Good job."
United Bank

"We absolutely hit a home run by having Jerry Carroll at our ag appreciation lunch. The crowd of about 200 loved him. I would recommend him to anyone looking for good, down home humor. The whole booking process, travel, etc was smooth and easy. He went above and beyond by helping us with a radio interview yesterday morning, as well. If you need a reference, please keep me in mind."
First Farmers Bank & Trust

"Jerry Carroll was simply hysterical and perfectly suited to our audience."
Missouri Farm Bureau

"Jerry Carroll did a fantastic job! I've heard some really good comments from our board of directors and conference attendees. He related to our crowd well. We will bring him back in the future."
WFS Cooperative

"Jerry Carroll made our customers laugh and that made a nice ending to our program."
SciMax Solutions

"Jerry was a pleasure to work with. He was very professional and courteous. Our group was all farmers so he was able to relate to them very well. I am going to recomend him to our corporate office for our employee Christmas party."
Monty's Plant Food Company

"Jerry was great. Very real guy who was great at dinner with everyone and great on stage. He would be highly recommended by me."
Pioneer Hi-Bred

"The crowd really enjoyed Jerry's comedy and he was very professional and a good fit for the corporate crowd. His background in farming was obvious and I had many guest comments that they could tell he truly was a farmer, not just someone pretending to be a farmer."
Agland, Inc.

"Jerry Carroll put on a wonderful show that everyone is still talking about out in the community!!!!"
Stratton Equity Coop

"This was the first time we had entertainment at our expo, so I was curious how it would turn out. It turned out GREAT! Jerry Carroll did a great job of relating to our group. I really appreciated him taking the time to spend talking to customers and vendors at the expo. GREAT JOB! Thanks!"
---