Filter Reviews: Most Recent (225), Association, Chamber, Christian, College, Corporate, Non-Profit, Other, Social, Theater, Agriculture, Christmas Party, Construction, Education, Family, Finance, Fundraiser, Healthcare, Hospitality, Manufacturing, Military, Municipal, Real Estate, Seniors, Technology, Transportation, Utilities, Volunteer, Youth,
Showing: Fundraiser Reviews
Gilead Ministries

"David Ferrell knocked it out of the park! People are still talking about his performance that night! David's interaction with the crowd was phenomenal and we're thankful to have such great talent we can rely on when we get together to celebrate our ministry at one of our fundraisers."
Clarion Christian School

"David Ferrell was very entertaining! He kept the audience involved and laughing continuously."
American Petroleum Institute

"David Ferrell did a great job, kept the audience involved and laughing all night. David worked around our schedule and made things easy on us. Could not have asked for better entertainment."
Camptown, Inc.

"David Ferrell's performance is a perfect match for our annual fundraising event. He is clean, funny, and well received by guests of all ages"
Pompton Reformed Church

"David Ferrell is a professional in every way. He made us feel relaxed and has a good sense of humor. Since I booked him he sat at our table during the Beef Steak and was delightful and warm. He arrived very early and was introducing himself to people. David had a good connection to the audience and the feedback was great."
Emmanuel College

"David Ferrell did an outstanding job at the Emmanuel College Founding Farmers Gala event! The crowd was responsive, laughed the entire show and he connected with the audience. David was easy to work with and stayed after the show to meet with the audience!"
Pregnancy Help Center

"David Ferrell was a joy to work with. He did a great job of entertaining the audience and interacting with them. We enjoyed visiting with him during the whole evening. The feedback from attendees was very good. Thank you David!"
Sully Christian School

"David Ferrell was very professional to work with. He was prompt, personable, and funny! Our guests enjoyed his comedy and there was plenty of laughter to go around! He kept his jokes clean and appropriate for our group, which was a tough crowd of older more conservative attendees. It was evident that he spent time learning about our small town before his performance to help make the show more relevant to his crowd. Both before and after the show he took time to speak with guests and share more of his story as well as listen. We had a great night."
Mineola FFA Alumni Association

"Our audience enjoyed David Ferrell's presentation very much. We appreciated his style. He was funny and his presentation was clean."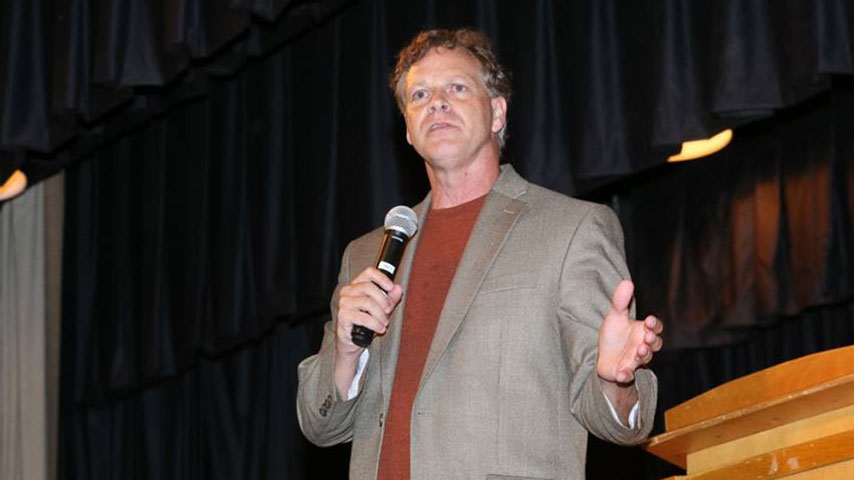 MCC Sacred Journey

"David Ferrell was hilarious and really engaged the audience. Everyone loved his impressions and left with a smile on their face. Fabulous time."
weServeEats

"David Ferrell was a big hit. He drew the crowd in by engaging them and had a quick wit to twist what they said into a joke. He was great to work with in advance as he touched base and encouraged different types of advertising for our fund raiser. So glad we found "Trusted Speakers" who offered David Ferrell. Good clean fun! Thanks!"
Hutchinson Health Foundation

"Thank you to David Ferrell for providing the entertainment piece of our Annual Share N' Care Dinner, He did an amazing job. Hospice is not always a fun topic to discuss. David brought laughs to an evening and on top of that tied in how important the nights cause was. He truly brought everything full circle and created a fun environment raising funds for a very worthy cause. The staff of the Hutchinson Health Foundation highly recommends him -- his CLEAN comedy is superb!"
ARA

"David Ferrell was so good and so funny at our fundraising event, I am tempted to have him back every year! He kept the whole audience in stitches the whole time and everyone has had nothing but compliments about how much they loved the event! Many are asking when the next event will be they loved it so much! If you are looking for a truly funny guy who relates well, David is your guy. Since this was our first fundraiser (yes, first EVER) we were very pleased to raise $33,900! God has been good to us and I believe He led us to David. He was perfect for our night, kindhearted, honest, professional, and went the extra mile to help with the sound and other suggestions that really added to the overall experience. I would not hesitate to recommend him to any audience."
Neosho Christian School

"David Ferrell's performance was a hit with everyone that attended our event and everyone had nothing but good things to say about him. He gave everyone a fun, clean, enjoyable evening. Everyone really enjoyed his performance and was laughing about his routine long after it was over. It was a pleasure meeting David and he helped to make our event one that people will long remember."
Chase County Hospital Foundation

"David Ferrell made all of us laugh continuously. He was prompt, he was very professional and it was great seeing people laugh again. There is way too much stress these days and the interaction with the audience was great! I have heard nothing but positive feedback on his performance. I also appreciated any ideas that he shared with me regarding getting people up before his performance to stretch and refresh their drinks before the program started. Our Executive Director was very pleased."
Blue River-Kansas City Baptist Association

"Our events this weekend went very well. David did a great job interacting with the audience and getting audience participation. His impersonations were excellent. I heard from several people that they thought he was one of the funniest entertainers they have seen. I really appreciate this kind of feedback as it helps the reputation of our events. I would highly recommend David Ferrell! He did great with both a large and small crowd (I know smaller crowds are more difficult for entertainers but he didn't miss a beat)."
Hope Southern Indiana

"David Ferrell was awesome. He more than provided the laughter the event called for and was extremely professional. Thanks again for helping us make our event the success that it was."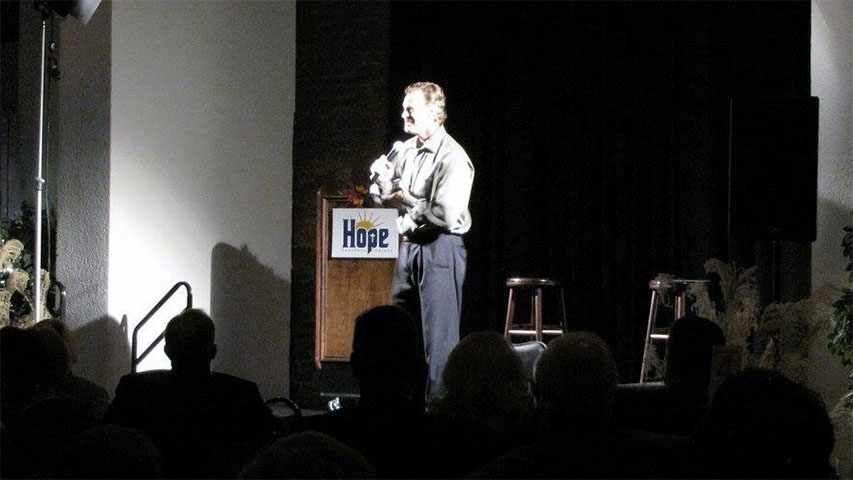 Mizell Memorial Hospital Foundation

"David Ferrell was very prompt and professional and I've heard nothing but positive comments about him and his material. He did a great job at the conclusion of his act by sharing a personal experience with a small community hospital, which tied into our event. Great experience from beginning to end. Thank you!"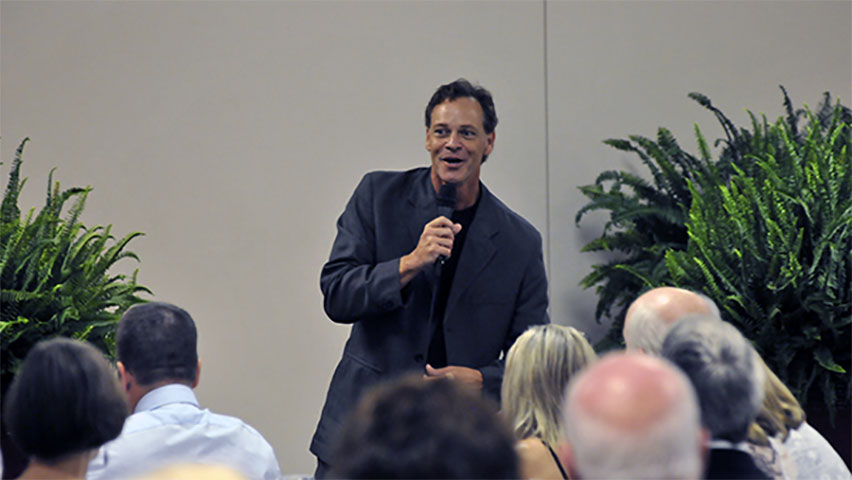 Haven of Rest Rescue Mission

"The Haven of Rest recently hosted Comedian David Ferrell. David's comedy is a family event and laughter fills the evening. His personal testimony is moving and his love of Christ is genuine. He will be back for the Haven of Rest. I hope you'll consider him for your event."
The Shepherd's Center

"The performance by David Ferrell was fabulous and so well received. People kept complimenting us on the entertainment."
Watertown Christian School

"Thank you so much to David Ferrell for providing great entertainment for our event. We were very pleased and had great feedback! I look forward to working with you again in the future!"
Boys & Girls Club of America

"David Ferrell performed for the Boys & Girls Club of America annual fundraiser for the second year in a row and as always he was fantastic!!! His clean, energetic, hilarious act left everyone in stiches and wanting more. I highly recommend him for your next comedy show!!"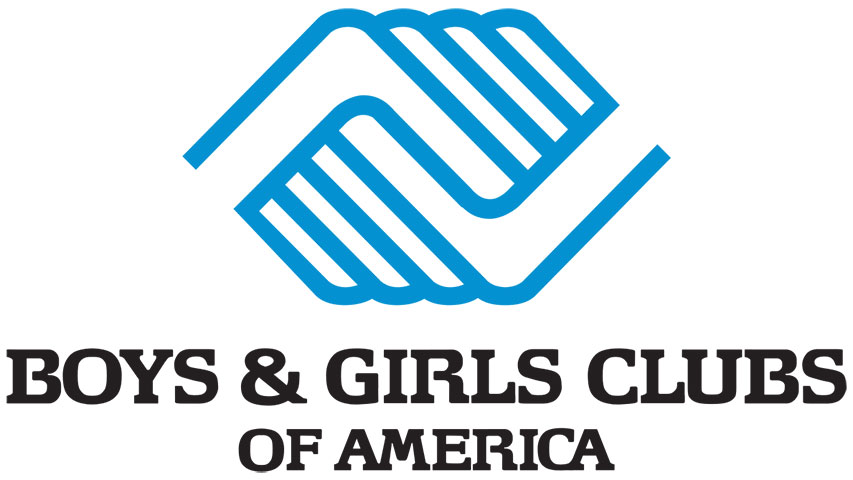 Hillcrest-Bellefonte UMC

"David Ferrell behaved as a true professional. He was very courteous and helpful in making the event a success. I would refer David to anyone looking to book a comedian."
Sardis Baptist Church

"David Ferrell's comedy was perfect for all the generations represented in our church. His comedy put everyone at ease, and they really seemed to enjoy the audience interaction. It's not easy making an audience laugh with such a wide age-range, but he handled it very well."
First Baptist Church of Eau Gallie

"David Ferrell delivered as promised! A clean, inspiring, fantastic performance with plenty of laughs for all ages! I would recommend him for anyone!"
Fortune 500 Company (Name WithHeld by Request)

"We had a terrific time yesterday. David Ferrell was great and very funny. The event was received very, very well by the sold out crowd."
Camptown, Inc.

"David Ferrell was very easy to work with. I especially liked the way that he ended the program which tied his performance back to what we were really there for - raising funds for Camptown."
Habitat for Humanity of Hall County

"David Ferrell was terrific. The evening went very well. We raised the funds that we need to continue our work, and all with a laugh and a smile in our hearts."
Boys & Girls Club of America

"David Ferrell was great! I enjoyed working with him and the crowd loved him!!! He was professional, engaging and very funny!!!"
Greater Portland Christian School

"David Ferrell was excellent! He held the attention of everyone and was very interactive. He was appropriate with context and humor. We loved having him and everyone has had nothing but good things to say!"
Community Foundation for Northeast Georgia

"David Ferrell was great to work with and very personable. We enjoyed talking with him before and after - the guests really like getting to know our comedians! The crowd loved the audience participation!"
Grace Community Church

"David Ferrell came ready and stayed engaged with our group. I got great reviews from everyone. Personally, my jaws were hurting with laughter. Thanks again for an excellent show."
Decatur Family YMCA

"The event went extremely well. David Ferrell received a standing ovation. The crowd found him very funny and engaging and laughed constantly. David spent time with us in advance and was truly down to earth and enjoyable. I've heard nothing but compliments about his performance. It was a record-breaking event for us. We raised more than we ever anticipated."
Tuskawilla Shepherd's

"David Ferrell was awesome, much better than we even believed. I think we can have another comedy event with him as the comedian and have double the crowd because all those who were there will tell someone else!!! He is very talented, not just in comedy but a beautiful singing voice. He blew us away!!"
Lebanon Valley Brethren Home

"I have heard lots of positive feedback about David Ferrell's show! In fact, one of our corporate partners may have interest in booking him for one of her events!"
Northwest Christian School

"David Ferrell was able to relate to our very widely varied attendees and bring Christ and comedy together and we were able to raise money "happily" for our school."
St. Francis Xavier School

"David Ferrell was fun and inspirational. The people in attendance really enjoyed his material. I would highly recommend him."
Habitat for Humanity of Hall County

"Our Night of Laughter was a huge success. David Ferrell did a great job drawing the audience into the show. David was both professional and personable. The audience loved him! We would certainly recommend him and use him again."
---