Greg's greatest strength is his ability to customize his show for each audience. He works closely with you to gather information about your company or organization as well as key individuals within your group and turns the material into a hilarious, interactive performance!
Delighting audiences across America since 1991, Greg continues to build on his reputation as a low-maintenance, clever, and very funny professional entertainer.
CUSTOMIZED. Looking at your company/organization with a fresh set of eyes, Greg offers a personalized and unforgettable performance for your next corporate (or private) event.
SIMPLE. Your company representative fills out a short questionnaire about personalities, policies and procedures, and from there Greg develops customized material for your event.
INTERACTIVE. Besides a customized performance, Greg likes to share the stage. "The way I look at it, it's your show," says Greg. "So why not let a few employees or members have some stage time as well!" A company newscast and game show are just two examples of potential interactive elements Greg can include during his performance.
You may see a audience members onstage doing an Elvis impersonation, a laugh-filled newscast about your company, or a game show filled with non-stop jokes about your organization. Greg's routines are always in good taste, and never meant to embarrass.
Want to have some additional fun with your group? Introduce Greg as a motivational speaker that knows the "real secret" to effective workplace communication (or other potential topics that fit your event). You won't believe the secret, and neither will the audience. This short "motivational" segment is a memorable opening for an entertaining evening.
Recent Reviews
Calligaris USA Inc.
"Greg was absolutely fabulous to work with. He ensured he customized his performance to our needs and was so flexible throughout the whole process. Our company loved having him speak on our behalf and our guests were so impressed with how charming he is!! For any corporate entertainment, we give him a 10 on his whole process: start to finish."
- Marketing Manager, Company Anniversary Party in Greensboro, NC
VMware, Inc.
"Great job customizing the routine using our company lingo."
- IBM Global Account Executive, Annual Holiday Party in Chapel Hill, NC
North Carolina Subway Group
"Greg's act was perfect for our event. His work preparing to specialize the content to our group was very meaningful to all."
- Chief Operating Officer, Company Holiday Party in Chapel Hill, NC
GKN Driveline
"It was such a pleasure working with Greg Romeo! He customized his material, which added a personal touch, making the event very special. His performance was exceptional and memorable. I highly recommend Greg!"
- Human Resources Generalist, Service Awards Banquet in Sanford, NC
Nuclear Waste Partnership LLC
"This was the first time that our company has had a comedian at an event. Greg did a great job, we are still hearing feedback from the guest that attended saying they had a wonderful time. Greg was able to use the information that we provided him about the audience members and everyone laughed and had a great time. Greg was awesome to work with very kind, prompt and professional."
- Senior Executive Secretary, Company Christmas Party in Carlsbad, NM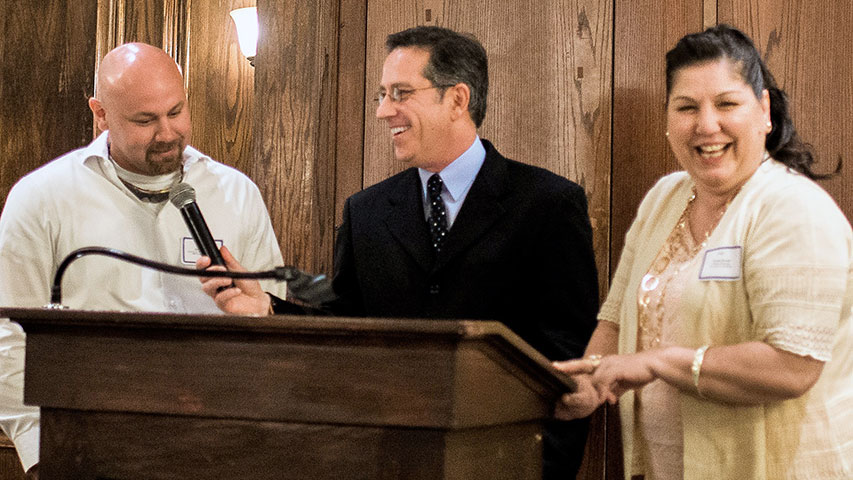 WRH Realty Services, Inc.
"Greg did an absolutely wonderful job at our corporate banquets this year. Not only did he incorporate our company motto into his routine, but his entire performance was tailored around the multifamily industry, which made it very relatable for our on-site employees. We have received great feedback from those who attended the banquets and would recommend Greg for any other corporate events you may have! He was a pleasure to work with and really took those extra steps to make sure everyone would have a great time watching him perform. Thanks Greg!"
- Marketing Coordinator, Annual Regional Awards in Dallas, TX
Land & Coates, Inc.
"Greg was fantastic! I truly enjoyed working with him to customize his performance to our organization. We went with a phony motivational speaker intro and completely duped our staff. During the performance I looked around the room and not one face was unhappy. Thank you."
- Human Resources, Company Christmas Party in Williamsburg, VA
Environmental Air Systems, Inc.
"Greg Romeo was the best entertainer yet!! Loved how his show was personalized to our bunch!!! Too funny! And I got a copy of the closing poem. I'm going to get it typed up on one page and frame it."
- Office and Benefits Manager, Fall Safety Meeting in Greensboro, NC
Preformed Line Products
"Greg did a wonderful job! He was very prompt & professional. The employees loved how he customized his performance for our company. As always, we appreciate your help! That's why we keep coming back. Thanks again!"
- Human Resources Administrator, Annual Company Banquet in Albemarle, NC
North Carolina Office of State Human Resources
"Greg was awesome. Thank you!"
- Benefits and Rewards Coordinator, Human Resources Conference in Raleigh, NC
National Association of Residential Property Managers
"We are were thrilled with Greg's performance! He did a great job and we had so many members tell us how much they enjoyed his material! We are 100% pleased and will recommend him to our other organization contacts!!! Thank you!"
- Education Chair, Annual Tradeshow in Jacksonville, FL
Lambda Technologies, Inc.
"If Greg did not get the message from the standing ovation he received after his performance, I just wanted to say again what a wonderful experience it was for all. The intro as a motivational speaker had everyone squirming for just long enough. His superb preparation on the background and personality of our employees allowed him to include specific details on each participant in his skits. And, the final poem that mentioned everyone, including spouses, was a fantastic close. Everyone has taken away a positive and funny memory of our 20th anniversary. Thanks again and best regards."
- President & CEO, 20 Year Anniversary in Asheville, NC