Christian comedy performance featuring relatable tales about everyday life, original funny songs, and musical impressions. Suitable for all ages and denominations.
David's high-energy performance features audience interaction along with spot-on impressions of your favorite Christian Recording Artists such as Third Day, Michael W. Smith, The David Crowder Band, and Mark Schultz. David's comedy ministry delivers plenty of laughs while stressing the importance of being involved in a Bible teaching church.
David is a multi-time nominee for Comedy Act of the Year by the Inspirational Country Music Awards, sharing the honor with Mark Lowry, Dennis Swanberg, Chonda Pierce, and some of the biggest names in Christian comedy!
Recent Reviews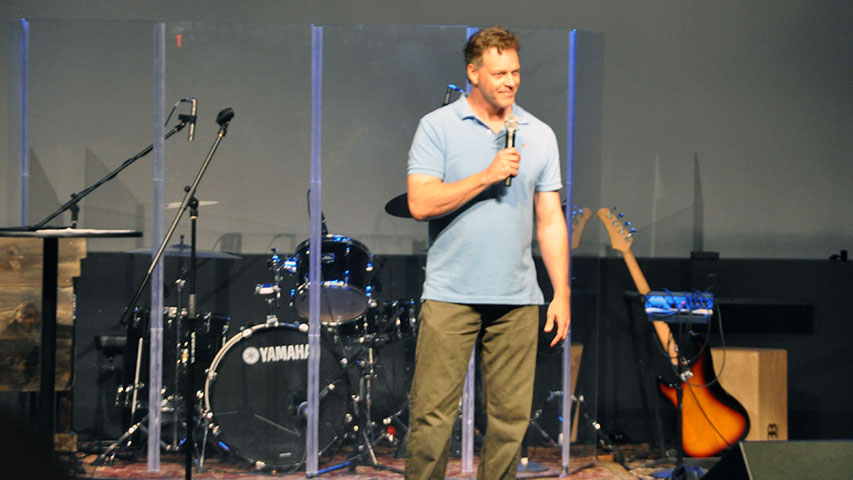 Mount Pisgah UMC
"David Ferrell delivered just what we were looking for at our Annual Men's conference. He brought a good dose of comic relief before our guest speaker challenged the men on deciding life's priority. David was just what we were looking for -- very funny!"
- DiscipleLife Pastor, Annual Men's Conference in Atlanta, GA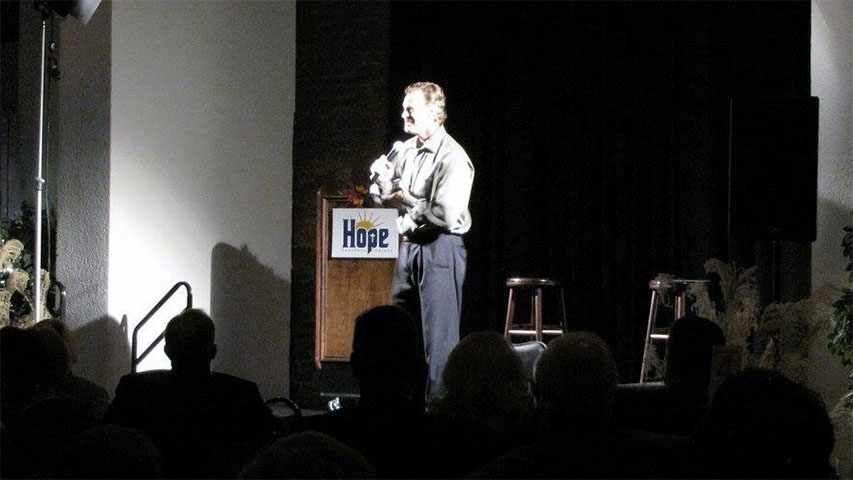 Hope Southern Indiana
"David Ferrell was awesome. He more than provided the laughter the event called for and was extremely professional. Thanks again for helping us make our event the success that it was."
- Board Chair, Evening of Joy in Jeffersonville, IN
Madison Assembly of God
"David Ferrell was AWESOME!!! My pastor loved him, my church loved him, I think all of Madison, Indiana loved him!!! He has been gifted by God to bring laughter to people. I hear children laugh on average 150 times a day and adults laugh on the average 6 times a day. Well with David Ferrell here, we were like children! We were very blessed and had a BLAST!!!"
- Children's Pastor, Church service in Madison, IN
Minnesota Association of Church Facility Managers
"David did a great job at our event. He was engaging, interactive and funny. The response from attendees was overwhelmingly positive. I would recommend him, without hesitation, for a wonderful, fun, and entertaining evening."
- Vice President, Meeting in Minneapolis, MN
Living Word Fellowship Ministries, Inc.
"Just want you to know we THOROUGHLY ENJOYED DAVID;-) He was exactly what we desired. We believe it was simply Divine Providence in being connected with him and benefitting from his God-given gift last evening. Thank you for helping us make this happen :-) We look forward to having him again!"
- Administrator, Church Christmas Party in Winston-Salem, NC
Community Christian Singles
"David Ferrell did a great job! He was very funny and personable. People really enjoyed him. He shared a little of his own personal life story that touched people as well!"
- Executive Director, The Gathering Singles Event in Owosso, MI
Buncombe Street UMC
"David Ferrell did a great job, and was very entertaining! The outside, festival type venue and atmosphere was probably not the best for a performance, but he made the most of it. He was very professional and engaging in every way. He got out and mingled with the crowd, and came back up for an encore performance in between sets! Just an all around good guy!"
- Director of Sports, Recreation and Leisure Ministry, Summer Concert in Greenville, SC
Shandon Baptist Church
"We would highly recommend David Ferrell for an event. Not only was he funny, he was very engaged with our group. His improvisational abilities along with his routine were delightful. David's humor was clean and refreshing. A huge hit at our Senior Picnic."
- Administrative Assistant for Pastoral Care Office, Senior Adult Ministry Picnic in Columbia, SC
Pompton Reformed Church
"David Ferrell is a professional in every way. He made us feel relaxed and has a good sense of humor. Since I booked him he sat at our table during the Beef Steak and was delightful and warm. He arrived very early and was introducing himself to people. David had a good connection to the audience and the feedback was great."
- Chair, Capital Campaign Fundraiser in Pompton Lakes, NJ
Mount Gilead Baptist
"David Ferrell did a fantastic job. He was very funny, clean, and engaging with our people; perfect for our church's Valentines banquet!"
- Senior Pastor, Church Valentine's Banquet in Dothan, AL
Harmony Hill Baptist Church
"David Ferrell did a really great job of communicating with our Senior Adults. He got various responses from the crowd and was able to stay with those answers and use them later in his routine to help connect with the crowd on a "local" basis. Connected well with them and was very personable and down to earth. Enjoyed him and recommend him for any venue. Good clean humor is a rarity today and I appreciate him keeping it clean and funny!"
- Senior Worship Pastor, Senior Adult Christmas Banquet in Lufkin, TX
Freedom Center
"David was professional in every way. He was prompt in communicating before the event, he was on time to the event, but most importantly he was personable. David's routine was very interactive and we had a lot of fun. Many walked away feeling as if it was the best banquet we have had to date. He did a super job!"
- Senior Pastor, Church Volunteer Banquet in Houston, TX