Rik grew up in Kentucky working on tobacco farms with his father. When the crop was in the barn, he would moonlight working with Thoroughbreds on some of the most beautiful land in the world. Whether in the field, on a tractor, or working out the horses, the rural way of living has always been in his blood.
After graduating from Bethany College in West Virginia, he worked for Simon & Schuster publishing company. But the cubicle life was not for this country boy. He has now been performing for over 24 years. At last count, he had taken stage over 5600 times, including 45 states, 3 countries and several times on the back of a flatbed truck!
His uncanny impersonation of Don Knotts as "Barney Fife" will take your group back to the days of good clean fun. His humor resonates with folks who work hard and want to have a great time. He's been featured on several TV shows including CMT's 20 Greatest Redneck Moments, The Henry Cho Show, Laugh Out Loud, and Tennessee Crossroads. He also had his own episode of the Emmy® Award winning Bananas Family Comedy. Rik is a regular on Blue Collar Radio and Laugh USA. His six CD's have been featured on countless syndicated radio shows such as Bob & Tom, John Boy and Billy, Rick and Bubba and NPR's Car Talk.
Rik has developed a reputation as a presenter who can take even the toughest of crowds and bring them together for a truly unforgettable event. Using his down home demeanor and love of the simple life, he quickly forms a bond with the audience and takes them on a laugh-filled journey.
Rik is a proud father of two, husband to one, and resides in Nashville, TN. He is a member of the National Speakers Association and Christian Comedy Association.
Available Presentations Include:
It's Funny Now
Dynamic comedy show funny enough to headline comedy clubs across the country and clean enough to bring your grandkids or grandparents to see. It's family-friendly and full of fun, easy to relate to material.
More About This Presentation
Check Availability
The Mayberry Method
Increase Productivity By Nipping Distractions In The Bud! Imagine your attendees surprised by America's Favorite Deputy Barney Fife blowing a whistle as he enters the conference room. Next, he pulls out a few "citations" that he has written up on members of your group. The group belly laughs as the "harmless offenses" are revealed. Once the group is engaged, Rik steps out of character and delivers a speech about 1) Increasing productivity by eliminating distractions, 2) Managing time more effectively, and 3) Setting clearer goals.
More About This Presentation
Check Availability
Listen UP – Laugh it UP
Strengthen team building through laughter and improvisation. Learn the benefits of laughter and explore how to better listen to customer, co-workers and clients. You will be on your feet practicing active listening exercises. These methods will change the way you go about "hearing" what your customers have to say.
More About This Presentation
Check Availability
Recent Reviews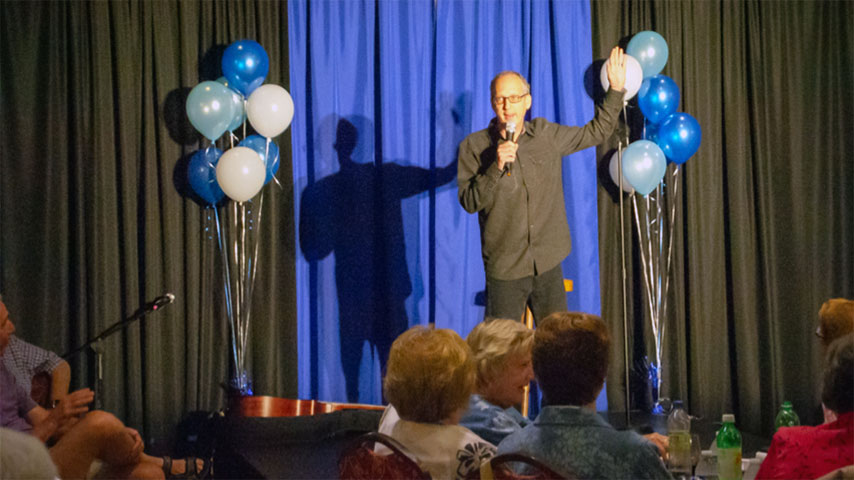 Tuscany Club at Carolina Preserve
"Rik Roberts was hilarious. Overall, the audience loved him."
- Board Member, Member Event in Cary, NC
View All 56 Reviews
Upcoming Schedule
| | | |
| --- | --- | --- |
| 5/15/2020 | Ferguson, MO | Fine Arts Series |
| 3/14/2020 | Hot Springs, AR | Annual Convention |
| 3/13/2020 | Charlotte, NC | Sales Meeting |
| 2/7/2020 | Kansas City, MO | Banquet |
| 10/26/2019 | Moro, OR | Annual Meeting |
| 9/27/2019 | Frankenmuth, MI | Client Appreciation Event |
| 9/13/2019 | Orlando, FL | Annual Meeting |
| 9/10/2019 | Biloxi, MS | Annual Meeting |
| 8/8/2019 | Centre, AL | Annual Meeting |
| 8/7/2019 | Wallis, TX | School District Convocation |
| 7/17/2019 | Waco, TX | Annual Convention |
| 6/9/2019 | Myrtle Beach, SC | Summer Convention |
| 5/30/2019 | LaFollette, TN | Pastor's Appreciation Dinner |
| 4/25/2019 | Biloxi, MS | Annual Conference |
| 4/12/2019 | Evansville, IN | Employee Appreciation Dinner |
| 3/19/2019 | Columbus, WI | Annual Banquet |
| 3/2/2019 | Melbourne, FL | Annual Winter Banquet |
| 2/27/2019 | St. George, UT | Annual Conference |
| 1/28/2019 | Metropolis, IL | Farmer's Appreciation Dinner |
| 1/18/2019 | Great Falls, MT | Agriculture Appreciation Banquet |
| 1/10/2019 | Fort Collins, CO | Annual Conference |
| 12/18/2018 | Cullman, AL | Company Christmas Party |
| 12/3/2018 | Kingsport, TN | Company Christmas Party |
| 11/10/2018 | Greenwood, IN | Volunteer Appreciation Dinner |
Where does Rik Roberts perform?
Rik Roberts has recently performed in: Alabama, Arizona, Arkansas, Colorado, Florida, Georgia, Illinois, Indiana, Iowa, Kansas, Kentucky, Massachusetts, Michigan, Minnesota, Mississippi, Missouri, Montana, Nebraska, New Mexico, North Carolina, Ohio, Oklahoma, Oregon, Pennsylvania, South Carolina, Tennessee, Texas, Utah, Vermont, Virginia, West Virginia, Wisconsin, just to name a few.