Paul Miller performs his unique blend of comedy magic, spectacular juggling, and contagious energy both nationally and internationally for Fortune 500 companies, USO, TEDx Creative Coast, Off-Broadway, and Disney Cruise Lines.
Graduating from Bentley University with a degree in accounting, Paul began his career street performing in Boston, MA. Those first experiences taught him that connecting with an audience is at the core of any meaningful connection. For over 20 years he has cultivated quick wit and improvisational skill to allow him to turn ordinary moments into a room full of refreshing laughter.
When not on the road, Paul runs Flow Circus with his wife and partner Dawn Daria. Since 1999 Flow Circus has worked to implement sustainable, high impact, growth oriented programs with organizations ranging from state library systems to the USO's Warrior Reset project.
Available Presentations Include:
Audience Energizer
Enjoy a truly refreshing and interactive comedy performance that happens as much off stage as it does on. Paul's inviting demeanor and quick wit keeps audience interactions, and the laughs, rolling. Experience one-of-a-kind, never-happen-again moments as balls get tossed, balloons get blown, and magic takes your breath away. This performance is as much comedy show as it is a team building party.
More About This Presentation
Check Availability
Juggler's Mindset®: A Healthy Approach to Work and Play
Audience members experience a world-class comedy juggling demonstration intermixed with step-by-step instructions for learning to juggle, or for learning anything, better. Learn strategies for reducing stress and developing physical, intellectual, emotional and social well being. Juggler's Mindset is interactive, improvisational, and engaging from start to finish.
More About This Presentation
Check Availability
Strive for Five: Creating a Culture of Success
Get your team unstuck and outside their comfort zones with this high-energy, interactive presentation. Paul's comedy juggling and Dawn's psychology and education background combine for a seamless, playful, and one-of-a-kind experience. Participants learn and immediately apply lessons about mindset, flow, and goal-setting all while laughing with colleagues. Get ready for lots of high-five moments during and after their visit.
More About This Presentation
Check Availability
Recent Reviews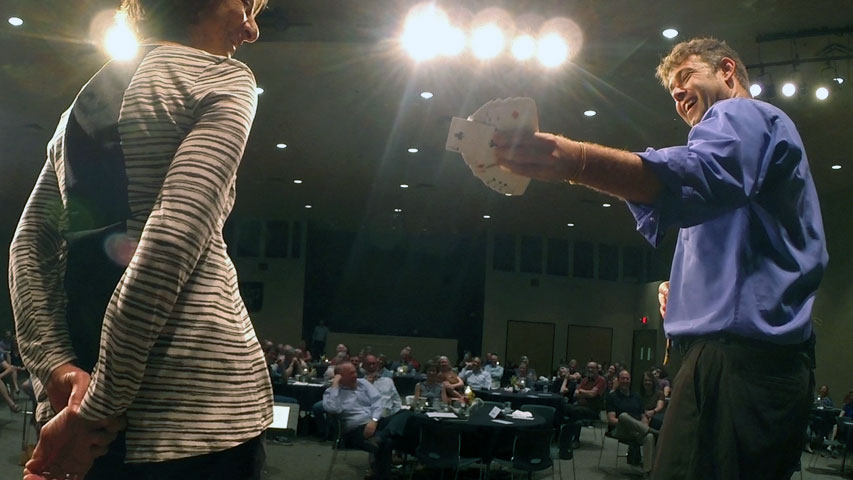 Faith Bible Church
"Paul Miller was absolutely astounding in every way imaginable. From the very beginning he communicated very well. He was humble and sought to understand the nature of our event. Hey spent about an hour doing table side magic during dinner, and then did his comedy juggling act. He was warm, extremely funny, and drew everyone into participation. Paul has the amazing ability to make you feel like you have known him forever, and he is just a good friend who knows how to make you laugh. Thank you. He was exactly what I was hoping for."
- Missions & Outreach Ministry, Capital Campaign Kickoff in Glendale, AZ
Lee Park Baptist Church
"We cannot thank you enough for recommending Paul Miller for the Believe Crusade. He was worth every cent that we paid. Paul's show was so entertaining and very funny. His quick wit, coupled with his amazing talent, kept the audience mesmerized throughout the entire show. Everyone thoroughly enjoyed him. Paul was not only professional, but he was very personable too. He seemed like such a likeable guy. I was impressed by the fact that he joined the congregation when other performers and speakers were on stage. He even used sign language along with a group of adults with special needs who were singing and signing during their performance."
- Volunteer, Believe Crusade in Monroe, NC
Tates Creek Christian Church
"Paul Miller did a fine job for us. Everything we requested and I as well as attendees thoroughly enjoyed him. Just what we had in mind when we asked him to come."
- Senior Adult Minister, Valentine Banquet in Lexington, KY
Blue River-Kansas City Baptist Association
"Paul Miller was extremely good. He is very talented and incredibly funny. The audience participation was great. We host an appreciation banquet every year and quite a few of the attendees said they thought Paul was the best yet!"
- Administrative Assistant, Pastor Appreciation Banquet in Kansas City, MO
St Rose Priory Church
"Our group, which consisted of adults, teens, and children, thoroughly enjoyed Paul Miller's performance. His material was very appropriate for my religious education program. He provided an evening of laughs in a good, clean manner."
- Director of Religious Education, End-of-the-Year Dinner in Springfield, KY
Nebraska Evangelical Lutheran High School
"We were extremely happy with Paul Miller's performance. Everyone had so much fun, and we had very nice comments from the audience. He was very professional, and his show was a great fit for our group. We definitely appreciate the clean, appropriate shows you offer. I can definitely see us using your company again for our future events."
- Development Coordinator, Friends and Family Night Out in Ashland, NE
Chesapeake Church
"Paul Miller was prompt, extremely professional and willing to accommodate a request we had to stick around after the show to "meet and greet" with our guests. His performance was spectacular with a very energetic delivery. We were thrilled to have him."
- Upward Soccer Director, Upward Sports Awards Night in Huntingtown, MD
First Baptist Morristown
"Paul Miller did an outstanding job and our people loved him"
- Worship Pastor, Valentine Banquet in Morristown, TN
Piney Grove Baptist Church
"Paul Miller was great! I particularly enjoyed and appreciated his time beforehand interacting and performong close up magic with the audience as they arrived."
- Director, Upward Awards Night in Raleigh, NC
Calvary Gospel Church
"Paul Miller was a big hit. He really does well pulling the crowd into the program. Good humor, good skills - I was very pleased."
- Executive Pastor, Upward Awards Ceremony in Waldorf, MD
Eagles Landing First Baptist Church
"Paul Miller did an excellent job of engaging the audience. Even the most solemn and serious individuals were laughing and smiling."
- Children's Pastor, Children's Ministry Celebration in McDonough, GA
Love, INC
"Paul Miller was a delight and I would love to have him back sometime in the future now that Ketchikan has had a chance to experience his show. He was easy-going and completely audience-friendly and relateable. A good time was had by all."
- Director, Fundraiser in Ketchikan, AK
View All 121 Reviews
Upcoming Schedule
| | | |
| --- | --- | --- |
| 11/8/2019 | New Albany, IN | Evening of Joy |
| 8/13/2019 | Concord, NC | Annual Conference |
| 7/19/2019 | Kansas City, MO | ORMCA Summer Conference |
| 5/17/2019 | Hamilton, OH | Annual Staff Appreciation Event |
| 4/24/2019 | Springfield, KY | End-of-the-Year Dinner |
| 4/5/2019 | Savannah, GA | Annual Convention |
| 1/18/2019 | Nashville, TN | Annual Convention |
| 1/12/2019 | Lynchburg, VA | Annual Appreciation Dinner |
| 12/21/2018 | Walnut Creek, OH | Company Christmas Banquet |
| 12/15/2018 | Saint Louis, MO | Company Christmas Party |
| 12/4/2018 | Middlebury, IN | Company Christmas Dinner |
| 10/9/2018 | Palmyra, PA | Annual Fundraiser |
| 8/4/2018 | Fort Mill, SC | Annual Meeting |
| 6/8/2018 | Hot Springs Village, AR | Clean Comedy Concert |
Where does Paul Miller perform?
Paul Miller has recently performed in: Alabama, Alaska, Arizona, Arkansas, Connecticut, Delaware, Florida, Georgia, Illinois, Indiana, Iowa, Kansas, Kentucky, Louisiana, Maryland, Massachusetts, Michigan, Minnesota, Missouri, Nebraska, Nevada, New Hampshire, New Jersey, North Carolina, Ohio, Oklahoma, Pennsylvania, Rhode Island, South Carolina, Tennessee, Texas, Virginia, Washington DC, West Virginia, Wisconsin, Wyoming, just to name a few.