Lyndy Phillips is a dynamic, inspirational, funny speaker and comedy magician who recharges, renews, and refreshes audiences with his positive, upbeat presentations. He's highly entertaining with clean humor, comedy magic, and audience involvement and he's inspirational with messages on reducing stress and personal value.
Lyndy was raised on an 850 acre farm in the Texas Panhandle, served fifteen years in full-time ministry, worked in sales for seven years, fundraising and development for five years, and raised two children with his wife of thirty years. On top of all that, he was Executive Director for a television show about marriage. He knows a thing or two about stress and its impact on the body!
Growing up with variety shows like Carol Burnett Lyndy learned how clean humor and physical comedy can be very entertaining. After learning sleight of hand at age nine, Lyndy began combining it with funny stories and physical comedy and created his unique style of entertainment. When combined with his Laugh More, Stress Less philosophy, audiences experience a unique speaker who knows how to get people laughing and reducing stress in a fun, memorable way.
Lyndy and his wife live in the Dallas/ Fort Worth area. They have two grown children and two dogs, Pepper and Zuzu. Lyndy is a and a member of The International Brotherhood of Magicians, Christian Comedy Association, Texas Farm Bureau… and Sam's Wholesale Club!!!
Available Presentations Include:
Laugh More, Stress Less
Laugh, learn and reduce stress with this upbeat presentation. Successful organizations know that happier, healthier, and less stressed people are more productive.
More About This Presentation
Check Availability
Laugh More, Stress Less - Agricultural Edition
Born and raised on an 850-acre farm in rural Texas and backed by over 20 years of experience, agricultural speaker Lyndy Phillips will make your event a success. He can entertain your group, make them laugh, feel appreciated and inspired.
More About This Presentation
Check Availability
Recent Reviews
Brookings County Farm Service Agency
"I just wanted to let you know how pleased we were with Lyndy's presentation at our Ag Women's Day program in Brookings. He far exceeded my expectations and I truly enjoyed how much he brought Agriculture into his presentation – he certainly catered his presentation to the group. We have not gotten through our written feedback yet, but I heard so many wonderful comments on his presentation. And received an email this morning from an attendee that wants to book him for their event. We have been pleased with all of the speakers you have referred to us but Lyndy by far rises to the top of the list."
- Farm Loan Specialist, Ag Women's Day in Brookings, SD
York Chamber of Commerce
"Lyndy was awesome! He had the crowd rolling with laughter the entire night. Our group was somewhat conservative, but had a great sense of humor and he played well to the crowd and their personalities. The audience participation was great - he chose the perfect guests to participate. Our group has had concerns in the past about being to understand accents and sometimes the presenters spoke to quickly, but he did a great job of communicating clearly with the crowd."
- Committee Member, York Ag Show Banquet in York, NE
Ursa Farmers Cooperative
"Outstanding performance last night. Finding entertainment is a difficult job, but finding exceptional talent like Lyndy and then being the beneficiary of the comments and appreciation after his performance is really amazing. I had several customers thank me for the enjoyable evening and express their appreciation for having him as our guest speaker. He left a strong impression on my group and I am thankful."
- General Manager, Annual Meeting in Quincy, IL
DuPont Pioneer
"Lyndy was an outstanding addition to our annual meeting. His message perfectly aligned with what we needed and the core values of our company. This was an entertaining presentation with a great message and is highly recommended."
- Research Scientist, Annual Soybean Research Meeting in Des Moines, IA
GROWMARK, Inc.
"Lyndy is a very talented comedian, motivator, magician and speaker. He relates well and offers a variety of offerings to keep things fresh and engaging. I cannot say enough about the tremendous respect I have for the truest form of comedy: entertainment that can have people entertained, enlightened, in tears and de-stressed without a word of foul language or off color trash. You cannot miss with a Lyndy show."
- Operations Manager, Annual Meeting in Normal, IL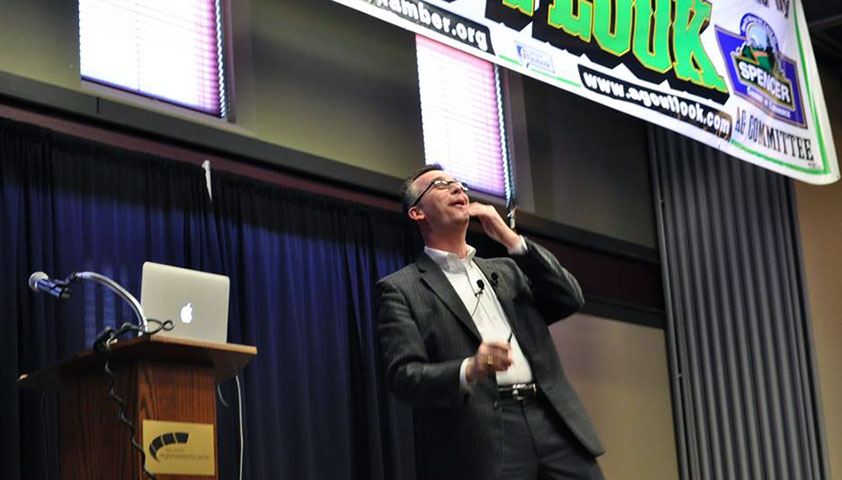 Spencer Chamber of Commerce
"We were very happy with Lyndy as our keynote speaker at the 33rd Annual Northwest Iowa Ag Outlook Conference and Trade Show! Lyndy is very easy to work with; we totally enjoyed hosting him. Our office has heard nothing but great comments on Lyndy's presentation! The audience enjoyed the interaction, the clean humor and all round presentation he presented. We have even received comments that in a couple to three years that the committee should look at bringing Lyndy back."
- Program Director, Northwest Iowa Ag Outlook Conference in Spencer, IA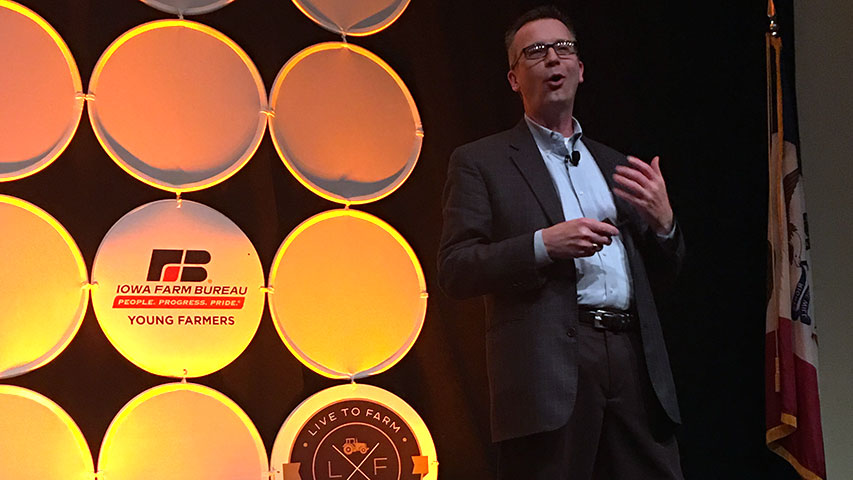 Iowa Farm Bureau Federation
"We received so much positive feedback from our young farmers about Lyndys' performance. He did an excellent job of kicking off our conference. Lyndy got everyone laughing right from the start. It was good, clean humor with audience participation, which made everyone relate to him. Lyndy is such a nice and easy going person. He was a joy to work with."
- Leadership Department, Young Farmer Conference in Des Moines, IA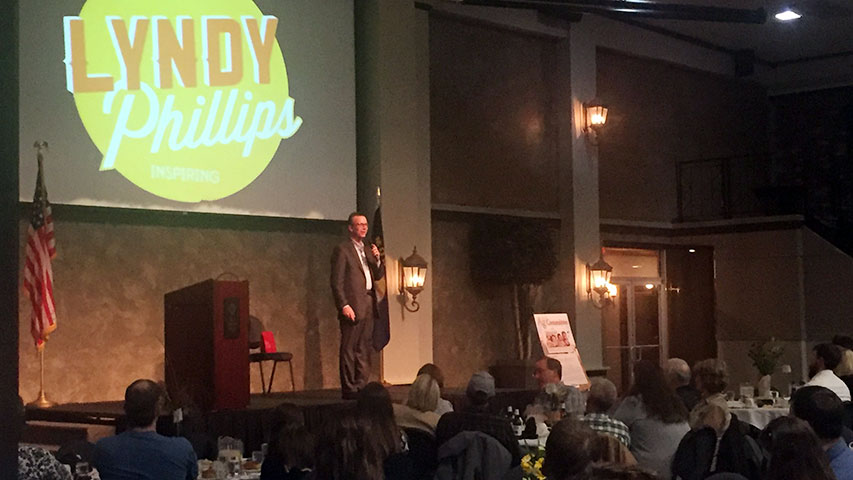 Great Falls Chamber of Commerce
"We thoroughly enjoyed having Lyndy!!!! He was truly outstanding. Our banquet features 4H and FFA students, both of which Lyndy grew up with. With his background he was able to connect with the audience and helped us showcase and recognize our future Young Agriculture Leaders, 4-H and FFA students. Lyndy commanded our attention. He was funny, inspirational, relevant, clean, and delivered a terrific message to all of us using humor and laughter to reduce the stresses of everyday life. Thank You! He was perfect!!"
- Agriculture Committee Chair, Agriculture Appreciation Banquet in Great Falls, MT
Georgia Pirtle Crop Insurance
"Lyndy was fabulous. He kept the entire room laughing from start to finish. I highly recommend him."
- Owner, Customer Appreciation Christmas Dinner in Waco, TX
Indiana Pork
"Lyndy was absolutely fantastic at our event. Our attendees were energized and entertained. It was exactly what our group needed to hear. I would highly recommend him for your next event!"
- Communications Manager, Midwest Pork Conference in Indianapolis, IN
Alabama Farmers Cooperative, Inc.
"The performance from Lyndy was excellent. He was punctual and took the time before the event to become familiar with the location and the audience. I had been concerned about the time since our awards had taken longer than anticipated. We discussed this and I asked him to watch/read the audience and go for the length of time that they seemed to remain engaged. All went very well. I would highly recommend Lyndy to anyone looking for some good, clean entertainment."
- VP Management Services, Manager's Meeting in Fort Walton Beach, FL
Monsanto Company
"Lyndy did a fantastic job engaging with our customers. He used relevant stories that our agricultural based audience could relate to while driving home the message that laughter really is the best medicine for stress. Our group was fully engaged with the show, and were eager to talk about the tricks with amazement. I would highly recommend Lyndy at your next function."
- Lewis Hybrids Brand Lead, Annual Customer Meetings in Kansas City, MO
View All 206 Reviews
Upcoming Schedule
| | | |
| --- | --- | --- |
| 1/23/2019 | Calgary, AB | Conference |
| 11/16/2018 | Denison, TX | Annual Banquet |
| 6/12/2018 | Brookings, SD | Ag Women's Day |
Where does Lyndy Phillips perform?
Lyndy Phillips has recently performed in: Alabama, Alberta, Arizona, Arkansas, California, Colorado, Connecticut, Florida, Georgia, Illinois, Indiana, Iowa, Kansas, Kentucky, Louisiana, Maine, Manitoba, Maryland, Michigan, Minnesota, Mississippi, Missouri, Montana, Nebraska, New Mexico, North Carolina, North Dakota, Ohio, Oklahoma, Pennsylvania, South Carolina, South Dakota, Tennessee, Texas, Utah, Vermont, Virginia, Washington, West Virginia, Wisconsin, Wyoming, just to name a few.