Joshua Lozoff has been studying and sharing magic around the world for nearly twenty years. He regularly performs in theaters, and at corporate & private functions throughout the U.S., as well as Japan, Europe and across Latin America.
Before turning his attention to magic, Joshua was a professional actor in Los Angeles, including a notable recurring role on the TV show Cheers, as Gino Tortelli, and as Logan in the movie Clueless. You can see Joshua's martial arts prowess on display (he holds a 2nd degree black belt in Aikido) in the film Teenage Mutant Ninja Turtles.
After 14 years as a professional actor, Joshua left Los Angeles to regain his sanity and devote more time to service work, including volunteer stints throughout Latin America. It was during his travels that a chance encounter with a street magician sparked a new passion, and Joshua began his training. Traveling around the world, Joshua studied with master magicians on several continents. After years of full-time training, he began sharing his craft with others. Now Joshua is regarded as one of the top magicians working today. Last year, Joshua logged over 200 public and private performances; at events ranging from performing arts venues to conventions and corporate banquets.
Recently, Joshua was featured on the network TV competition show, Penn & Teller: Fool Us, and the YouTube clip of his performance is approaching 500,000 hits.
Joshua had the honor of being one of only two magicians to receive an invitation to perform at the World's Fair in Japan. He spent two weeks as a featured performer for the USA Pavilion, entertaining Fair visitors from around the globe.
The award-winning documentary Metacarpus, about the power of the human hand, featured Joshua's sleight-of-hand mastery alongside an orthopedic surgeon and sign language interpreter.
Joshua loves sharing his craft with people in every setting, and his love and respect for magic come across in every performance. A few moments spent with Joshua can truly inspire, amaze and entertain. As an audience member recently wrote: "His passion for what he does really comes through and his humor is infectious. Many, many thanks for a job well done!"
Available Presentations Include:
The Magic of Communication
The Magic of Communication is engaging, intriguing and fun! In this interactive presentation, acclaimed magician and actor Joshua Lozoff pulls back the curtain to reveal the true secrets of his magic: powerful communication skills and strong powers of observation; skills useful for us all, from the board room to the living room.
More About This Presentation
Check Availability
Life is Magic
Magic, mind-reading, mentalism and mystery! Joshua's show combines his love for the art of magic, and his fascination with psychology, intuition and other "inner workings of the mind."
More About This Presentation
Check Availability
Recent Reviews
Illinois Association of Mutual Insurance Companies
"Joshua Lozoff not only entertained our members - he inspired them! His ability to hold the audiences attention created the perfect kick off to our convention. Members were talking about him long after his presentation was completed and our evaluation survey confirmed that he was a huge hit! Joshua isn't just about the show, he walks his talk. He really is a kind and caring individual."
- Executive Director, Annual Convention in Peoria, IL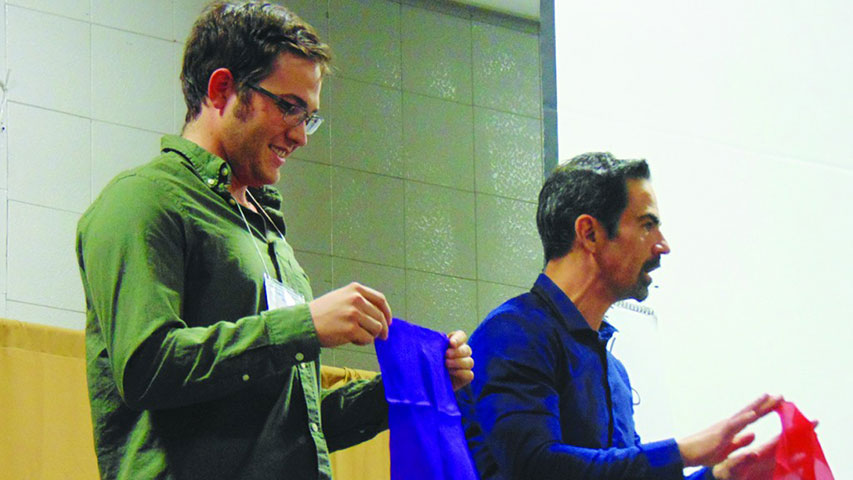 Colorado State University Extension
"Joshua Lozoff's program was very entertaining. We wanted something to laugh with and he gave it. Very inclusive of the audience. Surprised the audience with the program and made them laugh."
- San Luis Valley Area Director, Southern Rocky Mountain Ag Conference in Monte Vista, CO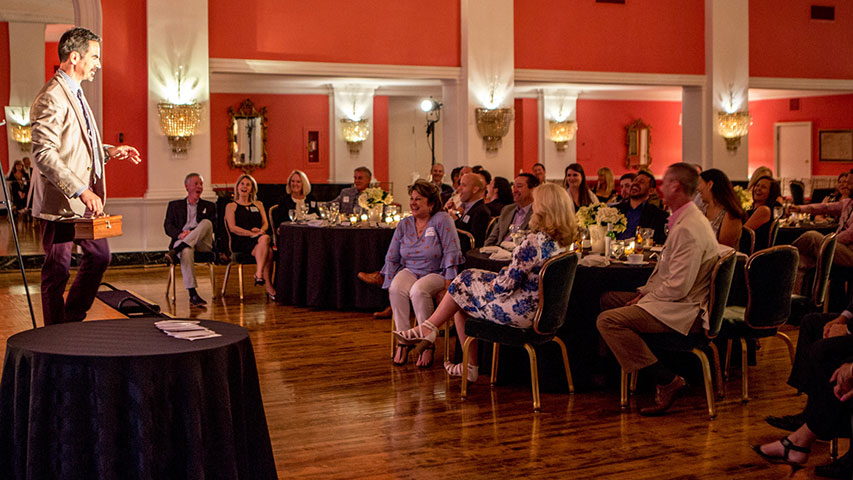 Horizon Forest Products
"Joshua Lozoff was an engaging entertainer! All of my guests enjoyed the show!"
- Account Representative, Customer Appreciation Dinner in White Sulphur Springs, WV
Farmers Grain Company
"Very impressive. Joshua Lozoff kept the audience entertained through his entire show."
- Controller, Annual Meeting in Enid, OK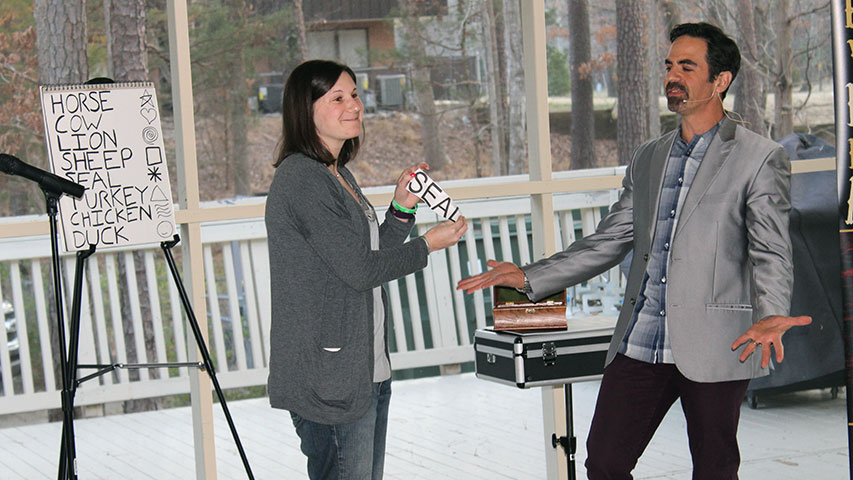 AgBiome, Inc.
"Joshua Lozoff was an excellent choice for entertainment at our function. We had everything from kids in diapers to PhD scientists and they were all blown away with Joshua's talent and showmanship."
- Director of Operations, Corporate Celebration in Durham, NC
Poky Feeders, Inc.
"Thank you, thank you, thank you Joshua Lozoff for a fabulous performance Saturday night! I've heard nothing but great feedback from the crowd and more importantly my boss who is not always an easy one to impress ha! Thanks again for a job well done!"
- Administrative Assistant, Customer Appreciation Event in Scott City, KS
North Carolina Potato Association
"Joshua Lozoff did a great job during the reception with performing magic with the crowd and during his main performance. We heard many positive comments about his performance."
- Executive Director, Annual Meeting in Elizabeth City, NC
North Carolina Apple Growers Association
"Joshua Lozoff did a great job with his presentation. He left people wondering and talking about how he did what he did."
- Educational Advisor, Annual Meeting Banquet in Asheville, NC
Anson County Cooperative Extension
"We had more compliments on Joshua Lozoff than we have ever had on an entertainer. Over the top professional, he was also extremely personable with our guests. In fact, his interaction with them was so genuine and that only added to his amazing performance. Outstanding recommendation. Thank you!!!"
- County Extension Director, Farm-City Week Banquet in Wadesboro, NC
Staplcotn
"Joshua Lozoff was fantastic! We truly enjoyed him!"
- Communications Director, Employee Awards Banquet in Greenwood, MS
View All 211 Reviews
Upcoming Schedule
| | | |
| --- | --- | --- |
| 9/2/2019 | Elon, NC | McCrary Theatre Concert |
| 7/9/2019 | Glendale, AZ | Leadership Conference |
| 5/2/2019 | Statesboro, GA | Theater Show |
| 4/27/2019 | Oriental, NC | Old Theater Concert |
| 4/25/2019 | Bangor, ME | Annual Agency Day |
| 3/31/2019 | Durham, NC | Fundraiser |
| 3/28/2019 | Raleigh, NC | Neighborhood Exchange |
| 3/24/2019 | Durham, NC | Family Day |
| 3/22/2019 | Biloxi, MS | Annual Conference |
| 3/14/2019 | Charlotte, NC | Annual Sales Meeting |
| 3/6/2019 | Wilmington, NC | Annual Convention |
| 2/18/2019 | Frankfort, KY | Company Vision Day |
| 2/1/2019 | Kansas City, MO | Annual Banquet |
| 1/26/2019 | Roxboro, NC | Kirby Theater Performance |
| 1/25/2019 | Sumter, SC | Main Stage Series |
| 1/19/2019 | Lake Junaluska, NC | Youth Retreat |
| 1/18/2019 | Sun Valley, ID | Annual Membership Meeting |
| 1/12/2019 | Durham, NC | Company Holiday Party |
| 1/5/2019 | Cambridge, MD | Company Party |
| 12/31/2018 | Raleigh, NC | First Night Raleigh |
| 12/15/2018 | Chapel Hill, NC | Company Holiday Party |
| 12/14/2018 | Ahoskie, NC | Employee Christmas Party |
| 12/13/2018 | Shipshewana, IN | Company Christmas Party |
| 12/12/2018 | Ligonier, IN | Company Christmas Party |
Where does Joshua Lozoff perform?
Joshua Lozoff has recently performed in: Alaska, Arizona, Colorado, Florida, Georgia, Idaho, Illinois, Indiana, Iowa, Kansas, Kentucky, Louisiana, Maine, Maryland, Minnesota, Mississippi, Missouri, Nebraska, Nevada, New Jersey, New Mexico, New York, North Carolina, Ohio, Oklahoma, Pennsylvania, South Carolina, Tennessee, Texas, Utah, Virginia, Washington, Washington DC, West Virginia, Wisconsin, just to name a few.