John caters to audiences seeking good humor and good taste. He delivers real, funny, one-of-a-kind perspectives on dating, marriage, parenting, American culture and struggling to do the right thing.
John grew up in Northern Virginia, just outside of Washington D.C. He studied Marketing at the University of North Carolina at Wilmington and worked a regular shirt and tie job as his interest in comedy grew. After competing in and winning local comedy competitions, John discovered he had knack for telling jokes and stories that could draw a crowd of any age.
John enjoys making a wide variety of audiences laugh while never having to resort to harsh language, shock value or taboo subject matters. Each show is custom fit to the company or organization by gathering information prior to the performance to create that personal feel.
His comedy is a mix of commentary, story-telling, and clean humor. He currently lives in downtown Wilmington, NC with his wife, Elizabeth and their two young children.
Available Presentations Include:
Christian Comedy
Faith-based, clean comedy for churches, charities, and Christian companies. Each show is custom fit to the ministry or faith-based cause by gathering information prior to the performance to create that personal feel.
More About This Presentation
Check Availability
Clean Customized Humor
Show your clients, employees, families or loyal customers a good time through John's clean and carefully put together set. You are guaranteed to see lots of laughs, smiles and possibly a fellow audience member on stage!
More About This Presentation
Check Availability
Recent Reviews
Arkansas Ready Mixed Concrete Association
"John Felts was fantastic!! He was the best comedian we have had at the convention. Our members are still talking about him and their favorite jokes in his show. I highly recommend John."
- Executive Director, 53rd Annual Convention in Hot Springs, AR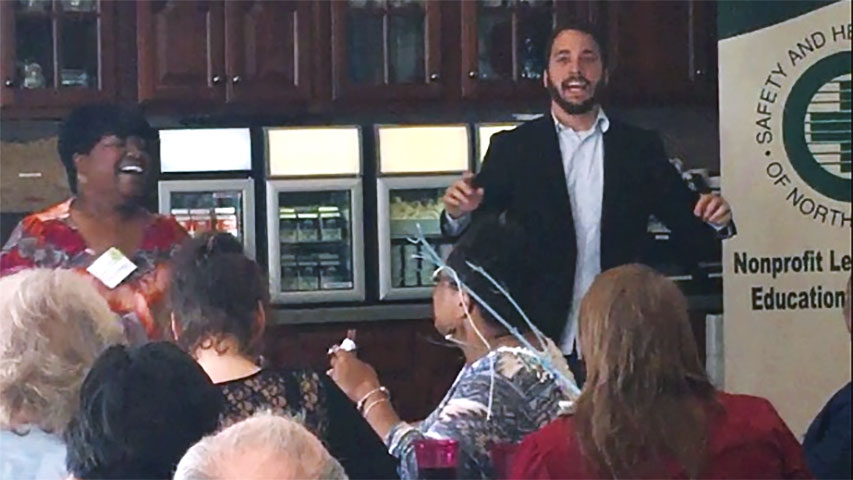 Safety and Health Council of North Carolina
"John Felts was funny and fit in great with our group. I was impressed that he had done research on our association and created some PowerPoint slides specific to us. Great job!"
- President, Annual Community College Training Agencies Conference in Ocean Isle, NC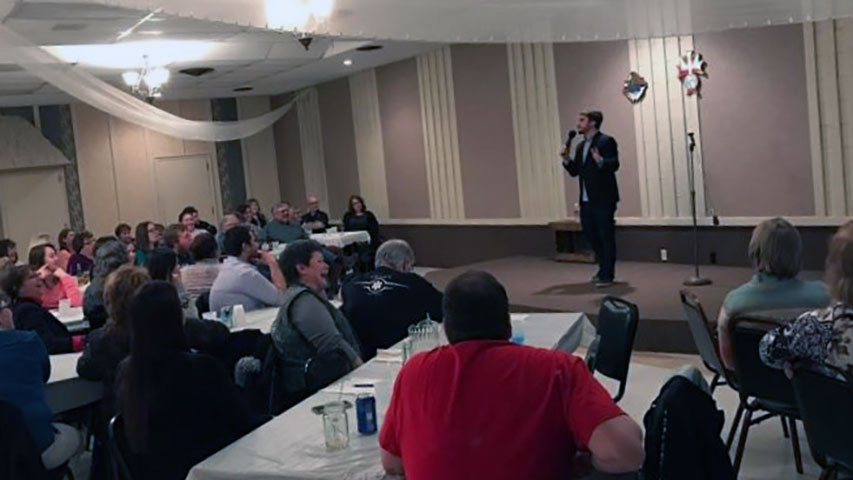 Association of Lake Region Bankers
"John Felts was fantastic to work with! He connected with our group on and off stage, keeping everyone in a great mood and always laughing. John was very professional and very much entertaining for the whole 60 minute performance. Its been a week since he performed and some of our leaders are still making comments about how good his performance was. This was our group's first time hiring a comedian and because of our great experience with John Felt we will incorporating more comedians into our last meetings each year. I would recommend John to any company gathering."
- President, Annual Meeting in Devils Lake, ND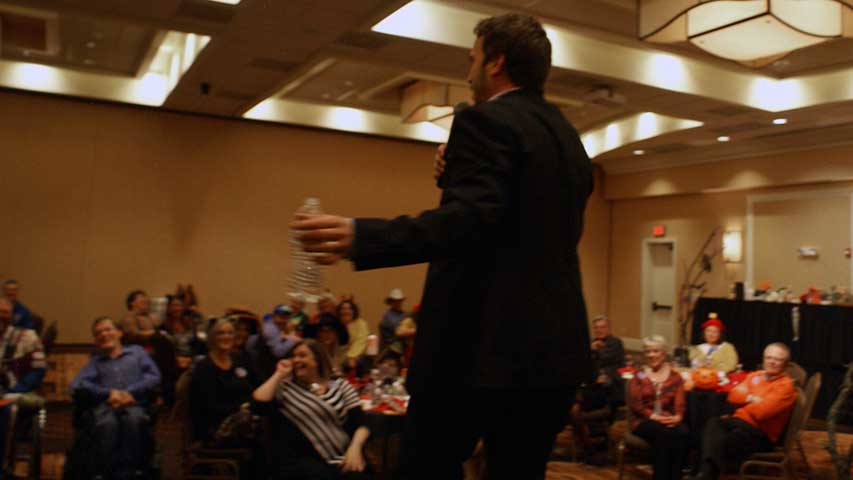 Aberdeen Area Association of REALTORS
"John Felts did an outstanding job. We all had great things to say about him. He was professional and very funny. He did a great job relating to the audience to the event and situation. We will definitely use your service and John again. The whole experience exceeded our expectations."
- Planning Committee Member, Annual Banquet in Aberdeen, SD
NC Training, Instruction, Development and Education
"We were honored to be entertained by comedian John Felts. He arrived several hours before the show to check in with our group to ensure everything was set up and to ask any questions he had to ensure a successful performance. He also allowed us time to ask him questions we might have. John asked our Association's officers about our group to get a feel for what folks at our conference did in order to try to better enhance the audience's enjoyment. John then arrived early for the show. He sat at one of the reception tables and interacted with those at the table which they very much enjoyed. Later, he was able to incorporate a sense of bonding into the show based on his interaction with the attendees at that table. John's comedic delivery was unique, timely and absolutely hilarious. John's comedy was also clean, fresh and moved along without dragging. The audience enjoyed him incorporating his life experiences into his jokes. John was sensitive to the audience. Most of his jokes and stories fit well with most any general audience and were very well received. Our attendees are very diverse, so this worked well. John himself was courteous, professional, engaging, funny, witty and did a great job of keeping the audience involved. I think what I enjoyed most was how very obvious it was that John loves his job and enjoys people. Our group all stayed for the entire performance and gave him a great ovation. A true credit to John connecting with those in attendance."
- Entertainment Committee Chair, Annual Conference in Wilmington, NC
View All 151 Reviews
Upcoming Schedule
| | | |
| --- | --- | --- |
| 10/9/2020 | Bangor, ME | 50th Anniversary Weekend |
| 4/7/2019 | Oakland, MD | Church Services |
| 4/6/2019 | Mountain Lake Park, MD | Father Daughter Gala |
| 3/22/2019 | Avon, MA | Volunteer Banquet |
| 3/16/2019 | Burlington, NC | Comedy Night |
| 3/9/2019 | Hot Springs, AR | Annual Convention |
| 3/2/2019 | La Grange, NC | Member Appreciation Banquet |
| 2/23/2019 | Dodge City, KS | Annual Banquet |
| 2/15/2019 | Onalaska, WI | Laugh Your Heart Out Loud Comedy Night |
| 2/10/2019 | Wilmington, NC | Comedy Show |
| 1/25/2019 | Grayslake, IL | MOPS Date Night |
| 1/18/2019 | Bellville, TX | Comedy Show |
| 1/12/2019 | Garden City, KS | Christmas Party |
| 1/4/2019 | Green Bay, WI | Company Holiday Celebration |
| 12/31/2018 | Lake Junaluska, NC | Christian Youth Retreat |
| 12/16/2018 | Beaufort, SC | Christmas Celebration |
| 12/15/2018 | Bowling Green, FL | Company Christmas Party |
| 12/7/2018 | Van Wert, OH | Company Christmas Party |
| 11/4/2018 | Dallas, TX | Volunteer Appreciation Banquet |
| 11/3/2018 | Mesa, AZ | Annual Fundraiser |
| 10/28/2018 | Middletown, OH | Outreach Event |
| 10/27/2018 | Culpeper, VA | "Come Laugh With Me" Date Night |
| 10/20/2018 | Memphis, TN | Campus Ministry Fundraiser |
| 10/6/2018 | Lexington, NC | Fundraiser |
Where does John Felts perform?
John Felts has recently performed in: Alabama, Arizona, Arkansas, California, Connecticut, Florida, Georgia, Illinois, Indiana, Iowa, Kansas, Kentucky, Maine, Maryland, Massachusetts, Michigan, Minnesota, Mississippi, Missouri, Nebraska, New Jersey, New Mexico, New York, North Carolina, North Dakota, Ohio, Oklahoma, Pennsylvania, South Carolina, South Dakota, Tennessee, Texas, Vermont, Virginia, West Virginia, Wisconsin, Wyoming, just to name a few.