John caters to audiences seeking good humor and good taste. He delivers real, funny, one-of-a-kind perspectives on dating, marriage, parenting, American culture and struggling to do the right thing.
John grew up in Northern Virginia, just outside of Washington D.C. He studied Marketing at the University of North Carolina at Wilmington and worked a regular shirt and tie job as his interest in comedy grew. After competing in and winning local comedy competitions, John discovered he had knack for telling jokes and stories that could draw a crowd of any age.
John enjoys making a wide variety of audiences laugh while never having to resort to harsh language, shock value or taboo subject matters. Each show is custom fit to the company or organization by gathering information prior to the performance to create that personal feel.
His comedy is a mix of commentary, story-telling, and clean humor. He currently lives in downtown Wilmington, NC with his wife, Elizabeth and their two young children.
Available Presentations Include:
Christian Comedy
Faith-based, clean comedy for churches, charities, and Christian companies. Each show is custom fit to the ministry or faith-based cause by gathering information prior to the performance to create that personal feel.
More About This Presentation
Check Availability
Clean Customized Humor
Show your clients, employees, families or loyal customers a good time through John's clean and carefully put together set. You are guaranteed to see lots of laughs, smiles and possibly a fellow audience member on stage!
More About This Presentation
Check Availability
Recent Reviews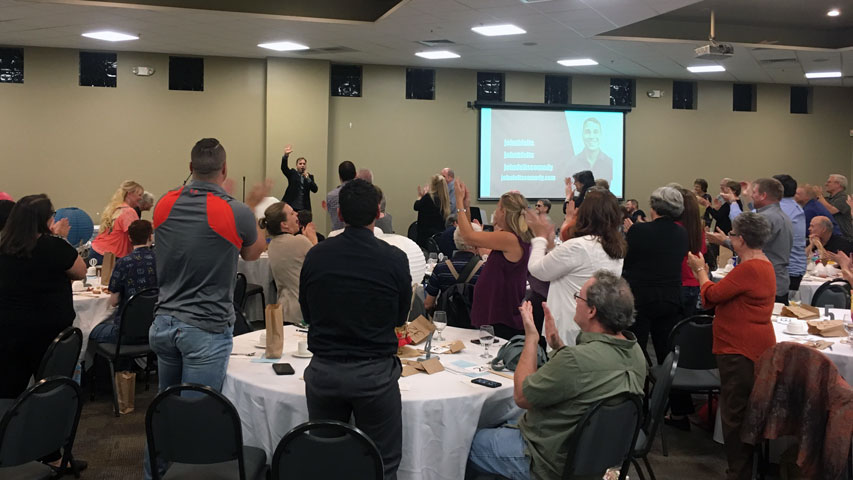 Redeemer Christian School
"As far as John Felts, his performance, & his character, we could not have been more pleased. We had a very diverse crowd and we were all in stitches the entire time. His thoughtfulness to research our community and our school really showed his level of dedication to his client and his craft. It gave the performance a personal touch that was appreciated by everyone. John really went above and beyond what we expected and I can't say enough nice things about him. I would definitely recommend him for entertainment at any event. It was our pleasure to have him at our annual auction, he really made the night one to remember."
- Registrar, Annual Fundraiser in Mesa, AZ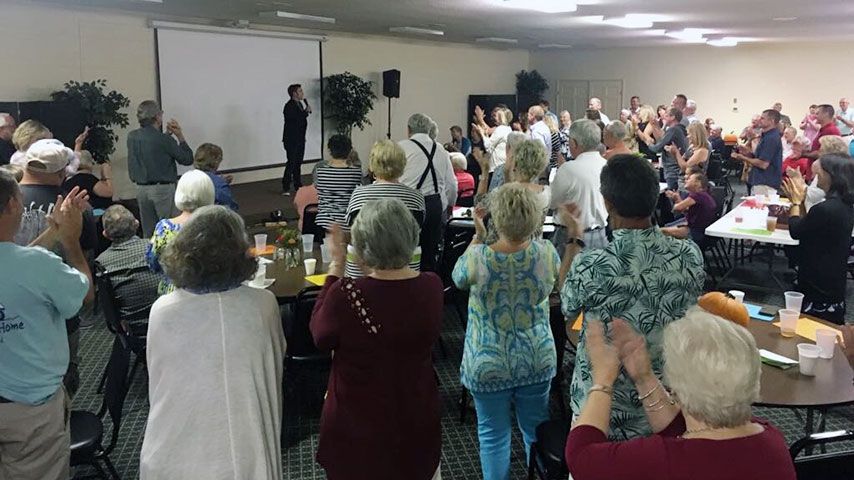 Becks Reformed Church
"John Felts was a phenomenal comedian! He did an outstanding job researching our church and community. The crowd LOVED how he incorporated the information into his jokes! John truly has a gift. He could tell jokes right off the cuff and they were hilarious! He has such a great disposition and was so easy to work with. It was like we knew him for years. His generosity towards our fundraiser was so gracious and thoughtful. We thoroughly enjoyed his comedy act and we hope to have him back in the future! I highly recommend John Felts for any event."
- Deacon, Fundraiser in Lexington, NC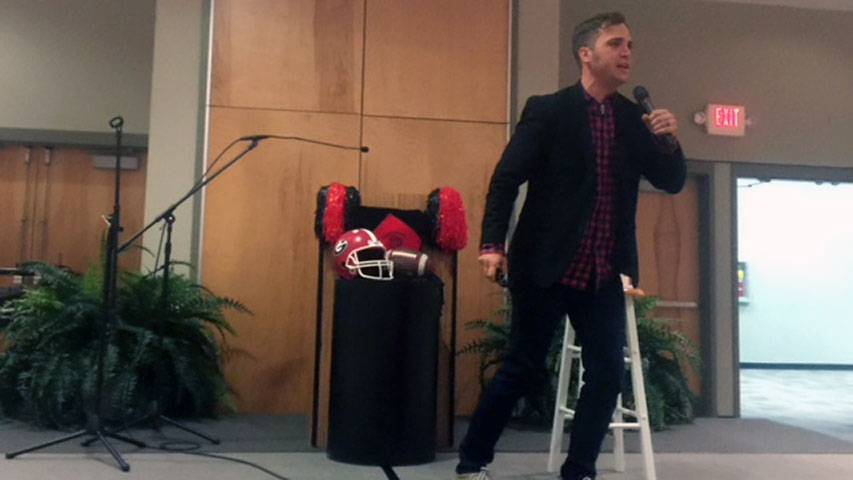 Lifehouse Ministries
"John Felts did a wonderful job at our event. He really pulled the audience in; every age group seemed to enjoy it. We had some great laughs at our banquet. I will definitely recommend him to others. He even promoted our ministry for us. I give him 5 stars."
- Executive Assistant to Director, Annual Fundraiser Banquet in Tifton, GA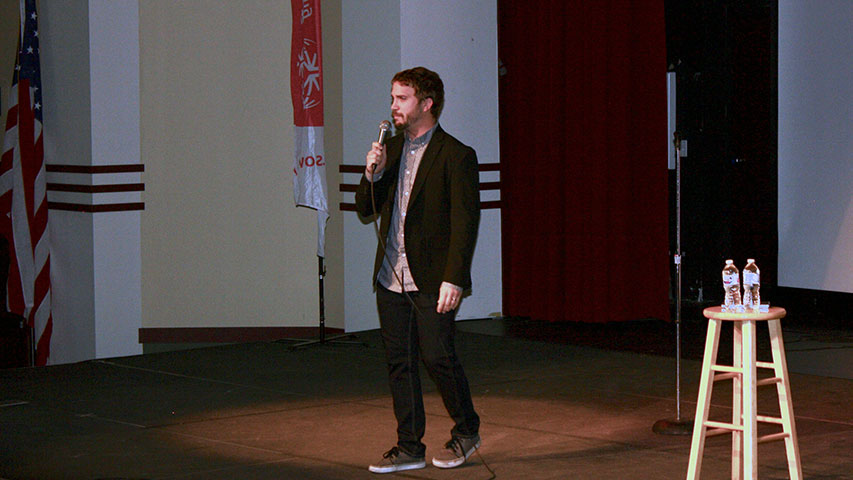 Special Olympics Wyoming
"John Felts did a wonderful job of localizing his presentation. He included local points of interest and people from the audience appreciated it. Very friendly and easy to work with."
- VP of Development, Comedy Night Fundraiser in Rock Springs, WY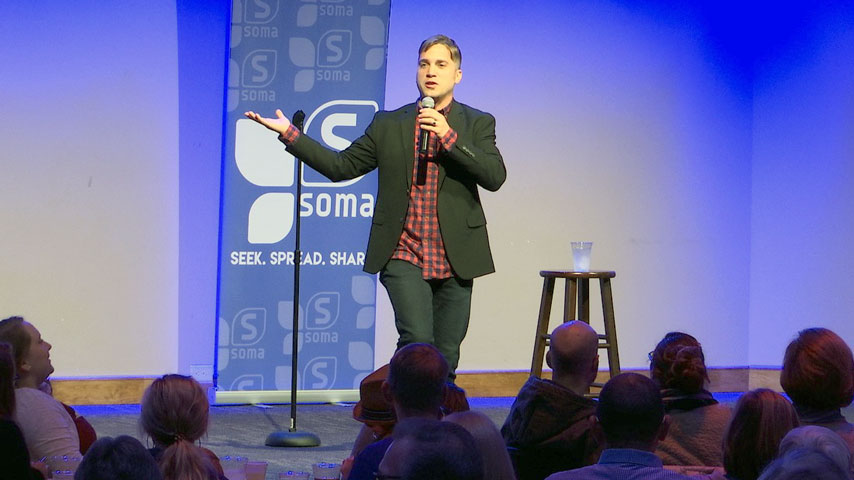 Soma Memphis
"John Felts knocked it out of the park again. He was so good the first time, we hired him for the same event in back-to-back years. He brought all new material and did a great job."
- Director, Campus Ministry Fundraiser in Memphis, TN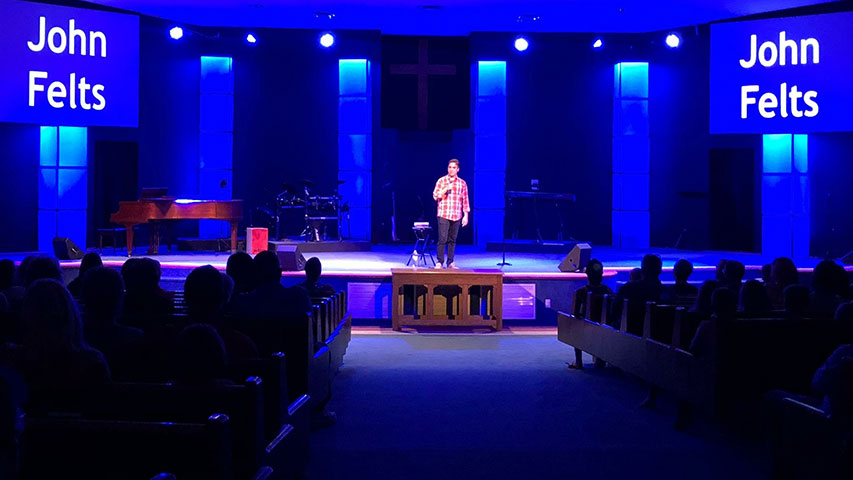 Hope Center
"John Felts did a great job at our first comedy night Fundraiser. Honestly, I was a little nervous with him being relatively unknown around here, but I laughed almost nonstop. I've received great feedback from people as well. He did a great job personalizing his material for our town and especially our Pizza King. He was friendly and professional as well. I'd recommend him for sure."
- Development Team Member, LOL for Hope Fundraiser in Connersville, IN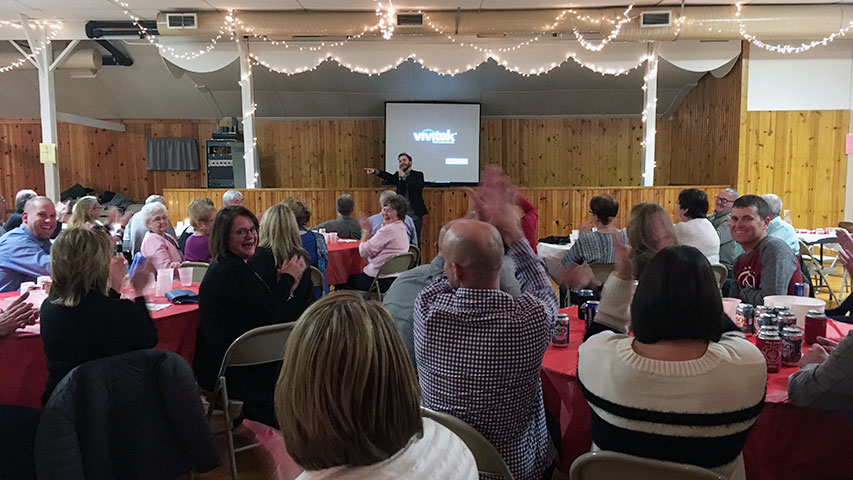 St. Matthias Parish
"John Felts did a fantastic job at our fundraising event! Our crowd had a wide range of ages and he managed to get everyone laughing! It was a very clean act that worked perfectly for our church crowd. John was very organized, put forth effort to learn about us beforehand, and was a joy to work with. We would definitely recommend him!"
- Event Planning Committee, Annual Fundraiser in Cascade, IA
Freedom House
"John Felts killed it! Everyone had a great time and as we encounter people who were there the first thing they say is they loved the comedian! He helped us make a good impression on the people who we believe will be key to bringing our ministry into the next chapter of its evolution, and that is very important to us and the ladies we serve and will serve."
- Business Director, Launch Event in Greensboro, NC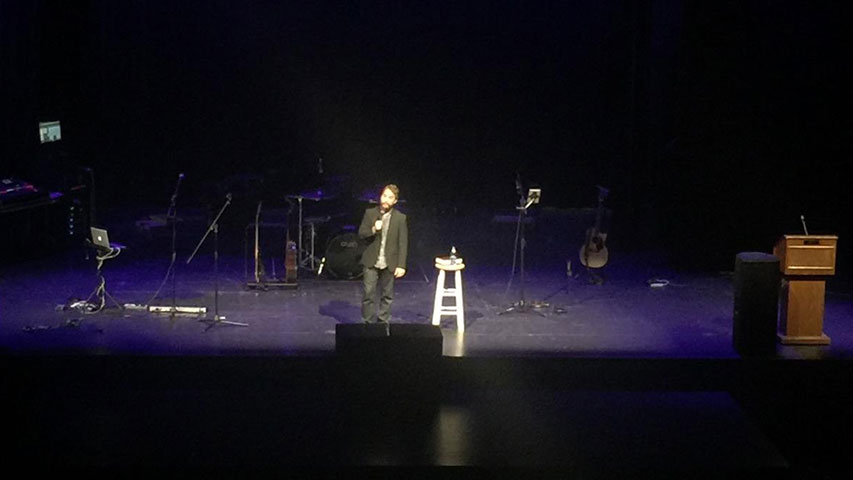 North Lamar Education Foundation
"John Felts did an amazing job! We didn't have the turn out that we had hoped and even with a smaller crowd, he entertained with great relevant jokes. He arrived as planned and was very professional and friendly. Our family talked about some of his jokes even after we were back at the house. Would highly recommend him!"
- Treasurer, Annual Scholarship Fundraiser in Paris, TX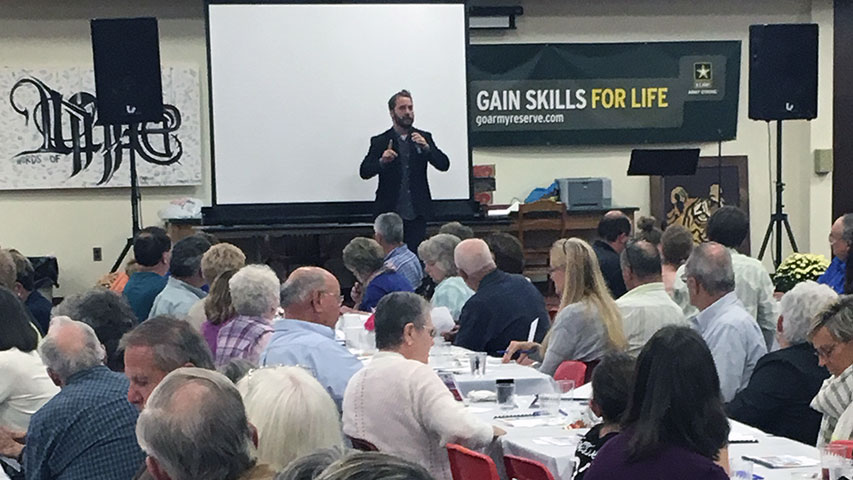 Central PA Youth Ministries
"John Felts did a great job. He was so easy to work with, doing everything just as we had asked him. Our crowds really liked him."
- Executive Director, Fundraising Banquet in Selinsgrove, PA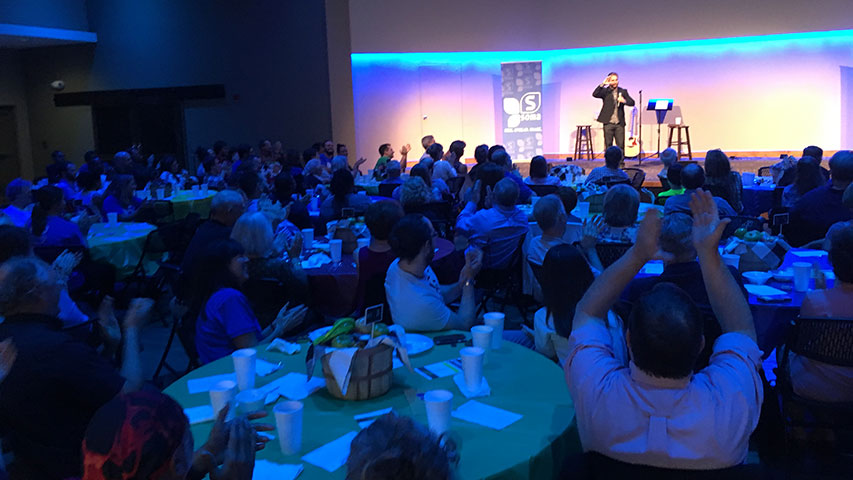 Soma Memphis
"John Felts was great and I highly recommend him. He is energetic and funny and he played well to a room that ranged in age from infant to grandparent. The audience laughter was nonstop through the entire show. He is especially good at taking the time to personalize his jokes to church or city where he is performing. He is also very good with audience interaction. He's very quick witted. He is also very professional and very easy to work with."
- Director, Campus Ministry Fundraiser in Memphis, TN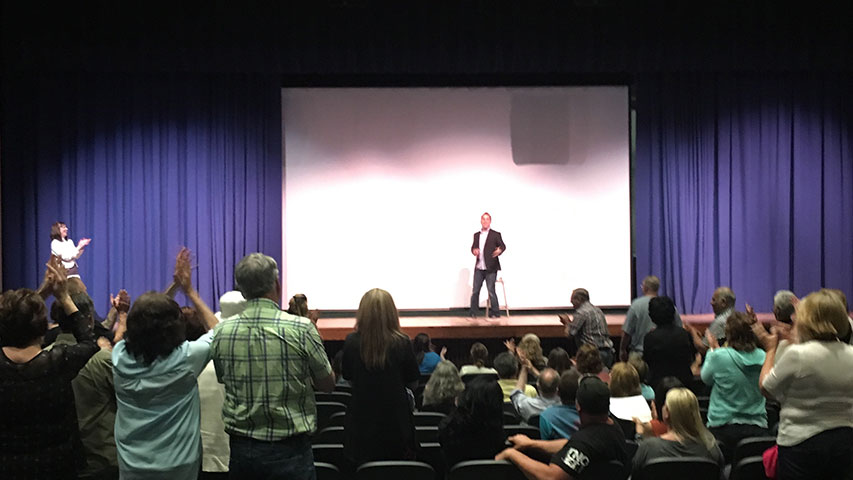 Crossing Over Inc.
"John Felts did a fabulous job in helping our event become a huge success. He was very personable to our area and to our organization. He took the time to research our company and even cracked a few jokes regarding our Facebook profile which was awesome. He was very engaging with our audience and even brought someone on the stage to interact with. I would recommend him to anyone who is looking for a clean, full of laughter and all around great comedian. He shares funny stories of his family life that we can all relate to. I will definitely hire him again in the future for any comedian show/event we have. The feedback from our audience was great. Thank you John! You rocked it."
- Founder, Comedy Night Fundraiser in Fitchburg, MA
View All 151 Reviews
Upcoming Schedule
| | | |
| --- | --- | --- |
| 10/9/2020 | Bangor, ME | 50th Anniversary Weekend |
| 4/7/2019 | Oakland, MD | Church Services |
| 4/6/2019 | Mountain Lake Park, MD | Father Daughter Gala |
| 3/22/2019 | Avon, MA | Volunteer Banquet |
| 3/16/2019 | Burlington, NC | Comedy Night |
| 3/9/2019 | Hot Springs, AR | Annual Convention |
| 3/2/2019 | La Grange, NC | Member Appreciation Banquet |
| 2/23/2019 | Dodge City, KS | Annual Banquet |
| 2/15/2019 | Onalaska, WI | Laugh Your Heart Out Loud Comedy Night |
| 2/10/2019 | Wilmington, NC | Comedy Show |
| 1/25/2019 | Grayslake, IL | MOPS Date Night |
| 1/18/2019 | Bellville, TX | Comedy Show |
| 1/12/2019 | Garden City, KS | Christmas Party |
| 1/4/2019 | Green Bay, WI | Company Holiday Celebration |
| 12/31/2018 | Lake Junaluska, NC | Christian Youth Retreat |
| 12/16/2018 | Beaufort, SC | Christmas Celebration |
| 12/15/2018 | Bowling Green, FL | Company Christmas Party |
| 12/7/2018 | Van Wert, OH | Company Christmas Party |
| 11/4/2018 | Dallas, TX | Volunteer Appreciation Banquet |
| 11/3/2018 | Mesa, AZ | Annual Fundraiser |
| 10/28/2018 | Middletown, OH | Outreach Event |
| 10/27/2018 | Culpeper, VA | "Come Laugh With Me" Date Night |
| 10/20/2018 | Memphis, TN | Campus Ministry Fundraiser |
| 10/6/2018 | Lexington, NC | Fundraiser |
Where does John Felts perform?
John Felts has recently performed in: Alabama, Arizona, Arkansas, California, Connecticut, Florida, Georgia, Illinois, Indiana, Iowa, Kansas, Kentucky, Maine, Maryland, Massachusetts, Michigan, Minnesota, Mississippi, Missouri, Nebraska, New Jersey, New Mexico, New York, North Carolina, North Dakota, Ohio, Oklahoma, Pennsylvania, South Carolina, South Dakota, Tennessee, Texas, Vermont, Virginia, West Virginia, Wisconsin, Wyoming, just to name a few.