John caters to audiences seeking good humor and good taste. He delivers real, funny, one-of-a-kind perspectives on dating, marriage, parenting, American culture and struggling to do the right thing.
John grew up in Northern Virginia, just outside of Washington D.C. He studied Marketing at the University of North Carolina at Wilmington and worked a regular shirt and tie job as his interest in comedy grew. After competing in and winning local comedy competitions, John discovered he had knack for telling jokes and stories that could draw a crowd of any age.
John enjoys making a wide variety of audiences laugh while never having to resort to harsh language, shock value or taboo subject matters. Each show is custom fit to the company or organization by gathering information prior to the performance to create that personal feel.
His comedy is a mix of commentary, story-telling, and clean humor. He currently lives in downtown Wilmington, NC with his wife, Elizabeth and their two young children.
Available Presentations Include:
Christian Comedy
Faith-based, clean comedy for churches, charities, and Christian companies. Each show is custom fit to the ministry or faith-based cause by gathering information prior to the performance to create that personal feel.
More About This Presentation
Check Availability
Clean Customized Humor
Show your clients, employees, families or loyal customers a good time through John's clean and carefully put together set. You are guaranteed to see lots of laughs, smiles and possibly a fellow audience member on stage!
More About This Presentation
Check Availability
Recent Reviews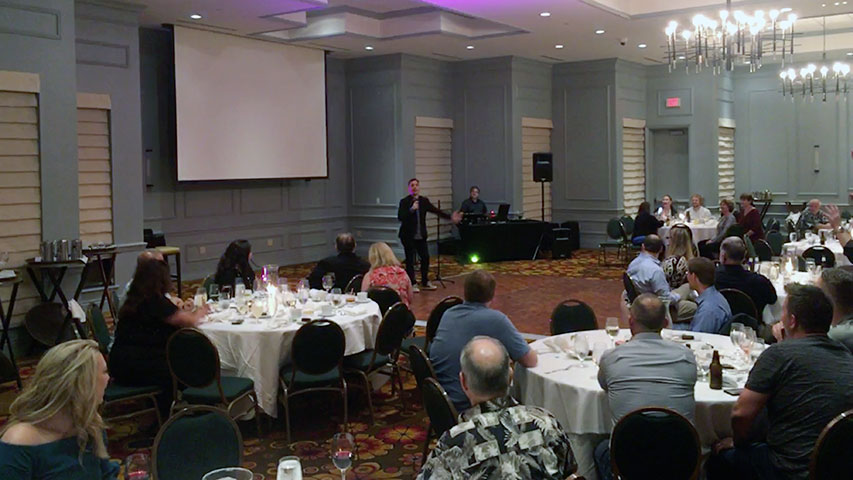 UnitiEast
"John Felts' show was amazing!! I received awesome feedback from the users at our conference. People couldn't stop talking about it the next day!"
- Committee Member, Annual User Conference in Portland, ME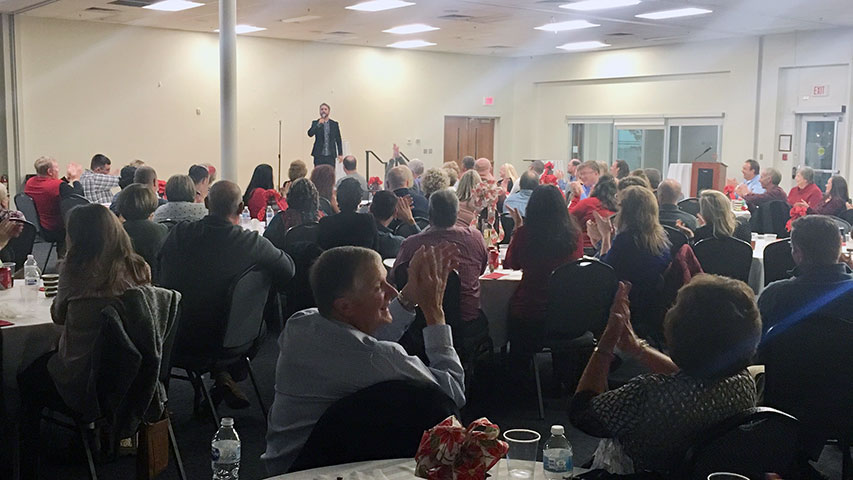 TruPoint Bank
"John Felts gave a great performance at our Bank's employee Christmas Party! Everyone is still talking about how much they enjoyed the evening. I was impressed that he customized his performance to our group and also that he visited with employees during our dinner. Definitely recommend him for company events!"
- Human Resources Director, Employee Christmas Dinner in Grundy, VA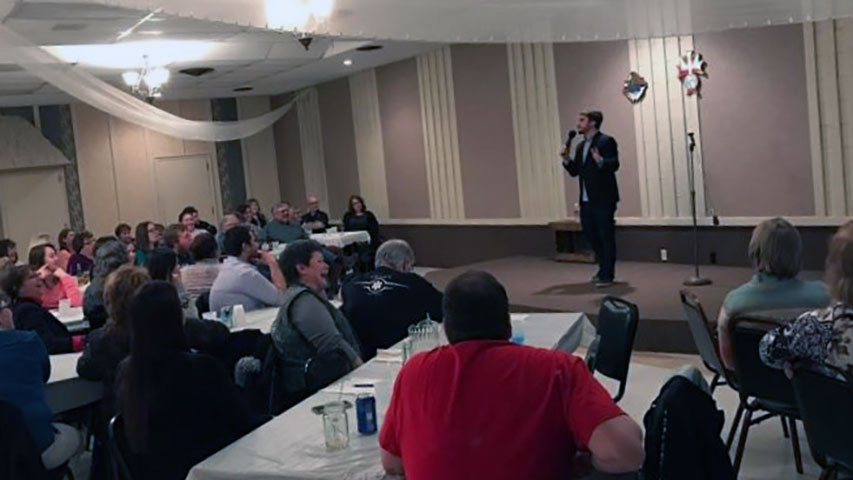 Association of Lake Region Bankers
"John Felts was fantastic to work with! He connected with our group on and off stage, keeping everyone in a great mood and always laughing. John was very professional and very much entertaining for the whole 60 minute performance. Its been a week since he performed and some of our leaders are still making comments about how good his performance was. This was our group's first time hiring a comedian and because of our great experience with John Felt we will incorporating more comedians into our last meetings each year. I would recommend John to any company gathering."
- President, Annual Meeting in Devils Lake, ND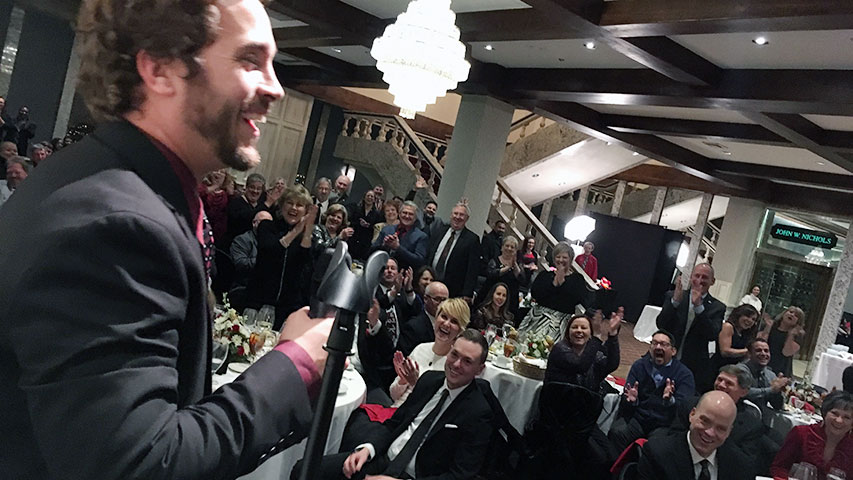 FNB Community Bank
"Our entertainer John Felts was perfect for our event. Very funny guy!! John introduced himself to me when I arrived at the party so I didn't have to worry about him showing up. He was all set up and had coordinated sound and video with the staff. I have received several comments from my employees on how much they enjoyed his show and the fact that it was a clean show with no profanity or inappropriate innuendos. I would highly recommend John Felts."
- President & CEO, Company Christmas Party in Oklahoma City, OK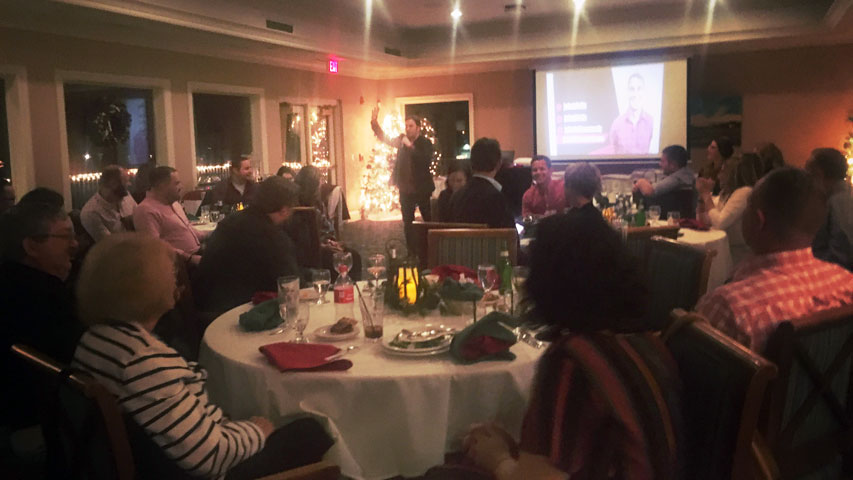 Leland Smith Insurance Services
"John was great right from the beginning. He kept everyone laughing for 75 minutes. Everyone was impressed with his research about our group and his creativity was spot on. I would highly recommend John Felts."
- President, Company Christmas Party in Van Wert, OH
Thrivent Financial
"The audience really connected with John Felts at my client appreciation event. All of the feedback I heard was very positive. I would highly recommend John to anyone looking for entertainment that will leave a lasting impression. He is also clean, so you do not have to worry about offending anyone (unless they are a cat lover). I will recommend him to my colleagues looking to host similar events."
- Financial Associate, Client Appreciation Event in Melbourne, FL
Legacy Retirement Group
"John Felts was hilarious! He was easy to work with, was on time and didn't mind waiting around a little bit for the show to start. He was very funny, very interactive with the audience and made everyone laugh. He even made time to spend time with our clients after the show was over. We would definitely hire him again!"
- Client Relations Coordinator, Company Christmas Party in Plain City, OH
Spire Investment Partners, LLC
"John Felts was excellent! I can't rave about him enough. He was a huge success with the crowd and with my boss (which certainly made me look good too!). Everyone was laughing hysterically, and he did a great job of involving the crowd. He arrived early and got to know some of the guests which helped incorporate them in his jokes. He and your company will definitely come highly recommended in the future. Thanks for all your help. He truly was hilarious and talented!"
- Office Manager, Corporate Holiday Party in McLean, VA
View All 151 Reviews
Upcoming Schedule
| | | |
| --- | --- | --- |
| 10/9/2020 | Bangor, ME | 50th Anniversary Weekend |
| 4/7/2019 | Oakland, MD | Church Services |
| 4/6/2019 | Mountain Lake Park, MD | Father Daughter Gala |
| 3/22/2019 | Avon, MA | Volunteer Banquet |
| 3/16/2019 | Burlington, NC | Comedy Night |
| 3/9/2019 | Hot Springs, AR | Annual Convention |
| 3/2/2019 | La Grange, NC | Member Appreciation Banquet |
| 2/23/2019 | Dodge City, KS | Annual Banquet |
| 2/15/2019 | Onalaska, WI | Laugh Your Heart Out Loud Comedy Night |
| 2/10/2019 | Wilmington, NC | Comedy Show |
| 1/25/2019 | Grayslake, IL | MOPS Date Night |
| 1/18/2019 | Bellville, TX | Comedy Show |
| 1/12/2019 | Garden City, KS | Christmas Party |
| 1/4/2019 | Green Bay, WI | Company Holiday Celebration |
| 12/31/2018 | Lake Junaluska, NC | Christian Youth Retreat |
| 12/16/2018 | Beaufort, SC | Christmas Celebration |
| 12/15/2018 | Bowling Green, FL | Company Christmas Party |
| 12/7/2018 | Van Wert, OH | Company Christmas Party |
| 11/4/2018 | Dallas, TX | Volunteer Appreciation Banquet |
| 11/3/2018 | Mesa, AZ | Annual Fundraiser |
| 10/28/2018 | Middletown, OH | Outreach Event |
| 10/27/2018 | Culpeper, VA | "Come Laugh With Me" Date Night |
| 10/20/2018 | Memphis, TN | Campus Ministry Fundraiser |
| 10/6/2018 | Lexington, NC | Fundraiser |
Where does John Felts perform?
John Felts has recently performed in: Alabama, Arizona, Arkansas, California, Connecticut, Florida, Georgia, Illinois, Indiana, Iowa, Kansas, Kentucky, Maine, Maryland, Massachusetts, Michigan, Minnesota, Mississippi, Missouri, Nebraska, New Jersey, New Mexico, New York, North Carolina, North Dakota, Ohio, Oklahoma, Pennsylvania, South Carolina, South Dakota, Tennessee, Texas, Vermont, Virginia, West Virginia, Wisconsin, Wyoming, just to name a few.