Jerry Carroll found comedy growing up on his family's farm in Willow Spring, NC. From the time he could walk, he joined his father and uncle to farm tobacco, corn, small grain, soybeans, cattle, and hogs. Spending 14 hours a day in a tractor cab gave Jerry plenty of time to think about his life's dream of making people laugh.
Jerry's hilarious story about a farm safety mishap was a hit at the local seed store and he finally decided to pursue his life's dream at the local comedy club. His seemingly effortless ability to spin out punch line after punch line, story after story, took him from emcee to headliner in just eight short months. Since beginning in 1993, Jerry has performed for crowds from 20 to 20,000 in venues ranging from the local volunteer fire department's banquet, to the Minister's of Provincial Parliament at the Royal York in Toronto, Canada. Everywhere he goes, he leaves audiences roaring with laughter.
Besides corporate meeting and events, conventions, countless associations, comedy clubs, and country clubs, Jerry has opened concerts for music artists such as Michael Bolton, Patty Loveless, Lyle Lovett, and Larry Gatlin. Jerry has performed from coast to coast in the U.S. and throughout Canada. He's even hosted two TV shows on the Sportsman Channel: Fishing for Laughs and Amazing America with Sarah Palin.
When he's not on the road making people laugh, Jerry still works the fields of his family's farm. This experience makes him one of the nation's most sought-after speakers for farmers and agribusiness events.
Available Presentations Include:
Dirt in Our DNA
Stories of farming and farm life tailored for agricultural events. You'll enjoy tales of feeding hogs, raising crops, and keeping the farm equipment together with duct tape, bailing wire, and WD-40.
More About This Presentation
Check Availability
Life Down a Dirt Road
Down-home comedy delivered in a fast-paced, high-energy style. From stories about his grandma to his grandkids, Jerry's relatable topics crack up the most hard-to-please crowds.
More About This Presentation
Check Availability
Recent Reviews
Polyock Transport
"Jerry Carroll struck a home run! Everyone loved him. He was down to earth from the very beginning. He was easy to work with, meeting out needs. As well as his own. He is a regular guy, and gets just as excited to get into a new combine as we do! Jerry was very personable both on and off the stage. The man has stories… stories for days! LOL so be ready to listen and laugh!"
- Talent Buyer, Company Christmas Party in Janesville, WI
Spudnik Equipment Company LLC
"It was a pleasure having Jerry Carroll. First it was so good he planned on coming in a day early in case of weather. That paid off as the day of the party the weather was not good. Jerry came in and spent about an hour seeing our facility and meeting employees. He was very attentive to all the employees and interested in our process. Jerry's personality was very welcoming to all and everyone I have spoken too was so impressed with his connection to them and he was sincerely interested in the conversations he had with them. Plus lots of laughs at the time. He incorporated his travels to Blackfoot, Idaho into his act and this personal touch was a hit. His act was clean and I have not heard that anyone was offended by his performance. This was great as we have a mix of employees with beliefs and culture. Jerry is one we will most definitely look at bringing back for other functions and we all look forward to that time."
- Production Controller, Company Holiday Party in Blackfoot, ID
AgriVision
"Everyone had a great time at this year's Holiday Party and really enjoyed Jerry Carroll's performance. He provided a high quality and entertaining show. We would love to have him back again sometime!"
- Project Manager, Corporate Holiday Party in Des Moines, IA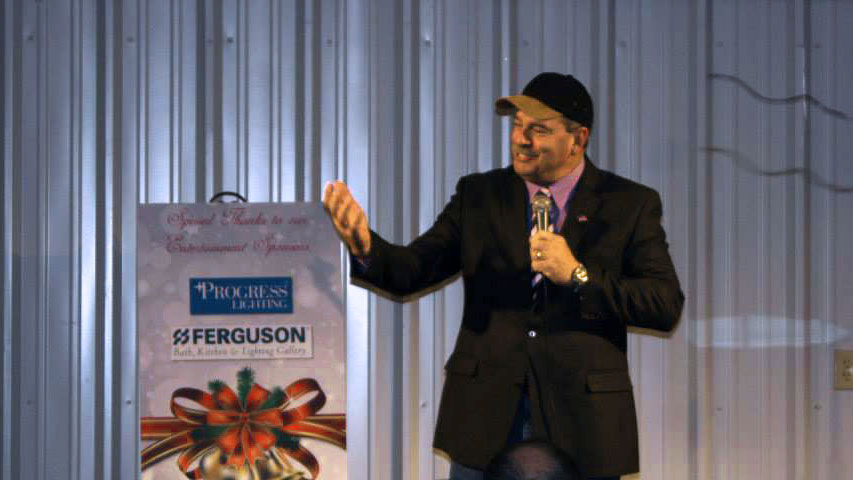 Johnston County Building Industry Association
"Jerry Carroll was fabulous! Spoke with everyone, very prompt, and participated in our fundraisers we had. His material "hit home" for everyone in the room!"
- Executive Officer, Christmas Dinner in Smithfield, NC
James Valley Grain
"We really enjoyed having Jerry come do his show for us. He did a fantastic job of entertaining our elevator employees and board members with his wide array of stories and experiences that pertained to the agricultural lifestyle. He conducted himself and his show with top-notch professionalism. We would recommend Jerry Carroll to other elevators and agribusiness firms."
- Grain Merchandiser, Christmas Party in Oakes, ND
Mesquite Oil Tools, Inc
"Great performance. Jerry Carroll made everybody laugh. We are very pleased."
- Office Manager, Christmas party in Snyder, TX
Community State Bank
"Jerry Carroll did a great job. It was very nice working with him."
- Administrative Assistant, Christmas Party in Poteau, OK
U.S. Waste Industries
"Jerry Carroll was a true professional. He was the highlight of our Christmas Party. All day all I have heard from our employees about what a wonderful idea it was to have Jerry. We laughed till we cried."
- President, Christmas party in Columbia, SC
View All 158 Reviews
Upcoming Schedule
| | | |
| --- | --- | --- |
| 4/6/2019 | Columbus, OH | Food Animal Club Symposium |
| 2/23/2019 | Wilmington, NC | Annual Meeting |
| 2/19/2019 | Frederick, MD | Growers Meeting |
| 2/9/2019 | Osage Beach, MO | Young Farmer & Rancher Conference |
| 2/2/2019 | Macomb, IL | Annual Banquet |
| 1/28/2019 | Minot, ND | Annual Convention |
| 1/26/2019 | Atalissa, IA | Annual Banquet |
| 12/21/2018 | Cullman, AL | Corporate Safety Meeting |
| 12/15/2018 | Janesville, WI | Company Christmas Party |
| 12/13/2018 | French Lick, IN | Ag Innovator's Summit |
| 12/9/2018 | Temple, TX | Customer Appreciation Dinner |
| 12/7/2018 | Harrington, DE | Centennial Celebration |
| 12/1/2018 | Lake Ozark, MO | Christmas Party |
| 11/9/2018 | Holly Springs, NC | HSCC Comedy Concert |
| 10/20/2018 | Wilson, NC | Fundraiser |
| 9/21/2018 | Starkville, MS | Loggers Awards Banquet |
| 9/14/2018 | Bismarck, ND | Annual Convention |
| 9/12/2018 | Deadwood, SD | Company Team Meeting |
| 9/11/2018 | Mineola, TX | Mineola Hay Show |
| 8/25/2018 | Millersburg, OH | VIP Retreat Weekend |
| 8/22/2018 | Keenes, IL | Customer Appreciation Dinner |
| 7/25/2018 | McBain, MI | 100 Year Anniversary |
| 6/21/2018 | Hay Springs, NE | Annual Meeting |
| 4/21/2018 | Hanover, ON | Ag Celebration and Awards |
Where does Jerry Carroll perform?
Jerry Carroll has recently performed in: Alabama, Alaska, Alberta, Arkansas, California, Colorado, Delaware, Florida, Georgia, Idaho, Illinois, Indiana, Iowa, Kansas, Kentucky, Maryland, Michigan, Minnesota, Mississippi, Missouri, Montana, Nebraska, Nevada, New Mexico, New York, North Carolina, North Dakota, Ohio, Oklahoma, Ontario, Oregon, Pennsylvania, Saskatchewan, South Carolina, South Dakota, Tennessee, Texas, Virginia, Washington, Wisconsin, just to name a few.