Filter Reviews: Most Recent (225), Association, Chamber, Christian, College, Corporate, Non-Profit, Other, Social, Theater, Agriculture, Christmas Party, Construction, Education, Family, Finance, Fundraiser, Healthcare, Hospitality, Manufacturing, Military, Municipal, Real Estate, Seniors, Technology, Transportation, Utilities, Volunteer, Youth,
Showing: Social Reviews
Fairfield Glade Resident Services

"David Ferrell was outstanding in involving the audience which made his performance even better. Clean, wholesome fun."
Rotary Club of Greenville

"David Ferrell was good clean fun. Everyone had a really great time!"
Hot Springs Village Property Owner's Association

"David Ferrell was so very nice and personable. He made time prior to the show to meet and greet people in the audience. The audience loved his interaction and had everyone in the Grand Room Laughing."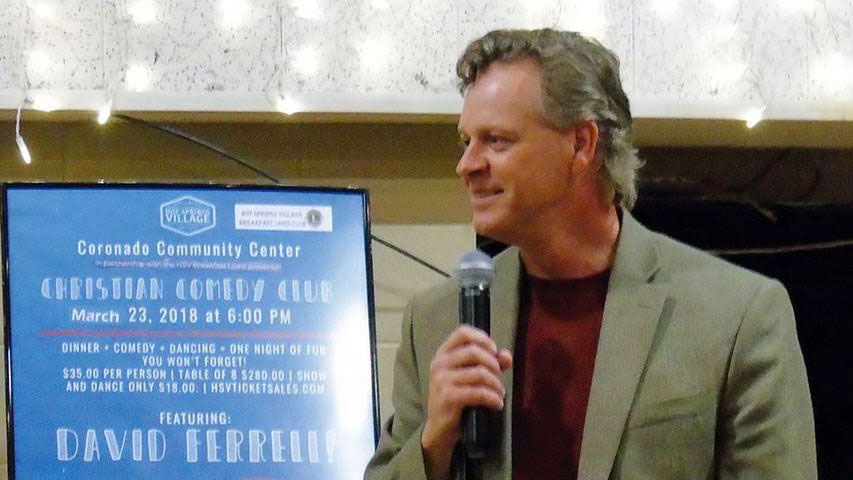 Wake County Wildlife Club

"David Ferrell was great. He got the whole crowd involved and laughing. Thanks!"
Private Party

"We had a wonderful anniversary party. Our guests thoroughly enjoyed David Ferrell's performance. He was a very professional entertainer. My friends and family were completely impressed that we had a professional comedian. They are still talking about it. I would highly recommend David for any event. His comedy was fast, humorous and appropriate for all the ages that we had at our party."
Sun City Hilton Head Community Association

"I just wanted to say thank to David Ferrell for a great show last night and for having such a positive attitude."
Corvias Military Living

"I wanted to say thank you to David Ferrell for such a great performance. I heard nothing but great things from staff and residents and laughter spilling out of the room. Honestly, I had not laughed that much in a while and I thank you - as a military wife whose husband is gone more than he is here and as a mom, I needed it. It was great medicine for our residents due to the daily stressors they face."
St. Joseph of the Pines, Inc.

"We enjoyed David Ferrell's performances at both senior communities and hope to have him back in the near future for another like event! Many commented on how wonderful the evening was and how it was great to have many, many belly laughs!!"
Private Party

"10 stars! David Ferrell was hilarious! He had something for everyone of all ages. Thank you very much."
Zanesville Country Club

"Thank you so much! Everyone really had a great time with David Ferrell! We look forward to having comedy night again soon."
---