Filter Reviews: Most Recent (225), Association, Chamber, Christian, College, Corporate, Non-Profit, Other, Social, Theater, Agriculture, Christmas Party, Construction, Education, Family, Finance, Fundraiser, Healthcare, Hospitality, Manufacturing, Military, Municipal, Real Estate, Seniors, Technology, Transportation, Utilities, Volunteer, Youth,
Showing: Association Reviews
American Petroleum Institute

"David Ferrell did a great job, kept the audience involved and laughing all night. David worked around our schedule and made things easy on us. Could not have asked for better entertainment."
Minnesota Association of Church Facility Managers

"David did a great job at our event. He was engaging, interactive and funny. The response from attendees was overwhelmingly positive. I would recommend him, without hesitation, for a wonderful, fun, and entertaining evening."
Carolinas Association of Governmental Purchasing

"I would highly recommend David Ferrell for your entertainment. The entire process was easy, from contracting to thanking him for a great performance. He had everyone laughing and participating during his show. David's material was fresh, on time, clean and enjoyed by all. We plan to have him back at a later date. Thanks again David."
South Dakota Dairy Producers

"Very professionally interactive act. Pulled the audience in and had them engaged. Very pleased with David Ferrell."
Middle States Association of Collegiate Registrars and Officers of Admission

"Our organization, MSACROA, engaged David Ferrell for our big event of our conference and he was fabulous! As chair of the committee, I heard throughout the night and the rest of the conference how funny David was and how much everyone enjoyed his comedy. Working in higher education, we needed to be sure his material was clean and appropriate. It was especially fun to see that he did some research on our group and related his comedy to our work. We highly recommend him!!"
Air Conditioning Contractors of Oklahoma

"David Ferrell did an excellent job, he had the attendees involved and used them to help direct the flow. The presentation was very entertaining without being vulgar or offensive, in which most comedians think they have to do. The attendees were well pleased and responded the same way as per the quality and clean entertainment."
Mississippi Association of Governmental Purchasing/Property Agents

"Our association was thrilled to end our Conference on an upbeat note. David Ferrell had folks engaged, laughing, and participating; all of this before they had a chance to wake up! It took energized our crowd, we learned a few funny facts about our members, and the impersonations were spot on. We would highly recommend using David and his clean comedy to spark enthusiasm at any event!"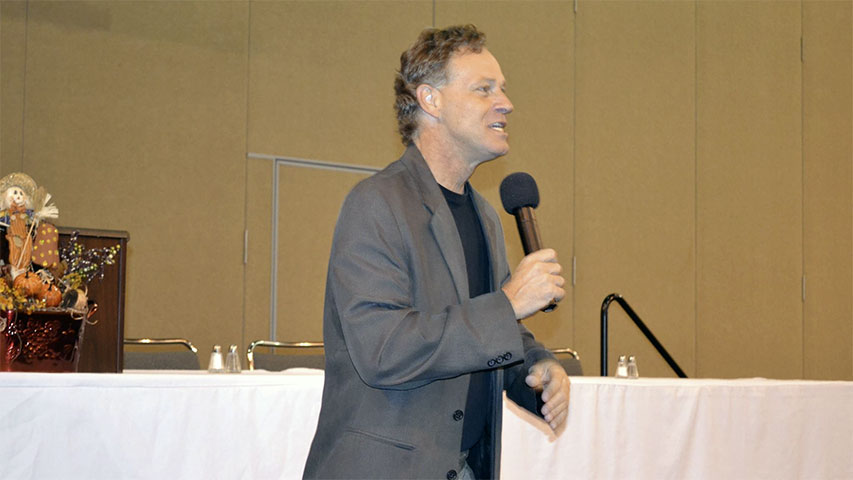 South Carolina Petroleum Marketers Association

"We had 566 people in attendance; however, I only received 60 evaluations (approx. 10 percent). This is more than I usually receive. I look at it this way, if someone was not happy, they would have filled out an evaluation. So, I would say 90% were pleased with everything including his performance. Here are his ratings from the 60 evaluations: 11 Excellent, 19 Good, 21 Fair, 1 Poor."
Ceilings and Interior Systems Construction Association

"We were very happy with David Ferrell. All went well."
Georgia Health Care Association

"David Ferrell met our objectives perfectly. Everyone enjoyed the morning and they carried that spirit forward into the next session. Thanks for working with us."
Georgia Retired Educators

"David Ferrell was prompt, professional, had a great personality, he connected with the audience, his material was outstanding. The members who talked with me enjoyed his performance. Everyone was laughing. You helped us select a performer who was just right for our audience."
International Association of Electrical Inspectors

"David Ferrell was terrific. He was prompt, courteous, professional and of course, David was FUNNY! We heard great feedback from our members as well as the executive staff and board members. Our trust in your organization and David to deliver a great show was not disappointing. We were only interested in clean humor, and ultimately, that is why we hired you."
Virginia Community Colleges Association

"Everyone loved David Ferrell!!! Those in attendance gave nothing but wonderful feedback. Loved visiting with him during lunch and would recommend him to anyone who would like our feedback!"
Southeast Governmental Fleet Managers Association

"David Ferrell was great to work with and he had our folks crying with and holding their sides laughing so much. He did exceed our expectations. Your organization is very professional and we are looking forward to working with you again."
West Virginia Poultry Association

"We HIGHLY recommend David Ferrell to anyone seeking a clean and professional entertaining experience. He was very prompt and professional. David is very talented, material was great and he knows how to work the crowd and never acted in a pretentious matter. He has the unique ability to adlib when needed and I heard NO negative remarks from the audience following the show. Everyone who spoke with personally enjoyed his engaging and infectious personality - a true delight to be around. His words of motivation and encouragement at the end of the program was the 'icing on the cake'. Well Done!"
North Carolina Association of Electrical Contractors

"David Ferrell has a wonderful program and was a hit during our Banquet. He is a very friendly person and got along great with our members during the meal time. David was set up and ready to go when it was his time of the program. His program is very clean cut for families. I highly recommend David for your next event. You won't be disappointed."
Carolina Asphalt Pavement Association

"David Ferrell did a great job. We all enjoyed his performance very much. I will definitely recommend David and will consider your group for future events we hold. Thank you very much for helping us with this event."
Nebraska Well Drillers Association

"David Ferrell kept the audience involved throughout his great performance. It is indeed refreshing to have a comedian who can deliver a "clean comedy" program of nearly one hour. He was very well pre-pared to present to our audience with subjects they related to and kept them interested."
North Carolina Potato Association

"David Ferrell did a great job. Our crowd enjoyed his performance."
North Carolina Apple Growers Association

"David Ferrell did a great job interacting with our audience. His voices and impersonations were very well received."
Mississippi Funeral Directors Association

"We had a great time. Our members really enjoyed David Ferrell's show."
Plumbers & Pipefitters Local #572

"David Ferrell was hilarious. He interacted with the crowd very well and was very professional. I had several comments about how good a job he did and how refreshing it was to have someone that is funny without having to be filthy."
---