Filter Reviews: Most Recent (225), Association, Chamber, Christian, College, Corporate, Non-Profit, Other, Social, Theater, Agriculture, Christmas Party, Construction, Education, Family, Finance, Fundraiser, Healthcare, Hospitality, Manufacturing, Military, Municipal, Real Estate, Seniors, Technology, Transportation, Utilities, Volunteer, Youth,
Showing: Seniors Reviews
Fairfield Glade Resident Services

"David Ferrell was outstanding in involving the audience which made his performance even better. Clean, wholesome fun."
Shandon Baptist Church

"We would highly recommend David Ferrell for an event. Not only was he funny, he was very engaged with our group. His improvisational abilities along with his routine were delightful. David's humor was clean and refreshing. A huge hit at our Senior Picnic."
Hot Springs Village Property Owner's Association

"David Ferrell was so very nice and personable. He made time prior to the show to meet and greet people in the audience. The audience loved his interaction and had everyone in the Grand Room Laughing."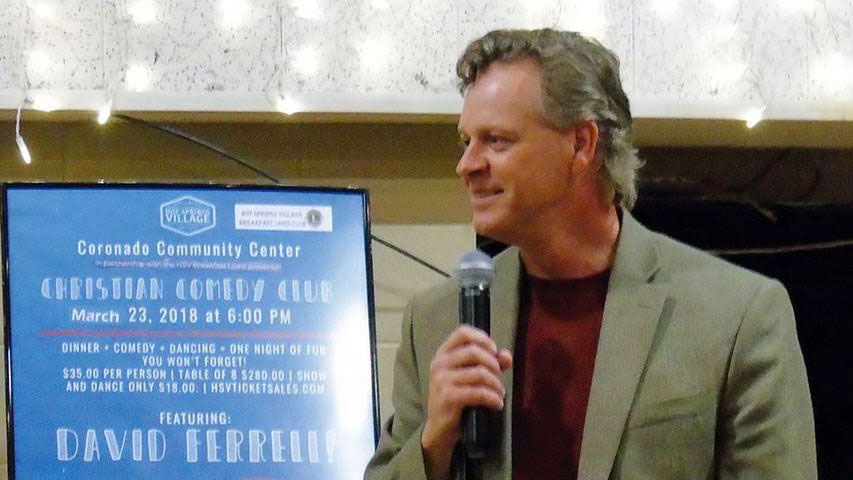 Harmony Hill Baptist Church

"David Ferrell did a really great job of communicating with our Senior Adults. He got various responses from the crowd and was able to stay with those answers and use them later in his routine to help connect with the crowd on a "local" basis. Connected well with them and was very personable and down to earth. Enjoyed him and recommend him for any venue. Good clean humor is a rarity today and I appreciate him keeping it clean and funny!"
Sun City Hilton Head Community Association

"I just wanted to say thank to David Ferrell for a great show last night and for having such a positive attitude."
The Haven at New Riverside

"The residents enjoyed David Ferrell's performance. He was early, very professional, and has awesome personality. His material was funny. He is a great impersonator. He connected with the audience. Your agency was very organized and very easy to work with. Thanks!"
Georgia Retired Educators

"David Ferrell was prompt, professional, had a great personality, he connected with the audience, his material was outstanding. The members who talked with me enjoyed his performance. Everyone was laughing. You helped us select a performer who was just right for our audience."
Georgia Baptist Convention

"I cannot say enough positive things about David Ferrell! He arrived at our venue early and made an effort to get to know our staff and many of the participants even before the designated "show" time. His audience participation style pulled everyone into his performance. He was constantly engaging the folks in feedback and knew exactly how to respond in a humorous way to keep them connected. I've never laughed so hard! It was so down to earth and practical that it hurt!"
Grace Fellowship Church of God

"David Ferrell did a great job. Everyone enjoyed his performance. He got to the church early and was able to get everything set up and talk with many people who also came early. All went well. We were glad to have him as our entertainer for the evening."
Northridge Church

"This event with David Ferrell was an overwhelming success! Best turnout to one of these events... 450+! The most we've had in the past was 275. Standing Ovation at the end... and I believe David sold out of his DVD."
Shadowbrook Baptist Church

"David Ferrell provided very good, clean entertainment. He was loved by all."
Grace Fellowship Church of God

"David Ferrell did a fantastic job. The audience loved him. I would recommend him without reservation."
Hubbard Investments

"David Ferrell did great. My audience had a lot of older clients and there were some younger ones too. I was very happy with his performance and cooperation."
---