Laugh with Lyndy (Christian Keynote) by Lyndy Phillips
About the Presentation
Faith-based speaking and entertainment. As an ordained minister, Lyndy enjoys combining spiritual truth with his humor to not only bring entertainment to your event, but inspiration and encouragement.
Lyndy fools the mind with the art of sleight of hand while encouraging the heart with humor and truth.
Leadership/Volunteer Appreciation
Having served in churches for over 15 years, Lyndy understands the value, influence and potential your leadership/volunteers bring to your church/organization. For your next appreciation event, Lyndy will encourage and inspire your group with his humorous stories and biblical inspiration and give them an hour of encouragement they will not soon forget.
Banquets
Lyndy provides after dinner entertainment for any group and any occasion. Lyndy has entertained for Holidays (Thanksgiving, Christmas, Valentine's), Deacon/Elders, Senior Adults, Associational Pastor/Staff/Spouse Events, Fundraisers, and many more.
Retreats/Conferences/Conventions
Lyndy can be the opening speaker/entertainer for your retreat, conference, or convention. As an opener, Lyndy kicks off your event with laughter and fun, bringing your group together and creating an atmosphere of joy.
"Lyndy Phillips creates an evening of laughter, fascination and inspiration. He encouraged our staff and motivated our team in a wonderful fashion. What a great event!"
Read more about Lyndy Phillips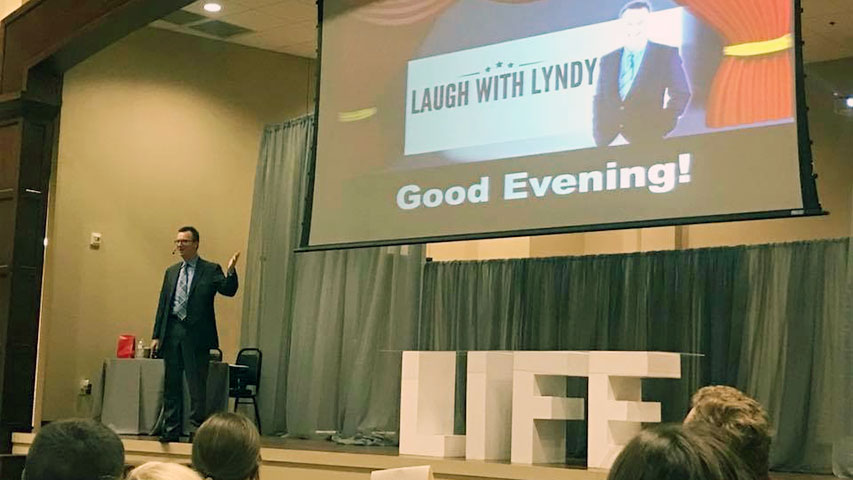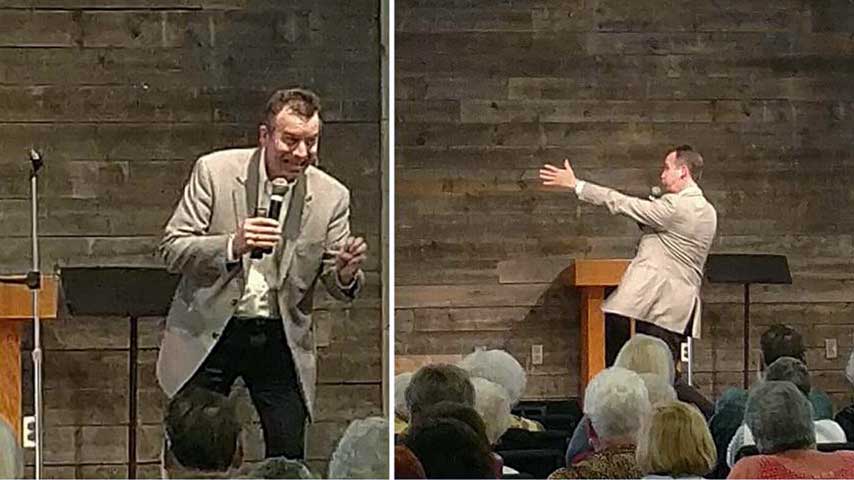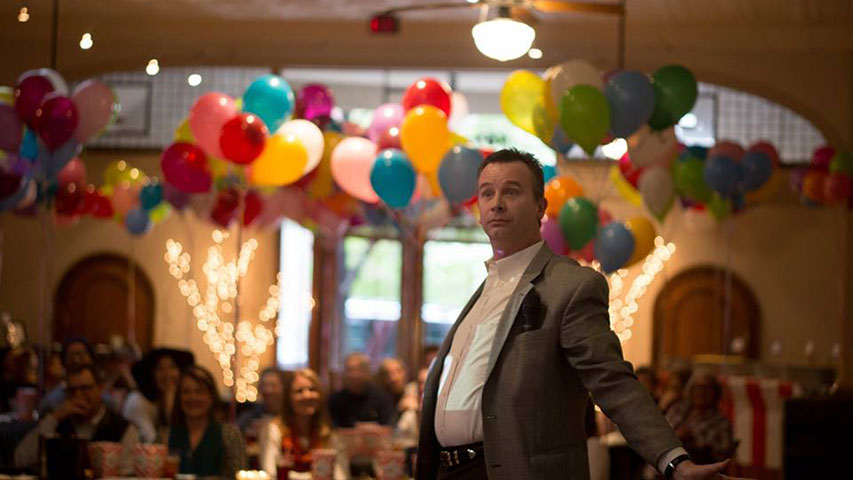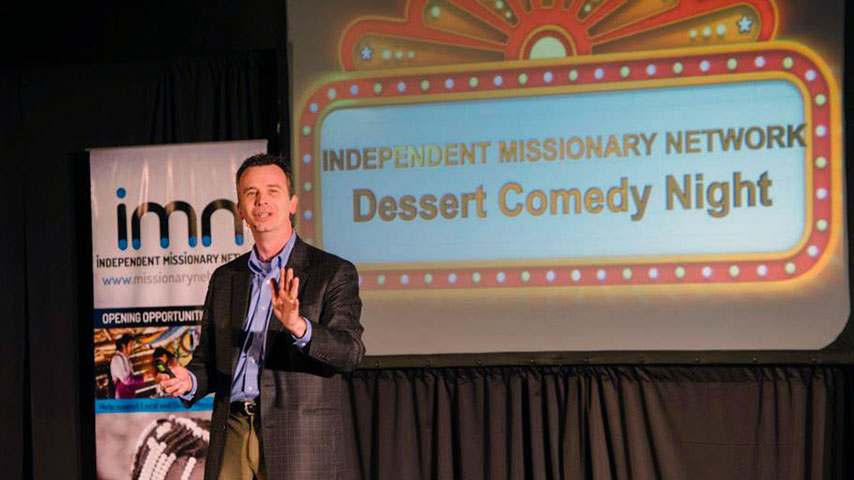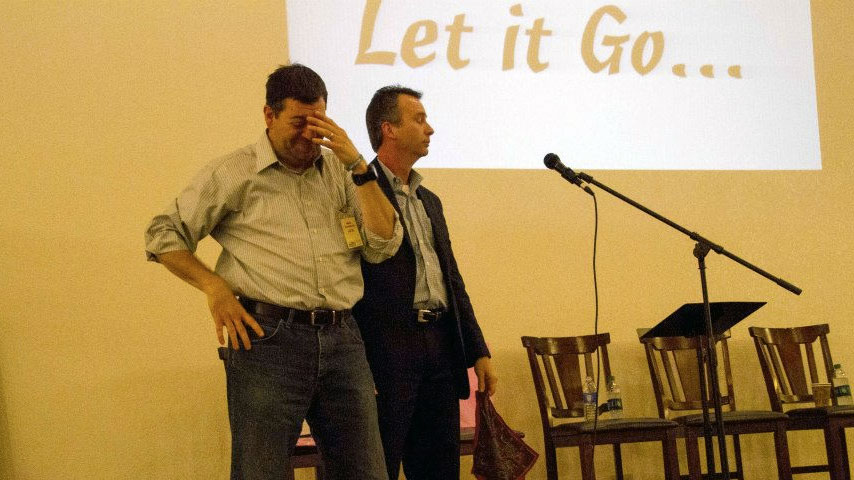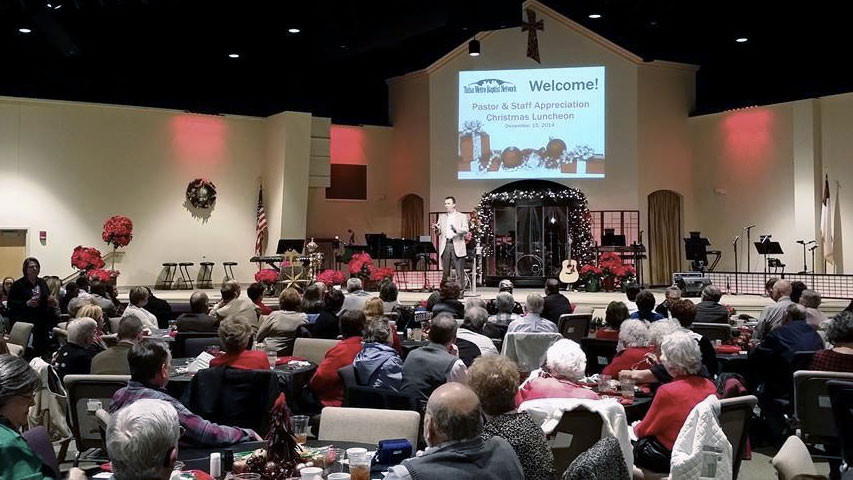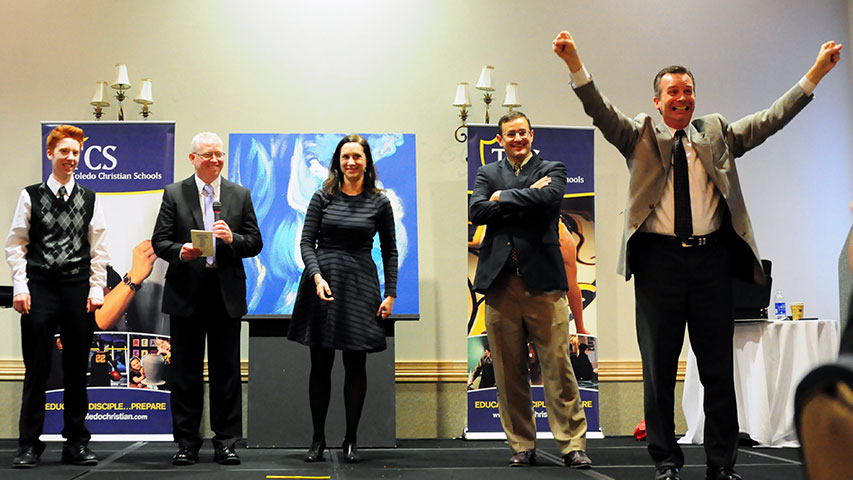 Recent Reviews
Prestonwood Baptist Church

Lyndy Phillips was an outstanding entertainer at our Adult Bible Fellowship dinner! His combination of comedy, magic acts, interaction with the audience, and video presentations kept the audience smiling and laughing, at times uncontrollably! Everyone loved his wit and charm and those he called on the stage were delighted (even when being made fun of!). I highly recommend Lyndy when you need clean and wholesome entertainment!
Faith Center Fellowship

Lyndy Phillips was incredible and did a great job
Travis Avenue Baptist Church

Lyndy Phillips was fantastic. Our people loved him. Several have said they want to book him for other events, either at our church or at their businesses or associations. I'm sore from laughing so hard.
Bi-Fork Baptist Association

We thoroughly enjoyed an exciting time with Lyndy Phillips! I have never seen that many people laugh as hard, and enjoy themselves as I had that morning. I was trying to gauge the audience response, but could not resist being mesmerized by his connection with our people. It was absolutely spell-binding! We had a tremendous response from our folks during and after the event. They all seemed to be blessed by the experience. These folks needed to laugh more (for which they did) and stress less (for which I was able to accomplish). Lyndy hit a home run with us, both before, during and afterwards as he spoke with folks present.
Phil Waldrep Ministries

Lyndy Phillips combines the laughter of a comedian and the talent of an illusionist with the heart of a pastor to present one of the best hours of your life! That is why audiences love him!
Family Matters

Lyndy Phillips was a huge hit with the folks at our event. His evening of illusion, comedy, and inspiration was packaged with a winsome charm and delivered with a tender heart. We loved him!
Hill Country Pregnancy Care Center

Lyndy Phillips exceeded our expectations. He was very prompt, professional, has a friendly and helpful personality, and connects with the audience extremely well. We will recommend Lyndy to others we come in contact with who are looking for a fabulous entertainer.
Phil Waldrep Ministries

Lyndy did great! The folks responded to him well. His interaction with the group before his performance caused them all to feel they knew.
Trinity Fellowship Church

Lyndy Phillips is the perfect entertainment for a family inspirational event. I was amazed how he captivated the kids and the 70 year olds (and everyone in between). It was so good to see everyone laughing!
Amarillo Fellowship

Lyndy Phillips absolutely exceeded our expectations for the evening. He was funny, relatable and on point with his speaking topics about serving. Lyndy arrived when he said he would, set-up and was very self-reliant which was helpful since we were still setting up last minute decorations. He connected very well with the audience & they were very entertained & blown away by his act. Thank you for all your help and making this possible with the last minute booking.
Tri-Rivers Baptist Area

Lyndy Phillips delivered exactly what God wanted us to hear. His passion for his calling is demonstrated in how he connects with the audience and his understanding of the venue is shown through his words of encouragement and enlightenment. I cannot express enough how blessed we were to have him share his talent and love for Christ with us.
Field Street Baptist

My expectations were already high because I have known Lyndy Phillips for a long time. Of course, he rose above all expectations. Our people loved him and he accomplished exactly what I wanted our audience to experience. He had them captivated the entire time. I wanted our people to laugh and have a good time and Lyndy gave them that and more. I would not hesitate to recommend him to others.